Summary
Background
Cyclosporine A-associated neurotoxicity has been reported mainly after organ transplantation. Only a small number of children with steroid-resistant nephrotic syndrome and cyclosporine A-associated neurotoxicity have been reported.
Patients
We report three children, aged 4, 11, and 15, with steroid-resistant nephrotic syndrome and cyclosporine A-associated neurotoxicity. In two of the patients, primary diagnosis was idiopathic nephrotic syndrome, and in one it was IgA nephropathy. Magnetic resonance with diffusion-weighted imaging, combined with quantification of apparent diffusion coefficient values, showed lesions caused by cytotoxic edema indicating irreversible brain damage. Nonetheless, the patients fully recovered clinically and radiologically after prompt discontinuation of cyclosporine A.
Conclusions
Neurotoxic effects should be suspected in any child with nephrotic syndrome treated with cyclosporine A in whom sudden neurological symptoms occur. Cytotoxic edema is a rare finding in pediatric patients. However, even in such cases with seemingly irreversible brain damage, full recovery without permanent neurological sequels is possible with prompt cyclosporine A discontinuation and supportive therapy.
Access options
Buy single article
Instant access to the full article PDF.
US$ 39.95
Tax calculation will be finalised during checkout.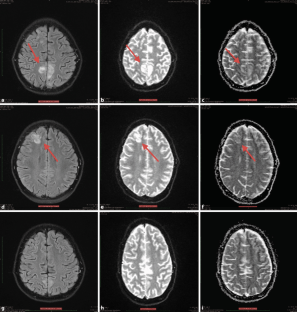 References
1.

Gijtenbeek JM, van den Bent MJ, Vecht CJ. Cyclosporine neurotoxicity: a review. J Neurol. 1999;246:339–46.

2.

Lombel RM, Hodson EM, Gipson DS. Treatment of steroid-resistant nephrotic syndrome in children: new guidelines from KDIGO. Pediatr Nephrol. 2013;28:409–14.

3.

Jeong MH, Lee JH, Yum MS, Ko TS, Park SY. A case of posterior reversible encephalopathy syndrome during cyclosporine therapy in a child with steroid resistant nephrotic syndrome. J Korean Soc Pediatr Nephrol. 2007;11:92–9.

4.

Saeed B, Abou-Zor N, Amer Z, Kanani I, Hilal M. Cyclosporin-A induced posterior revesible encephalopathy syndrome. Saudi J Kidney Dis Transpl. 2008;19:439–42.

5.

Sakai N, Kawasaki Y, Imaizumi T, Kanno S, et al. Two patients with focal segmental glomerulosclerosis complicated by cyclosporine-induced reversible posterior leukoencephalopathy syndrome. Clin Nephrol. 2010;73:482–6.

6.

Taque S, Peudenier S, Gie S, et al. Central neurotoxicity of cyclosporine in two children with nephrotic syndrome. Pediatr Nephrol. 2004;19:276–80.

7.

Zhang Y, Zhou J, Chen Y. Posterior reversible encephalopathy syndrome in a child with steroid-resistant nephrotic syndrome: a case report and review of literature. Int J Clin Exp Pathol. 2014;7:4433–7.

8.

Ishikura K, Hamasaki Y, Skai T, Hataya H, Mak RH, Honda M. Posterior reversible encephalopathy syndrome in children with kidney diseases. Pediatr Nephrol. 2012;27:375–84.

9.

Iyer RS, Chaturvedi A, Pruthi S, Khanna PC, Ishak GE. Medication neurotoxicity in children. Pediatr Radiol. 2011;41:1455–64.

10.

Ishikura K, Hamasaki Y, Sakai T, et al. Children with posterior reversible encephalopathy syndrome associated with atypical diffusion-weighted imaging and apparent diffusion coefficient. Clin Exp Nephrol. 2011;15:275–80.
Ethics declarations
Conflict of interest
D. Batinić, D. Milošević, B. Filipović-Grčić, M. Topalović-Grković, N. Barišić and D. Turudić declare that they have no competing interests.
Ethical standards
All procedures performed in studies involving human participants were in accordance with the ethical standards of the institutional and/or national research committee and with the 1964 Helsinki declaration and its later amendments or comparable ethical standards. Informed consent was obtained from the patients' parents.
About this article
Cite this article
Batinić, D., Milošević, D., Filipović-Grčić, B. et al. Neurotoxicity of cyclosporine A in children with steroid-resistant nephrotic syndrome: is cytotoxic edema really an unfavorable predictor of permanent neurological damage?. Wien Klin Wochenschr 129, 579–582 (2017). https://doi.org/10.1007/s00508-017-1221-z
Received:

Accepted:

Published:

Issue Date:
Keywords
Cyclosporine A neurotoxicity

Steroid-resistant nephrotic syndrome

Children