Summary
Aim
Our Working Group on Out-Patient Cardiac Rehabilitation (AGAKAR) has previously published guidelines, which were endorsed by the Austrian Society of Cardiology. It was the aim of this study to assess the short-term (phase II) and long-term (phase III) effects of these guidelines by use of a nationwide registry.
Methods
All Austrian out-patient rehabilitation facilities entered data into a database of all consecutive patients who completed phase II (4–6 weeks) and/or III (6–12 months) rehabilitation between 1.1.2009–30.11.2011.
Results
Data of 1432 phase II and 1390 phase III patients were assessed. Despite the wide spectrum of cardiac diseases patients' exercise capacity improved during phase II by 20 (− 193 to 240) watts; 91.0 % reached a systolic blood pressure < 140 mmHg; 68.1 % an LDL < 100 mg/dl; 69.8 % triglycerides < 150 mg/dl, and 66.2 % of male patients had a waist circumference < 102 cm. During phase III improvement in cardiovascular risk factors, quality of life, anxiety, and depression were further improved in an increasing number of patients.
Conclusions
Our data demonstrate beneficial short- and long-term effects of the Austrian model of out-patient cardiac rehabilitation and provide support for comprehensive long-term rehabilitation programs. Furthermore, our model might be helpful for those who are at the verge of initiating or modifying their programs. It is also hoped that these data will motivate colleagues to refer their patients to out-patient cardiac rehabilitation facilities and that our results may stimulate insurance companies to grant further and comprehensive contracts to provide access for all suitable patients.
Zusammenfassung
Ziel
Es war Ziel dieser Studie, die Wirksamkeit der ambulanten kardiologischen Rehabilitation Phase II und III nach dem Modell der Arbeitsgemeinschaft für ambulante kardiologische Rehabilitation (AGAKAR), folgend den Guidelines der Österreichischen Kardiologischen Gesellschaft (ÖKG), zu untersuchen.
Methodik
Alle Ambulatorien, die Vertragspartner der Österreichischen Sozialversicherungen sind, gaben die Daten aller Patienten, die zwischen 1.1.2009–30.11.2011 eine ambulante kardiologische Rehabilitation der Phase II und III abschlossen, prospektiv in eine Web-basierte Datenbank ein.
Ergebnisse
Es gelangten für die Phase II 1432 und für die Phase III 1390 Datensätze zur Auswertung. Während der Phase II verbesserten sich die Patienten um 20 (-193-240) Watt, erreichten 91,0 % einen systolischen Blutdruck von < 140 mmHg, 66,1 % ein LDL < 100 mg/dl, 69,8 % Triglyceride < 150 mg/dl und bei den Männern 66,2 % einen Bauchumfang < 102 cm. Am Ende der Phase III wurden die Zielwerte von einem noch größeren Teil der Patienten erreicht, wobei die Ergebnisse dann am besten waren, wenn der Phase III eine ambulante anstelle einer stationären Phase II vorausging. Auch nahmen Depression im Laufe der Phase II und III ab und verbesserte sich die Lebensqualität.
Schlussfolgerungen
Diese Daten beweisen die Wirksamkeit und Nachhaltigkeit der ambulanten kardiologischen Rehabilitation der Phase II und III nach dem Modell der AGAKAR und folgend den Guidelines der ÖKG, wobei die Phase III nicht nur nach einer ambulanten, sondern auch nach einer stationären Phase II nachhaltige Wirkung zeigte. Diese Ergebnisse sollten dazu Anlass geben, diese Evidenz-basierte und Leitlinien-konforme ambulante Rehabilitation lückenlos, flächendeckend, berufsbegleitend und wohnortnah anzubieten und nicht mehr nur auf wenige Zentren zu beschränken.
This is a preview of subscription content, log in to check access.
Access options
Buy single article
Instant access to the full article PDF.
US$ 39.95
Price includes VAT for USA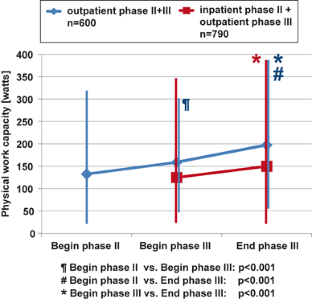 References
1.

Jolliffe JA, Rees K, Taylor RS, Thompson D, Oldridge N, Ebrahim S. Exercise-based rehabilitation for coronary heart disease. Cochrane Database Syst Rev. 2001;(1):CD001800.

2.

O'Connor GT, Buring JE, Yusuf S, et al. An overview of randomized trials of rehabilitation with exercise after myocardial infarction. Circulation. 1989;80(2):234–44.

3.

Oldridge NB, Guyatt GH, Fischer ME, Rimm AA. Cardiac rehabilitation after myocardial infarction. Combined experience of randomized clinical trials. JAMA. 1988;260:945–50.

4.

Taylor RS, Brown A, Ebrahim S, et al. Exercise-based rehabilitation for patients with coronary heart disease: systematic review and meta-analysis of randomized controlled trials. Am J Med. 2004;116(10):682–92.

5.

Hammill BG, Curtis LH, Schulman KA, Whellan DJ. Relationship between cardiac rehabilitation and long-term risks of death and myocardial infarction among elderly medicare beneficiaries. Circulation. 2010;121:63–70.

6.

Niebauer J, Mayr K, Tschentscher M, Pokan R, Benzer W. Outpatient cardiac rehabilitation: The Austrian model. Eur J Prev Cardiol. 2012 Apr 16; Epub ahead of print.

7.

Perk J, De Backer G, Gohlke H, Graham I, Reiner Z, Verschuren M, Albus C, Benlian P, Boysen G, Cifkova R, Deaton C, Ebrahim S, Fisher M, Germano G, Hobbs R, Hoes A, Karadeniz S, Mezzani A, Prescott E, Ryden L, Scherer M, Syvänne M, Scholte op RWJ, Vrints C, Wood D, Zamorano JL. Zannad F; European Association for Cardiovascular Prevention & Rehabilitation (EACPR); ESC Committee for Practice Guidelines (CPG). European Guidelines on cardiovascular disease prevention in clinical practice (version 2012). The Fifth Joint Task Force of the European Society of Cardiology and Other Societies on Cardiovascular Disease Prevention in Clinical Practice (constituted by representatives of nine societies and by invited experts). Eur Heart J. 2012;33:1635–701.

8.

Díaz-Buschmann I, Jaureguizar KV, Calero MJ, Aquino RS. Programming exercise intensity in patients on beta-blocker treatment: the importance of choosing an appropriate method. Eur J Prev Cardiol. 2013 Aug 5; Epub ahead of print. PMID: 23918838.

9.

Sixt S, Beer S, Blüher M, et al. Long- but not short-term multifactorial intervention with focus on exercise training improves coronary endothelial dysfunction in diabetes mellitus type 2 and coronary artery disease. Eur Heart J. 2010;31(1):112–9.

10.

Niebauer J, Hambrecht R, Velich T, et al. Attenuated progression of coronary artery disease after 6 years of multifactorial risk intervention: role of physical exercise. Circulation. 1997;96:2534–41.

11.

Ornish D, Brown SE, Scherwitz LW, et al. Can lifestyle changes reverse coronary heart disease? The Lifestyle Heart Trial. The Lancet. 1990;336(8708):129–33.

12.

Haskell WL, Alderman EL, Fair JM, et al. Effects of intensive multiple risk factor reduction on coronary atherosclerosis and clinical cardiac events in men and women with coronary artery disease. The Stanford Coronary Risk Intervention Project (SCRIP). Circulation. 1994;89(3):975–90.

13.

Khattab A, Knecht M, Meier B, et al. Persistence of uncontrolled cardiovascular risk factors in patients treated with percutaneous interventions for stable coronary artery disease not receiving cardiac rehabilitation. Eur J Prev Cardiol. 2012 Apr. 30; Epub ahead of print.

14.

Corrà U, Piepoli MF, Carré F, et al. Secondary prevention through cardiac rehabilitation: physical activity counselling and exercise training: key components of the position paper from the Cardiac Rehabilitation Section of the European Association of Cardiovascular Prevention and Rehabilitation. Eur Heart J. 2010;31(16):1967–74.

15.

Smith SC Jr, Benjamin EJ, Bonow RO, et al. AHA/ACCF secondary prevention and risk reduction therapy for patients with coronary and other atherosclerotic vascular disease: 2011 update. Circulation. 2011;124:2458–73.

16.

Müller R, Kullich W, Graninger U, et al. Stationäre kardiologische Rehabilitation in Österreich: Ergebnisse einer prospektiven Studie zu den kardiovaskulären Risikofaktoren in der Sekundärprävention. J Kardiol. 2009;16(1–2):14–8.

17.

Willich SN, Müller-Nordhorn J, Kulig M, et al. Cardiac risk factors, medication, and recurrent clinical events after acute coronary disease; a prospective cohort study. Eur Heart J. 2001;22(4):307–13.

18.

Berent R, von Duvillard SP, Auer J, Sinzinger H, Schmid P. Lack of supervision after residential cardiac rehabilitation increases cardiovascular risk factors. Eur J Cardiovasc Prev Rehabil. 2010;17(3):296–302.

19.

Berent R, von Duvillard SP, Crouse SF, et al. Discontinuation of combined resistance-endurance training increases cardiovascular risk factors. Int J Cardiol. 2012;156(2):229–31.

20.

Mittag O, Schramm S, Böhmen S, Hüppe A, Meyer T, Raspe H. Medium-term effects of cardiac rehabilitation in Germany: systematic review and meta-analysis of results from national and international trials. Eur J Cardiovasc Prev Rehabil. 2011;18(4):587–93.

21.

Martin BJ, Hauer T, Arena R, et al. Cardiac rehabilitation attendance and outcomes in coronary artery disease patients. Circulation. 2012;126:677–87.

22.

Lee CD, Jackson AS, Blair SN. US weight guidelines: is it also important to consider cardiorespiratory fitness? Int J Obes Relat Metab Disord. 1998;22:S2–7.
Acknowledgments
The following colleagues and their teams contributed patients to this study:
Josef Niebauer, (University Institute of Sports Medicine, Prevention and Rehabilitation, Paracelsus Medical University Salzburg, Austria), Karl Mayr (Cardiomed—ambulante kardiologische Rehabilitation, Linz, Austria), Hanns Harpf (Krankenanstalt Institut für Bewegungstherapie Graz, Austria), Axel Philippi (Reha—Sport—Institut Feldkirch, Austria), Edith Huber (Ambulatorium Nord, Salzburg, Austria), Andrea Podolsky (Landesklinikum Krems, Institut für Präventiv- u. angewandte Sportmedizin, Krems, Austria), Gerald Zenker (Physikalisches Ambulatorium der Stadtwerke Bruck a.d. Mur, Austria), and Bernd Eber (Institut für Präventiv- und Rehabilitationsmedizin Cardio-Vital-WELS, Wels, Austria).
Conflict of interest
None declared.
About this article
Cite this article
Niebauer, J., Mayr, K., Harpf, H. et al. Long-term effects of outpatient cardiac rehabilitation in Austria: a nationwide registry. Wien Klin Wochenschr 126, 148–155 (2014). https://doi.org/10.1007/s00508-014-0527-3
Received:

Accepted:

Published:

Issue Date:
Keywords
Cardiovascular risk factors

Coronary artery disease

Exercise training

Lipids

Myocardial infarction
Schlüsselwörter
Kardiovaskuläre Risikofaktoren

Koronare Herzkrankheit

Körperliches Training

Lipide

Myokardinfarkt