Summary
Background
The goal of this study was to compare outcomes of patients with severe traumatic brain injury (TBI) who had been admitted either during workdays from 7 a.m. to 7 p.m. ("regular service") or during any other time ("on-call service").
Material and methods
Between March 2002 and April 2012, 17 Austrian centers enrolled TBI patients into two observational studies that focused on effects of guideline compliance (n = 400) and on prehospital and early hospital management (n = 777), respectively. Data on trauma severity, clinical status, treatment, and outcomes were collected prospectively. All patients with severe TBI (Glasgow Coma Scale score < 9) were selected for this analysis. Secondary transfers and patients with unsurvivable injuries were excluded. The International Mission for Prognosis and Analysis of Clinical Trials in TBI core model was used to estimate probabilities of hospital death and unfavorable long-term outcome (Glasgow Outcome Scale score < 4). Based on time of arrival, patients were assigned to groups "regular service" or "on-call service."
Results
Data from 852 patients were analyzed (413 "regular," 439 "on-call service"). "On-call" patients were younger (45 vs. 51 years, P < 0.001) and had a higher rate of alcohol intoxication (41 vs. 11 %, P < 0.001). Trauma severity was comparable; the probabilities of death and unfavorable outcome were identical. There were no differences regarding computed tomography findings or treatment. Hospital mortality (24 vs. 28 %, P = 0.191) and rate of patients with unfavorable outcome at 6 months (43 vs. 48 %, P = 0.143) were comparable.
Conclusions
In Austria, the time of hospital admission has no influence on outcomes after severe TBI.
Zusammenfassung
Grundlagen
Das Ziel dieser Studie war, die Behandlungsergebnisse von Patienten mit schwerem Schädelhirntrauma (SHT) zu vergleichen, die entweder an Werktagen zwischen 07.00 und 19.00 Uhr ("regulärer Dienst"; "RD") oder zu irgendeiner anderen Zeit ("Bereitschaftsdienst", "BD") eingeliefert wurden.
Methodik
Zwischen 3/2002 und 4/2012 rekrutierten 17 österreichische Zentren Patienten mit SHT für 2 Beobachtungsstudien, die den Effekt einer Richtlinien-konformen Behandlung (n = 400) bzw. die Ergebnisse einer besseren Erstversorgung (n = 777) untersuchten. Angaben zu Verletzungsschwere, klinischem Status, Therapie und Behandlungsergebnis wurden prospektiv erhoben. Alle Patienten mit schwerem SHT (Glasgow Coma Scale score < 9) wurden für diese Analyse ausgewählt. Sekundäre Transferierungen und Patienten mit nicht überlebbaren Verletzungen wurden exkludiert. Das IMPACT Core Model wurde verwendet, um die Wahrscheinlichkeit von Tod im Krankenhaus und von ungünstigem Langzeitergebnis (definiert als Glasgow Outcome Scale score < 4 nach 6 Monaten) abzuschätzen. Je nach Zeitpunkt der Einlieferung wurden die Patienten der Gruppe "RD" oder "BD" zugeteilt. Demografische Daten, Verletzungsschwere, Therapie und Behandlungsergebnisse wurden mittels Chi2-Test, T-Test, und logistischer Regression verglichen.
Ergebnisse
852 Datensätze waren verfügbar (413 "RD", 439 "BD"). "BD"-Patienten waren jünger (45 vs. 51 Jahre, P < 0.001) und waren häufiger alkoholisiert (41 vs. 11 %, P < 0.001). Die Verletzungsschwere war vergleichbar, die Wahrscheinlichkeiten von Tod und von ungünstigem Behandlungsergebnis waren identisch. Es fanden sich keine Unterschiede hinsichtlich CT-Diagnosen und Behandlung. Spitalsmortalität (24 vs. 28 %, P = 0.191) und Prozentsatz der Patienten mit ungünstigem Langzeitergebnis (43 vs. 48 %, P = 0.143) waren vergleichbar.
Schlussfolgerungen
In Österreich hat der Zeitpunkt der Einlieferung ins Krankenhaus keinen signifikanten Einfluss auf die Behandlungsergebnisse von Patienten mit schwerem SHT.
Access options
Buy single article
Instant access to the full article PDF.
USD 39.95
Price excludes VAT (USA)
Tax calculation will be finalised during checkout.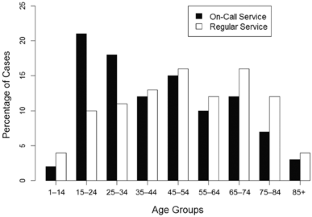 References
Hyder AA, Wunderlich CA, Puvanachandra P, Gururaj G, Kobusingye OC. The impact of traumatic brain injuries: a global perspective. NeuroRehabilitation. 2007;22(5):341–53.

Tagliaferri F, Compagnone C, Korsic M, Servadei F, Kraus J. A systematic review of brain injury epidemiology in Europe. Acta Neurochir (Wien). 2006 Mar;148(3):255–68. Discussion 268.

Egol KA, Tolisano AM, Spratt KF, Koval KJ. Mortality rates following trauma: the difference is night and day. J Emerg Trauma Shock. 2011 Apr;4(2):178–83.

Kim YJ. Night admission to the emergency department: a factor delaying time to surgery in patients with head injury. J Clin Nurs. 2010 Oct;19(19–20):2763–70.

Carmody IC, Romero J, Velmahos GC. Day for night: should we staff a trauma center like a nightclub? Am Surg. 2002 Dec;68(12):1048–51.

Guly HR, Leighton G, Woodford M, Bouamra O, Lecky F. The effect of working hours on outcome from major trauma. Emerg Med J. 2006 Apr;23(4):276–80.

Carr BG, Reilly PM, Schwab CW, Branas CC, Geiger J, Wiebe DJ. Weekend and night outcomes in a statewide trauma system. Arch Surg. 2011 Jul;146(7):810–7.

Rusnak M, Janciak I, Majdan M, Wilbacher I, Mauritz W. Severe traumatic brain injury in Austria VI: effects of guideline-based management. Wien Klin Wochenschr. 2007 Feb;119(1–2):64–71.

Steyerberg EW, Mushkudiani N, Perel P, Butcher I, Lu J, McHugh GS, et al. Predicting outcome after traumatic brain injury: development and international validation of prognostic scores based on admission characteristics. PLoS Med. 2008 Aug 5;5(8):e165. Discussion e165.

Leitgeb J, Mauritz W, Brazinova A, Matula C, Majdan M, Wilbacher I, et al. Outcome of patients with severe brain trauma who were treated either by neurosurgeons or by trauma surgeons. J Trauma Acute Care Surg. 2012 May;72(5):1263–70.

Jennett B, Bond M. Assessment of outcome after severe brain damage. Lancet. 1975 Mar 1;1(7905):480–4.

Hukkelhoven CW, Steyerberg EW, Rampen AJ, Farace E, Habbema JD, Marshall LF, et al. Patient age and outcome following severe traumatic brain injury: an analysis of 5600 patients. J Neurosurg. 2003 Oct;99(4):666–73.

Salim A, Teixeira P, Ley EJ, DuBose J, Inaba K, Margulies DR. Serum ethanol levels: predictor of survival after severe traumatic brain injury. J Trauma. 2009 Oct;67(4):697–703.

Berry C, Salim A, Alban R, Mirocha J, Margulies DR, Ley EJ. Serum ethanol levels in patients with moderate to severe traumatic brain injury influence outcomes: a surprising finding. Am Surg. 2010 Oct;76(10):1067–70.

Goodman MD, Makley AT, Campion EM, Friend LA, Lentsch AB, Pritts TA. Preinjury alcohol exposure attenuates the neuroinflammatory response to traumatic brain injury. J Surg Res. 2013 Oct;184(2):1053–8.

Hadjibashi AA, Berry C, Ley EJ, Bukur M, Mirocha J, Stolpner D, et al. Alcohol is associated with a lower pneumonia rate after traumatic brain injury. J Surg Res. 2012 Apr;173(2):212–5.
Acknowledgments
We are very grateful to the investigators from the participating centers who enrolled patients and collected data: H. Artmann MD (Schwarzach), N. Bauer MD (Linz UKH), F. Botha MD (Linz WJ), F. Chmeliczek MD (Salzburg LKA), G. Clarici MD (Graz Uni), D. Csomor MD (Wr. Neustadt), R. Folie MD (Feldkirch), R. Germann MD, PhD (Feldkirch), F. Gruber MD (Linz AKH), H-D. Gulle MD (Klagenfurt), T. Haidacher MD (Graz UKH), G. Herzer MD (Wr. Neustadt), P. Hohenauer MD (Salzburg LKA), A. Hüblauer MD (Horn), J. Lanner MD (Salzburg UKH), V. Lorenz MD (Wien UKH XII), C. Mirth MD (St. Pölten), W. Mitterndorfer MD (Linz AKH), W. Moser MD (Klagenfurt), H. Schmied MD (Amstetten), K-H Stadlbauer MD, PhD (Innsbruck), H. Steltzer MD, PhD (Wien UKH XII), Ernst Trampitsch MD (Klagenfurt), A. Waltensdorfer MD (Graz Uni), A. Zechner MD (Klagenfurt). We are also grateful to researchers from INRO: Ingrid Wilbacher PhD collected data during the first project; Ivan Janciak PhD developed and managed the databases used for both projects.
Funding
The data used for this study was collected for a project funded by the Austrian Worker's Compensation Board (AUVA; FK 33/2003) and by the "Jubilee Fund" of the Austrian National Bank (Project No. 8987), and for a project funded by the Ministry of Health (Contract Oct. 15, 2008) and the AUVA (FK 11/2008, FK 11/2010, FK 09/12). INRO is supported by an annual grant from Mrs. Ala Auersperg-Isham and Mr. Ralph Isham, and by small donations from various sources.
Conflicts of interest
The authors do not have any conflicts of interest. This study has not been presented anywhere.
About this article
Cite this article
Mauritz, W., Brazinova, A., Majdan, M. et al. Effects of time of hospital admission on outcomes after severe traumatic brain injury in Austria. Wien Klin Wochenschr 126, 278–285 (2014). https://doi.org/10.1007/s00508-014-0521-9
Received:

Accepted:

Published:

Issue Date:

DOI: https://doi.org/10.1007/s00508-014-0521-9
Keywords
Traumatic brain injury

Severe

Time of hospital admission

Day vs. night

Outcome
Schlüsselwörter
Schädelhirntrauma

Schwer

Zeitpunkt der Spitalsaufnahme

Tag vs. Nacht

Behandlungsergebnis