Summary
Background
Potentially inappropriate prescriptions (PIP) are an important cause of adverse medication-related events and increases morbidity, hospitalization, and health care costs, especially in nursing home residents. However, little is known about the associations between PIP and residents' characteristics.
Objective
The aim of our study was to analyse the prevalence and associations of PIP with residents' and facilities' characteristics.
Methods
We performed a secondary analysis of a cross-sectional study with 48 out of 50 eligible nursing homes and 1,844 out of 2,005 eligible residents in a defined rural-urban area in Austria. The Austrian list of potentially inappropriate medications was applied for the evaluation of inappropriate prescribing. Cluster-adjusted multiple regression analysis was used to investigate institutional and residents' characteristics associated with PIP.
Results
Mean cluster-adjusted prevalence of residents with at least one PIP was 70.3 % (95 % CI 67.2–73.4). The number of residents with at least one psychotropic PIP was 1.014 (55 %). The most often prescribed PIP were Prothipendyl (25.9 % residents), Lorazepam (14.5 %) and Diclofenac (6.1 %). Multiple regression analysis showed an inverse association of PIP with cognitive impairment and significant positive associations with permanent restlessness and permanent negative attitude. The associations of PIP with age and male gender were inconsistent. No significant associations were found for PIP and the ratio of staff nurses to residents.
Conclusions
Our study results confirm that PIP is highly prevalent in the nursing home population. These results urgently call for effective interventions. Initiatives and successful interventions performed in other countries could serve as examples for safer prescribing in residents in Austria.
Zusammenfassung
Grundlagen
Potentiell unangemessene Medikamentenverordnungen (potentially inappropriate prescriptions = "PIP") sind eine bedeutende Ursache von unerwünschten Arzneimittel-assoziierten Wirkungen und führen zu vermehrten Kosten im Gesundheitssystem und vor allem bei Pflegeheimbewohnern zu erhöhter Morbidität und Spitalseinweisungen.
Wenig ist bisher bekannt über die Zusammenhänge zwischen PIP und den Charakteristika von Pflegeheimbewohnern.
Ziel
Ziel unserer Studie war es, die Prävalenz und Assoziationen von PIP mit den Charakteristika der Bewohner und Pflegeheime zu analysieren.
Methodik
Wir führten eine Sekundäranalyse einer Querschnittsstudie mit 48 von 50 möglichen Pflegeheimen und 1844 von 2005 möglichen Bewohnern eines definierten Bundeslandes in Österreich durch. Die Evaluierung der unangemessenen Verordnungen erfolgte anhand der "Österreichischen Liste der potentiell unangemessenen Arzneimittel".
Cluster-adjustierte multivariate Regressionsanalyse wurde angewandt, um die Assoziationen von PIP mit Charakteristika der Institutionen und Bewohner auszuwerten.
Ergebnisse
Die mittlere cluster-adjustierte Häufigkeit von Heimbewohnern mit mindestens einem PIP war 70,3 % (95 % CI 67,2–73,4). Die Anzahl der Bewohner mit mindestens einer psychotropen PIP war 1,014 (55 %). Die häufigsten PIP waren Prothipendyl (25,9 % der Bewohner), Lorazepam (14,5 %) und Diclofenac (6,1 %). Multivariate Regressionsanalyse zeigte eine inverse Assoziation von PIP mit kognitiver Einschränkung und signifikant positive Assoziationen mit ständiger Unruhe und ständigem negativem Verhalten der Bewohner.
Die Assoziationen von PIP mit Alter und männlichem Geschlecht zeigten uneinheitliche Resultate. Keine signifikanten Assoziationen wurden zwischen PIP und dem Betreuungsverhältnis zwischen Pflegepersonen und Heimbewohnern gefunden.
Schlussfolgerungen
Unsere Studienresultate bestätigen, dass PIP bei Pflegeheimbewohnern weit verbreitet ist und zeigen, dass dringend effektive Strategien zur Reduktion von PIPs in Österreich notwendig sind. In anderen Ländern bereits durchgeführte erfolgreiche Initiativen und Interventionen könnten als Beispiele für Österreich herangezogen werden.
Access options
Buy single article
Instant access to the full article PDF.
US$ 39.95
Tax calculation will be finalised during checkout.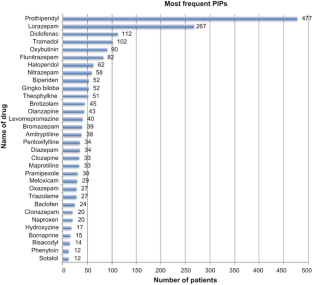 References
1.

Onder G, Liperoti R, Fialova D, et al. SHELTER project. J Gerontol A Biol Sci Med Sci. 2012;67(6):698–704.

2.

Kojima G, Bell C, Tamura B, et al. Reducing cost by reducing polypharmacy: the polypharmacy outcomes project. JAMDA. 2012;13(9):818e11–5.

3.

Mangoni AA, Jackson SH. Age-related changes in pharmacokinetics and pharmacodynamics: basic principles and practical applications. Br J Clin Pharmacol. 2004;57(1):6–14.

4.

Leendertse AJ, Egberts AC, Stoker LJ, Van Den Bernt PM. HARM study Group. Frequency of and risk factors for preventable medication-related hospital admissions in the Netherlands. Arch Intern Med. 2008;168(17):1890–6.

5.

Berdot S, Bertrand M, Dartigues JF, et al. Inappropriate medication use and risk of falls-a prospective study in a large community-dwelling elderly cohort. BMC Geriatr. 2009;9:30.

6.

Fick DM, Mion LC, Beers MH, Waller JL. Health outcomes associated with potentially inappropriate medication use in older adults. Res Nurs Health. 2008;31(1):42–51.

7.

Albert SM, Colombi A, Hanlon J. Potentially inappropriate medications and risk of hospitalization in retirees: analysis of a US retiree health claims database. Drugs Aging. 2010;27(5):407–15.

8.

Ruggiero C, Dell'Auilla G, Gasperini B, et al. Potentially inappropriate drug prescriptions and risk of hospitalizations among older, Italian, nursing home residents: the ULISSE project. Drugs Aging. 2010;27(9):747–58.

9.

Lin HY, Liao CC, Cheng SH, Wang PC, Hsueh YS. Association of potentially inappropriate medication use with adverse outcomes in ambulatory elderly patients with chronic diseases: experience in a Taiwanese medical setting. Drugs Aging. 2008;25(1):49–59.

10.

Lau DT, Kasper JD, Potter EB, Lyles A, Bennett RG. Hospitalization and death associated with potentially inappropriate medication prescriptions among elderly nursing home residents. Arch Intern Med. 2005;165(1):68–74.

11.

Fu AZ, Jiang JZ, Reeves JH, Fincham JE, Liu GG, Perri M 3rd. Potentially inappropriate medication use and healthcare expenditures in the US community-dwelling elderly. Med Care. 2007;45(5):472–6.

12.

Barnett K, McCowan C, Evans JM, Gillespie ND, Davey PG, Fahey T. Prevalence and outcomes of use of potentially inappropriate medications in older people: cohort study stratified by residence in nursing home or in the community. BMJ Qual Saf. 2011;20(3):275–81.

13.

Niwata S, Yamada Y, Ikegami N. Prevalence of inappropriate medication using Beers criteria in Japanese long-term care facilities. BMC Geriatr. 2006;6:1.

14.

Stafford AC, Alswayan MS, Tenni PC. Inappropriate prescribing in older residents of Australian care homes. J Clin Pharm Ther. 2011;36(1):33–44.

15.

Kölzsch M, Kopke K, Fischer T, et al. Prescribing of inappropriate medication in nursing home residents in Germany according to a French consensus list: a cross-sectional cohort study. Pharmacoepidemiol Drug Saf. 2011;20(1):12–9.

16.

Haasum Y, Fastbom J, Johnell K. Institutionalization as a risk factor for inappropriate drug use in the elderly: a Swedish nationwide register-based study. Ann Pharmacother. 2012;46(3):339–46.

17.

Johnell K, Weithoft GR, Fastbom, J. Sex differences in inappropriate drug use: a register-based study of over 600,000 older people. Ann Pharmacother. 2009;43(7):1233–8.

18.

Mann E, Köpke S, Haastert B, Pitkälä K, Meyer G. Psychotropic drug use among nursing home residents in Austria: a cross-sectional study. BMC Geriatr. 2009;9:18.

19.

Richter T, Mann E, Meyer G, Haastert B, Köpke S. Prevalence of psychotropic medication use among German and Austrian nursing home residents: a comparison of 3 cohorts. JAMDA. 2012;13(2):187.e7–187.e13.

20.

Austrian Ministry of Social Welfare. Federal Act on Nursing Care, 110, 51. (Bundespflegegesetz, BGBl. 110/1993, text of 19 Jan. 1993) (SOZDOK ed.). Vienna, 51. 1998.

21.

Köhler L, Weyerer S, Schäufele M. Proxy screening tools improve the recognition of dementia in old-age homes: results of a validation study. Age Aging. 2007;36:549–54.

22.

Cohen-Mansfield J. Agitated behaviours in the elderly. II. Preliminary results in the cognitively deteriorated. JAGS. 1986;34(10):722–7.

23.

Mann E, Böhmdorfer B, Frühwald T, Roller-Wirnsberger RE, Dovjak P, Hofer-Dückelmann C, et al. Potentially inappropriate medication in geriatric patients: the Austrian consensus panel list. WKW. 2012;124(5–6):160–9.

24.

Donner A, Klar N. Design and Analysis of Cluster Randomization. Trials in health research. London: Arnold; 2000.

25.

Rogers WH. Regression standard errors in clustered samples. Stat Tech Bull. 1993;13:19–23.

26.

Williams RL. A note on robust variance estimation for cluster-correlated data. Biometrics. 2000;56(2):645–6.

27.

Bergman A, Olsson J, Carlstein A, Waern M, Fastbom J. Evaluation of the quality of drug therapy among elderly patients in nursing homes. Scand J Prim Health Care. 2007;25(1):9–14.

28.

Douglas IJ, Smeeth L. Exposure to antipsychotics and risk of stroke: self-controlled case series studies. BMJ. 2008;337:a1227.

29.

Gill SS, Bronskill SE, Normand SL, et al. Antipsychotic drug use and mortality in older adults with dementia. Ann Intern Med. 2007;146(11):775–86.

30.

Schneider LS, Dagerman KS, Insel P. Risk of death with atypical antipsychotic drug treatment for dementia: meta-analysis of randomized placebo-controlled trials. JAMA. 2005;294(15):1934–43.

31.

Tannenbaum C, Paquette A, Hilmer S, Holroyd-Leduc J, Carnahan R. A systematic review of amnestic and non-amnestic mild cognitive impairment induced by anticholinergic, antihistamine, GABAergic and opioid drugs. Drugs Aging. 2012;29(8):639–58.

32.

Lader M. Benzodiazepine harm: how can it be reduced. Brit J Clin Pharmacol. 2012;doi:10.1111/j.1365–2125.2012.04418.x (Epub ahead of print).

33.

Huang AR, Mallet L, Rochefort CM, Equale T, Buckeridge DL, Tamblyn R. Medication-related falls in the elderly: causative factors and preventive strategies. Drugs Aging. 2012;29(5):359–76.

34.

Hosia-Randell HM, Muuringen SM, Pitkälä KH. Exposure to potentially inappropriate drugs and drug-drug interactions in elderly nursing home residents in Helsinki, Finland: a cross-sectional study. Drugs Aging. 2008;25(8):683–92.

35.

Raschetti R, Morgutti M, Menniti-Ippolit F, et al. Suspected adverse drug events requiring emergency department visits or hospital admissions. Eur J Clin Pharmacol. 1999;54(12):959–63.

36.

Yu MK, Lyles CR, Bent-Shaw LA, Young BA. Risk factor, age and sex difference in chronic kidney disease prevalence in a diabetic cohort. Am J Nephrol. 2012;36(3):245–51.

37.

Vega J, Goecke H, Méndez GP, Guarda FJ. Nephrotic syndrome and acute tubular necrosis due to meloxicam use. Ren Fail. 2012;34(10):1344–7.

38.

Kristensen SL, Fosbol EL, Kamper AL, et al. Use of nonsteroidal anti-inflammarotry drugs prior to chronic renal replacement therapy initiation: a nationwide study. Pharmacoepidemiol Drug Saf. 2012;21(4):428–34.

39.

Savva GM, Matthews FE, Davidson JE, McKeith I, Brayne C. Prevalence, correlates and course of behavioural and psychological symptoms of dementia in the population. Br J Psychiatry. 2009;194(3):212–9.

40.

Cerejeira J, Lagarto L, Mukaetova-Ladinska EB. Behavioural and psychological symptoms of dementia. Front Neurol. 2012;3:73 (Epub ahead of print).

41.

Levy K, Lanctot KL, Farber SB, Li A, Herrmann, N. Does pharmacological treatment of neuropsychiatric symptoms in Alzheimer's disease relieve caregiver burden. Drugs Aging. 2012;29(3):167–79.

42.

Zuidema SU, De Jonghe JF, Verhey FR, Koopmans RT. Psychotropic drug prescription in nursing home patients with dementia: influence of environmental correlates and staff distress on physicians' prescription behaviour. Int Psychogeriatr. 2011;23(10):1632–9.

43.

Gauthier S, Cummings J, Ballard C, et al. Management of behavioural symptoms in Alzheimer's disease. Int Psychogeriatr. 2010;22(3):346–72.

44.

Ballard C, Day S, Sharp S, Wing C, Sorensen S. Neuropsychiatric symptoms in dementia: importance and treatment considerations. Int Rev Psychiatry. 2008;20(4):396–404.

45.

Beers MH, Ouslander JG, Rollingher J, Reuben DB, Brooks J, Beck JC. Explicit criteria for determining inappropriate medication use in nursing home residents. Arch Int Med. 1991;151(9):1825–32.

46.

McLeod PJ, Huang A, Tamblyn RM, Gayton DC. Defining inappropriate practices in prescribing for elderly people: a national consensus panel. CMAJ. 1997;156:385–91.

47.

Laroche ML, Charmes JP, Merle L. Potentially inappropriate medications in the elderly: a French consensus panel list. Eur J Clin Pharmacol. 2007;63(8):725–31.

48.

Gallagher P, Ryan C, Byrne S, Kennedy J, O'Mahony D. Screening tool of older person's prescriptions (STOPP) and screening tool to alert doctors to right treatment (START). Consensus validation. Int J Clin Pharmacol Therap. 2008;46(2):72–83.

49.

Holt S, Schmiedl S, Thürmann PA. Potentially inappropriate medications in the elderly: the PRISCUS List. Dtsch Arztebl. 2010;107(31–32):543–51.

50.

American Geriatrics Society 2012 Beers Criteria update expert panel. American Society updated Beers Criteria for potentially inappropriate medication use in older adults. JAGS. 2012;60(4):616–31.

51.

Department of Health. 291591a/Living well with dementia: a national dementia strategy. DH Publications Orderline, PO Box 777, London SE1 6XH. www.orderline.dh.gov.uk. Accessed 4 Feb 2013.

52.

Richter T, Meyer G, Möhler R, Köpke S. Psychosocial interventions for reducing antipsychotic medication in care home residents. Cochrane Database Syst Rev. 2012 Dec;12:12:CD008634. doi:10.1002/14651858.CD008634.pub2.

53.

Fossey J, Ballard C, Juszczak E, James I, Alder N, Jacoby R, Howard R. Effect of enhanced psychosocial care on antipsychotic use in nursing home residents. BMJ. 2006;332:756–61.

54.

Pitkälä K, Juola A, Soini H, Laakkonen M, Kauriainen H, Teramura-Gronblad M, Finne-Soveri H, Bjorkman M. Reducing inappropriate, anticholinergic and psychotropic drugs among older residents in assisted living facilities: study protocol for a randomized controlled trial. Trials. 2102;13:85.

55.

Müller C, Wilm S, Thürmann P, Thiem U, Hummers-Pradier E, Theile G. Die RIME Studie-eine clusterrandomisierte kontrollierte Studie zur Reduktion von potentiell inadäquater Medikation in der Hausarztpraxis. Düsseldorf: German Medical Science GMS Publishing House; 2011 (Doc1 1form067).

56.

PRIMA-eDS. Polypharmacy in chronic diseases: reduction of inappropriate medication and adverse drug events in elderly populations by electronic decision support. European Commission Project Number 305388. http://ec.europa.eu/research/health/medical-research/human-development-and-ageing/projects/prima-eds_en.html. Accessed 8 Feb 2013.
Conflict of interest
All authors declare that they have no conflict of interest relevant for the context of the study. No fees from pharmaceutical companies were received by Mann E., Böhmdorfer B., Frühwald T. and Meyer G. Honoraria for lectures received by Iglseder B. (Pfizer, EVER, Lundbeck, Sanofi-Aventis and Novartis) and Roller-Wirnsberger R. (Nutricia, Nestle, Pfizer, Novartis, Amgen, Madaus and Baxter).
About this article
Cite this article
Mann, E., Haastert, B., Böhmdorfer, B. et al. Prevalence and associations of potentially inappropriate prescriptions in Austrian nursing home residents: secondary analysis of a cross-sectional study. Wien Klin Wochenschr 125, 180–188 (2013). https://doi.org/10.1007/s00508-013-0342-2
Received:

Accepted:

Published:

Issue Date:
Keywords
Inappropriate prescribing

Nursing home

Dementia

Neuropsychiatric symptoms
Schlüsselwörter
Unangebrachte Verschreibung

Pflegewohnheim

Demenz

Neuropsychiatrische Symptome