Summary
Aims
The functional effect of the pineal gland cyst is difficult to evaluate with visual field examination. The aim of this study is to investigate the usefulness of visual evoked potentials (VEP) in patients with pineal gland cyst due to the possible compression on the visual pathway.
Subjects and methods
Black-and-white pattern-reversal checkerboard VEP were recorded in 75 patients (50 females and 25 males, mean age 26.3 ± 15.7 and 25.6 ± 17.6 years, respectively) with pineal gland cyst detected on magnetic resonance of the brain (subject group) and 75 age and sex-matched control subjects (control group). Amplitudes and P100 latencies were collected and later grouped as: (1) normal finding; (2) prechiasmal; (3) prechiasmal and postchiasmal; and (4) postchiasmal dysfunction.
Results
P100 latencies differed significantly between subject (110.26 ± 13.23 ms) and control group (101.01 ± 5.36 ms) (p < 0.01). Findings of the VEP differed significantly (p < 0.01) between subject and control group, mainly due to the postchiasmal dysfunction frequency in subject group. Findings of the VEP differed significantly according to the pineal gland cyst volume (p = 0.006) with more frequent postchiasmal dysfunctions among subjects with larger cysts. Postchiasmal changes were significantly more frequent in patients with described compression of the cyst on surrounding brain structures (p = 0.016).
Conclusions
Postchiasmal dysfunction on VEP can be seen in patients with pineal gland cyst, mostly with larger cysts and with compression of the cyst on surrounding brain structures. VEP serve as a useful method to determine functional impairment of the visual pathway in patients with pineal gland cyst.
Zusammenfassung
Ziele
Die funktionelle Auswirkung einer Zyste in der Glandula pinealis ist mittels Prüfung der Gesichtsfelder schwierig zu erfassen. Ziel der vorliegenden Studie ist es, die Brauchbarkeit der Messung von visuell evozierten Potentialen (VEP) bei Patienten mit einer Zyste in der Glandula pinealis in Hinblick auf eine mögliche Kompression der Nervenbahn des N opticus zu untersuchen.
Material und Methoden
Schwarz-weiß Muster Reversal Checkerboard VEP wurden bei 75 Patienten (davon 50 weiblich, Mittleres Alter der Frauen 26,3 ± 15,7, beziehungsweise der Männer 25,6 ± 17,6 Jahre) mit einer durch Magnetresonanz des Gehirns entdeckten Zyste im Bereich der Glandula pinealis und bei 75 alters- und geschlechtsmäßig entsprechenden Kontrollpersonen aufgezeichnet. Die erhobenen Amplituden und P100 Latenzzeiten wurden gesammelt und nachträglich in folgende Gruppen geteilt: 1) normal, 2) Prächiasmal, 3) Prä- und postchiasmal, 4) Postchiasmale Funktionsstörung.
Ergebnisse
Die P100 Latenzzeiten der Patienten (110,26 ± 13,23 ms) unterschieden sich von denen der Kontrollgruppe (101,01 ± 5,36 ms) signifikant (p < 0,01). Der signifikante Unterschied der Ergebnisse der VEP ergab sich hauptsächlich durch die Häufigkeit der postchiasmalen Dysfunktionsergebnisse der Patienten. Patienten mit grösseren Zystenvolumen hatten signifikant häufiger postchiasmale Dysfunktionen als die mit kleineren Zysten (p = 0,006). Postchiasmale Veränderungen waren bei den Patienten mit beschriebener – durch die Zyste bedingte – Kompression der umgebenden Gehirnstrukturen signifikant häufiger (p = 0,016)
Schlussfolgerungen
Zeichen der postchiasmalen Funktionsstörung in den VEP können bei bei Patienten mit einer Zyste in der Glandula pinealis gesehen werden. Diese Funktionsstörungen sind bei grösseren Zysten und bei beschriebener Kompression der umgebenden Gehirnstrukturen häufiger. Unsere Ergebnisse zeigen, dass die VEP eine nützliche Methode ist, um eine funktionelle Einschränkung der visuellen Bahnen bei Patienten mit einer Zyste in der Glandula pinealis zu erfassen.
Access options
Buy single article
Instant access to the full article PDF.
USD 39.95
Price includes VAT (USA)
Tax calculation will be finalised during checkout.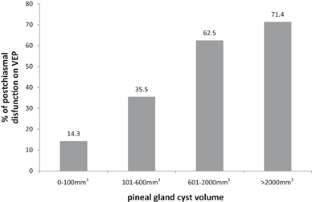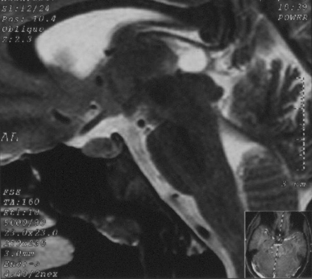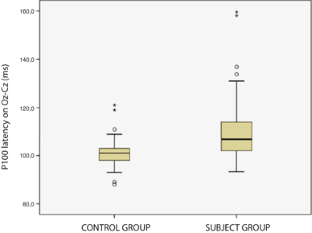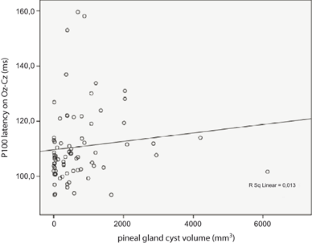 References
1.

Mandera M, Marcol W, Bierzynska-Macyszyn G, Kluczewska E. Pineal cysts in childhood. Childs Nerv Syst. 2003;19:750–55.

2.

Katzman GL, Dagher AP, Patronas NJ. Incidental findings on brain magnetic resonance imaging from 1000 asymptomatic volunteers. JAMA. 1999;282:36–39.

3.

Jinkins JR, Xiong L, Reiter RJ. The midline pineal "eye": MR and CT characteristics of the pineal gland with and without benign cyst formation. J Pineal Res. 1995;19:64–71.

4.

Petitcolin V, Garcier JM, Mohammedi R, et al. Prevalence and morphology of pineal cysts discovered at pituitary MRI: review of 1844 examinations. J Radiol. 2002;83:141–45.

5.

Mamourian AC, Towfighi J. Pineal cysts: MR imaging. Am J Neuroradiol. 1986;7:1081–86.

6.

Tamaki N, Shirataki K, Lin TK, Masumura M, Katayama S, Matsumoto S. Cysts of the pineal gland. A new clinical entity to be distinguished from tumors of the pineal region. Childs Nerv Syst. 1989;5:172–76.

7.

Taraszewska A, Matyja E, Koszewski W, Zaczynski A, Bardadin K, Czernicki Z. Asymptomatic and symptomatic glial cysts of the pineal gland. Folia Neuropathol. 2008;46:186–95.

8.

Michielsen G, Benoit Y, Baert E, Meire F, Caemaert J. Symptomatic pineal cysts: clinical manifestations and management. Acta Neurochir. (Wien) 2002;144:233–42.

9.

Bosnjak J, Budisic M, Azman D, Strineka M, Crnjakovic M, Demarin V. Pineal gland cysts-an overview. Acta Clin Croat. 2009;48:355–58.

10.

Fain JS, Tomlinson FH, Scheithauer BW, et al. Symptomatic glial cysts of the pineal gland. J Neurosurg. 1994;80:454–60.

11.

Mena H, Armonda RA, Ribas JL, Ondra SL, Rushing EJ. Nonneoplastic pineal cysts: a clinicopathologic study of twenty-one cases. Ann Diagn Pathol. 1997;1:11–18.

12.

Engel U, Gottschalk S, Niehaus L, et al. Cystic lesions of the pineal region-MRI and pathology. Neuroradiology 2000;42:399–402.

13.

Dickerman RD, Stevens QE, Steide JA, Schneider S J. Precocious puberty associated with a pineal cyst: is it disinhibition of the hypothalamic-pituitary axis? Neuro Endocrinol Lett. 2004;25:173–75.

14.

Morgan JT, Scumpia AJ, Webster TM, Mittler MA, Edelman M, Schneider SJ. Resting tremor secondary to a pineal cyst: case report and review of the literature. Pediatr Neurosurg. 2008;44:234–38.

15.

Milroy CM, Smith CL. Sudden death due to a glial cyst of the pineal gland. J Clin Pathol. 1996;49:267–69.

16.

Chernov MF, Kamikawa S, Yamane S, Ishihara S, Kubo O, Hori T. Neurofiberoscopic biopsy of tumors of the pineal region and posterior third ventricle: indications, technique, complications and results. Neurosurgery 2006;59:267–77.

17.

Chiappa KH, Hill RA. Pattern-shift visual evoked potentials: interpretation. In: Chiappa KH, editor. Evoked potential in clinical medicine. 3rd ed. Philadelphia: Lippincott-Raven; 1997. pp. 95–131.

18.

Blumhardt LD, Barrett G, Halliday AM. The asymmetrical visual evoked potential to pattern reversal in one half field and its significance for the analysis of visual field defects. Br J Ophthalmol. 1977;61:454–61.

19.

Pietrangeli A, Jandolo B, Occhipinti E, Carapella CM, Morace E. The VEP in evaluation of pituitary tumors. Electromyogr Clin Neurophysiol. 1991;31:163–65.

20.

Tobimatsu S, Celesia GG. Studies of human visual pathophysiology with visual evoked potentials. Clin Neurophysiol. 2006;117:1414–33.

21.

Halliday AM. The visual evoked potentials in the investigation of diseases of the optic nerve. In: Halliday AM, editor. Evoked potentials in clinical testing. London: Churchill Livingstone; 1982. pp. 227–28.

22.

Mikula I, Miskov S, Negovetic R, Demarin V. Visual evoked potentials (VEP) in Whiplash injuries. Acta Clin Croat. 2000. p. 39.

23.

Miskov S. Neurophysiological methods in headache diagnosis. Acta Med Croatica. 2008;62:189–96.

24.

Unay B, Ulas UH, Karaoglu B, Eroglu E, Akin R, Gokcay E. Visual and brainstem auditory evoked potentials in children with headache. Pediatr Int. 2008;50:620–23.

25.

Odom JV, Bach M, Brigell M, et al. ISCEV standard for clinical visual evoked potentials (2009 update). Doc Ophthalmol. 2010;120:111–19.

26.

Brecelj J. From immature to mature pattern ERG and VEP. Doc Ophthalmol. 2003;107:215–24.

27.

Graybiel AM. Organization of the nigrotectal connection: an experimental tracer study in the cat. Brain Res. 1978;143:339–48.

28.

Beckstead RM, Morse JR, Norgren R. The nucleus of the solitary tract in the monkey: projections to the thalamus and brain stem nuclei. J Comp Neurol. 1980;190:259–82.

29.

Leichnetz GR, Spencer RF, Hardy SG, Astruc J. The prefrontal corticotectal projection in the monkey: an anterograde and retrograde horseradish peroxidase study. Neuroscience 1981;6:1023–41.

30.

Distel H, Fries W. Contralateral cortical projections to the superior colliculus in the macaque monkey. Exp Brain Res. 1982;48:157–62.

31.

Harting JK, Huerta MF, Hashikawa T, Van Lieshout DP. Projection of the mammalian superior colliculus upon the dorsal lateral geniculate nucleus: organization oftectogeniculate pathways in nineteen species. J Comp Neurol. 1991;304:275–306.

32.

Harting JK, Updyke BV, Van Lieshout DP. The visual-oculomotor striatum of the cat: functional relationship to the superior colliculus. Exp Brain Res. 2001;136:138–42.

33.

Reyns N, Hayashi M, Chinot O, et al. The role of gamma knife radiosurgery in the treatment of pineal parenchymal tumours. Acta Neurochir. (Wien) 2006;148:5–11.

34.

Tamaki N, Yin D. Therapeutic strategies and surgical results for pineal region tumours. J Clin Neurosci. 2000;7:125–8.
About this article
Cite this article
Bosnjak, J., Mikula, I., Miskov, S. et al. Visual evoked potentials in patients with pineal gland cyst. Wien Klin Wochenschr 124, 605–610 (2012). https://doi.org/10.1007/s00508-012-0215-0
Received:

Accepted:

Published:

Issue Date:
Keywords
Pineal gland cyst

Visual evoked potentials

Pineal region

Pineal gland
Schlüsselwörter
Glandula pinealis Zyste

Visuell evozierte Potenziale

Glandula pinealis Bereich

Glandula pinealis