Summary
Background
In literature, there are conflicting clinical data regarding the incidence of subsequent fracture after balloon kyphoplasty (BK); moreover, the risk of adjacent vertebral fractures has not been well established because there are limited comparative data available with conservatively treated control groups.
Purpose
The purpose of this prospective nonrandomized comparative study was to analyze the incidence and possible risk factors of adjacent level fracture comparing BK with conservative therapy.
Methods
Consecutive patients satisfying the inclusion criteria of acute vertebral fracture pain (occurring within 1–6 weeks of the event and not relieved by oral analgesia) and imaging criteria of acute fracture activity were enrolled. All patients meeting the inclusion criteria were offered BK. The patients who declined BK and agreed to longitudinal evaluation were treated conservatively and constituted the control group.
Results
In 3 out of 46 patients (6.5 %) treated with BK and in 10 out of 61 patients treated conservatively (16.4 %), the adjacent level fracture occurred within 1 year. The degree of local kyphosis and bone mineral density (BMD) were identified as important predictive factors for adjacent level fracture.
Conclusion
These results indicated that BK carries a low risk of adjacent level fractures. Lower BMD values and altered biomechanics in the treated area of the spine due to resistant kyphosis are possible predictive factors for adjacent level fractures. A positive effect of BK over conventional treatment was observed upon reduction of the incidence of adjacent level fracture, vertebral morphology, and pain reduction.
Zusammenfassung
Grundlagen
In der veröffentlichten Literatur bestehen gegensprüchliche Fakten bezüglich Brüchen der Nachbarwirbel nach eingesetzter Ballonkyphoplastie (BK), darüber hinaus steht eine begrenzte Zahl vergleichbarer Untersuchungen zwischen BK und der konservativen Behandlung zur Verfügung.
Ziel
Ziel der präsentierten prospektiven nicht‐randomisierten Studie war es, Häufigkeit und mögliche Risikofaktoren für Frakturen angrenzender Wirbelkörper nach eingesetzter BK im Vergleich mit einer konservativen Therapie einzuschätzen.
Methodik
In Studie eingeschlossen waren Patienten mit klinischen und röntgenologischen Zeichen eines osteoporotischen Wirbelbruches (Alter des Bruches < 6 Wochen), sowie starken Schmerzen trotz Analgesie. Allen Patienten, die Schlüsselkriterien erfüllt haben, wurde die Möglichkeit einer BK‐Therapie als alternative Heilung vorgestellt. Patienten, die sich nicht für die operative Therapie entschieden haben, wurden mit deren Zustimmung weiter konservativ behandelt und repräsentierten die Kontrollgruppe der Patienten.
Ergebnisse
In der Gruppe der Patienten nach durchgeführter BK kam es innerhalb 1 Jahres bei 3 von 36 Patienten (6,5 %) zum Bruch eines angrenzenden Wirbelkörpers. Unter Patienten, welche konservativ behandelt wurden, erlitten innerhalb 1 Jahres 10 von 61 Patienten (16,4 %) einen Bruch eines angrenzenden Wirbelkörpers. Gefunden wurde ein möglicher Zusammenhang zwischen der Häufigkeit von Brüchen angrenzender Wirbelkörper mit lokaler Kyphose und der Mineraldichte der Knochen.
Schlussfolgerung
Die Ergebnisse zeigen, dass die BK eine Methode mit geringem Risiko für Brüche der angrenzenden Wirbelkörper ist. Es besteht ein möglicher Zusammenhang zwischen der Häufigkeit angrenzender Wirbelkörperfrakturen bei Osteoporose und der Häufigkeit angrenzender Wirbelkörperfrakturen bei veränderter Biomechanik der Wirbelsäule aufgrund einer lokalen Kyphose. Bei Patienten, behandelt mit BK, gab es im Vergleich mit konservativ therapierten Patienten nach 1 Jahr im Durchschnitt weniger‐ausgeprägte Deformationen der Wirbel, weniger Brüche angrenzender Wirbelkörper und schnellere Schmerzlinderung.
Access options
Buy single article
Instant access to the full article PDF.
USD 39.95
Price excludes VAT (USA)
Tax calculation will be finalised during checkout.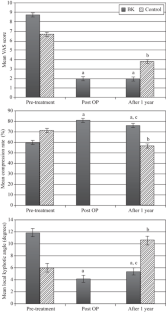 References
Garfin SR, Yuan HA, Reiley MA. New technologies in spine: kyphoplasty and vertebroplasty for the treatment of painful osteoporotic compression fractures. Spine (Phila Pa 1976). 2001;26(14):1511–5.

Fribourg D, Tang C, Sra P, Delamarter R, Bae H. Incidence of subsequent vertebral fracture after kyphoplasty. Spine (Phila Pa 1976). 2004;29(20):2270–6; discussion 2277.

Hillmeier J, Grafe I, Da Fonseca K, Meeder PJ, Noldge G., Libicher M, et al. The evaluation of balloon kyphoplasty for osteoporotic vertebral fractures. An interdisciplinary concept. Orthopade. 2004;33(8):893–904.

Kuklo TR, Polly DW, Owens BD, Zeidman SM, Chang AS, Klemme WR. Measurement of thoracic and lumbar fracture kyphosis: evaluation of intraobserver, interobserver, and technique variability. Spine (Phila Pa 1976). 2001;26(1):61–5; discussion 66.

Pflugmacher R, Schroeder RJ, Klostermann CK. Incidence of adjacent vertebral fractures in patients treated with balloon kyphoplasty: two years' prospective follow up. Acta Radiol. 2006;47(8):830–40.

Polikeit A, Nolte LP, Ferguson SJ. The effect of cement augmentation on the load transfer in an osteoporotic functional spinal unit: finite-element analysis. Spine (Phila Pa 1976). 2003;28(10):991–6.

Baroud G, Nemes J, Heini P, Steffen T. Load shift of the intervertebral disc after a vertebroplasty: a finite-element study. Eur Spine J. 2003;12(4):421–6.

Taylor RS, Taylor RJ, Fritzell P. Balloon kyphoplasty and vertebroplasty for vertebral compression fractures: a comparative systematic review of efficacy and safety. Spine (Phila Pa 1976). 2006;31(23):2747–55.

Movrin I, Vengust R, Komadina R. Adjacent vertebral fractures after percutaneous vertebral augmentation of osteoporotic vertebral compression fracture: a comparison of balloon kyphoplasty and vertebroplasty. Arch Orthop Trauma Surg. 2010;130(9):1157–66.

Ananthakrishnan D, Berven S, Deviren V, Cheng K, Lotz JC, Xu Z, et al. The effect on anterior column loading due to different vertebral augmentation techniques. Clin Biomech (Bristol, Avon). 2005;20(1):25–31.

Belkoff SM, Mathis JM, Fenton DC, Scribner RM, Reiley ME, Talmadge K. An ex vivo biomechanical evaluation of an inflatable bone tamp used in the treatment of compression fracture. Spine (Phila Pa 1976). 2001;26(2):151–6.

Villarraga ML, Bellezza AJ, Harrigan TP, Cripton PA, Kurtz SM, Edidin AA. The biomechanical effects of kyphoplasty on treated and adjacent nontreated vertebral bodies. J Spinal Disord Tech. 2005;18(1):84–91.

Klotzbuecher CM, Ross PD, Landsman PB, Abbott TA 3rd, Berger M. Patients with prior fractures have an increased risk of future fractures: a summary of the literature and statistical synthesis. J Bone Miner Res. 2000;15(4):721–39.

Movrin I. Prevalence of adjacent level fractures after osteoporotic vertebral compression fractures: a prospective nonrandomized trial comparing percutaneous vertebroplasty with conservative therapy. Acta Medico-Biotechnica. 2011;4(2):34–44.

Yuan HA, Brown CW, Phillips FM. Osteoporotic spinal deformity: a biomechanical rationale for the clinical consequences and treatment of vertebral body compression fractures. J Spinal Disord Tech. 2004;17(3):236–42.

Grohs JG, Matzner M, Trieb K, Krepler P. Minimal invasive stabilization of osteoporotic vertebral fractures: a prospective nonrandomized comparison of vertebroplasty and balloon kyphoplasty. J Spinal Disord Tech. 2005;18(3):238–42.

Lin EP, Ekholm S, Hiwatashi A, Westesson PL. Vertebroplasty: cement leakage into the disc increases the risk of new fracture of adjacent vertebral body. AJNR Am J Neuroradiol. 2004;25(2):175–80.

Komemushi A, Tanigawa N, Kariya S, Kojima H, Shomura Y, Komemushi S, et al. Percutaneous vertebroplasty for osteoporotic compression fracture: multivariate study of predictors of new vertebral body fracture. Cardiovasc Intervent Radiol. 2006;29(4):580–5.

Wardlaw D, Cummings SR, Van Meirhaegghe J, et al. Efficacy and safety of balloon kyphoplasty compared with nonsurgical care for vertebral compression fracture (FREE): a randomized controlled trial. Lancet. 2009;373:1016–24.

Buchbinder R, Osborne RH, Ebeling PR, Wark JD, et al. A randomized trial of vertebroplasty for painful osteoporotic vertebral fractures. N Engl J Med. 2009;361:557–68.

Kallmes DF, Comstock BA, Heagerty PJ, Turner JA, Wilson DJ, et al. A randomized trial of vertebroplasty for osteoporotic spinal fractures. N Engl J Med. 2009;361:569–79.
Conflict of interest
The author declares that there is no conflict of interest.
About this article
Cite this article
Movrin, I. Adjacent level fracture after osteoporotic vertebral compression fracture: a nonrandomized prospective study comparing balloon kyphoplasty with conservative therapy. Wien Klin Wochenschr 124, 304–311 (2012). https://doi.org/10.1007/s00508-012-0167-4
Received:

Accepted:

Published:

Issue Date:

DOI: https://doi.org/10.1007/s00508-012-0167-4
Keywords
Schlüsselwörter