Summary
The use of weight loss pills containing cayenne pepper has ever been increasing. The main component of cayenne pepper pills is capsaicin. There are conflicting data about the effects of capsaicin on the cardiovascular system. In this paper, we present the case of a 41 year old male patient with no cardiovascular risk factors who took cayenne pepper pills to lose weight and developed acute myocardial infarction.
Zusammenfassung
Der Gebrauch von Cayenne Pfeffer enthaltende Pillen zur Gewichtsabnahme nimmt immer mehr zu. Der Hauptwirkstoff der Cayenne Pfeffer Pillen ist Capsaicin, dessen Wirkung auf das kardiovaskuläre System umstritten ist. In der vorliegenden Arbeit stellen wir den Fall eines 41-jährigen männlichen Patienten ohne kardiovaskuläre Risikofaktoren vor, der zur Gewichtsabnahme Cayenne Pfeffer Pillen einnahm und einen akuten Herzinfarkt erlitt.
Access options
Buy single article
Instant access to the full article PDF.
US$ 39.95
Tax calculation will be finalised during checkout.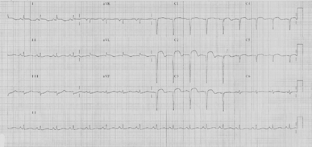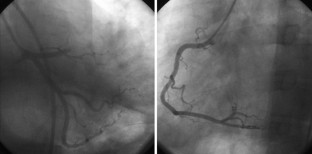 References
1.

Kawada T, Hagihara K, Iwai K. Effects of capsaicin on lipid metabolism in rats fed a high fat diet. J Nutr. 1986;116:1272–8.

2.

Watanabe T, Kawada T, Yamamoto M, Iwai K. Capsaicin, a pungent principle of hot red pepper, evokes catecholamine secretion from the adrenal medulla of anesthetized rats. Biochem Biophys Res Commun. 1987;142:259–64.

3.

Grassi G. Role of the sympathetic nervous system in human hypertension. J Hypertens. 1998;16:1979–87.

4.

Ohnuki K, Moritani T, Ishihara K, Fushiki T. Capsaicin increases modulation of sympathetic nerve activity in rats: measurement using power spectral analysis of heart rate fluctuations. Biosci Biotechnol Biochem. 2001;65:638–43.

5.

Watanabe T, Kawada T, Kurosawa M, Sato A, Iwai K. Adrenal sympathetic efferent nerve and catecholamine secretion excitation caused by capsaicin in rats. Am J Physiol. 1988;255:E23–7.

6.

Hachiya S, Kawabata F, Ohnuki K, Inoue N, Yoneda H, Yazawa S, et al. Effects of CH-19 Sweet, a non-pungent cultivar of red pepper, on sympathetic nervous activity, body temperature, heart rate, and blood pressure in humans. Biosci Biotechnol Biochem. 2007;71:671–6.

7.

Patanè S, Marte F, La Rosa FC, La Rocca R. Capsaicin and arterial hypertensive crisis. Int J Cardiol. 2010;144:e26–7.

8.

Patanè S, Marte F, Di Bella G, Cerrito M, Coglitore S. Capsaicin, arterial hypertensive crisis and acute myocardial infarction associated with high levels of thyroid stimulating hormone. Int J Cardiol. 2009;134:130–132.

9.

Akcay AB, Ozcan T, Seyis S, Acele A. Coronary vasospasm and acute myocardial infarction induced by a topical capsaicin patch. Arch Turk Soc Cardiol. 2009;37:497–500.

10.

Szolcsányi J, Oroszi G, Németh J, Szilvássy Z, Tósaki A. Endothelin release by capsaicin in isolated working rat heart. Eur J Pharmacol. 1999;376:247–250.

11.

Bloomer RJ, Canale RE, Shastri S, Suvarnapathki S. Effect of oral intake of capsaicinoid beadlets on catecholamine secretion and blood markers of lipolysis in healthy adults: a randomized, placebo controlled, double-blind, cross-over study. Lipids Health Dis. 2010;9:72.
Conflict of interest
The authors report no conflict of interest.
About this article
Cite this article
Sayin, M., Karabag, T., Dogan, S. et al. A case of acute myocardial infarction due to the use of cayenne pepper pills. Wien Klin Wochenschr 124, 285–287 (2012). https://doi.org/10.1007/s00508-012-0163-8
Received:

Accepted:

Published:

Issue Date:
Keywords
Capsaicin

Acute coronary syndrome
Schlüsselwörter
Capsaicin

Akuter Herzinfarkt