Zusammenfassung
Man made noise (MMN) und dessen Abstrahlung über das elektrische Energieversorgungsnetz ist eine vermeidbare Störung der primär an Funkdienste zugewiesenen Radiofrequenzbereiche. Es besteht die Sorge, dass die Störungen durch die zahlenmäßige Ausweitung der leistungselektronischen Anwendungen durch Überlagerung messbar ansteigen und damit eine Nutzung durch die Funkdienste mit primär zugewiesenen Frequenzbereichen einschränken.
Der Beitrag berichtet über ein Konzept für ein langfristiges Monitoring elektromagnetischer Störungen (MMN) im Frequenzbereich zwischen 50 kHz und 30 MHz. Das Konzept wurde für eine größere Anzahl von Anlagen entwickelt, verteilt über die Bundesrepublik Deutschland. Durch Anwendung der ITU Regulations und ein daran angelehntes Messverfahren mit definierten Antennen wird der gesamte Frequenzbereich mehrfach in der Stunde erfasst und die Messdaten in einem Server gesammelt. Erste Messungen der Vorseriengeräte zeigen die grundsätzliche Funktionsfähigkeit des Systems und geben einen Einblick in die Verhältnisse der Störausstrahlungen an ausgesuchten Standorten.
Abstract
Man made noise (MMN) and its radiation via the electrical power supply network is an avoidable disturbance of the radio frequencies assigned to radio services on a primary basis. There is concern that the interference is measurably increased by the numerical expansion of the power electronic applications through superposition and thus limits the use of radio services with primarily assigned frequency ranges.
The paper reports on a concept for long-term monitoring of electromagnetic interference (MMN) in the frequency range between 50 kHz and 30 MHz. The concept has been developed for a larger number of systems distributed throughout the Federal Republic of Germany. By applying the ITU Regulations and a measurement procedure based on these, the entire frequency range is recorded several times per hour with defined antennas and the data are collected in a server. First measurements of the pre-series devices show the basic functionality of the system and give an insight into the conditions of interference radiation at selected locations.
This is a preview of subscription content, log in to check access.
Access options
Buy single article
Instant access to the full article PDF.
US$ 39.95
Tax calculation will be finalised during checkout.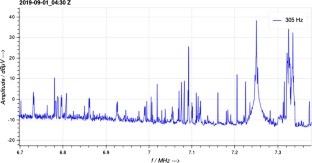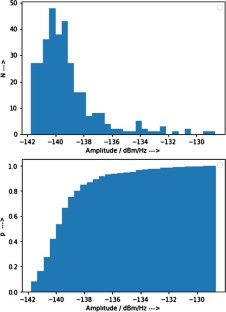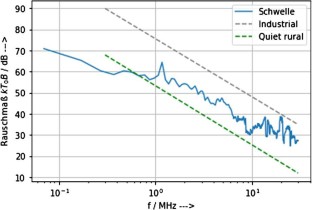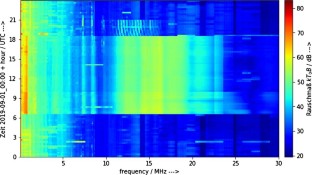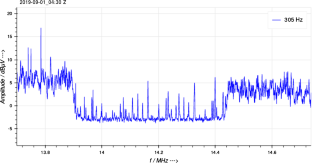 Literatur
1.

ITU-R P.372-14 (2019-08): Radio noise.

2.

ITU-R SM.1753-2 (2012-09): Methods for measurements of radio noise.

3.

van Maanen, E. (2006): Practical radio noise measurements. In 18th int. symposium on electromagnetic compatibility, Wroclaw, 28–30 June (S. 1–6).

4.

ITU-R SM.2155 (2009-09): Man-made noise measurements in the HF range.

5.

Logemann, J. Eichel, K. (2019): ENAMS-Messsystem für HF-Störungen 100 kHz bis 30 MHz. cq-DL, 3, 37–39.
Danksagung
Das Projekt ENAMS wird vom Deutschen Amateur Radio Club (DARC e.V., Baunatal, Deutschland) durchgeführt und vom Referat für elektromagnetische Verträglichkeit (EMV-Referat) geleitet. Planung, Aufbau, Service der Hardware und die Software für Messung und Auswertung wird durch eine große Anzahl an Projektmitarbeitern ehrenamtlich und unentgeltlich eingebracht. Diesen hier nicht Genannten gehört ein sehr großer Dank. Sie machen dieses Projekt erst möglich. Finanziert wurde die SDR-Hardware für die geplanten 50 Geräte vom DARC e.V., Baunatal. Der DARC e.V. stellt auch die zentralen Server zur Verfügung und sorgt für Administration, ohne die ein solches Projekt nicht denkbar wäre.
Die Autoren danken aber auch der Firma Altec GmbH, Weißenhorn, für die Spende der konfektionierten Koaxialkabel zum Anschluss der Antennen an das Messsystem sowie für Antennen-Erdnetze.
Additional information
Publisher's Note
Der Verlag bleibt in Hinblick auf geografische Zuordnungen und Gebietsbezeichnungen in veröffentlichten Karten und Institutsadressen neutral.
About this article
Cite this article
Hartje, M., Eichel, K. Konzept für das langfristige Monitoring von elektromagnetischen Störungen im Bereich von 50 kHz bis 30 MHz. Elektrotech. Inftech. 136, 345–351 (2019). https://doi.org/10.1007/s00502-019-00769-6
Received:

Accepted:

Published:

Issue Date:
Schlüsselwörter
Man made noise

Messung VLF-HF

SDR-Konzept

ITU-R P.372
Keywords
man made noise

measurement VLF to HF

SDR-concept

ITU-R P.372