Zusammenfassung
In diesem Artikel werden die Sättigungseigenschaften hoch ausgenutzter permanentmagneterregter Synchronmaschinen aufgezeigt. Die Auswirkungen der Sättigung hinsichtlich der Maschinenkennlinien und Drehmomenteinprägung werden dargelegt. Es werden Verfahren zur Stromregelung vorgestellt, mit denen trotz des starken Sättigungsverhaltens eine hochdynamische Drehmomenteinprägung ermöglicht wird. Für die Parametrierung dieser Regelungen wird auf Flussverkettungskennfelder der Maschinen zurückgegriffen, die aus Kennfeldmessungen im stationären Betrieb gewonnen werden. Spezielle, auf Automobilantriebe ausgelegte Maschinenprüfstände werden vorgestellt, mit denen die benötigten Kennfelder ausgemessen und die entwickelten Regelverfahren validiert werden können.
Abstract
In this paper saturation characteristics of highly utilized permanent magnet synchronous machines are described. The effects of saturation on the machine characteristic and torque generation are explained. Different methods of current control schemes are introduced that allow highly dynamic torque control even with distinct nonlinear behaviour of the machine. Control parameters are derived from flux characteristics which are attained from stationary measurements. The design and rating of specific test benches for traction drives is introduced in order to characterize machines and validate different control schemes.
Access options
Buy single article
Instant access to the full article PDF.
USD 39.95
Price excludes VAT (USA)
Tax calculation will be finalised during checkout.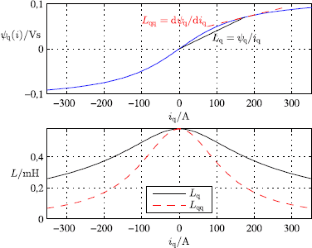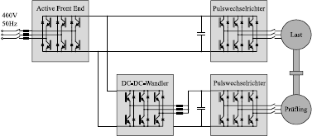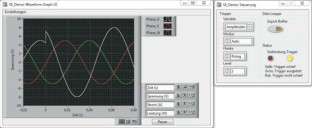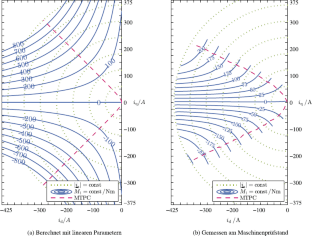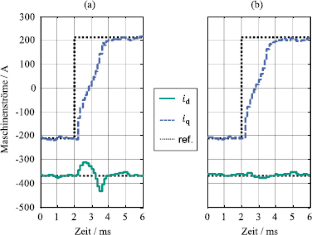 Literatur
Kampker, A. (2013): Elektromobilität – Grundlagen einer Zukunftstechnologie. Berlin: Springer.

Böcker, J., Bösing, M., Bredehorn, M., et al. (2010): Elektrofahrzeuge – Bedeutung, Stand der Technik, Handlungsbedarf. Berlin: VDE Verlag.

Stumberger, B., Stumberger, G., Dolina, D., Hamler, A., Trlep, M. (2003): Evaluation of saturation and cross-magnetization effects in interior permanent-magnet synchronous motor. IEEE Trans. Ind. Appl., 39(5), 1264–1271. doi:10.1109/TIA.2003.816538.

Richter, J., Winzer, P., Doppelbauer, M. (2013): Einsatz virtueller Prototypen bei der akausalen Modellierung und Simulation von permanenterregten Synchronmaschinen. ETG Fachbericht (Bd. 139). Berlin: VDE Verlag. ISBN 978-3-8007-3550-1.

Mink, F. (2013): Modellierung und hochdynamische Stromregelung von PM-Synchronmaschinen unter Berücksichtigung von Sättigungseffekten. Dissertation, Darmstadt.

Schröder, D. (2009): Elektrische Antriebe – Regelung von Antriebssystemen. Berlin: Springer.

Beineke, S., Bähr, A., Mink, F., Nalepa, R. (2008): Regelung von Synchronmotoren mit Kompensation von Sättigungseffekten. In Proceedings of the SPS/IPC/drives 2008 (S. 65–74).

Klöffer, C. (2015): Reichweitenverlängerung von Elektrofahrzeugen durch Optimierung des elektrischen Antriebsstranges. Dissertation, Karlsruhe.

Gemassmer, T. (2015): Effiziente und dynamische Drehmomenteinprägung in hoch ausgenutzten Synchronmaschinen mit eingebetteten Magneten. Dissertation, Karlsruhe.

Pohlenz, D., Böcker, J. (2010): Efficiency improvement of an IPMSM using maximum efficiency operating strategy. In 14th international power electronics and motion control conference, EPE/PEMC (S. T5-15–T5-19). doi:10.1109/EPEPEMC.2010.5606831.

Gemassmer, T., Richter, J., Schnarrenberger, M., Braun, M. (2014): High dynamic rotor oriented current control for permanent magnet synchronous machines with saturation characteristics. In Proceedings of the PCIM Europe 2014 (S. 153–160).

Richter, J., Gemassmer, T., Doppelbauer, M. (2014): Predictive current control of saturated cross-coupled permanent magnet synchronous machines. In International symposium on power electronics, electrical drives, automation and motion, SPEEDAM (S. 823–828). doi:10.1109/SPEEDAM.2014.6871930.
About this article
Cite this article
Gemaßmer, T., Klöffer, C., Veigel, M. et al. Charakterisierung und Regelung hoch ausgenutzter permanentmagneterregter Synchronmaschinen für den Einsatz in Traktionsantrieben. Elektrotech. Inftech. 133, 136–141 (2016). https://doi.org/10.1007/s00502-016-0398-6
Received:

Accepted:

Published:

Issue Date:

DOI: https://doi.org/10.1007/s00502-016-0398-6
Schlüsselwörter
Keywords