Abstract
A promising approach for the application of NFC in healthcare is the combination of the simple handling of NFC with different sensor functionalities. By an advanced design of the NFC-antenna and the surrounding hard- and software, the intelligent NFC-tag can operate as a smart sensor with NFC-interface for the transfer of measurement data. According to this principle, various sensor applications for health care scenarios can be realized. In this article several developments of NFC-sensor applications are introduced like NFC-based fill level measurement, NFC-based analog scale (position detection), NFC-based blood-glucose meter, NFC-based cryo-sensor for vials and NFC-based ultraviolet (UV) assessment for sun burn prevention. The main advantages of these applications are that all NFC-sensors can simply be used by medical, nursing staff or patients and consumers.
Zusammenfassung
Großes Potenzial für NFC-Anwendungen im Gesundheitsbereich besteht vor allem durch die intuitive Handhabung von NFC in Verbindung mit verschiedenen Sensoren. Mit einem entsprechenden Design von NFC-Antenne und zugehöriger Hard- und Software können intelligente NFC-Sensoren entwickelt werden, deren Messdaten über die NFC-Schnittstelle zu anderen elektronischen Geräten (z. B. einem Smartphone) übertragen werden können. Nach diesem Grundprinzip sind verschiedenste Sensoranwendungen für den Gesundheitsbereich möglich. In diesem Artikel werden mehrere verschiedene NFC-Sensoranwendungen für den Gesundheitsbereich vorgestellt: NFC-basierte Füllstandmessung, Positionserkennung (lineare Schmerzskala) mittels NFC-Antenne, ein NFC-Blutzuckermessgerät, ein NFC-Sensor für die Kontrolle der Kühlkette von Ampullen und ein UV-Sensor zur Sonnenbrandvorbeugung. Der wesentliche Vorteil dieser Entwicklungen ist die einfache Anwendung durch medizinisches und pflegerisches Personal, Patienten und Konsumenten.
Access options
Buy single article
Instant access to the full article PDF.
US$ 39.95
Tax calculation will be finalised during checkout.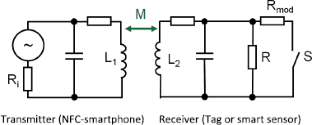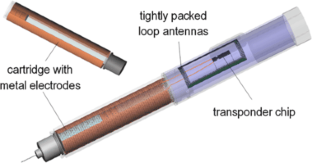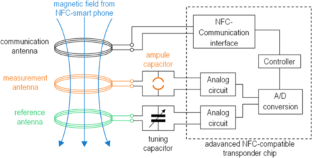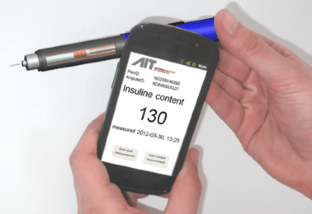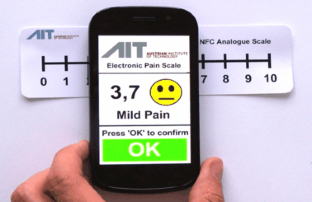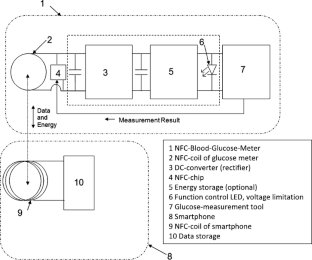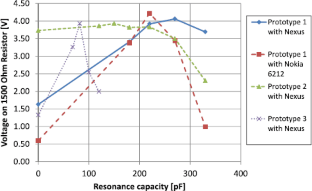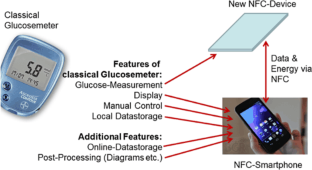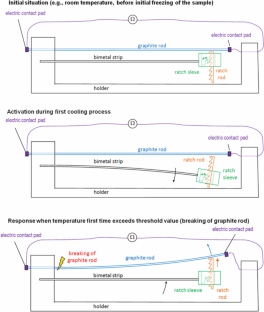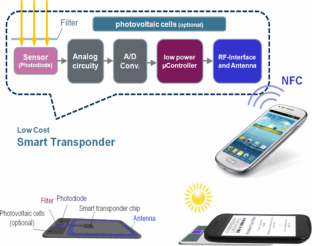 References
1.

Lamedschwandner, K., Bammer, M., Schmid, G., Cecil, S., Preineder, H., Oberleitner, A., Fuxreiter, T. (2012): Neuartige NFC-Anwendungen für AAL und Health Care. E&I, Elektrotech. Inf.tech., 129(2), a22–a25. ISSN 0932-383X.

2.

Finkenzeller, K. (2012): RFID-Handbuch: Grundlagen und praktische Anwendungen von transpondern, kontaktlosen Chipkarten und NFC. Munich: Hanser Verlag. 6. akt. u. erw. Aufl., ISBN-13: 978-3-446-42992-5.

3.

Langer, J., Roland, M. (2010): Anwendungen und Technik von Near Field Communication (NFC). Wien: Springer. ISBN-13: 978-3-64205496-9.

4.

Schmid, G., Bammer, M., Cecil, S., Lamedschwandner, K., Fuxreiter, T., Oberleitner, A. (2011): A passive NFC analog scale for electronically capturing subjective parameters in the frame of patient remote monitoring and AAL applications. In Everyday technology for independence and care—AAATE 2011. Assistive technologies research series (Vol. 29, pp. 88–95). AAATE conf. 2011, 31.8.–2.9.2011, Maastricht, The Netherlands. ISBN 978-1-60750-813-7.

5.

Cecil, S., Bammer, M., Schmid, G., Oberleitner, A., Lamedschwandner, K. (2012): Measurement of blood-glucose via near field communication (NFC). In Proceeding global telemedicine and eHealth updates. Knowledge resources (Vol. 5, pp. 419–422). MedeTel-Konferenz, Luxemburg, April 18–20, 2012. ISSN 1998-5509.
About this article
Cite this article
Cecil, S., Bammer, M., Schmid, G. et al. Smart NFC-sensors for healthcare applications and further development trends. Elektrotech. Inftech. 130, 191–200 (2013). https://doi.org/10.1007/s00502-013-0156-y
Received:

Accepted:

Published:

Issue Date:
Keywords
near field communication

smart sensors

healthcare

ambient assisted living

NFC-smartphone
Schlüsselwörter
Nahfeldkommunikation (NFC)

intelligente Sensoren

Gesundheits- und Pflegebereich

NFC-Smartphone