Abstract
Distance measure is an effective tool for describing the difference between two vectors. Many scholars have proposed a lot of distance measures between the intuitionistic fuzzy sets. However, there are few works about the interval-valued intuitionistic multiplicative (IVIM) distance measure. The few research achievements are not sufficient to deal with the problems involving the distance between two interval-valued intuitionistic multiplicative sets (IVIMSs). Thus, there still exist some shortages in fully describing the difference between two IVIMSs. In this paper, we first propose an improved distance measure, the projection-based distance measure, which can reflect the difference between two objects more accurately with IVIM information. After that, a new method is introduced to determine the experts' weights based on the projection-based distance measure. Then, to handle the group decision making problem in which the weights of experts are unknown, we use the proposed projection-based distance measure to construct the similarity matrix in Boole clustering method. Finally, the clustering method is applied to the customer classification problem to test the reliability of the method.
Access options
Buy single article
Instant access to the full article PDF.
USD 39.95
Price excludes VAT (USA)
Tax calculation will be finalised during checkout.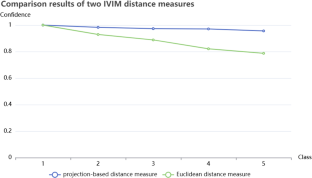 Data availability
Due to the nature of this research, participants of this study did not agree for their data to be shared publicly, so supporting data is not available.
References
Danish Lohani QM, Rinki S, Pranab KM (2018) Novel adaptive clustering algorithms based on a probabilistic similarity measure over Atanassov intuitionistic fuzzy set. IEEE Trans Fuzzy Syst 26:3715–3729

He LH, Wang LQ, Zhang LY (2014) A method for determining the experts' weights of multi-attribute group decision-making based on clustering analysis. Oper Res Manag Sci 6:65–72

Jiang Y, Xu ZS, Xu JP (2014) Interval-valued intuitionistic multiplicative set. Int J Uncertain Fuzziness Knowl Based Syst 22:385–406

Le HS (2017) Measuring analogousness in picture fuzzy sets: from picture distance measures to picture association measures. Fuzzy Optim Decis Making 16:359–378

Li YL, Zhu YH, Wu JW (2017) Research on expert weighting method based on D-S evidence theory. Adv Inf Technol 13:3043–3047

Liao HC, Zhang C, Luo L (2018) A multiple attribute group decision making method based on two novel intuitionistic multiplicative distance measures. Inf Sci 467:766–783

Sahu M, Gupta A, Mehra A (2017) Hierarchical clustering of interval-valued intuitionistic fuzzy relations and its application to elicit criteria weights in MCDM problems. Opsearch 6:388–416

She R, Liu SY, Fan PY (2017) Amplifying inter-message distance: on information divergence measures in big data. IEEE Access 5:24105–24119

Tian ZP, Nie RX, Wang JQ, Li L (2019) Group multigranular linguistic QFD for prioritizing service designs with combined weighting method. Expert Syst 36:101–105

Valderrama JFB, Valderrama DLB (2018) On LAMDA clustering method based on typicality degree and intuitionistic fuzzy sets. Expert Syst Appl 107:196–221

Wang WQ, Xin XL (2011) Distance measure between intuitionistic fuzzy sets. Math Pract Theory 17:38–42

Wang Y, Zang QB (2006) The application of Boole matrix fuzzy clustering used in topographic diagrams data mining. J Sci Teachers' Coll Univ 26:71–75

Wang Z, Xu ZS, Liu SS (2011) A netting clustering analysis method under intuitionistic fuzzy environment. Appl Soft Comput 11:5558–5564

Wu HY, Xu ZS, Ren PJ, Liao HC (2018) Hesitant fuzzy linguistic projection model to multi-criteria decision making for hospital decision support systems. Comput Ind Eng 115:449–458

Xia MM, Xu ZS, Liao HC (2013) Preference relations based on intuitionistic multiplicative information. IEEE Trans Fuzzy Syst 21:113–133

Xu ZS (2007) Multiple-attribute group decision making with different formats of preference information on attributes. IEEE Trans Syst Man Cybernet Part B 37:1500–1511

Xu GL, Liu F (2013) An approach to group decision making based on interval multiplicative and fuzzy preference relations by using projection. Appl Math Model 37:3929–3943

Xu ZS, Wu JJ (2010) Intuitionistic fuzzy C-means clustering algorithms. J Syst Eng Electron 4:580–590

Xu ZS, Chen J, Wu JJ (2008) Clustering algorithm for intuitionistic fuzzy sets. Inf Sci 19:3775–3790

Xu ZS, Tang J, Liu SS (2011) An orthogonal algorithm for clustering intuitionistic fuzzy information. Inf Int Interdiscipl J 14:65–78

Xu DW, Xu ZS, Liu SS, Zhao H (2013) A spectral clustering algorithm based on intuitionistic fuzzy information. Knowl-Based Syst 53:20–26

Ye J (2017) Simplified neutrosophic harmonic averaging projection-based method for multiple attribute decision-making problems. Int J Mach Learn Cybern 8:981–987

Yu DJ, Merigó JM, Zhou LG (2013) Interval-valued multiplicative intuitionistic fuzzy preference relations. Int J Fuzzy Syst 15:412–422

Yue ZL (2011) An extended TOPSIS for determining weights of decision makers with interval numbers. Knowl-Based Syst 24:146–153

Yue ZL (2012) An Application of the projection method to determine weights of decision makers for group decision making. Scientia Iranica 19(3):872–878

Yue ZL, Jia YY (2015) A direct projection-based group decision-making methodology with crisp values and interval data. Soft Comput 21:2395–2405

Zadeh LA (1965) Fuzzy sets. Inf Control 8:338–353

Zhao H, Xu ZS, Liu SS, Wang Z (2012) Intuitionistic fuzzy MST clustering algorithms. Comput Ind Eng 4:1130–1140

Zhao H, Xu ZS, Wang Z (2013) Intuitionistic fuzzy clustering algorithm based on Boole matrix and association measure. Int J Inf Technol Decis Mak 12:95–118

Zhou W, He JM, Yu DJ (2013) Accurate method of obtaining decision expert weights in intuitionistic fuzzy group decision making. Control Decis 28:716–720
Funding
The work was supported in part by the China National Natural Science Foundation (No. 71771155).
Ethics declarations
Conflict of interest
The authors declare that they have no conflict of interest.
Additional information
Publisher's Note
Springer Nature remains neutral with regard to jurisdictional claims in published maps and institutional affiliations.
Rights and permissions
Springer Nature or its licensor (e.g. a society or other partner) holds exclusive rights to this article under a publishing agreement with the author(s) or other rightsholder(s); author self-archiving of the accepted manuscript version of this article is solely governed by the terms of such publishing agreement and applicable law.
About this article
Cite this article
Liu, M., Zhao, H., Xu, Z. et al. A novel projection-based distance measure for interval-valued intuitionistic multiplicative clustering algorithm. Soft Comput 27, 2369–2383 (2023). https://doi.org/10.1007/s00500-022-07765-7
Accepted:

Published:

Issue Date:

DOI: https://doi.org/10.1007/s00500-022-07765-7
Keywords
Interval-valued intuitionistic multiplicative set

Projection-based distance measure

Expert weights determination

Clustering algorithm

Group of experts' opinions