Abstract
Based on the mathematical model of a nonlinear finance system, a novel finance chaotic system that generates mirror symmetric multiscroll chaotic attractors is proposed in this paper. The chaotic dynamical behaviors such as symmetry, chaoticity, bifurcation and boundedness are discussed in detail for the finance system with state variables; interest rate, investment demand and price index. The complex composite symmetrical attractors of finance system with different magnitudes are obtained. Moreover, with the help of multilevel-logic pulse signal, the generation of two pairs of different magnitudes symmetrical attractors are explored. The novel grid composite multiscroll chaotic attractors is one of the most interesting result is found in the finance system. By adjusting the parameters of multilevel-logic pulse signals, the finance system is controlled and a novel grid composite multiscroll chaotic attractor is explored in this article.
Access options
Buy single article
Instant access to the full article PDF.
USD 39.95
Price excludes VAT (USA)
Tax calculation will be finalised during checkout.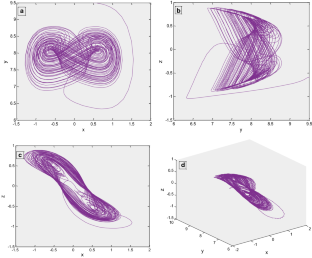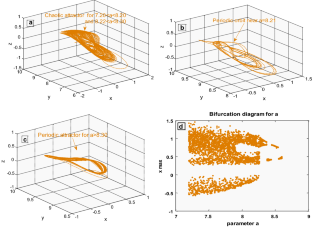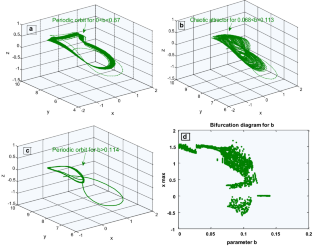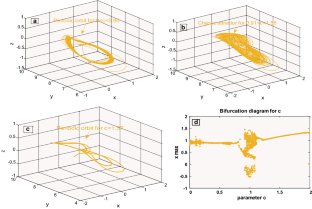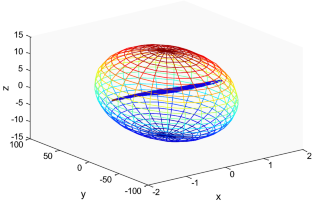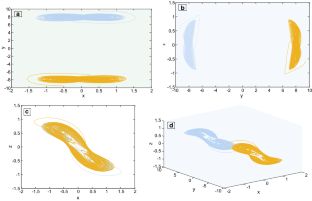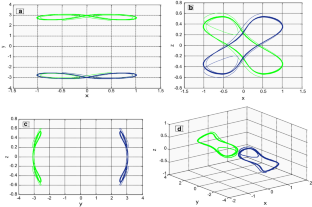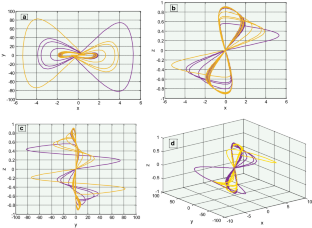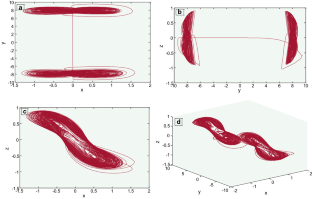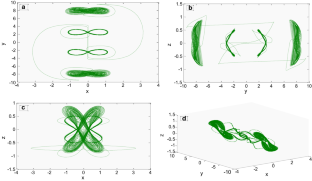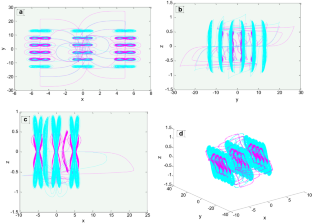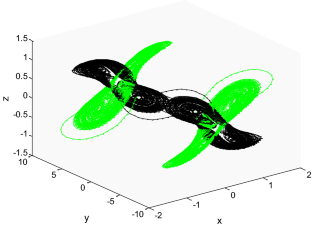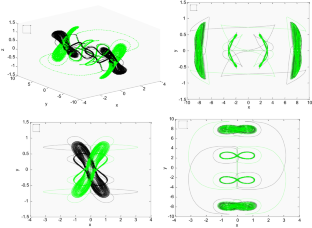 Data availability
Data sharing not applicable to this article as no datasets were generated or analyzed during the current study.
Data link
No data link is available for this article as no datasets were generated or analyzed during the current study.
References
Ai W, Sun K, Fu Y (2018) Design of multiwing-multiscroll grid compound chaotic system and its circuit implementation. Int J Mod Phys C 29:1850049

Azam A, Aqeel M, Salman A, Faizan A (2017) Chaotic behaviour of modified stretched-twist-fold flow with fractal property. Nonlinear Dyn 90:1–12

Azam A, Aqeel M, Hussain Z (2021) On the dynamics: existence of chaos and symmetry in Krauseand Robert (KR) flow. Soft Comput 25:2521–2530

Cai G, Huang J (2007) A new finance chaotic attractor. Int J Nonlinear Sci 3:213–220

Celikovsky S, Chen GR (2002) On a generalized Lorenz canonical form of chaotic system via nonlinear observed approach. Int J Bifurc Chaos 8:1789–1812

Cesare LD, Sportelli M (2005) A dynamics IS-LM model with delayed taxation revenues. Chaos Solitons Fractals 25(1):233–244

Chen GR, Ueta T (1999) Yet another chaotic attractor. Int J Bifurc Chaos 9:1465–1466

Elwakil A, Ozoguz S (2003) Chaos in a pulse-excited resonator with self-feedback. Electron Lett 39:831–833

Elwakil A, Ozoguz S (2006) Multiscroll chaotic oscillators: the nonautonomous approach. IEEE Trans Circuits Sys I 53(9):862–866

Elwakil AS, Ozoguz S, Kennedy MP (2002) Creation of a complex butterfly attractor using a novel Lorenz-type system. IEEE Trans Circuits Syst I 49:527–530

Fanti L, Manfredi P (2007) Chaotic business cycles and fiscal policy: an IS-LM model with distributed tax collection lags. Chaos Solitons Fractals 32(2):736–744

Fiaz M, Aqeel M, Marwan M, Sabir M (2022) Integer and fractional order analysis of a 3D system and generalization of synchronization for a class of chaotic systems. Chaos Fractal Soliton 155:111743

Fiaz M, Aqeel M, Marwan M, Sabir M (2021) Retardational effect and hopf bifurcations in a new attitude system of quad-rotor unmanned aerial vehicle. Int J Bifurc Chaos 31(9):2150127

Gao Q, Ma J (2009) Chaos and Hopf bifurcation of a finance system. Nonlinear Dyn 58(1–2):209–216

Gilmore R, Letellier C (2007) The symmetry of chaos. Oxford University Press, Oxford

Goodwin RM (1951) The nonlinear accelerator and the persistence of business cycles. Econometrica 19(1):1–17

Haiyang F, Minqiang L, Fuzan C (2014) Chaotic dynamics in the software market with network Externalities. Soft Comput 18:509–519

He L, Yi L, Tang P (2016) Numerical scheme and dynamic analysis for variable-order fractional van der Pol model of nonlinear economic cycle. Adv Differ Equ 195(2016):1–11

Hong Q, Li Y, Wang X, Zeng Z (2018) A versatile pulse control method to generate arbitrary multidirection multibutterfly chaotic attractors. IEEE Trans Comput Aided Des Integr Circuits Syst 38(8):1480–1492

Hong Q, Xie Q, Shen Y, Wang X (2016) Generating multi-double-scroll attractors via nonautonomous approach. Chaos 26(8):130–141

Hong Q, Xie Q, Xiao P (2017) A novel approach for generating multi-direction multi–double-scroll attractors. Nonlinear Dyn 87(2):1015–1030

Huang Y, Zhang P, Zhao W (2015) Novel grid multiwing butterfly chaotic attractors and their circuit design. IEEE Trans Circuits Syst II Exp Briefs 62(5):496–500

Jiayi F, Wenjing X, Yi H, Dinesh RJ (2021) Application of chaos cuckoo search algorithm in computer vision technology. Soft Comput 25:12373–12387

Javeria A, Aqeel M, Salman A, Zainab R (2020) Absolute control of chaotic responses in Robbins disc Dynamo. Eur Phys J plus 135:307

Jh L, Chen GR (2002) A new chaotic attractor coined. Int J Bifurc Chaos 3:659–661

Lorenz EN (1963) Deterministic nonperiodic flow. J Atmos Sci 20:130–141

Siddique M, Rehan M, Bhatti MKL, Ahmed S (2017) Delay range-dependent local adaptive and robust adaptive synchronization approaches for time-delay chaotic systems. Nonlin Dyn 88(4):2671–2691

Ma J, Chen Y (2001) Study for the bifurcation topological structure and the global complicated character of a kind of nonlinear finance system (II). Appl Math Mech 22(12):1236–1242

Marwan M, Mehboob M, Ahmad S, Aqeel M (2020) Hopf bifurcation of forced Chen system and its stability via adaptive control with arbitrary parameters. Soft Comput 24:4333–4341

Peng X, Zeng Y (2020) A simple method for generating mirror symmetry composite multiscroll chaotic attractors. Int J Bifurc Chaos 30(11):2050220

Rai V, Upadhyay RK (2004) Chaotic population dynamics and biology of top predator. Chaos Solitons Fractals 21(5):1195–1204

Rossler OE (1976) An equation for continuous chaos. Phys Lett A 57:397–398

Al Azzawi SF (2004) Stability and bifurcation of pan chaotic system by using Routh-Hurwitz and gardan methods. Appl Math Comput 219(3):1144–1152

Shahverdiev EM (1999) Boundedness of dynamical systems and chaos synchronization. Phys Rev E Stat Phys Plasmas Fluids Relat Interdiscip 60(4):3905–3909

Sprott JC (1994) Some simple chaotic flows. Phys Rev E 50:647–650

Sun C, Chen Z, Xu Q (2017) Generating a double scroll attractor by connecting a pair of mutual mirror image attractors via planar switching control. Int J Bifurc Chaos 27:1–16

Tahir FR, Jafari S, Pham VT, Volocs C, Wang X (2015) A novel no-equilibrium system with multiwing butterfly attractors. Int J Bifurc Chaos 25(4):1550056

Vaidyanathan S, Sambas A, Kacar S, Cavusoglu U (2019) A new finance chaotic system, its electronic circuit realization, passivity based synchronization and an application to voice encryption. Nonlinear Eng 8:193–205

Vlad A, Pasco P, Morariu N (2010) Chaos models in economics. J Comput 12(1):79–83

Yalcin ME (2007) Increasing the entropy of a random number generator using n-scroll chaotic attractors. Int J Bifurc Chaos 17(12):4471–4479

Yang T (2020) Dynamical analysis of a finance system with nonconstant elasticity of demand. Int J Bifurc Chaos 30(10):2050148

Yu S, Lü J, Yu X, Chen G (2012) Design and implementation of grid multiwing Lorenz system family via switching control and constructing super-heteroclinic loops. IEEE Trans Circuits Syst I 59(5):1015–1028

Zhang C, Yu S (2010) On constructing complex grid multi-wing hyperchaotic system: theoretical design and circuit implementation. Int J Circ Th Appl 41:221–237

Zhang C (2016) Theoretical design approach of four-dimensional piecewise linear multi-wing hyperchaotic differential dynamic system. Opt Int J Light Electron Opt 127(11):4575–4580

Zhou L, Wang C, Zhou L (2017) Generating four-wing hyperchaotic attractor and two-wing, three wing, and four-wing chaotic attractors in 4D memristive system. Int J Bifurc Chaos 27:1–14
Acknowledgements
We are thankful to Higher Education Commission (HEC), Pakistan and Institute of Space Technology (IST), Pakistan for providing a good atmosphere to complete this research work.
Funding
The authors have not disclosed any funding.
Ethics declarations
Conflict of interest
The authors declare that they have no conflict of interest.
Additional information
Publisher's Note
Springer Nature remains neutral with regard to jurisdictional claims in published maps and institutional affiliations.
Rights and permissions
Springer Nature or its licensor holds exclusive rights to this article under a publishing agreement with the author(s) or other rightsholder(s); author self-archiving of the accepted manuscript version of this article is solely governed by the terms of such publishing agreement and applicable law.
About this article
Cite this article
Azam, A., Sunny, D.A. & Aqeel, M. Generation of multiscroll chaotic attractors of a finance system with mirror symmetry. Soft Comput 27, 2769–2782 (2023). https://doi.org/10.1007/s00500-022-07501-1
Accepted:

Published:

Issue Date:

DOI: https://doi.org/10.1007/s00500-022-07501-1
Keywords
Multiscroll

Finance system

Pulse control method

Mirror symmetry