Abstract
As one important part of core competitiveness of manufacturing enterprises, quality management practices have gradually received more attention. In many existing researches, quality management practices are regarded as a whole or categorized into two or four types of practice elements for discussions. There are less researches on the relationships among specific quality management practice elements and their impacts on manufacturing performance. We collected data by using a structured survey questionnaire, which was finished by top- and middle-level managers from 123 manufacturing enterprises. And then, we analyze quality management practices with the philosophical thinking of system theory and deconstruct the mechanism of the mutual influences and synergies among various quality management practice elements and also their impacts on manufacturing performance, from an overall perspective through empirical research. At last, a model of quality management practice synergies is built, as a theoretical support for manufacturing enterprises implementation of quality management practices.
Access options
Buy single article
Instant access to the full article PDF.
USD 39.95
Price excludes VAT (USA)
Tax calculation will be finalised during checkout.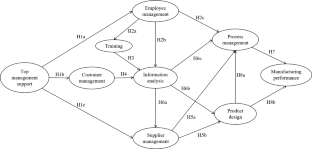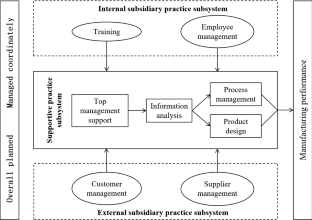 References
Addis S (2019) An exploration of quality management practices in the manufacturing industry of Ethiopia. TQM J 32(1):127–142

Ahire SL, Dreyfus P (2000) The impact of design management and process management on quality: an empirical investigation. J Oper Manag 18(5):549–575

Ahire SL, Golhar DY, Waller MA (1996) Development and validation of TQM implementation constructs. Decis Sci 27(1):23–56

Akanmu MD, Hassan MG, Bahaudin AYB (2020) A preliminary analysis modeling of the relationship between quality management practices and sustainable performance. Qual Manag J 27(1):37–61

Albers Mohrman S, Tenkasi RV, Lawler EE (1995) Total quality management: practice and outcomes in the largest US firms. Employ Relat 17(3):26–41

Alina DV, Magda D (2010) The main subsystems involved in defining the quality management system in a hospital. Manag Chall Contemp Soc 1:60–63

Bayo-Moriones A, Bello-Pindado A (2021) Differences in the impact of AMO bundles of line managers and frontline workers on the performance of manufacturing firms. Acad Rev Latinoamer Admin 34(2):201–223

Bertalanffy LV (1972) The history and status of general systems theory. Acad Manag J 15(4):407–426

Boateng Okrah E, Appiah Fening F (2012) TQM implementation: a case of a mining company in Ghana. Benchmark Int J 19(6):743–759

Bouranta N, Psomas EL, Pantouvakis A (2017) Identifying the critical determinants of TQM and their impact on company performance. TQM J 29(1):147–166

De Cerio JM (2003) Quality management practices and operational performance: empirical evidence for Spanish industry. Int J Prod Res 41(12):2763–2786

Chang S (2011) From classical system in the case of modern system theory. J Syst Sci 19(03):1–4

Criteria for Performance Excellence (2002) Baldrige National Quality Program. Department of Commerce, National Institute of Standards and Technology, Technology Administration, Gaithersburg, MD, USA

Dahlgaard-Park SM, Reyes L, Chen C (2018) The evolution and convergence of total quality management and management theories. Total Qual Manag Bus Excell 29(9–10):1108–1128

Das A, Paul H, Swierczek FW (2008) Developing and validating total quality management (TQM) constructs in the context of Thailand's manufacturing industry. Benchmark Int J 15(1):52–72

Deshpande A (2019) Total quality management, concurrent engineering and manufacturing performance: an empirical investigation. J Oper Strateg Plann 2(1):35–64

Dubey R, Gunasekaran A, Samar Ali S (2015) Exploring the relationship between leadership, operational practices, institutional pressures and environmental performance: a framework for green supply chain. Int J Prod Econ 160:120–132

Flynn BB, Schroeder RG, Sakakibara S (1994) A framework for quality management research and an associated measurement instrument. J Oper Manag 11(4):339–366

Flynn BB, Schroeder RG, Sakakibara S (1995) The impact of quality management practices on performance and competitive advantage. Decis Sci 26(5):659–691

Hackman R, Wageman R (1995) Total quality management: empirical, conceptual, and practical issues. Admin Sci Q 40(2):309–342

Jiang P, Su Q (2013) Review and prospect of research on the relationship model between quality management and enterprise performance. Foreign Econ Manag 35(01):47–54

Kaynak H (2003) The relationship between total quality management practices and their effects on firm performance. J Oper Manag 21(4):405–435

Kaynak H, Hartley JL (2008) A replication and extension of quality management into the supply chain. J Oper Manag 26(4):468–489

Kharub M, Sharma RK (2016) Investigating the role of CSF's for successful implementation of quality management practices in MSMEs. Int J Syst Assur Eng Manag 7(S1):247–273

Kharub M, Sharma RK (2020) An integrated structural model of QMPs, QMS and firm's performance for competitive positioning in MSMEs. Total Qual Manag Bus Excell 31(3–4):312–341

Kumar U, Kumar V, de Grosbois D, Choisne F (2009) Continuous improvement of performance measurement by TQM adopters. Total Qual Manag 20(6):603–616

Kumar P, Maiti J, Gunasekaran A (2018) Impact of quality management systems on firm performance. Int J Qual Reliab Manag 35(5):1034–1059

Kyobe ME (2004) Investigating the strategic utilization of IT resources in the small and medium-sized firms of the Eastern Free State Province. Int Small Bus J Res Entrepr 22(2):131–158

Man X, Tian Y, Pei X (2010) Research on relationship between competitive priorities and manufacturing performance based on modular customization. Oper Res Manag Sci 19(01):162–169

Manzani YE, Sidmou ML, Cegarra J (2019) Does IS0 9001 quality management system support product innovation? An analysis from the sociotechnical systems theory. Int J Qual Reliab Manag 36(6):951–982

Nair A (2006) Meta-analysis of the relationship between quality management practices and firm performance-implications for quality management theory development. J Oper Manag 24(6):948–975

Naor M, Goldstein SM, Linderman KW (2008) The role of culture as driver of quality management and performance: infrastructure versus core quality practices. Decis Sci 39(4):671–702

Neely A, Gregory M, Platts K (1995) Performance measurement system design: A literature review and research agenda. Int J Oper Prod Manag 15(4):80–116

Negron LA (2020) Relationship between quality management practices, performance and maturity quality management, a contingency approach. Qual Manag J 27(4):215–228

Nehete R, Narkhede BE, Raut RD (2016) Manufacturing performance and relevance of operational performance to small and medium scale enterprises—literature review. Int J Bus Excell 10(3):354–391

Patyal VS, Ambekar S, Prakash A (2019) Organizational culture and total quality management practices in Indian construction industry. Int J Product Perform Manag 69(5):895–913

Patyal VS, Koilakuntla M (2017) The impact of quality management practices on performance: an empirical study. Benchmark Int J 24(2):511–535

Prajogo DI, Brown A (2006) Approaches to adopting quality in SMEs and the impact on quality management practices and performance. Total Qual Manag Bus Excell 17(5):555–566

Prajogo DI, Sohal AS (2004) The multidimensionality of TQM practices in determining quality and innovation performance—an empirical examination. Technovation 24(6):443–453

Radnor ZJ, Barnes D (2007) Historical analysis of performance measurement and management in operations management. Int J Product Perform Manag 56(5/6):384–396

Saraph JV, Benson GP, Schroeder RG (1989) An instrument for measuring the critical factors of quality management. Decis Sci 20(4):810–829

Sciarelli M, Gheith MH, Tani M (2020) The relationship between soft and hard quality management practices, innovation and organizational performance in higher education. TQM J 32(6):1349–1372

Sila I, Ebrahimpour M (2005) Critical linkages among TQM factors and business results. Int J Oper Prod Manag 25(11):1123–1155

Song Y, Su Q (2016) The relationship between quality management practice, new product development capability and new product development performance. Sci Technol Progress Policy 33(09):79–85

Song Y, Su Q, Jiang P (2011) The effect of relationship quality on quality management practice and performance. Sci Res Manag 32(04):69–75+85.

Sun W, Zhang L, Lin Z (2021) Research on the impact of quality management practice on enterprise innovation performance—the moderating effect of market competition intensity. Sci Technol Progress Policy 38(07):95–104

Ward PT, McCreery JK, Ritzman LP (1998) Competitive priorities in operations management. Decis Sci 29(4):1035–1046

Wu SJ (2019) Assessing the individual and synergistic effects of quality management practices on operations performance. Int J Product Perform Manag 69(2):297–320

Wu SJ, Zhang D (2013) Analyzing the effectiveness of quality management practices in China. Int J Prod Econ 144(1):281–289

Zeng J, Anh Phan C, Matsui Y (2015) The impact of hard and soft quality management on quality and innovation performance: an empirical study. Int J Prod Econ 162:216–226

Zhang D, Linderman K, Schroeder RG (2012) The moderating role of contextual factors on quality management practices. J Oper Manag 30(1–2):12–23

Zu X, Fredendall LD, Douglas TJ (2008) The evolving theory of quality management: the role of Six Sigma. J Oper Manag 26(5):630–650
Funding
This work was supported by National Social Science Foundation of China [Grant Number 20BGL106].
Ethics declarations
Conflict of interest
The authors declare that they have no known competing financial interests or personal relationships that could have appeared to influence the work reported in this paper.
Informed consent
The manuscript was not submitted to multiple journals for simultaneous consideration, and the submitted works are original and have not been published elsewhere in any form or language (part or all).
Additional information
Communicated by Deepak kumar Jain.
Publisher's Note
Springer Nature remains neutral with regard to jurisdictional claims in published maps and institutional affiliations.
About this article
Cite this article
Liu, J., Zhuang, D. & Shen, W. The impact of quality management practices on manufacturing performance: an empirical study based on system theory. Soft Comput 27, 4077–4092 (2023). https://doi.org/10.1007/s00500-021-06606-3
Accepted:

Published:

Issue Date:

DOI: https://doi.org/10.1007/s00500-021-06606-3
Keywords
Quality management practices

Manufacturing performance

System theory