Abstract
Development of safety features to prevent accident on the roads is one of the major challenges in the automobile industry. Driving with no prior information about the upcoming road can be dangerous. Not knowing about what's coming down the road can disbalance the vehicle and lead to accident. Driving when tired or drunk can lead to major life risking accidents. The road accidents can be prevented by collecting the data of road's characteristics and providing an alert to the driver if any distraction comes in the way. This paper introduces a concept of real-time monitoring of the driver and generating an alert when the driver gets sleepy or unconscious. Road analysis was also done to classify spots with high possibility of accidents and alerts generated for the same. The system thus covers two major reasons which cause heavy accidents on the road and provides solution to overcome them.
Access options
Buy single article
Instant access to the full article PDF.
USD 39.95
Price includes VAT (USA)
Tax calculation will be finalised during checkout.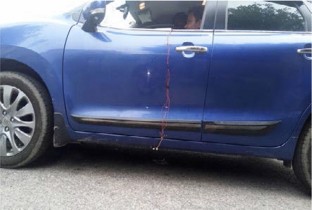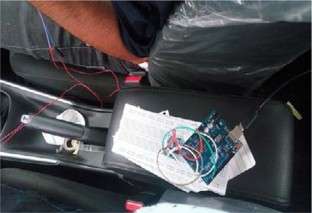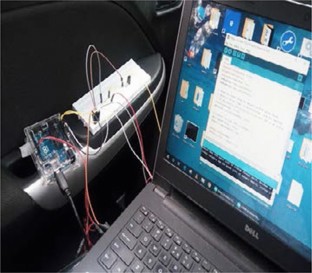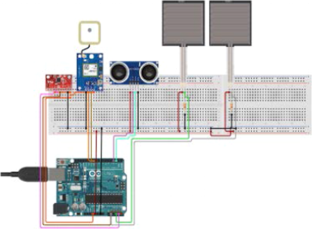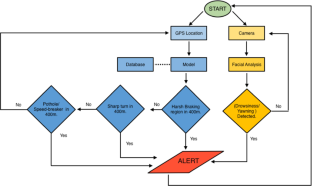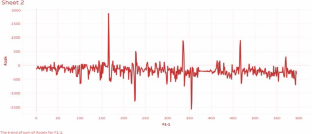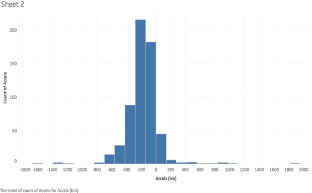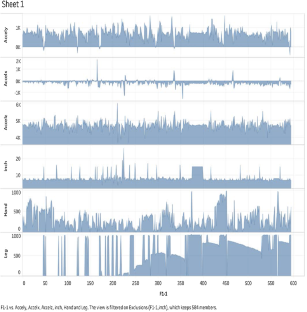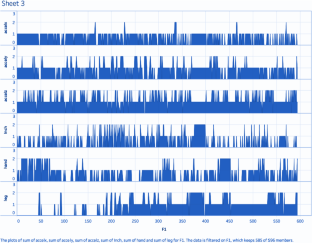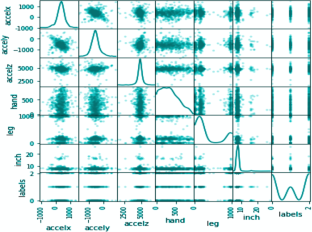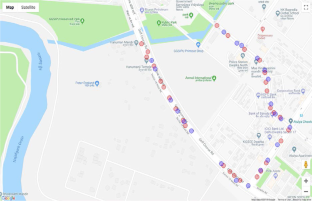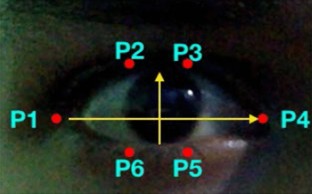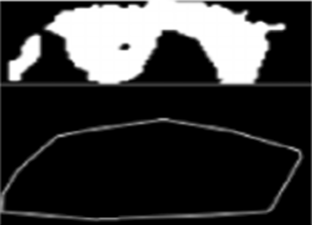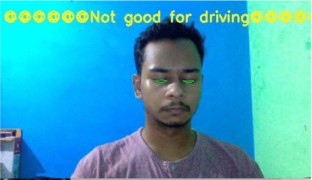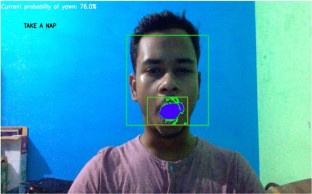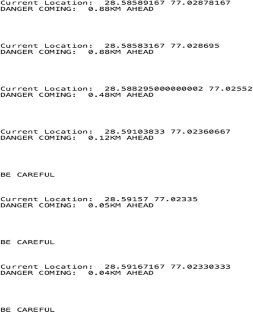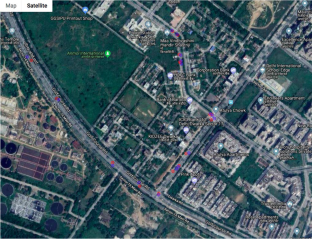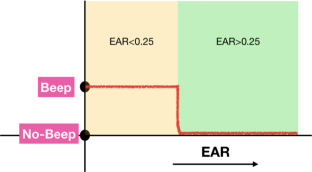 References
Assari MA, & Rahmati M (2011) Driver drowsiness detection using face expression recognition. In: 2011 IEEE international conference on signal and image processing applications (ICSIPA), pp. 337–341

Astarita V, Vittoria-Caruso M, Danieli G, Carmine-Festa D, Pasquale GV, Iuele T, Vaiana R (2012) A mobile application for road surface quality control: UNIquALRoad. Soc Behav Sci 54:1135–1144

Bham GH, Leu MC, Vallati M, Mathur DR (2014) Driving simulator validation of driver behavior with limited safe vantage points for data collection in work zones. J Safety Res 49:53-e1

Bharadwaj S, Murthy S, Varaprasad G (2013) Detection of potholes in autonomous vehicle. IET Intel Transp Syst 8(6):543–549

CDC. (2018) WISQARS (Web-based Injury Statistics Query and Reporting System). (2018) Atlanta, GA: US Department of Health and Human Services, CDC; 2018. Available at https://www.cdc.gov/injury/wisqars. Accessed January 4

Chen K, Lu M, Fan, X, Wei M, and Wu J (2011) Road Condition monitoring using on-board three-axis accelerometer and GPS sensor. In: proceedings of international ICST conference on communication and networking, pp.1032–1037

Chong M, Abraham A, & Paprzycki M (2005) Traffic accident analysis using machine learning paradigms. Informatica, 29(1)

Eriksson J, Girod L, Hull B, Newton R, Madden S, & Balakrishnan H (2008) The pothole patrol: using a mobile sensor network for road surface monitoring. In: proceedings of the 6th international conference on mobile systems, applications, and services, pp. 29–39

Fazeen M, Gozick B, Dantu R, Bhukhiya M, González MC (2012) Safe driving using mobile phones. IEEE Trans Intell Transp Syst 13(3):1462–1468

Ghadge M, Pandey D, & Kalbande D (2015). Machine learning approach for predicting bumps on road. In: Proceedings 2015 international conference on applied and theoretical computing and communication technology (ICATCCT), pp. 481–485

Horne JA, Reyner LA (1995) Sleep related vehicle accidents. BMJ 310(6979):565–567

Jap BT, Lal S, Fischer P, Bekiaris E (2009) Using EEG spectral components to assess algorithms for detecting fatigue. Expert Syst Appl 36(2):2352–2359

Jothi S, Priyanka S, Yuvaraj P, & Kalaivani S (2016) Automatic detection of potholes and humps on roads to aid drivers. Int J Adv Res Manag Archit Technol Eng 2(3)

Khan MI, & Mansoor AB (2008) Real time eyes tracking and classification for driver fatigue detection. In: proceedings international conference image analysis and recognition, pp. 729–738, Springer, Berlin

Lin J, & Liu Y (2010) Potholes detection based on SVM in the pavement distress image. In: proceedings 2010 ninth international symposium on distributed computing and applications to business engineering and science (DCABES), pp. 544–547

Madli R, Hebbar S, Pattar P, Golla V (2015) Automatic detection and notification of potholes and humps on roads to aid drivers. IEEE Sens J 15(8):4313–4318

Mednis A, Strazdins G, Zviedris R, Kanonirs G, & Selavo L (2011). Real time pothole detection using android smartphones with accelerometers. In: proceedings international conference on distributed computing in sensor systems and workshops (DCOSS), pp. 1–6

Mohan P, Padmanabhan VN, & Ramjee R (2008) Nericell: rich monitoring of road and traffic conditions using mobile smartphones. In: proceedings 6th ACM conference on embedded network sensor systems, pp. 323–336

Mortazavi A, Eskandarian A, Sayed RA (2009) Effect of drowsiness on driving performance variables of commercial vehicle drivers. Int J Automot Technol 10(3):391–404

National Highway Traffic Safety Administration (NHTSA), (2016) https://crashstats.nhtsa.dot.gov/Api/Public/ViewPublication/812456

Prapulla SB, Rao SN, & Herur VA (2017) Road quality analysis and mapping for faster and safer travel. In: proceedings international conference on energy, communication, data analytics and soft computing (ICECDS), pp. 2487–2490

Tesema TB, Abraham A, Grosan C (2005) Rule mining and classification of road traffic accidents using adaptive regression trees. Int J Simul 6(10–11):80–94

Vural E, Çetin M, Erçil A, Littlewort G, Bartlett M, & Movellan J (2009) Machine learning systems for detecting driver drowsiness. In: proceedings in-vehicle corpus and signal processing for driver behavior, pp. 97–110. Springer, Boston, MA

Wards Intelligence (2016), http://subscribers.wardsintelligence.com/analysis/world-vehicle-population-rose-46-2016

World Health Organization (WHO). Global Status Report on Road Safety 2018. December 2018. [cited 2019 April 8]. Available from URL: https://www.who.int/violence_injury_prevention/road_safety_status/2018/en/external icon
Ethics declarations
Conflict of interest
The authors declare that they have no conflict of interest.
Ethical approval
This article does not contain any studies with human participants or animals performed by any of the authors.
Additional information
Publisher's Note
Springer Nature remains neutral with regard to jurisdictional claims in published maps and institutional affiliations.
About this article
Cite this article
Kumar, V., Pham, H., Pandey, P.K. et al. Driving to safety: real-time danger spot and drowsiness monitoring system. Soft Comput 25, 14479–14497 (2021). https://doi.org/10.1007/s00500-021-06381-1
Accepted:

Published:

Issue Date:
Keywords
Drowsiness detection

Eye aspect ratio

GPS—global positioning system

Potholes

Harsh braking region

Sharp turns

Alert system

Driving aid