Abstract
In the context of data eruption, the data often show a short-term pattern and change rapidly which makes it difficult to use a single real value to express. For this kind of small-sample and interval data, how to analyze and predict multi-factor sequences efficiently becomes a problem. By this means, grey system theory (GST) is developed in which the interval grey numbers, as a typical object of GST, characterize the range of data and the grey relational and prediction models analyze the relations of multiple grey numbers and forecast the future. However, traditional grey relative relational model has some limitations: the results obtained always show low resolution, and there are no extractions for the interval feature information from the interval grey number sequence. In this paper, the grey relational analysis model (GRA) based on effective information transformation of interval grey numbers is established, which contains comprehensive information of area differences and slope variances and optimizes the resolution of traditional grey degree. Then, according to the relational results, the multivariable GM model (GM (1, N)) is proposed to forecast the interval grey number sequence. To verify the effectiveness of this novel model, it is established to analyze the relationship between the degree of traffic congestion and its relevant factors in the Yangtze River Delta of China and predict the development of urban traffic congestion degrees in this area over the next 5 years. In addition, some traditional statistical methods (principal component analysis, multiple linear regression models and curve regression models) are established for comparisons. The results show high performances of the novel GRA model and GM (1, N) model, which means the models proposed in this paper are suitable for interval grey numbers from regional data. The strengths which recommend the use of this novel method lie in its high recognition mechanism and multi-angle information transformation for interval grey numbers as well as its characteristic of timeliness in information processing.
Access options
Buy single article
Instant access to the full article PDF.
USD 39.95
Price excludes VAT (USA)
Tax calculation will be finalised during checkout.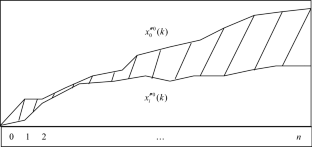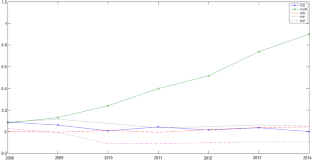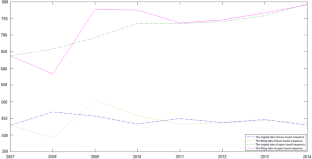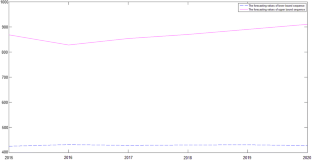 References
Bahrami S, Hooshmand R, Parastegari M (2014) Short term electric load forecasting by wavelet transform and grey model improved by PSO (particle swarm optimization) algorithm. Energy 72:434–442

Chen C, Huang S (2013) The necessary and sufficient condition for GM(1,1) grey prediction model. Appl Math Comput 219(11):6152–6162

Evans M (2014) An alternative approach to estimating the parameters of a generalised Grey Verhulst model: an application to steel intensity of use in the UK. Expert Syst Appl 41(4):1236–1244

Guo H, Xiao XP, Jeffrey F (2013) Urban road short-term traffic flow forecasting based on the delay and nonlinear grey model. J Transp Syst Eng Inf Technol 13(6):60–66

Hsu LC (2009) Forecasting the output of integrated circuit industry using genetic algorithm based multivariable grey optimization models. Expert Syst Appl 36(4):7898–7903

Hsu L, Wang C (2009) Forecasting integrated circuit output using multivariate grey model and grey relational analysis. Expert Syst Appl 36(2):1403–1409

Kadier A, Abdeshahianb P, Simayic Y, Ismaila M, Hamide AA, Kalila MS (2015) Grey relational analysis for comparative assessment of different cathode materials in microbial electrolysis cells. Energy 90:1556–1562

Kayacan E, Ulutas B, Kaynak O (2010) Grey system theory-based models in time series prediction. Expert Syst Appl 37(2):1784–1789

Kuo Y, Yang T, Huang GW (2008) The use of grey relational analysis in solving multiple attribute decision-making problems. Comput Ind Eng 55(1):80–93

Li D, Chang C, Chen C, Chen W (2012) Forecasting short-term electricity consumption using the adaptive grey-based approach—an Asian case. Omega 40(6):767–773

Li XM, Dang YG, Wang JJ (2015) Grey generation rate relational analysis model based on grey exponential law and its application. Control Decis 30(7):1245–1250

Lin YH, Chiu CC, Lee PC, Lin YJ (2012) Applying fuzzy grey modification model on inflow forecasting. Eng Appl Artif Intell 25:734–743

Liu SF, Lin Y (2010) Grey systems: theory and applications. Springer, London

Liu SF, Fang ZG, Lin Y (2006) Study on a new definition of degree of grey incidence. J Grey Syst 9(2):115–122

Liu SF, Dang YG, Fang ZG, Xie NM (2010) Grey system theory and application, 5th edn. Science Press, Beijing

Liu J, Xiao X, Guo J, Mao S (2014) Error and its upper bound estimation between the solutions of GM(1,1) grey forecasting models. Appl Math Comput 246:648–660

Mohammadi SE, Makui A (2017) Multi-attribute group decision making approach based on interval-valued intuitionistic fuzzy sets and evidential reasoning methodology. Soft Comput 21(17):5061–5080

Pao H, Fu H, Tseng C (2012) Forecasting of CO2 emissions, energy consumption and economic growth in China using an improved grey model. Energy 40(1):400–409

Rehborn H, Klenov SL, Palmer J (2011) An empirical study of common traffic congestion features based on traffic data measured in the USA, the UK, and Germany. Physica A 390(23–24):4466–4485

Shankar H, Raju PLN, Rao KRM (2012) Multi model criteria for the estimation of road traffic congestion from traffic flow information based on Fuzzy logic. J Transp Technol 2:50–62

Ujjwal K, Jain VK (2010) Time series model (Grey–Markov, Grey model with rolling mechanism and singular spectrum analysis) to forecast energy consumption in India. Energy 35(4):1709–1716

Wang YH, Dang YG, Li YQ, Liu SF (2010) An approach to increase prediction precision of GM(1,1) model based on optimization of the initial condition. Expert Syst Appl 37(8):5640–5644

Wang ZW, Lei TZ, Chang X, Shi XG, Xiao J, Li ZF, He XF, Zhu JL, Yang SH (2015) Optimization of a biomass briquette fuel system based on grey relational analysis and analytic hierarchy process: a study using cornstalks in China. Appl Energy 157:523–532

Wei GW (2011) Grey relational analysis model for dynamic hybrid multiple attribute decision making. Knowl-Based Syst 24(5):672–679

Wu LF, Liu SF, Yao LG, Yan SL (2013a) The effect of sample size on the grey system model. Appl Math Model 37:6577–6583

Wu LF, Liu SF, Yao LG, Yan SL, Liu DL (2013b) Grey system model with the fractional order accumulation. Commun Nonlinear Sci 18(7):1775–1785

Wu LF, Liu SF, Fang ZG, Xu HY (2015a) Properties of the GM(1,1) with fractional order accumulation. Appl Math Comput 252:287–293

Wu LF, Liu SF, Liu DL, Fang ZG, Xu HY (2015b) Modelling and forecasting CO2 emissions in the BRICS (Brazil, Russia, India, China, and South Africa) countries using a novel multi-variable grey model. Energy 79:489–495

Wu LF, Liu SF, Yao LG, Xu RT, Lei XP (2015c) Using fractional order accumulation to reduce errors from inverse accumulated generating operator of grey model. Soft Comput 19:483–488

Wu LF, Liu SF, Yang YJ (2016) Grey double exponential smoothing model and its application on pig price forecasting in China. Appl Soft Comput 39:117–123

Xia M, Wong WK (2014) A seasonal discrete grey forecasting model for fashion retailing. Knowl-Based Syst 57:119–126

Xie NM, Liu SF (2007) The parallel and uniform properties of several relational models. Syst Eng 25(8):98–103

Xu L, Yue Y, Li QQ (2013) Identifying urban traffic congestion pattern from historical floating car data. Procedia Soc Behav Sci 96:2084–2095

Younes MB, Boukerche A (2015) A performance evaluation of an efficient traffic congestion detection protocol (ECODE) for intelligent transportation systems. Ad Hoc Netw 24:317–336
Acknowledgements
The authors are grateful to anonymous referees for their helpful and constructive comments on this paper. This work was supported by a Marie Curie International Incoming Fellowship within the 7th European Community Framework Programme entitled "Grey Systems and Its Application to Data Mining and Decision Support" Grant No. FP7-PIIF-GA-2013-629051, a project of the Leverhulme Trust International Network entitled "Grey Systems and Its Applications" (IN-2014-020).The authors would also like to acknowledge the support of the National Natural Science Foundation of China (71771119) and Nanjing University of Finance and Economics.
Ethics declarations
Conflict of interest
Jing Ye declares that she has no conflict of interest. Yaoguo Dang declares that he has no conflict of interest. Yingjie Yang declares that he has no conflict of interest.
Human and animal rights
This article does not contain any studies with human participants or animals performed by any of the authors.
Additional information
Communicated by V. Loia.
Publisher's Note
Springer Nature remains neutral with regard to jurisdictional claims in published maps and institutional affiliations.
About this article
Cite this article
Ye, J., Dang, Y. & Yang, Y. Forecasting the multifactorial interval grey number sequences using grey relational model and GM (1, N) model based on effective information transformation. Soft Comput 24, 5255–5269 (2020). https://doi.org/10.1007/s00500-019-04276-w
Published:

Issue Date:

DOI: https://doi.org/10.1007/s00500-019-04276-w
Keywords