Abstract
This study attempts to diagnose the financial performance improvement of commercial banks by integrating suitable soft computing methods. The diagnosis of financial performance improvement comprises of three parts: prediction, selection and improvement. The performance prediction problem involves many criteria, and the complexity among the interrelated variables impedes researchers to discover patterns by conventional statistical methods. Therefore, this study adopts a dominance-based rough set approach to solve the prediction problem, and the core attributes in the obtained decision rules are further processed by an integrated multiple criteria decision-making method to make selection and to devise improvement plans. By using VIKOR method and the influential weights of DANP, decision maker may plan to reduce gap of each criterion for achieving aspired level. The retrieved attributes (i.e., criteria) are used to collect the knowledge of domain experts for selection and improvement. This study uses the data (from 2008 to 2011) from the central bank of Taiwan for obtaining decision rules and forming an evaluation model; furthermore, the data of five commercial banks in 2011 and 2012 are chosen to evaluate and improve the real cases. In the result, we found the top-ranking bank outperformed the other four banks, and its performance gaps for improvements were also identified, which indicates the effectiveness of the proposed model.
Access options
Buy single article
Instant access to the full article PDF.
US$ 39.95
Tax calculation will be finalised during checkout.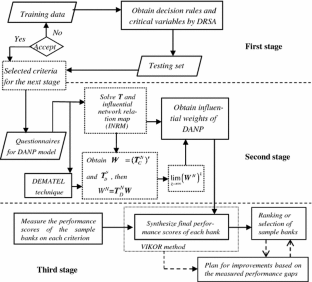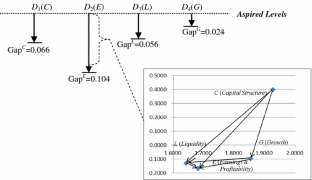 References
Ao S-I (2011) A hybrid neural network cybernetic system for quantifying cross-market dynamics and business forecasting. Soft Comput 15(6):1041–1053

Błaszczynski J, Greco S, Matarazzo B, Słowinski R, Szelag M (2013) jMAF-Dominance-based rough set data analysis framework. In: rough sets and intelligent systems-professor Zdzisław Pawlak in memoriam. Springer, pp 185–209

Chou S-Y, Chang Y-H, Shen C-Y (2008) A fuzzy simple additive weighting system under group decision-making for facility location selection with objective/ subjective attributes. Eur J Oper Res 189(1):132–145

Dimitras A, Slowinski R, Susmaga R, Zopounidis C (1999) Business failure prediction using rough sets. Eur J Oper Res 114(2):263–280

Fethi MD, Pasiouras F (2010) Assessing bank efficiency and performance with operational research and artificial intelligence techniques: A survey. Eur J Oper Res 204(2):189–198

Furumoto N, Tabuchi T (2002) A new method of paired comparison by improved DEMATEL method. Application to the integrated evaluation of a medical information which has multiple factors. Jpn J Med Inform 22(2):211–216

Gabus A, Fontela E (1972) World problems, an invitation to further thought within the framework of DEMATEL. Battelle Geneva Research Center, Geneva

Greco S, B, Slowinski R, Stefanowski J (2001) Variable consistency model of dominance-based rough sets approach. In: rough sets and current trends in computing. Springer, pp 170–181

Greco S, Matarazzo B, Slowinski R (2002) Multicriteria classification by dominance-based rough set approach., Handbook of data mining and knowledge discoveryOxford University Press, New York

Hsu C-H, Wang F-K, Tzeng G-H (2012) The best vendor selection for conducting the recycled material based on a hybrid MCDM model combining DANP with VIKOR. Res Conserv Recycl 66:95–111

Huang J-J, Tzeng G-H, Ong C-S (2006) Two-stage genetic programming (2SGP) for the credit scoring model. Appl Math Comput 174(2):1039–1053

Kao C, Liu S-T (1999) Competitiveness of manufacturing firms: an application of fuzzy weighted average. IEEE Trans Syst Man Cybern A Syst Hum 29(6):661–667

Kosmidou K, Zopounidis C (2008) Predicting US commercial bank failures via a multicriteria approach. Int J Risk Assess Manag 9(1):26–43

Lin C-L, Tzeng G-H (2009) A value-created system of science (technology) park by using DEMATEL. Expert Syst Appl 36(6):9683–9697

Liou J-H, Tzeng G-H (2012) Comments on "multiple criteria decision making (MCDM) methods in economics": an overview. Technol Econ Dev Eco 18(4):672–695

Liou J-H (2013) New concepts and trends of MCDM for tomorrow—in honor of Professor Gwo-Hshiung Tzeng on the occasion of his 70th birthday. Technol Eco Dev Eco 19(2):367–375

Liu G, Zhu Y (2006) Credit assessment of contractors: a rough set method. Tsinghua Sci Technol 11(3):357–362

Liu C-H, Tzeng G-H, Lee M-H (2012) Improving tourism policy implementation—the use of hybrid MCDM models. Tour Manag 33(2):413–426

Lu M-T, Lin S-W, Tzeng G-H (2013) Improving RFID adoption in Taiwan's healthcare industry based on a DEMATEL technique with a hybrid MCDM model. Decis Support Syst 56:259–269

Lu M-T, Tzeng, G-H Cheng H, Hsu C-C (2014) Exploring mobile banking services for user behavior in intention adoption: using new hybrid MADM model. Service business

Luo S-T, Cheng B-W, Hsieh C-H (2009) Prediction model building with clustering-launched classification and support vector machines in credit scoring. Expert Syst Appl 36(4):7562–7566

Niemira MP, Saaty TL (2004) An analytic network process model for financial-crisis forecasting. Int J Forecast 20(4):573–587

Ong C-S, Huang J-J, Tzeng G-H (2005) Building credit scoring models using genetic programming. Expert Syst Appl 29(1):41–47

Opricovic S, Tzeng G-H (2002) Multicriteria planning of post-earthquake sustainable reconstruction. Comput Aided Civil Infrastruct Eng 17(3):211–220

Opricovic S, Tzeng G-H (2003) Fuzzy multicriteria model for post-earthquake land-use planning. Nat Hazard Rev 4(2):59–64

Opricovic S, Tzeng G-H (2004) Compromise solution by MCDM methods: a comparative analysis of VIKOR and TOPSIS. Eur J Oper Res 156(2):445–455

Opricovic S, Tzeng G-H (2007) Extended VIKOR method in comparison with outranking methods. Eur J Oper Res 178(2):514–529

Pawlak Z (1982) Rough sets. Int J Comput Inf Sci 11(5):341–356

Peng K-H, Tzeng G-H (2013) A hybrid dynamic MADM model for problem-improvement in economics and business. Technol Eco Dev Eco 19(4):638–660

Ravi V, Pramodh C (2008) Threshold accepting trained principal component neural network and feature subset selection: application to bankruptcy prediction in banks. Appl Soft Comput 8(4):1539–1548

Saaty TL (1988) What is the analytic hierarchy process? Springer

Saaty TL (2004) Decision making—the analytic hierarchy and network processes (AHP/ANP). J Syst Sci Syst Eng 13(1):1–35

Shen K-Y, Yan M-R, Tzeng G-H (2014) Combining VIKOR-DANP model for glamor stock selection and stock performance improvement. Knowl Based Syst 58:86–97

Tzeng G-H, Tsaur S-H, Laiw Y-D, Opricovic S (2002a) Multicriteria analysis of environmental quality in Taipei: public preferences and improvement strategies. J Environ Manag 65(20):109–120

Tzeng G-H, Teng M-H, Chen J-J, Opricovic S (2002b) Multicriteria selection for a restaurant location in Taipei. Int J Hosp Manag 21(2):171–187

Tzeng G-H, Lin C-W, Opricovic S (2005) Multi-criteria analysis of alternative-fuel buses for public transportation. Energy Policy 33(11):1373–1383

Tzeng G-H, Chiang C-H, Li C-W (2007) Evaluating intertwined effects in e-learning programs: a novel hybrid MCDM model based on factor analysis and DEMATEL. Expert Syst Appl 32(4):1028–1044

Tzeng G-H, Huang C-Y (2012) Combined DEMATEL technique with hybrid MCDM methods for creating the aspired intelligent global manufacturing & logistics systems. Ann Oper Res 197(1):159–190

Tzeng G-H, Huang J-J (2011) Multiple attribute decision making: methods and applications. CRC Press

Verikas A, Kalsyte Z, Bacauskiene M, Gelzinis A (2010) Hybrid and ensemble-based soft computing techniques in bankruptcy prediction: a survey. Soft Comput 14(9):995–1010

Wu C-H, Tzeng G-H, Goo Y-J, Fang W-C (2007) A real-valued genetic algorithm to optimize the parameters of support vector machine for predicting bankruptcy. Expert Syst Appl 32(2):397–408

Wu C-H, Tzeng G-H, Lin R-H (2009) A Novel hybrid genetic algorithm for kernel function and parameter optimization in support vector regression. Expert Syst Appl 36(3):4725–4735

Wu W-W (2008) Choosing knowledge management strategies by using a combined ANP and DEMATEL approach. Expert Syst Appl 35(3):828–835

Yu P-L (1973) A class of solutions for group decision problems. Manag Sci 19(8):936–946

Zeleny M, Cochrane JL (1982) Multiple criteria decision making, vol 25. McGraw-Hill New York

Zhao H, Sinha A-P, Ge W (2009) Effects of feature construction on classification performance: An empirical study in bank failure prediction. Expert Syst Appl 36(2):2633–2644

Zopounidis C, Doumpos M (2000) Building additive utilities for multi-group hierarchical discrimination: the M.H. Dis method*. Optim Meth Softw 14(3):219–240
Additional information
Communicated by J.-W. Jung.
Appendix
Appendix
See Table 15.
About this article
Cite this article
Shen, KY., Tzeng, GH. A decision rule-based soft computing model for supporting financial performance improvement of the banking industry. Soft Comput 19, 859–874 (2015). https://doi.org/10.1007/s00500-014-1413-7
Keywords
Rough set approach (RSA)

Dominance-based rough set approach (DRSA)

DEMATEL-based ANP (DANP)

VIKOR

Multiple criteria decision making (MCDM)