Abstract
Key message
The liverwort Marchantia polymorpha regulates gametangia and gametangiophore development by using evolutionarily conserved regulatory modules that are shared with angiosperm mechanisms regulating flowering and germ cell differentiation.
Abstract
Bryophytes, the earliest diverged lineage of land plants comprised of liverworts, mosses, and hornworts, produce gametes in gametangia, reproductive organs evolutionarily conserved but lost in extant angiosperms. Initiation of gametangium development is dependent on environmental factors such as light, although the underlying mechanisms remain elusive. Recent studies showed that the liverwort Marchantia polymorpha regulates development of gametangia and stalked receptacles called gametangiophores by using conserved regulatory modules which, in angiosperms, are involved in light signaling, microRNA-mediated flowering regulation, and germ cell differentiation. These findings suggest that these modules were acquired by a common ancestor of land plants before divergence of bryophytes, and were later recruited to flowering mechanism in angiosperms.
Access options
Buy single article
Instant access to the full article PDF.
US$ 39.95
Tax calculation will be finalised during checkout.
Subscribe to journal
Immediate online access to all issues from 2019. Subscription will auto renew annually.
US$ 79
Tax calculation will be finalised during checkout.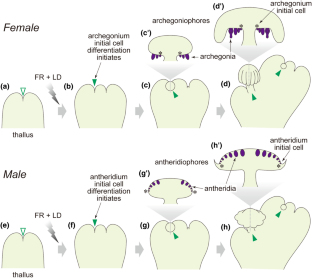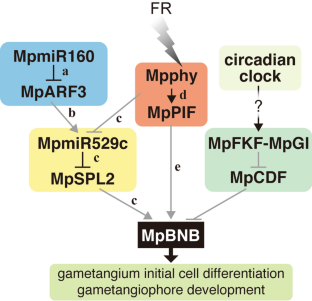 Availability of data and material
Acknowledgements
This work is supported by MEXT/JSPS KAKENHI grants JP20H05780, JP19H04860, JP18K06285 (to S.Y.), JP20K15818 (to K.I.), JP19H03244, and 25113005 (to T.A.). S.Y. is also supported by Takeda Science Foundation and Asahi Glass Foundation.
Ethics declarations
Conflict of interest
The authors declare that they have no conflicts of interest.
Ethics approval
Not applicable.
Consent to participate
Not applicable.
Consent for Publication
Not applicable.
Additional information
Publisher's Note
Springer Nature remains neutral with regard to jurisdictional claims in published maps and institutional affiliations.
Communicated by Frederic Berger.
About this article
Cite this article
Yamaoka, S., Inoue, K. & Araki, T. Regulation of gametangia and gametangiophore initiation in the liverwort Marchantia polymorpha. Plant Reprod (2021). https://doi.org/10.1007/s00497-021-00419-y
Received:

Accepted:

Published:
Keywords
Gametangium

Gametangiophore

Light signaling

microRNA

Germ cell

Marchantia polymorpha