Abstract
Key message
Maize Outer cell layer 4 (ocl4) encodes an HD-ZIP IV transcription factor required for robust male fertility and 21-nt phasiRNA biogenesis. ocl4 fertility is favored in warm conditions, and phasiRNAs are partially restored.
Abstract
Environment-sensitive male-sterile plants have been described before and can result from different molecular mechanisms and biological processes, but putative environment-conditioned, transgenerational rescue of their male fertility is a rather new mystery. Here, we report a derivative line of the male-sterile outer cell layer 4 (ocl4) mutant of maize, in which fertility was restored and perpetuated over several generations. Conditioned fertile ocl4 anthers exhibit the anatomical abnormality of a partially duplicated endothecial layer, just like their sterile counterparts. We profiled the dynamics of phased, small interfering RNAs (phasiRNAs) during pre-meiotic development in fully sterile and various grades of semi-fertile ocl4 anthers. The conditioned fertile anthers accumulated significantly higher 21-nt phasiRNAs compared to ocl4 sterile samples, suggesting a partial restoration of phasiRNAs in conditioned fertility. We found that the biogenesis of 21-nt phasiRNAs is largely dependent on Ocl4 at three key steps: (1) production of PHAS precursor transcripts, (2) expression of miR2118 that modulates precursor processing, and (3) accumulation of 21-nt phasiRNAs.
Access options
Buy single article
Instant access to the full article PDF.
US$ 39.95
Tax calculation will be finalised during checkout.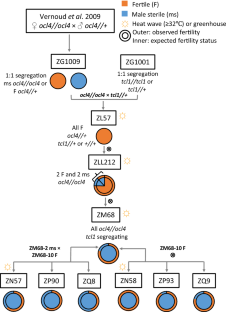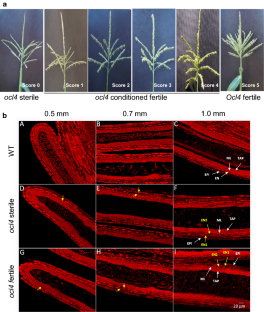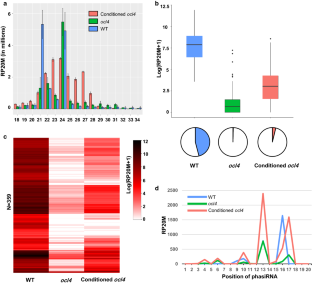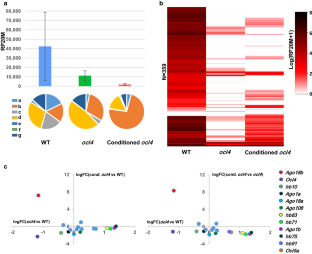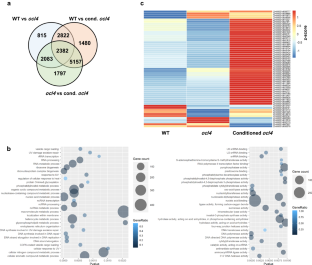 Availability of data and materials
The data reported in this paper have been deposited in the Gene Expression Omnibus (GEO) database, Series GSE150446, accession nos. GSM4550675 to GSM4550682 for RNA-seq data, GSM4550683 to GSM4550690 for small RNA data.
References
Ashe A, Sapetschnig A, Weick EM, Mitchell J, Bagijn MP, Cording AC, Doebley AL, Goldstein LD, Lehrbach NJ, Le Pen J, Pintacuda G (2012) piRNAs can trigger a multigenerational epigenetic memory in the germline of C. elegans. Cell 150:88–99

Bai JF, Wang YK, Wang P, Duan WJ, Yuan SH, Sun H, Yuan GL, Ma JX, Wang N, Zhang FT, Zhang LP (2017) Uncovering male fertility transition responsive miRNA in a wheat photo-thermosensitive genic male sterile line by deep sequencing and degradome analysis. Front Plant Sci 8:1370

Bolger AM, Lohse M, Usadel B (2014) Trimmomatic: a flexible trimmer for Illumina sequence data. Bioinformatics 30:2114–2120

Casier K, Boivin A, Carré C, Teysset L (2019) Environmentally-induced transgenerational epigenetic inheritance: implication of PIWI interacting RNAs. Cells 8:1108. https://doi.org/10.3390/cells8091108

Chen R, Zhao X, Shao Z, Wei Z, Wang Y, Zhu L, Zhao J, Sun M, He R, He G (2007) Rice UDP-glucose pyrophosphorylase1 is essential for pollen callose deposition and its cosuppression results in a new type of thermosensitive genic male sterility. Plant Cell 19:847–861

Chen X, Hu J, Zhang H, Ding Y (2014) DNA methylation changes in photoperiod-thermo-sensitive male sterile rice PA64S under two different conditions. Gene 537:143–148

Das S, Swetha C, Pachamuthu K, Nair A, Shivaprasad PV (2020) Loss of function of Oryza sativa Argonaute 18 induces male sterility and reduction in phased small RNAs. Plant Reprod 33:59–73

Ding J, Lu Q, Ouyang Y, Mao H, Zhang P, Yao J, Xu C, Li X, Xiao J, Zhang Q (2012a) A long noncoding RNA regulates photoperiod-sensitive male sterility, an essential component of hybrid rice. Proc Natl Acad Sci 109:2654–2659

Ding J, Shen J, Mao H, Xie W, Li X, Zhang Q (2012b) RNA-directed DNA methylation is involved in regulating photoperiod-sensitive male sterility in rice. Mol Plant 5:1210–1216

Dukowic-Schulze S, van der Linde K (2021) Oxygen, secreted proteins and small RNAs: mobile elements that govern anther development. Plant Reprod. https://doi.org/10.1007/s00497-020-00401-0

Fan Y, Yang J, Mathioni SM, Yu J, Shen J, Yang X, Wang L, Zhang Q, Cai Z, Xu C, Li X, Xiao J, Meyers BC, Zhang Q (2016) PMS1T, producing phased small-interfering RNAs, regulates photoperiod-sensitive male sterility in rice. Proc Natl Acad Sci 113:15144–15149

Heard E, Martienssen RA (2014) Transgenerational epigenetic inheritance: myths and mechanisms. Cell 157:95–109

Javelle M, Klein-Cosson C, Vernoud V, Boltz V, Maher C, Timmermans M, Depège-Fargeix N, Rogowsky PM (2011) Genome-wide characterization of the HD-ZIP IV transcription factor family in maize: preferential expression in the epidermis. Plant Physiol 157:790–803

Jiang P, Lian B, Liu C, Fu Z, Shen Y, Cheng Z, Qi Y (2020) 21-nt phasiRNAs direct target mRNA cleavage in rice male germ cells. Nat Commun 11:5191. https://doi.org/10.1038/s41467-020-19034-y

Johnson C, Kasprzewska A, Tennessen K, Fernandes J, Nan G, Walbot V, Sundaresan V, Vance V, Bowman LH (2009) Clusters and superclusters of phased small RNAs in the developing inflorescence of rice. Genome Res 19:1429–1440

Kelliher T, Walbot V (2011) Emergence and patterning of the five cell types of the Zea mays anther locule. Dev Biol 350:32–49

Kelliher T, Walbot V (2014) Germinal cell initials accommodate hypoxia and precociously express meiotic genes. Plant J 77:639–652

Kim YJ, Zhang D (2018) Molecular control of male fertility for crop hybrid breeding. Trends Plant Sci 23:53–65

Langmead B, Trapnell C, Pop M, Salzberg SL (2009) Ultrafast and memory-efficient alignment of short DNA sequences to the human genome. Genome Biol 10:R25

Liao Y, Smyth GK, Shi W (2014) featureCounts: an efficient general purpose program for assigning sequence reads to genomic features. Bioinformatics 30:923–930

Li H, Yuan Z, Vizcay-Barrena G, Yang C, Liang W, Zong J, Wilson ZA, Zhang D (2011) PERSISTENT TAPETAL CELL1 encodes a PHD-finger protein that is required for tapetal cell death and pollen development in rice. Plant Physiol 156:615–630

Love MI, Huber W, Anders S (2014) Moderated estimation of fold change and dispersion for RNA-seq data with DESeq2. Genome Biol 15:550

Mathioni SM, Kakrana A, Meyers BC (2017) Characterization of plant small RNAs by next generation sequencing. Curr Protoc Plant Biol 2:39–63

Mi H, Muruganujan A, Ebert D, Huang X, Thomas PD (2019) PANTHER version 14: more genomes, a new PANTHER GO-slim and improvements in enrichment analysis tools. Nucleic Acids Res 47:D419–D426

Murphy KM, Egger RL, Walbot V (2015) Chloroplasts in anther endothecium of Zea mays (Poaceae). Am J Bot 102:1931–1937

Nan G-L, Zhai J, Arikit S, Morrow D, Fernandes J, Mai L, Nguyen N, Meyers BC, Walbot V (2017) MS23, a master basic helix-loop helix factor, regulates the specification and development of tapetum in maize. Development 144:163–172

Pang YY, Lu RJ, Chen PY (2019) Behavioral epigenetics: perspectives based on experience-dependent epigenetic inheritance. Epigenomes 3:18. https://doi.org/https://doi.org/10.3390/epigenomes3030018

Qi Y, Liu Q, Zhang L, Mao B, Yan D, Jin Q, He Z (2014) Fine mapping and candidate gene analysis of the novel thermo-sensitive genic male sterility tms9-1 gene in rice. Theor Appl Genet 127:1173–1182

Sosso D, Wisniewski JP, Khaled AS, Hueros G, Gerentes D, Wyatt P, Rogowksy PM (2010) The Vpp1, Esr6a, Esr6b, and OCL4 promoters are active in distinct domains of maize endosperm. Plant Sci 179:86–96. https://doi.org/https://doi.org/10.1016/j.plantsci.2010.04.006

Sun W, Chen D, Xue Y, Zhai L, Zhang D, Cao Z, Liu L, Cheng C, Zhang Y, Zhang Z (2019) Genome-wide identification of AGO18b-bound miRNAs and phasiRNAs in maize by cRIP-seq. BMC Genomics 20:656

Tamim S, Cai Z, Mathioni SM, Zhai J, Teng C, Zhang Q, Meyers BC (2018) Cis-directed cleavage and nonstoichiometric abundances of 21-nucleotide reproductive phased small interfering RNAs in grasses. New Phytol 220:865–877

Teng C, Zhang H, Hammond R, Huang K, Meyers BC, Walbot V (2020) Dicer-like 5 deficiency confers temperature-sensitive male sterility in maize. Nat Commun 11:2912

Timofejeva L, Skibbe DS, Lee S, Golubovskaya I, Wang R, Harper L, Walbot V, Cande WZ (2013) Cytological characterization and allelism testing of pre-meiotic anther developmental mutants identified in a screen of maize male sterile lines. G3:231–249

Trapnell C, Pachter L, Salzberg SL (2009) TopHat: discovering splice junctions with RNA-Seq. Bioinformatics 25:1105–1111

Vazquez F, Vaucheret H, Rajagopalan R, Lepers C, Gasciolli V, Mallory AC, Hilbert JL, Bartel DP, Crete P (2004) Endogenous trans-acting siRNAs regulate the accumulation of Arabidopsis mRNAs. Mol Cell 16:69–79

Vernoud V, Laigle G, Rozier F, Meeley RB, Perez P, Rogowsky PM (2009) The HD-ZIP IV transcription factor OCL4 is necessary for trichome patterning and anther development in maize. Plant J 59:883–894

Wang C-JR, Nan GL, Kelliher T, Timofejeva L, Vernoud V, Golubovskaya IN, Harper L, Egger RL, Walbot V, Cande WZ (2012) Maize multiple archesporial cell 1 (mac1), an ortholog of rice TDL1A, modulates cell proliferation and identity in early anther development. Development 39:2594–2603

Xia R, Chen C, Pokhrel S, Ma W, Huang K, Patel P, Wang F, Xu J, Liu Z, Li J, Meyers BC (2019) 24-nt reproductive phasiRNAs are broadly present in angiosperms. Nat Commun 10:627

Zhai J, Zhang H, Arikit S, Huang K, Nan GL, Walbot V, Meyers BC (2015) Spatiotemporally dynamic, cell-type–dependent premeiotic and meiotic phasiRNAs in maize anthers. Proc Natl Acad Sci 112:3146–3151

Zhang H, Liang W, Yang X, Luo X, Jiang N, Ma H, Zhang D (2010) Carbon starved anther encodes a MYB domain protein that regulates sugar partitioning required for rice pollen development. Plant Cell 22:672–689

Zhang H, Xu C, He Y, Zong J, Yang X, Si H, Sun Z, Hu J, Liang W, Zhang D (2013) Mutation in CSA creates a new photoperiod-sensitive genic male sterile line applicable for hybrid rice seed production. Proc Natl Acad Sci 110:76–81

Zhang YC, Lei MQ, Zhou YF, Yang YW, Lian JP, Yu Y, Feng YZ, Zhou KR, He RR, He H, Zhang Z (2020) Reproductive phasiRNAs regulate reprogramming of gene expression and meiotic progression in rice. Nat Commun 11:6031. https://doi.org/10.1038/s41467-020-19922-3

Zheng Y, Wang Y, Wu J, Ding B, Fei Z (2015) A dynamic evolutionary and functional landscape of plant phased small interfering RNAs. BMC Biol 13:32

Zhou H, Liu Q, Li J, Jiang D, Zhou L, Wu P, Lu S, Li F, Zhu L, Liu Z, Chen L, Liu YG, Zhuang C (2012) Photoperiod- and thermo-sensitive genic male sterility in rice are caused by a point mutation in a novel noncoding RNA that produces a small RNA. Cell Res 2:649–660. https://doi.org/10.1038/cr.2012.28
Funding
This study was supported by U.S. National Science Foundation Plant Genome Research Project (Award # 1754097) to BCM and VW. PY was supported by a Fulbright-Nehru grant from United-States India Educational Foundation (Award No. 2200/FNPDR/2016).
Ethics declarations
Conflicts of interest
The authors declare that they have no conflict of interest.
Consent to participate
Not applicable.
Consent for publication
All the authors read and approved the manuscript for publication.
Ethics approval
Not applicable.
Additional information
Publisher's Note
Springer Nature remains neutral with regard to jurisdictional claims in published maps and institutional affiliations.
Communicated by David Twell.
Electronic supplementary material
Below is the link to the electronic supplementary material.
About this article
Cite this article
Yadava, P., Tamim, S., Zhang, H. et al. Transgenerational conditioned male fertility of HD-ZIP IV transcription factor mutant ocl4: impact on 21-nt phasiRNA accumulation in pre-meiotic maize anthers. Plant Reprod 34, 117–129 (2021). https://doi.org/10.1007/s00497-021-00406-3
Received:

Accepted:

Published:

Issue Date:
Keywords
Male sterility

Conditioned fertility

PhasiRNA

Ocl4

Maize