Abstract
Key message
Recent understandings ofArabidopsiszygote.
Abstract
Body axis formation is essential for the proper development of multicellular organisms. The apical-basal axis in Arabidopsis thaliana is determined by the asymmetric division of the zygote, following its cellular polarization. However, the regulatory mechanism of zygote polarization is unclear due to technical issues. The zygote is located deep in the seed (ovule) in flowers, which prevents the living dynamics of zygotes from being observed. In addition, elucidation of molecular pathways by conventional forward genetic screens was not enough because of high gene redundancy in early development. Here, we present a review introducing two new methods, which have been developed to overcome these problems. Method 1: the two-photon live-cell imaging method provides a new system to visualize the dynamics of intracellular structures in Arabidopsis zygotes, such as cytoskeletons and vacuoles. Microtubules form transverse rings and control zygote elongation, while vacuoles dynamically change their shapes along longitudinal actin filaments and support polar nuclear migration. Method 2: the transcriptome method uses isolated Arabidopsis zygotes and egg cells to reveal the gene expression profiles before and after fertilization. This approach revealed that de novo transcription occurs extensively and immediately after fertilization. Moreover, inhibition of the de novo transcription was shown to sufficiently block the zygotic division, thus indicating a strong possibility that yet unidentified zygote regulators can be found using this transcriptome approach. These new strategies in Arabidopsis will help to further our understanding of the fundamental principles regarding the proper formation of plant bodies from unicellular zygotes.
Access options
Buy single article
Instant access to the full article PDF.
US$ 39.95
Tax calculation will be finalised during checkout.
Subscribe to journal
Immediate online access to all issues from 2019. Subscription will auto renew annually.
US$ 79
Tax calculation will be finalised during checkout.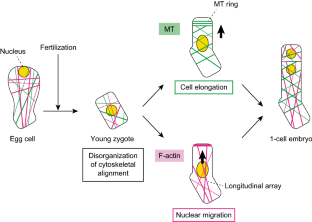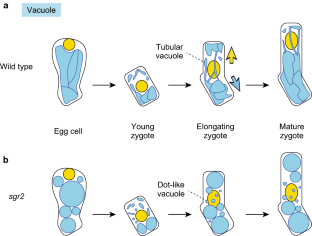 Acknowledgements
We received funding supports from Japanese Society for the Promotion of Science: Grant-in-Aid for JSPS Research Fellow (19J30006 for Y.K.), Grant-in-Aid for Scientific Research on Innovative Areas (19H05676 and 19H05670 for M.U.), Grant-in-Aid for Scientific Research (B, 19H03243 for M.U.), and Grant-in-Aid for Challenging Exploratory Research (19K22421 for M.U.). We would like to thank Editage (www.editage.com) for English language editing.
Additional information
Publisher's Note
Springer Nature remains neutral with regard to jurisdictional claims in published maps and institutional affiliations.
Communicated by Thomas Dresselhaus.
About this article
Cite this article
Kimata, Y., Ueda, M. Intracellular dynamics and transcriptional regulations in plant zygotes: a case study of Arabidopsis. Plant Reprod 33, 89–96 (2020). https://doi.org/10.1007/s00497-020-00389-7
Received:

Accepted:

Published:

Issue Date:
Keywords
Arabidopsis thaliana

Axis formation

Zygote

Live-cell imaging

Transcriptome