Abstract
Pepper (Capsicum annuum L.) is an important horticultural crop in many regions of the world. The final shape and size of the fruit are known to be determined at a very early step of flower development. During flower development hormonal treatments using gibberellins seem to promote growth resulting in higher yield and fruit quality. However, the morphological changes that occur in the pepper flowers after these treatments are largely unknown. In the present study, we provide a description of floral development landmarks of jalapeño chili pepper (cultivar Huichol), divided in nine representative stages from its initiation until the opening of the bud. We established a correlation among external flower development and the time and pattern of reproductive organogenesis. Male and female gametogenesis progression was used to define specific landmarks during flower maturation. The pattern of expression of key genes involved in gibberellin metabolism and response was also evaluated in the nine flower stages. The proposed development framework was used to analyze the effect of gibberellin treatments in the development of the flower. We observed both an effect of the treatment in the histology of the ovary tissue and an increase in the level of expression of CaGA2ox1 and CaGID1b genes. The developmental stages we defined for this species are very useful to analyze the molecular and morphological changes after hormonal treatments.
Access options
Buy single article
Instant access to the full article PDF.
US$ 39.95
Tax calculation will be finalised during checkout.
Subscribe to journal
Immediate online access to all issues from 2019. Subscription will auto renew annually.
US$ 79
Tax calculation will be finalised during checkout.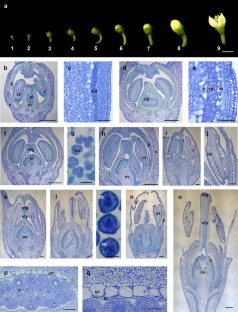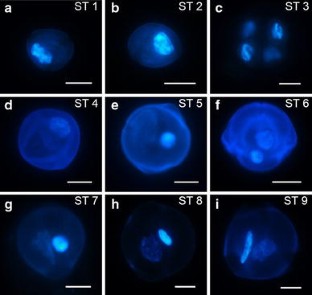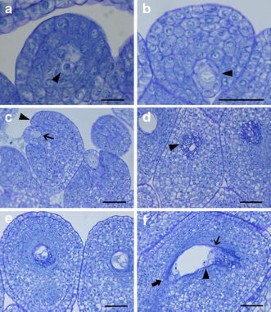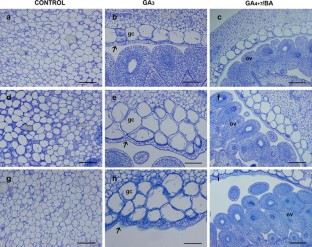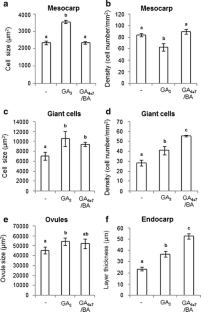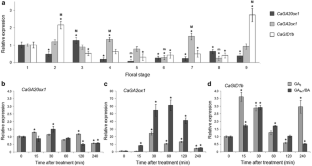 References
Arce-Rodríguez ML, Ochoa-Alejo N (2015) Silencing AT3 gene reduces the expression of pAmt, BCAT, Kas, and Acl genes involved in capsaicinoid biosynthesis in chili pepper fruits. Biol Plant 59:477–484. doi:10.1007/s10535-015-0525-y

Batlang U (2008) Benzyladenine plus gibberellins (GA4+7) increase fruit size and yield in greenhouse-grown hot pepper (Capsicum annuum L.). J Biol Sci 8:659–662

Batlang U, Emongor VE, Pule-Meulenburg F (2006) Effect of benzyladenine plus gibberellins and gibberellic acid on yield and yield components of cucumber (Cucumis sativus L. cv. 'tempo'). J Agron 5:418–423

Belakbir A, Ruiz JM, Romero L (1998) Yield and fruit quality of pepper (Capsicum annuum L.) in response to bioregulators. HortScience 33:85–87

Brenner WG, Romanov GA, Kollmer I, Burkle L, Schmulling T (2005) Immediate-early and delayed cytokinin response genes of Arabidopsis thaliana identified by genome-wide expression profiling reveal novel cytokinin-sensitive processes and suggest cytokinin action through transcriptional cascades. Plant J 44:314–333. doi:10.1111/j.1365-313X.2005.02530.x

Brukhin V, Hernould M, Gonzalez N, Chevalier C, Mouras A (2003) Flower development schedule in tomato Lycopersicon esculentumm cv. sweet cherry. Sex Plant Reprod 15:311–320

Cao Y, Zhang Z, Wang L, Sui X, Zhang Z, Zhang B (2016) Cloning and characterization of CaGID1s and CaGAI in Capsicum annuum L. J Integr Agric 15:775–784. doi:10.1016/S2095-3119(15)61275-8

Carrizo García C, Barfuss MHJ, Sehr EM, Barboza GE, Samuel R, Moscone EA, Ehrendorfer F (2016) Phylogenetic relationships, diversification and expansion of chili peppers (Capsicum, Solanaceae). Ann Bot 118:35–51. doi:10.1093/aob/mcw079

Cheng H et al (2004) Gibberellin regulates Arabidopsis floral development via suppression of DELLA protein function. Development 131:1055–1064. doi:10.1242/dev.00992

Cochran HL (1938) A morphological study of flower and seed development in pepper. J Agric Res 56:395–419

Cooper DC (1931) Macrosporogenesis and the development of the macrogametophyte of Lycopersicon esculentum. Am J Bot 18:739–748

Darnell RL, Cruz-Huerta N, Williamson JG (2012) Night temperature and source–sink effects on overall growth, cell number and cell size in bell pepper ovaries. Ann Bot 110:987–994. doi:10.1093/aob/mcs173

De Martinis D, Mariani C (1999) Silencing gene expression of the ethylene-forming enzyme results in a reversible inhibition of ovule development in transgenic tobacco plants. Plant Cell 11:1061–1072

Dorcey E, Urbez C, Blázquez MA, Carbonell J, Perez-Amador MA (2009) Fertilization-dependent auxin response in ovules triggers fruit development through the modulation of gibberellin metabolism in Arabidopsis. Plant J 58:318–332. doi:10.1111/j.1365-313X.2008.03781.x

Drews GN, Koltunow AMG (2011) The female gametophyte. Arabidopsis B 9:e0155. doi:10.1199/tab.0155

Erickson AN, Markhart AH (2002) Flower developmental stage and organ sensitivity of bell pepper (Capsicum annuum L.) to elevated temperature Plant. Cell Environ 25:123–130. doi:10.1046/j.0016-8025.2001.00807.x

Fattori V, Hohmann MS, Rossaneis AC, Pinho-Ribeiro FA, Verri WA (2016) Capsaicin: current understanding of its mechanisms and therapy of pain and other pre-clinical and clinical uses. Molecules. doi:10.3390/molecules21070844

Fos M, Proaño K, Nuez F, García-Martínez JL (2001) Role of gibberellins in parthenocarpic fruit development induced by the genetic system pat-3/pat-4 in tomato. Physiol Plant 111:545–550

George WL, Scott JW, Splittstoesser WE (1984) Parthenocarpy in tomato. Hortic Rev 6:65–84

Goto N, Pharis RP (1999) Role of gibberellin in the development of floral organs of the gibberellin-deficient mutant, ga1-1, of Arabidopsis thaliana. Can J Bot 77:944–954

Gustafson FG (1936) Inducement of fruit development by growth-promoting chemicals. Proc Natl Acad Sci USA 22:628–636

Hedden P, Kamiya Y (1997) Gibberellin biosynthesis: enzymes, genes and their regulation. Annu Rev Plant Physiol Plant Mol Biol 48:431–460. doi:10.1146/annurev.arplant.48.1.431

Heuvelink E, Körner O (2001) Parthenocarpic fruit growth reduces yield fluctuation and blossom-end rot in sweet pepper. Ann Bot 88:69–74. doi:10.1006/anbo.2001.1427

Hoagland DR, Arnon DI (1938) The water-culture method for growing plants without soil. University of California, College of Agriculture, Agricultural Experiment Station, Berkeley

Johri BM, Ambegaokar KB, Srivastava PS (1992) Comparative embryology of angiosperms vol. 1/2. Springer, Heidelberg

Kim M, Kim J, Yoon M, Choi D-I, Lee K-M (2004) Origin of multicellular pollen and pollen embryos in cultured anthers of pepper (Capsicum annuum). Plant Cell Tissue Org Culture 77:63–72. doi:10.1023/B:TICU.0000016506.02796.6a

Kraft KH et al (2014) Multiple lines of evidence for the origin of domesticated chili pepper, Capsicum annuum, in Mexico. Proc Natl Acad Sci USA 111:6165–6170. doi:10.1073/pnas.1308933111

Lee Y et al (2012) A novel gibberellin 2-oxidase gene CaGA2ox1 in pepper is specifically induced by incompatible plant pathogens. Plant Biotechnol Rep 6:381–390. doi:10.1007/s11816-012-0235-2

Maheshwari P (1950) An Introduction to the Embryology of Angiosperms. McGraw-Hill, New York

Mapelli S, Frova C, Torti G, Soressi GP (1978) Relationship between set, development and activities of growth regulators in tomato fruits. Plant Cell Physiol 19:1281–1288

Munting AJ (1974) Development of flower and fruit of Capsicum annuum L. Acta Bot Neerl 23:415–432

Murakami Y (1975) The role of gibberellins in the growth of floral organs of Mirabilis jalapa. Plant Cell Physiol 16:337–345. doi:10.1093/oxfordjournals.pcp.a075146

Nowak TJ (1980) Effect of gibberellin, auxin and kinetin treatments combined with foliar applied NPK on the yield of Capsicum annuum L. fruits and their capsaicin content. Acta Agrobot 33:81–92

O'Brien TP, Feder N, McCully ME (1964) Polychromatic staining of plant cell walls by toluidine blue O. Protoplasma 59:368–373. doi:10.1007/bf01248568

Parra-Vega V, González-García B, Seguí-Simarro JM (2013) Morphological markers to correlate bud and anther development with microsporogenesis and microgametogenesis in pepper (Capsicum annuum L.). Acta Physiol Plant 35:627–633. doi:10.1007/s11738-012-1104-x

Pérez-Jiménez M, Pazos-Navarro M, López-Marín J, Gálvez A, Varó P, Amor FM (2015) Foliar application of plant growth regulators changes the nutrient composition of sweet pepper (Capsicum annuum L.). Sci Hortic 194:188–193. doi:10.1016/j.scienta.2015.08.002

Rebers M et al (1999) Regulation of gibberellin biosynthesis genes during flower and early fruit development of tomato. Plant J 17:241–250

Reiser L, Fischer RL (1993) The Ovule and the Embryo Sac. Plant Cell 5:1291–1301. doi:10.1105/tpc.5.10.1291

Schneider CA, Rasband WS, Eliceiri KW (2012) NIH Image to ImageJ: 25 years of image analysis. Nat Methods 9:671–675

Serrani JC, Fos M, Atarés A, García-Martínez JL (2007a) Effect of gibberellin and auxin on parthenocarpic fruit growth induction in the cv Micro-Tom of tomato. J Plant Growth Regul 26:211–221. doi:10.1007/s00344-007-9014-7

Serrani JC, Sanjuan R, Ruiz-Rivero O, Fos M, Garcia-Martinez JL (2007b) Gibberellin regulation of fruit set and growth in tomato. Plant Physiol. doi:10.1104/pp.107.098335

Tiwari A, Offringa R, Heuvelink E (2012) Auxin-induced fruit set in Capsicum annuum L. requires downstream gibberellin biosynthesis. J Plant Growth Regul 31:570–578. doi:10.1007/s00344-012-9267-7

Tiwari A, Vivian-Smith A, Ljung K, Offringa R, Heuvelink E (2013) Physiological and morphological changes during early and later stages of fruit growth in Capsicum annuum. Physiol Plant 147:396–406. doi:10.1111/j.1399-3054.2012.01673.x

Tsaballa A, Pasentsis K, Tsaftaris AS (2012) Τhe role of a gibberellin 20-oxidase gene in fruit development in pepper (Capsicum annuum). Plant Mol Biol Report 30:556–565. doi:10.1007/s11105-011-0364-8

Ueguchi-Tanaka M et al (2005) GIBBERELLIN INSENSITIVE DWARF1 encodes a soluble receptor for gibberellin. Nature. doi:10.1038/nature04028

Vercher Y, Molowny A, Carbonell J (1987) Gibberellic acid effects on the ultrastructure of endocarp cells of unpollinated ovaries of Pisum sativum. Physiol Plant 71:302–308. doi:10.1111/j.1399-3054.1987.tb04347.x

Vergne P, Delvallee I, Dumas C (1987) Rapid assessment of microspore and pollen development stage in wheat and maize using DAPI and membrane permeabilization. Stain Technol 62:299–304

Vivian-Smith A, Koltunow AM (1999) Genetic analysis of growth-regulator-induced parthenocarpy in Arabidopsis. Plant Physiol 121:437–451

Xiao H, Radovich C, Welty N, Hsu J, Li D, Meulia T, van der Knaap E (2009) Integration of tomato reproductive developmental landmarks and expression profiles, and the effect of SUN on fruit shape. BMC Plant Biol 9:1–21. doi:10.1186/1471-2229-9-4

Walsh BM, Hoot SB (2001) Phylogenetic relationships of Capsicum (Solanaceae) using DNA sequences from two noncoding regions: the chloroplast atpB-rbcL spacer region and nuclear waxy introns. Int J Plant Sci 162:1409–1418. doi:10.1086/323273

Weiss D, Ori N (2007) Mechanisms of cross talk between gibberellin and other hormones. Plant Physiol 144:1240–1246. doi:10.1104/pp.107.100370

Wismer PT, Proctor JTA, Elfving DC (1995) Benzyladenine affects cell division and cell size during apple fruit thinning. J Am Soc Hortic Sci 120:802–807

Wittwer SH, Bukovac MJ, Sell HM, Weller LE (1957) Some effects of gibberellin on flowering and fruit setting. Plant Physiol 32:39–41
Acknowledgements
This work was supported by grants from the Spanish Ministerio de Ciencia e Innovación (MICINN, i-COOP Agrofood 2014CD0018) and National Council on Science and Technology (CONACYT) of Mexico by Grant FORDECYT-193512. R.S.O. is a recipient of CONACYT doctoral fellowship. We thank Rafael Martinez and Primitivo Murias for expert plant care and Marisol Gascón for technical assistance with the microscope.
Additional information
Communicated by Dolf Weijers.
Electronic supplementary material
Below is the link to the electronic supplementary material.
About this article
Cite this article
Sandoval-Oliveros, R., Guevara-Olvera, L., Beltrán, J.P. et al. Developmental landmarks during floral ontogeny of jalapeño chili pepper (Capsicum annuum L.) and the effect of gibberellin on ovary growth. Plant Reprod 30, 119–129 (2017). https://doi.org/10.1007/s00497-017-0307-0
Received:

Accepted:

Published:

Issue Date:
Keywords
Pepper

Capsicum annuum

Chili pepper

Flower development

Gibberellins