Abstract
Trithuria (Hydatellaceae; Nymphaeales) is unique among early-divergent angiosperms in that its species are extremely small and most have exceptionally short, annual life histories. Given the evolution of these extremes of size and development, we sought to understand whether post-pollination processes still varied predictably with breeding system in Trithuria. To address this question, we studied two Western Australian species, Trithuria austinensis (dioecious, obligately outcrossing) and Trithuria submersa (bisexual, highly selfing). To document developmental timing, carpels were hand-pollinated, collected at sequential time points, and examined with light and fluorescence microscopy. In both species, pollen tubes first entered ovules <1 h after pollination, but the pollen tube pathway of outcrossing T. austinensis was almost four times longer and its pollen tube growth rates were up to six times faster (≤2,166 vs. 321 μm/h) than those of T. submersa. T. austinensis also exhibited greater male investment, slower pollen germination, and greater pollen tube attrition. These differences in male gametophyte development are predicted for outcrossers versus selfers in phylogenetically derived angiosperms. These new data for Hydatellaceae reinforce the idea that an acceleration of pollen tube development occurred in the Nymphaeales stem lineage, before the origin of Hydatellaceae. We infer that a recent evolutionary transition to selfing in T. submersa has been accompanied by predictable modifications to reproductive development, which, because of the ancient relationship between Hydatellaceae and all other angiosperms, suggests that traits underlying the lability of flowering plant post-pollination biology were present early in their history.
Access options
Buy single article
Instant access to the full article PDF.
USD 39.95
Price excludes VAT (USA)
Tax calculation will be finalised during checkout.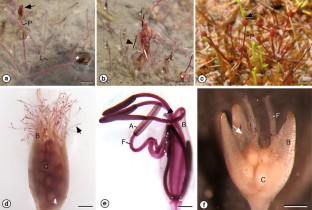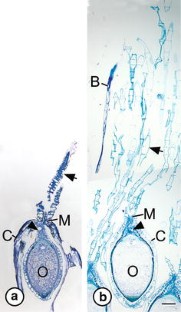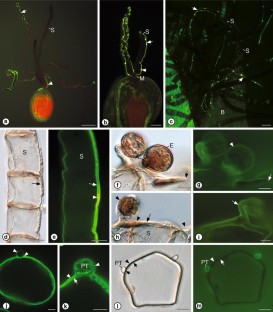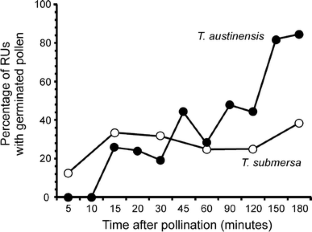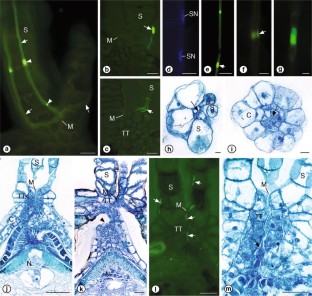 References
Abercrombie JM, O'Meara BC, Moffatt AR, Williams JH (2011) Developmental evolution of flowering plant pollen tube cell walls: callose synthase (CalS) gene expression patterns. EvoDevo 2:14

Acar I, Kakani VG (2010) The effects of temperature on in vitro pollen germination and pollen tube growth of Pistacia spp. Sci Hortic 125:569–572

Allen AM, Hiscock SJ (2008) Evolution and phylogeny of self-incompatibility systems in angiosperms. In: Franklin Tong VE (ed) Self-incompatibility in flowering plants—evolution, diversity, and mechanisms. Springer, Berlin

Barrett SCH, Harder LD, Worley AC (1996) The comparative biology of pollination and mating in flowering plants. Philos Trans R Soc Lond B 351:1271–1280

Bernhardt P, Thien LB (1987) Self-isolation and insect pollination in the primitive angiosperms: new evaluations of older hypotheses. Pl Syst Evol 156:159–176

Brunet J (1992) Sex allocation in hermaphroditic plants. Trends Ecol Evol 7:79–84

Charnov EL (1982) The theory of sex allocation. Princeton University Press, Princeton

de Nettancourt D (1977) Incompatibility in angiosperms. Springer, Berlin

Dilcher D (2000) Towards a new synthesis: major evolutionary trends in the angiosperm fossil record. Proc Natl Acad Sci USA 97:7030–7036

Endress PK (2001) The flowers of extant basal angiosperms and inferences on ancestral flowers. Int J Plant Sci 162:1111–1140

Friedman WE (1993) The evolutionary history of the seed plant male gametophyte. Trends Ecol Evol 8:15–21

Friedman WE (2008) Hydatellaceae are water lilies with gymnospermous tendencies. Nature 453:94–97

Friedman J, Barrett SCH (2009) Wind of change: new insights on the ecology and evolution of pollination and mating in wind-pollinated plants. Ann Bot 103:1515–1527

Heslop-Harrison Y (1977) The pollen-stigma interaction: pollen-tube penetration in Crocus. Ann Bot 41:913–922

Hill AL, Semeniuk CA, Semeniuk V, Del Marco A (1996) Wetlands of the Swan Coastal Plain, vol. 2a. Wetland mapping, classification and evaluation. Report, Water and Rivers Commission Department of Environmental Protection

Hogenboom NG (1975) Incompatibility and incongruity: two different mechanisms for the non-functioning of intimate partner relationships. Proc R Soc Lond B 188:361–375

Hogenboom NG (1984) Incongruity: non-functioning of intercellular and intracellular partner relationships through non-matching information. In: Linskens HF, Heslop-Harrison J (eds) Encyclopedia of plant physiology, vol 17, cellular interactions. Springer, Berlin, pp 641–654

Igersheim A, Endress PK (1998) Gynoecium diversity and systematics of the paleoherbs. Bot J Linn Soc 127:289–370

Iles W, Rudall PJ, Sokoloff DD, Remizowa MV, Macfarlane TD, Logacheva MB, Graham SW (2012) Molecular phylogenetics of Hydatellaceae (Nymphaeales): Sexual-system homoplasy and a new sectional classification. Am J Bot (in press)

Johri BM, Ambegaokar KB, Srivastava PS (1992) Comparative embryology of angiosperms. Springer, Berlin

Jones DF (1920) Selective fertilization in pollen mixtures. Biol Bull 38:251–289

Kerwin MA, Smith-Huerta NL (2000) Pollen and pistil effects on pollen germination and tube growth in selfing and outcrossing populations of Clarkia tembloriensis (Onagraceae) and their hybrids. Int J Plant Sci 161:895–902

Lloyd DG, Webb CJ (1986) The avoidance of interference between the presentation of pollen and stigmas in angiosperms.1. Dichogamy. New Zeal J Bot 24:135–162

Lloyd DG, Wells MS (1992) Reproductive biology of a primitive angiosperm, Pseudowintera colorata (Winteraceae), and the evolution of pollination systems in Anthophyta. Plant Syst Evol 181:77–95

Mazer SJ, Hove AA, Miller BS, Barbet-Massin M (2010) The joint evolution of mating system and pollen performance: predictions regarding male gametophytic evolution in selfers vs outcrossers. Perspect Plant Ecol Evol Syst 12:31–41

Mulcahy DL (1979) The rise of the angiosperms—a genecological factor. Science 206:20–23

Mulcahy DL, Mulcahy GB (1987) The effects of pollen competition. Am Sci 75:44–50

Plitmann U (1993) Pollen tube attrition as related to breeding systems in Brassicaceae. Plant Syst Evol 188:65–72

Plitmann U (1994) Assessing functional reproductive traits from herbarial material: the test case of pollen tubes in pistils of Polemoniaceae. Taxon 43:63–69

Plitmann U, Levin DA (1990) Breeding systems in the Polemoniaceae. Plant Syst Evol 170:205–214

Prychid CJ, Sokoloff DD, Remizowa MV, Tuckett RE, Yadav SR, Rudall PJ (2011) Unique stigmatic hairs and pollen-tube growth within the stigmatic cell wall in the early- divergent angiosperm family Hydatellaceae. Ann Bot 108:599–608

Rothwell GW (1972) Evidence of pollen tubes in Paleozoic pteridosperms. Science 175:772–774

Rudall PJ, Bateman RM (2007) Developmental bases for key innovations in the seed-plant microgametophyte. Trends Plant Sci 12:317–326

Rudall PJ, Bateman RM (2010) Defining the limits of flowers: the challenge of distinguishing between the evolutionary products of simple versus compound strobili. Philos Trans R Soc Lond B 365:397–409

Rudall PJ, Sokoloff DD, Remizowa MV, Conran JG, Davis JI, Macfarlane TD, Stevenson DW (2007) Morphology of Hydatellaceae, an anomalous aquatic family recently recognized as an early-divergent angiosperm lineage. Am J Bot 94:1073–1092

Rudall PJ, Remizowa MV, Beer AS, Bradshaw E, Stevenson DW, Macfarlane TD, Tuckett RE, Yadav SR, Sokoloff DD (2008) Comparative ovule and megagametophyte development in Hydatellaceae and water lilies reveal a mosaic of features among the earliest angiosperms. Ann Bot 101:941–956

Rudall PJ, Remizowa MV, Prenner G, Prychid CJ, Tuckett RE, Sokoloff DD (2009a) Nonflowers near the base of extant angiosperms? Spatiotemporal arrangement of organs in reproductive units of Hydatellaceae and its bearing on the origin of the flower. Am J Bot 96:67–82

Rudall PJ, Eldridge T, Tratt J, Ramsay MM, Tucket RE, Smith SY, Collinson ME, Remizowa MF, Sokoloff DD (2009b) Seed fertilization, development, and germination in Hydatellaceae (Nymphaeales): implications for endosperm evolution in early angiosperms. Am J Bot 96:1581–1593

Saarela JM, Hardeep SR, Doyle JA, Endress PK, Mathews S, Marchant AD, Briggs BG, Graham SW (2007) Hydatellaceae identified as a new branch near the base of the angiosperm phylogenetic tree. Nature 446:312–315

Sato H, Yahara T (1999) Trade-offs between flower number and investment to a flower in selfing and outcrossing varieties of Impatiens hypophylla (Balsaminaceae). Am J Bot 86:1699–1707

Skogsmyr I, Lankinen A (2002) Sexual selection: an evolutionary force in plants. Biol Rev 77:537–562

Smith-Huerta NL (1996) Pollen germination and tube growth in selfing and outcrossing populations of Clarkia tembloriensis (Onagraceae). Int J Plant Sci 157:228–233

Smith-Huerta NL (1997) Pollen tube attrition in Clarkia tembloriensis (Onagraceae). Int J Plant Sci 158:519–524

Snow AA, Spira TP (1991) Pollen vigour and the potential for sexual selection in plants. Nature 352:796–797

Sokoloff DD, Remizowa MV, Macfarlane TD, Rudall PJ (2008) Classification of the early- divergent angiosperm family Hydatellaceae: one genus instead of two, four new species and sexual dimorphism in dioecious taxa. Taxon 57:179–200

Stebbins GL (1957) Self fertilization and population variability in the higher plants. Am Nat 91:337–354

Stebbins GL (1974) Flowering plants: evolution above the species level. Harvard University Press, Cambridge

Stone BA, Clarke AE (1992) Chemistry and biology of (1,3)-β-glucans. La Trobe University Press, Victoria

Taylor ML, Williams JH (2009) Consequences of pollination syndrome evolution for post- pollination biology in an ancient angiosperm family. Int J Plant Sci 170:584–598

Taylor ML, Macfarlane TD, Williams JH (2010) Reproductive ecology of the basal angiosperm Trithuria submersa (Hydatellaceae). Ann Bot 106:909–920

Walsh NE, Charlesworth D (1992) Evolutionary interpretations of differences in pollen tube growth rates. Quart Rev Biol 67:19–37

Whitehead DR (1969) Wind pollination in the angiosperms: evolutionary and environmental considerations. Evolution 23:28–35

Whitehouse HLK (1950) Multiple-allelomorph incompatibility of pollen and style in the evolution of the angiosperms. Ann Bot 14:199–216

Williams JH (2008) Novelties of the flowering plant pollen tube underlie diversification of a key life history stage. Proc Natl Acad Sci USA 105:11259–11263

Williams JH (2009) Amborella trichopoda (Amborellaceae) and the evolutionary developmental origins of the angiosperm progamic phase. Am J Bot 96:144–165

Williams JH, McNeilage RT, Lettre MT, Taylor ML (2010) Pollen tube growth and the pollen-tube pathway of Nymphaea odorata (Nymphaeaceae). Bot J Lin Soc 162:581–593

Willson MF, Burley N (1983) Mate choice in plants: tactics mechanisms, and consequences. Princeton University Press, Princeton

Wu C–C, Diggle PK, Friedman WE (2011) Female gametophyte development and double fertilization in Balsas teosinte, Zea mays subsp. parviglumis (Poaceae). Sex Plant Reprod 24:219–229

Yadav SR, Janarthanam MK (1995) Trithuria konkanénsis (Hydatellaceae), eine neue Art aus Indien. Aqua-planta 3:91–97
Acknowledgments
The authors thank the Western Australia Department of Environment and Conservation in Manjimup, particularly Robyn Bowles and Rich Robinson for providing logistical support and use of facilities, as well as Roger Hearn for insightful conversations about the ecology of the area wetlands. We especially thank Terry Macfarlane for his assistance in locating populations and identifying plants, as well as for valuable discussion. We also thank Anna Becker and M. Steven Furches for assistance with field collections, Andrew Moffat for laboratory assistance, and Nicholas Buckley and Matthew Lettre for comments on early drafts of this manuscript. This work was supported by a National Science Foundation (NSF) Doctoral Dissertation Improvement Grant to M. L. T. (DEB 0910171) and by NSF award IOS 1052291 to J. H. W.
Additional information
Communicated by Scott Russell.
About this article
Cite this article
Taylor, M.L., Williams, J.H. Pollen tube development in two species of Trithuria (Hydatellaceae) with contrasting breeding systems. Sex Plant Reprod 25, 83–96 (2012). https://doi.org/10.1007/s00497-012-0183-6
Received:

Accepted:

Published:

Issue Date:

DOI: https://doi.org/10.1007/s00497-012-0183-6
Keywords