Abstract
Spatial organization of splicing machinery elements in metabolically and functionally different pollen cells during Hyacinthus orientalis pollen grain development was examined by localization of trimethylguanosine (TMG) snRNA and Sm proteins, representing splicing small nuclear ribonucleoproteins, as well as SR splicing factors was investigated. In young pollen grains the level of all labeled antigens was the highest displaying essentially uniform distribution in the vegetative and generative nucleus. In the polarized microspore, as well as in the vegetative cell of the young pollen grain, both TMG snRNA and Sm proteins were also found highly concentrated in Cajal bodies. After detachment of the generative cell from the sporoderm, the redistribution of splicing machinery elements into speckled-shape clusters was observed in both nuclei in the pollen. In the mature pollen grain, labeled antigens were still present, both in the vegetative and the generative nucleus. The results reflected that in differentiating H. orientalis pollen cells, the intracellular organization pre-mRNA splicing machinery undergoes significant and characteristic changes during the course of pollen grain development. Changes in the distribution of spliceosomal components relate to the transcriptional activity of both pollen cells during their maturation.
Access options
Buy single article
Instant access to the full article PDF.
USD 39.95
Price includes VAT (USA)
Tax calculation will be finalised during checkout.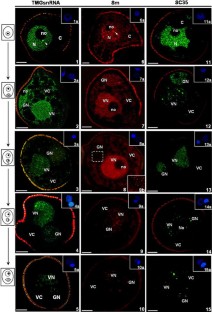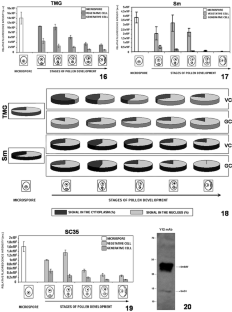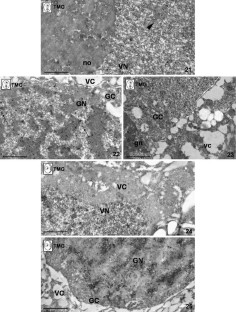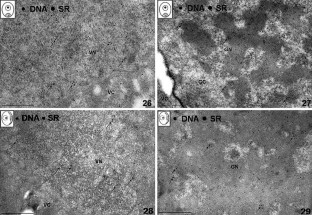 References
Ali GS, Golovkin M, Reddy AS (2003) Nuclear localization and in vivo dynamics of a plant-specific serine/arginine-rich protein. Plant J 36:883–893

Bednarska E (1984) The differentiation of pollen cells in Hyacinthus orientalis L.—ultrastructural and metabolic studies. Postep Biol Kom 11:585–587

Bednarska E, Górska-Brylass A (1987) Ultrastructural transformations of nuclei in differentiating Hyacinthus orientalis L. pollen grain cells. Acta Soc Bot Pol 4:667–685

Belostotsky DA, Rose AB (2005) Plant gene expression in the age of systems biology: integrating transcriptional and post-transcriptional events. Trends Plant Sci 10:347–353

Brahms H, Raymackers J, Union A, de Keyser F, Meheus L, Lührmann RJ (2000) The C-terminal RG dipeptide repeats of the spliceosomal Sm proteins D1 and D3 contain symmetrical dimethylarginines, which form a major B-cell epitope for anti-Sm autoantibodies. Biol Chem 275:17122–17129

Carmo-Fonseca M, Pepperkok R, Carvalho MT, Lamond AJ (1992) Transcription dependent colocalization of the U1, U2, U4/U6 and U5 snRNA in coiled bodies. J Cell Biol 117:1–14

Cmarko D, Verschure PJ, Martin TE, Dahmus ME, Krause S, Fu XD, Van Driel R, Fakan S (1999) Ultrastructural analysis of transcription and splicing in the cell nucleus after bromo-UTP microinjection. Mol Biol Cell 10:211–223

Concha II, Mansilla J, Riveros M, Burzio LO (1995) U1 snRNP components are present in the vegetative and generative nuclei of the pollen grain. Sex Plant Reprod 8:339–344

Dirks RW, De Pauw ES, Raap AK (1997) Splicing factors associate with nuclear HCMV-IE transcripts after transcriptional activation of the gene, but dissociate upon transcription inhibition: evidence for a dynamic organization of splicing factors. J Cell Sci 110:515–522

Docquier S, Tillemans V, Deltour R, Motte P (2004) Nuclear bodies and compartmentalization of pre-mRNA splicing factors in higher plants. Chromosoma 112:255–266

Fakan S (1994) Perichromatin fibrils are in situ forms of nascent transcripts. Trends Cell Biol 4:86–90

Fakan S (2004) Ultrastructural cytochemical analyses of nuclear functional architecture. Eur J Histochem 48:5–14

Fang Y, Hearn S, Spector DL (2004) Tissue-specific expression and dynamic organization of SR splicing factors in Arabidopsis. Mol Biol Cell 15:2664–2673

Fischer DC, Noack K, Runnebaum IB, Watermann DO, Kieback DG, Stamm S, Stickeler E (2004) Expression of splicing factors in human ovarian cancer. Oncol Rep 11:1085–1090

Furuyama S, Bruzik JP (2002) Multiple roles for SR proteins in trans splicing. Mol Cell Biol 22:5337–5346

Gall JG (2000) Cajal bodies: the first 100 years. Annu Rev Cell Dev Biol 16:273–300

Glyn MC, Leitch AR (1995) The distribution of a spliceosome protein in cereal (Triticeae) interphase nuclei from cells with different metabolic activities and throught the cell cycle. Plant J 8:531–540

Grande MA, Van Der Kraan I, De Jong L, Van Driel R (1997) Nuclear distribution of transcription factors in relation to sites of transcription and RNA polymerase II. J Cell Sci 110:1781–1791

Graveley BR (2000) Sorting out the complexity of SR protein functions. RNA 6:1197–1211

Hastings ML, Krainer AR (2001) Pre-mRNA splicing in the new millennium. Curr Opin Cell Biol 13:302–309

Kornblihtt AR, de la Mata M, Fededa JP, Munoz MJ, Nogues G (2004) Multiple links between transcription and splicing. RNA 10:1489–1498

Lamond AI, Spector DL (2003) Nuclear speckles: a model for nuclear organelles. Nat Rev Mol Cell Biol 4:605–612

Lazar G, Schaal T, Maniatisi T, Goodman HM (1995) Identification of a plant serine-arginine-rich protein similar to the mammalian splicing factor SF2/ASF. Proc Natl Acad Sci USA 92:7672–7676

Mascarenhas JP (1990) Gene activity during pollen development. Annu Rev Plant Physiol 41:317–338

Misteli T (2000) Cell biology of transcription and pre-mRNA splicing: nuclear architecture meets nuclear function. J Cell Sci 113:1841–1849

Misteli T, Caceres JF, Spector DL (1997) The dynamics of a pre-mRNA splicing factor in living cells. Nature 387:523–527

Niedojadło J, Górska-Brylass A (2003) New type of snRNP containing nuclear bodies in plant cells. Biol Cell 95:303–310

Olmedilla A, Alche De Dios, Rodriguez-Garcia MI (1997) Nucleolar evolution and coiled bodies during meiotic prophase in Olea europaea: differential localization of nucleic acids. Eur J Cell Biol 74:181–189

Roth MB, Gall JG (1987) Monoclonal antibodies that recognize transcription unit proteins on newt lampbrush chromosomes. J Cell Biol 105:1047–1054

Roth MB, Christine M, Gall JG (1990) A monoclonal antibody that recognizes a phosphorylated epitope stains lampbrush chromosome loops and small granules in the amphibian germinal vesicle. J Cell Biol 111:2217–2223

Sleeman JE, Lamond AI (1999) Newly assembled snRNP associate with coiled bodies before speckles, suggesting a nuclear snRNP maturation pathway. Curr Biol 9:1065–1074

Smoliński DJ, Górska-Brylass A (1996) Plant "coiled body" after in situ hybridization and immunocytochemical investigations. Folia Histochem Cytobiol 34(Suppl 2):90

Spector DL (2001) Nuclear domains. J Cell Sci 114:2891–2892

Spector DL (2003) The dynamics of chromosome organization and gene regulation. Annu Rev Biochem 72:573–608

Stanek D, Neugebauer KM (2006) The Cajal body: a meeting place for spliceosomal snRNPs in the nuclear maze. Chromosoma 115:343–354

Straatman KR, Schel JH (2001) Distribution of splicing proteins and putative coiled bodies during pollen development and androgenesis in Brassica napus L. Protoplasma 216:191–200

Testillano PS, Gonzales-Melendi P, Ahmadian P, Fadon B, Risueno MC (1995) The immunolocalization of nuclear antigens during the pollen developmental program and the induction of pollen embryogenesis. Exp Cell Res 221:41–54

Thiry M (1992) Ultrastructural detection of DNA within the nucleolus by sensitive molecular immunocytochemistry. Exp Cell Res 200:135–144

Tupy J, Süss J, Hrabĕtovă E, Řĭhova L (1983) Developmental changes in gene expression during pollen differentiation and maturation in Nicotiana tabacum. Biol Plant 25:231–237

Vázquez-Nin GH, Echeverría OM, Mínguez A, Moreno Díaz de la Espina S, Fakan S, Martin TE (1992) Ribonucleoprotein components of root meristematic cell nuclei of the tomato characterized by application of mild loosening and immunocytochemistry. Exp Cell Res 200:431–438

Will CL, Lührmann R (2001) Spliceosomal UsnRNP biogenesis, structure and function. Curr Opin Cell Biol 13:290–301

Zahler AM, Lane WS, Stolk JA, Roth MB (1992) SR proteins: a conserved family of pre-mRNA splicing factors. Genes Dev 6:837–847

Zeng C, Kim E, Warren SL, Berget SM (1997) Dynamic relocation of transcription and splicing factors dependent upon transcriptional activity. EMBO J 16:1401–1412

Zienkiewicz K, Smoliński DJ, Bednarska E (2006) Distribution of poly(A) RNA and splicing machinery elements in mature Hyacinthus orientalis L. pollen grains and pollen tubes growing in vitro. Protoplasma 227:95–103

Zienkiewicz K, Zienkiewicz A, Rodriguez-Garcia MI, Smoliński DJ, Świdziński M, Bednarska E (2008a) Transcriptional activity and distribution of splicing machinery elements during Hyacinthus orientalis pollen tube growth. Protoplasma 233:129–139

Zienkiewicz K, Zienkiewicz A, Smoliński DJ, Rafińska K, Świdziński M, Bednarska E (2008b) Transcriptional state and distribution of Poly(A) RNA and polymerase RNA II in differentiating Hyacinthus orientalis L. pollen grain. Sex Plant Reprod 21

Zorio DA, Bentley DL (2004) The link between mRNA processing and transcription: communication works both ways. Exp Cell Res 296:91–97
Acknowledgments
We wish to thank to Karla M. Neugebauer (Max Planck Institute of Molecular Cell Biology and Genetics, Dresden, Germany) for 104 mAb. This work was supported by the grant of Polish Ministry of Science and Higher Education no. N N303 290434.
Additional information
Communicated by Scott Russell.
Electronic supplementary material
Below is the link to the electronic supplementary material.
About this article
Cite this article
Zienkiewicz, K., Zienkiewcz, A., Smoliński, D.J. et al. Intracellular organization of the pre-mRNA splicing machinery during Hyacinthus orientalis L. pollen development. Sex Plant Reprod 21, 217–231 (2008). https://doi.org/10.1007/s00497-008-0086-8
Received:

Accepted:

Published:

Issue Date:
Keywords
Pollen development

Pre-mRNA splicing

snRNA

Sm proteins

SR proteins

SC35