Abstract
Spatial distribution of poly(A) RNA, hypophosphorylated Pol IIA, and hyperphosphorylated Pol IIO form of polymerase RNA II was characterized using immunofluorescence, immunogold and fluorescence in situ hybridization (FISH) techniques in relationship to transcriptional activity in the microspore and developing pollen of H. orientalis. During the course of pollen development our results reflected much higher transcriptional activity in the vegetative cell than in the generative cell. The highest levels of transcription in pollen cells were observed in young pollen grains, successively decreasing during pollen maturation, reaching a minimum just before anthesis. Levels of poly(A) RNA were higher in the vegetative cell than in the generative cell during all observed stages of pollen development. Accompanying physiological inhibition of the RNA synthesis in mature pollen cells was a strong accumulation of poly(A) RNA in the cytoplasm, especially in the vegetative cell. Alterations in transcriptional activity of differentiating pollen cells were accompanied by changes in the level and localization pattern of both forms of Pol II. During high transcriptional activity in the pollen nuclei, both forms of RNA Pol II occurred at the periphery of chromatin masses, as well as in the areas between them. A strong decrease in Pol IIO levels was observed in generative and vegetative nuclei as transcriptional activity of pollen cells apparently became inhibited. Finally, just before anthesis, an almost complete lack of the Pol IIO was observed in both pollen nuclei. In contrast, the level of Pol IIA significantly increased during the later stages of pollen development, in spite of apparent transcriptional inhibition in both pollen cells. This rich pool of the hypophosphorylated form of Pol II was located mainly over the central areas of condensed chromatin clumps, which was especially visible in the generative nucleus. Spatial and temporal aspects of RNA synthesis, including poly(A) RNA, as well as organization of transcriptional machinery appear to be closely related in developing pollen cells.
Access options
Buy single article
Instant access to the full article PDF.
USD 39.95
Price includes VAT (USA)
Tax calculation will be finalised during checkout.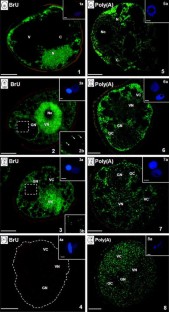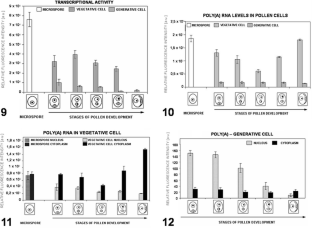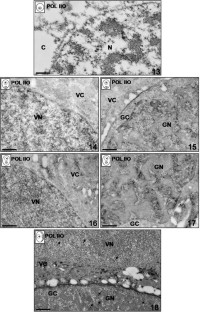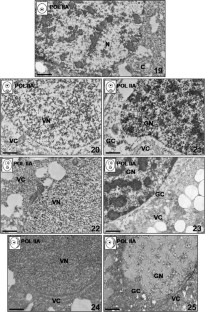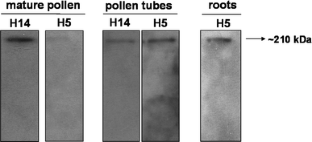 References
Alves-Ferreira M, Wellmer F, Banhara A, Kumar V, Riechmann JL, Meyerowitz M (2007) Global expression profiling applied to the analysis of Arabidopsis stamen development. Plant Physiol 145:747–762

Becker JD, Boavida LC, Carnerio J, Haury M, Feijó JA (2003) Transcriptional profiling of Arabidopsis tissues reveals the unique characteristics of the pollen transcriptome. Plant Physiol 133:713–725

Bednarska E (1984) The differentiation of pollen cells in Hyacinthus orientalis L.—ultrastructural and metabolic studies. Post Biol Kom 11:585–587

Bednarska E, Górska-Brylass A (1987) Ultrastructural transformations of nuclei in differentiating Hyacinthus orientalis L. pollen grain cells. Acta Soc Bot Pol 4:667–685

Bentley DL (2005) Rules of engagement: co-transcriptional recruitment of pre-mRNA processing factors. Curr Opin Cell Biol 17:251–256

Bregman DB, Du L, Van der Zee S, Warren SL (1995) Transcription-dependent redistribution of the large subunit of RNA polymerase II to discrete nuclear domains. J Cell Biol 129:287–298

Colot HV, Rosbash M (1982) Behavior of individual maternal pA + RNA during embryogenesis of Xenopus laevis. Dev Biol 94:79–86

Dirks RW, Snaar S (1999) Dynamics of RNA polymerase II localization during the cell cycle. Histochem Cell Biol 111:405–410

Fakan S (1994) Perichromatin fibrils are in situ forms of nascent transcripts. Trends Cell Biol 4:86–90

Grande MA, van der Kraan I, de Jong L, van Driel R (1997) Nuclear distribution of transcription factors in relation to sites of transcription and RNA polymerase II. J Cell Sci 110:1781–1791

Gray NK, Wickens MP (1998) Control of translation initiation in animals. Ann Rev Cell and Dev Biol 14:399–457

Honys D, Twell D (2003) Comparative analysis of the Arabidopsis pollen transcriptome. Plant Physiol 132:640–652

Honys D, Twell D (2004) Transcriptome analysis of haploid male gametophyte development in Arabidopsis. Genome Biol 5:R85

Juge F, Zaessinger S, Temme C, Wahle E, Simonelig M (2002) Control of poly(A) polymerase level is essential to cytoplasmic polyadenylation and early development in Drosophila. EMBO J 21:6603–6613

Kornblihtt AR, de la Mata M, Fededa JP, Munoz MJ, Nogues G (2004) Multiple links between transcription and splicing. RNA 10:1489–1498

Lee TI, Young RA (2000) Transcription of eukaryotic protein-coding genes. Annu Rev Genet 34:77–137

Mascarenhas JP (1975) The biochemistry of angiosperm pollen development. Bot Rev 41:259–314

Mascarenhas JP (1990) Gene activity during pollen development. Annu Rev Plant Physiol 41:317–338

Mascarenhas JP (1993) Molecular mechanisms of pollen tube growth and differentiation. Plant Cell 5:1303–1314

McCormick S (1993) Male gametophyte development. Plant Cell 5:1265–1275

Pina C, Pinto F, Feijó JA, Becker JD (2005) Gene family analysis of the Arabidopsis pollen transcriptome reveals biological implications for cell growth, division control, and gene expression regulation. Plant Physiol 138:744–756

Proudfoot N, O'Sullivan J (2002) Polyadenylation: a tail of two complexes. Curr Biol 12:R855–R857

Raghavan V (1981) Distribution of poly(A)-containing RNA during normal pollen development and during induced pollen embryogenesis in Hyoscyamus niger. J Cell Biol 89:593–606

Raghavan V (1989) mRNAs and a cloned histone gene are differentially expressed during anther and pollen development in rice (Oryza sativa L.). J Cell Sci 92:217–229

Reed R (2003) Coupling transcription, splicing and mRNA export. Curr Opin Cell Biol 15:326–331

Sims RJ, Mandal SS, Reinberg D (2004) Recent highlights of RNA-polymerase-II-mediated transcription. Curr Opin Cell Biol 16:263–271

Tupy J (1982) Alternation in polyadenylated RNA during pollen maturation and germination. Biol Plantarum 24:331–340

Tupy J, Süss J, Hrabetova E, Rihova L (1983) Developmental changes in gene expression during pollen differentiation and maturation in Nicotiana tabacum. Biol Plantarum 25:231–237

Willemse MTM, Van Went JL (1984) The female gametophyte. In: Johri BM (ed) Embryology of angiosperms. Springer, Berlin, pp 159–196

Wilt FH (1977) The dynamics of maternal poly(A) containing mRNA in fertilized sea urchin eggs. Cell 11:673–681

Xie SQ, Pombo A (2006) Distribution of different phosphorylated forms of RNA polymerase II in relation to Cajal and PML bodies in human cells: an ultrastructural study. Histochem Cell Biol 125:21–31

Zeng C, Kim E, Warren S, Berget S (1997) Dynamic relocation of transcription and splicing factors dependent upon transcriptional activity. EMBO J 16:1401–1412

Zienkiewicz K, Smolinski DJ, Bednarska E (2006) Distribution of poly(A) RNA and splicing machinery elements in mature Hyacinthus orientalis L. pollen grains and pollen tubes growing in vitro. Protoplasma 227:95–103

Zienkiewicz K, Zienkiewicz A, Rodriguez-Garcia MI, Smolinski DJ, Swidzinski M, Bednarska E (2008) Transcriptional activity and distribution of splicing machinery elements during Hyacinthus orientalis pollen tube growth. Protoplasma 233:129–139
Acknowledgment
This work was supported by the grant of Polish Ministry of Science and Higher Education no. No.N303 290434.
Additional information
Communicated by Scott Russell.
Electronic supplementary material
Below is the link to the electronic supplementary material.
About this article
Cite this article
Zienkiewicz, K., Zienkiewicz, A., Smoliński, D.J. et al. Transcriptional state and distribution of poly(A) RNA and RNA polymerase II in differentiating Hyacinthus orientalis L. pollen grains. Sex Plant Reprod 21, 233–245 (2008). https://doi.org/10.1007/s00497-008-0085-9
Received:

Accepted:

Published:

Issue Date:
Keywords
Transcription

RNA polymerase II

Poly(A) RNA

Pollen grain

Hyacinthus orientalis