Abstract
In vitro fertilization system of higher plants has been well established using maize gametes and central cells, which can produce embryos and endosperms. In the present study, procedures for isolating gametes and central cells from rice (Oryza sativa L. cv. Nipponbare), a model plant, are reported with the goal of establishing rice in vitro fertilization system. Egg cells and central cells were isolated by manual manipulation of enzyme-treated unpollinated ovules, and an alternative direct isolation method for egg cells that does not use enzymatic treatment was also established. Fluorescent visualization of the granular structures in the cytoplasm of isolated egg cells and the nucleoli in two polar nuclei of isolated central cells suggest that these cells are reliable gametes and central cells. For sperm cell isolation, the contents of rice pollen grains were released by osmotic pressure-induced bursting of the grains. In addition, electrofusion with isolated gametes was successfully conducted.
Access options
Buy single article
Instant access to the full article PDF.
USD 39.95
Price includes VAT (USA)
Tax calculation will be finalised during checkout.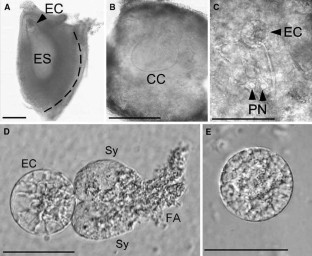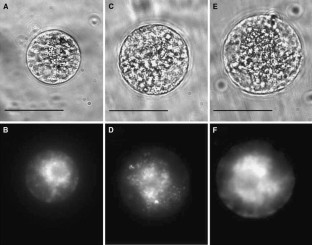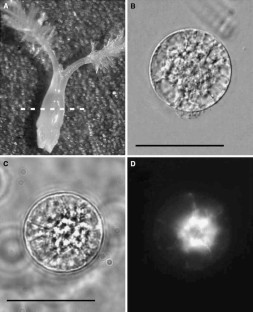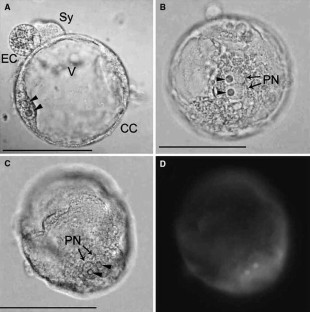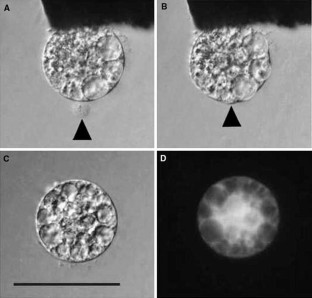 Abbreviations
EDTA:

Ethylenediaminetetraacetic acid

FDA:

Fluorescein diacetate

PMSF:

Phenylmethylsulfonyl fluoride
References
Diboll AG (1968) Fine structural development of the megagametophyte of Zea mays followings fertilization. Am J Bot 55:787–806

Drews GN, Yadegari R (2002) Development and function of the angiosperm female gametophyte. Annu Rev Gene 36:99–124

Faure J, Mogensen HL, Kranz E, Digonnet C, Dumas C (1992) Ultrastructural characterization and three-dimensional reconstruction of isolated maize egg protolasts. Protoplasma 171:97–103

Faure J-E, Mogensen HL, Dumas C, Lorz H, Kranz E (1993) Karyogamy after electrofusion of single egg and sperm cell protoplasts from maize: cytological evidence and time course. Plant Cell 5:747–755

Gou X-P, Wang S-H, Chen F (1999) Isolation and cytological observation of viable sperm cells of rice (in Chinese). Acta Bot Sin 41:669–671

Guignard ML (1899) Sur les antherozoides et la double copulation sexuelle chez les vegetaux angiosperms. Rev Gen Bot 11:129–135

Hoshino Y, Scholten S, von Wiegen P, Lörz H, Kranz E (2004) Fertilization induced changes in the microtubular architecture of the maize egg cell and zygote—an immunochemical approach adapted to single cells. Sex Plant Reprod 17:89–95

Huang B-Q, Russell SD (1992) Female germ unit: organization, isolation, and function. Int Rev Cytol 140:233–292

Ito Y, Arikawa K, Antonio BA, Ohta I, Naito S, Mukai Y, Shimano A, Masukawa M, Shibata M, Yamamoto M, Yokoyama J, Sakai Y, Sakata K, Nagamura Y, Namiki N, Matsumoto T, Higo K, Sasaki T (2005) Rice Annotation Database (RAD): a contig-oriented database for map-based rice genomics. Nucleic Acids Res 33:D651–D655

Khalequzzaman M, Haq N (2005) Isolation and in vitro fusion of egg and sperm cells in Oryza sativa. Plant Physiol Biochem 43:69–75

Kikuchi S, Satoh K, Nagata T, Kawagashira N, Doi K, Kishimoto N, Yazaki J, Ishikawa M, Yamada H, Ooka H, Hotta I, Kojima K, Namiki T, Ohneda E, Yahagi W, Suzuki K, Li CJ, Ohtsuki K, Shishiki T, Otomo Y, Murakami K, Iida Y, Sugano S, Fujimura T, Suzuki Y, Tsunoda Y, Kurosaki T, Kodama T, Masuda H, Kobayashi M, Xie Q, Lu M, Narikawa R, Sugiyama A, Mizuno K, Yokomizo S, Niikura J, Ikeda R, Ishibiki J, Kawamata M, Yoshimura A, Miura J, Kusumegi T, Oka M, Ryu R, Ueda M, Matsubara K, Kawai J, Carninci P, Adachi J, Aizawa K, Arakawa T, Fukuda S, Hara A, Hashizume W, Hayatsu N, Imotani K, Ishii Y, Itoh M, Kagawa I, Kondo S, Konno H, Miyazaki A, Osato N, Ota Y, Saito R, Sasaki D, Sato K, Shibata K, Shinagawa A, Shiraki T, Yoshino M, Hayashizaki Y, Yasunishi A (2003) Collection, mapping, and annotation of over 28,000 cDNA clones from japonica rice. Science 301:376–379

Kovacs M, Barnabas B, Kranz E (1994) The isolation of viable egg cells of wheat (Triticum aestivum L.). Sex Plant Reprod 7:311–312

Kranz E, Bautor J, Lörz H (1991) In vitro fertilization of single, isolated gametes of maize mediated electrofusion. Sex Plant Reprod 4:12–16

Kranz E, Lörz H (1993) In vitro fertilization with isolated, single gametes results in zygotic embryogenesis and fertile maize plants. Plant Cell 5:739–746

Kranz E, von Wiegen P, Lörz H (1995) Early cytological events after induction of cell division in egg cells and zygote development following in vitro fertilization with angiosperm gametes. Plant J 8:9–23

Kranz E, von Wiegen P, Quader H, Lörz H (1998) Endosperm development after fusion of isolated, single maize sperm and central cells in vitro. Plant Cell 10:511–524

Kuroiwa H, Kuroiwa T (1992) Giant mitochondria in the mature egg cell of Pelargonium zonale. Protoplasma 168:184–188

Kuwada Y (1909) On the development of the pollens and the embryo sac, and the formation of the endosperm, etc. of Oryza sativa L. (in Japanese). Bot Mag Tokyo 24:333–343

Kuwada Y (1910) A cytological study of Oryza sativa L. Bot Mag Tokyo 24:266–281

Miyao A, Tanaka K, Murata K, Sawaki H, Takeda S, Abe K, Shinozuka Y, Onosato K, Hirochika H (2003) Target site specificity of the Tos17 retrotransposon shows a preference for insertion within genes and against insertion in retrotransposon-rich regions of the genome. Plant Cell 15:1771–1780

Nawaschin S (1898) Revision der Befruchtungsvorgange bei Lilium martagon und Fritilla tenella. Bull Acad Imp Sci St Petersburg 9:377–382

Okamoto T, Higuchi K, Shinkawa T, Isobe T, Lorz H, Koshiba T, Kranz E (2004) Identification of major proteins in maize egg cells. Plant Cell Physiol 45:1406–1412

Okamoto T, Scholten S, Lorz H, Kranz E (2005) Identification of genes that are up- or down-regulated in the apical or basal cell of maize two-celled embryos and monitoring their expressions during zygote development by a cell manipulation- and PCR-based approach. Plant Cell Physiol 46:332–338

Raghavan V (1988) Anther and pollen development in rice (Oryza sativa). Am J Bot 75:183–186

Russell SD (1992) Double fertilization. Int Rev Cytol 40:357–390

Scholten S, Lorz H, Kranz E (2002) Paternal mRNA and protein synthesis coincides with male chromatin decondensation in maize zygotes. Plant J 32:221–231

Theunis C, Pierson E, Cresti M (1991) Isolation of male and female gametes in higher plants. Sex Plant Reprod 4:145–154

van der Maas H, Zall M, De Jong E, Krens F, van Went J (1993) Isolation of viable egg cells of perennial rye-grass (Lolium perenne L.). Protoplasma 173:86–89

Weterings K, Russell SD (2004) Experimental analysis of the fertilization process. Plant Cell 16:S107–S118

You R, Jensen W (1985) Ultrastructural observations of mature megagametophyte and fertilization in wheat (Triticum aestivum L.). Can J Bot 63:163–178

Zhang J, Dong WH, Galli A, Potrykus I (1999) Regeneration of fertile plants from isolated zygotes of rice (Oryza sativa). Plant Cell Rep 19:128–132

Zhao J, Zhou C, Yang HY (2000) Isolation and in vitro culture of zygotes and central cells of Oryza sativa L. Plant Cell Rep 19:321–326
Acknowledgements
This work was supported in part by Grants-in-Aid from the Ministry of Education, Science, Sport, and Culture of Japan (Grant nos. 16027242 and 17657075 to T.O.) and by Selective Research Fund from Tokyo Metropolitan University to T.O. (Heisei 17 fiscal year).
Additional information
Communicated by S. Russell
About this article
Cite this article
Uchiumi, T., Komatsu, S., Koshiba, T. et al. Isolation of gametes and central cells from Oryza sativa L.. Sex Plant Reprod 19, 37–45 (2006). https://doi.org/10.1007/s00497-006-0020-x
Received:

Accepted:

Published:

Issue Date:
Keywords
Central cell

Egg cell

In vitro fusion

Oryza sativa

sperm cell