Abstract
We have characterized female gametophyte (megagametophyte) development and the kinetics of pollen tube growth in self-pollinated diploid genotypes (2n=2x=24) of Solanum cardiophyllum Lindl. that show normal seed formation. In this species megasporogenesis and megagametogenesis give rise to a female gametophyte of the Polygonum type composed of two synergids, an egg cell, a binucleated central cell and three antipodals; however, asynchronous abnormalities resembling mechanisms that prevail during the formation of second division restitution gametes were observed. In self-pollinated pistils at least 1–2% of germinating pollen tubes were able to reach the megagametophyte 60–84 hours after pollination (hap). Although the egg cell acquired a zygote-like morphology 60–84 hap, division of the primary endosperm nucleus was only observed 84 hap. The analysis of genetic variability in full-sib progeny confirmed that seeds are derived from sexual reproduction. These observations suggest that diploid genotypes of S. cardiophyllum can serve as an ideal system to genetically investigate true seed formation in a tuber-bearing Solanum species.
Access options
Buy single article
Instant access to the full article PDF.
US$ 39.95
Tax calculation will be finalised during checkout.
Subscribe to journal
Immediate online access to all issues from 2019. Subscription will auto renew annually.
US$ 79
Tax calculation will be finalised during checkout.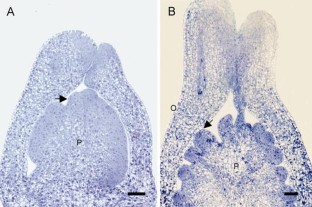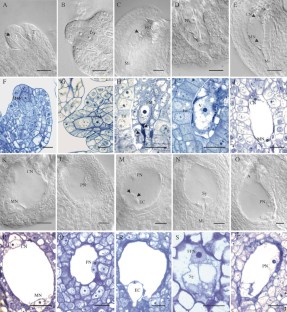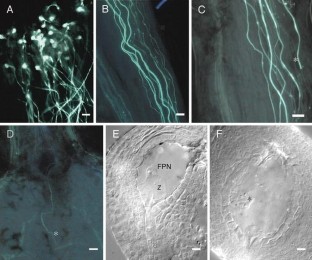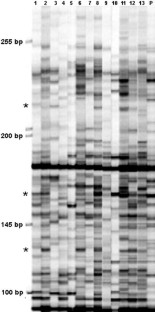 References
Almekinders CJM, Chilver AS, Renia HM (1996) Current status of the TPS technology in the world. Potato Res 39:2898–2303

Arnason TJ (1948) Female sterility in potatoes. Can J Bot 21:41–56

Cipar MS (1964) Self-compatibility in hybrids between Phureja and haploid Andigena clones of Solanum tuberosum. Eur Potato J 7:152–160

Cipar MS, Peloquin SJ, Hougas RW (1964) Inheritance of incompatibility in hybrids between Solanum tuberosum haploids and diploid species. Euphytica 13:163–172

Doyle JJ, Doyle JL (1987) A rapid DNA isolation procedure for small quantities of fresh leaf tissue. Phytochem Bull 19:11–15

Estrada-Luna AA, Huanca-Mamani W, Acosta-García G, León-Martínez G, Becerra-Flora A, Pérez-Ruíz R, Vielle-Calzada J-Ph (2002) Beyond promiscuity: manipulating sexuality and apomixis in flowering plants. In Vitro Cell Dev Biol Plant 38:146–155

Galindo-Alonso J (1982) La papita güera. Naturaleza 13:175–180

Hanneman RE Jr (1989) Potato germplasm resources. Am Potato J 66:655–668

Hawkes JG (1990) The potato: evolution, biodiversity and genetic resources. Belhaven Press, Oxford

Hermsen JGTh (1984) Haploids as a tool in breeding polyploids. Iowa State J Res 58:449–460

Hosaka K, Hanneman RE (1998) Genetics of self-compatibility in a self-incompatible wild diploid potato species Solanum chacoense. 1. Detection of an S locus inhibitor (Sli) gene. Euphytica 99:191–197

Jarwosky CA, Phatak SC, Ghate SR, Gitaitis RD (1988) Cultural practices in use of true seed potato and screening of tuber-forming Solanum species under hot climatic conditions. HortScience 23:500–505

Jongedijk E (1985) The pattern of megasporogenesis and megagametogenesis in diploid Solanum species hybrids; its relevance to the origin of 2n-eggs and the induction of apomixis. Euphytica 34:599–611

Jongedijk E (1987) A rapid methyl salicylate clearing technique for routine phase contrast observations of female meiosis in Solanum. J Microsc 146:157–162

Johri BM, Ambegaokar KB, Srivastava PS (1992) Comparative embryology of angiosperms. Springer, Berlin Heidelberg New York

Lee JH, Cooper DC (1958) Seed development following hybridization between diploid Solanum species from Mexico, Central and South America. Am J Bot 45:104–110

Luna-Cavazos M (1997) Variación morfológica de poblaciones silvestres y arvenses de Solanum ehrenbergii (Solanaceae). Bol Soc Bot Mex 61:85–94

Luna-Cavazos M, Leighton T, García-Moya E (1988) Estudio biosistemático de papas arvenses (solanum secc. Petota) del altiplano Potosino-Zacatecano. Agrociencia 71:103–124

Lush WM, Clarke AE (1997) Observations of pollen tube growth in Nicotiana alata and their implications for the mechanism of self-incompatibility. Sex Plant Reprod 10:27–35

Martin FW (1959) Staining and observing pollen tubes in the style by means of fluorescence. Stain Tech 34:125–128

Martin MW (1988) Cultural practices for using true seed in potato production under temperate climates. HortScience 23:505–510

McClure B, Mou B, Canevascini S, Bernatzky R (1999) A small asparagine-rich protein required for S-allele-specific pollen rejection in Nicotiana. Proc Natl Acad Sci USA 96:13548–13553

Mendiburu AO, Peloquin SJ, Mok DWS (1974) Potato breeding with haploids and 2n gametes. In: Kasha K (ed) Haploids in higher plants. University of Guelph, Guelph, Canada, pp 249–258

Murashige T, Skoog F (1962) A revised medium for rapid growth and bioassays with tobacco cultures. Physiol Planta 15:473–497

Nettancourt D de (2001) Incompatibility and incongruity in wild and cultivated plants. Springer, Berlin Heidelberg New York

O'Brien M, Kapfer C, Major G, Laurin M, Bertrand C, Kondo K, Kowyama Y, Matton DP (2002) Molecular analysis of the stylar-expressed Solanum chacoense small asparagine-rich protein family related to the HT modifier of gametophytic self-incompatibility in Nicotiana. Plant J 32:985–996

Ortiz R (1997) Breeding for potato production from true seed. Plant Breed Abstr 67:1355–1360

Ortiz R (1998) Potato breeding via ploidy manipulation. Plant Breed Rev 16:15–86

Peloquin SJ (1983) New approaches to breeding for the potato of the year 2000. In: Proceedings International Congress "Research for the potato in the year 2000". CIP Lima, Peru, pp 32–34

Peloquin SJ, Jansky SH, Yerk GL (1989) Potato cytogenetics and germplasm utilization. Am Pot J 66:629–638

Peloquin SJ, Yerk GL, Werener JE, Darmo E (1989b) Potato breeding with haploids and 2n gametes. Genome 31:1000–1004

Peloquin SJ, Boiteux LS, Carputo D (1999) Meiotic mutants of potato: valuable variants. Genetics 153:1493–1499

Rees-Leonard L (1935) Macrosporogenesis and development of the macrogametophyte of Solanum tuberosum. Bot Gaz 96:734–750

Ross H (1986) Potato breeding: problems and perspectives. Parey, Berlin

Spurr AR (1969) A new viscosity resin embedding medium for electron microscopy. J Ultrastruct Res 26:31–43

Thompson RD, Uhrig H, Hermsen JG, Salamini F, Kaufmann H (1991) Investigation of a self-compatible mutation in Solanum tuberosum clones inhibiting S-allele activity in pollen differentially. Mol Gen Genet 226:283–288

Vos P, Hogers R, Bleeker M, Reijans M, van de Lee T, Hornes M, Frijters A, Pot J, Peleman J, Kuiper M, Zabeau M (1995) AFLP: a new technique for DNA fingerprint. Nucleic Acids Res 23:4405–4414

Walker RT (1955) Cytological and embryological studies in Solanum section Tuberarium. Bull Torrey Bot Club 82:87–101

Xu B, Mu J, Nedvinsq DL, Grun P, Kao T-H (1990) Cloning and sequencing of cDNAs encoding two self-incompatibility associated proteins of Solanum chacoense. Mol Gen Genet 224:341–346
Acknowledgements
We thank Daphné Autran for critically reading the manuscript, Ana Laura Aguirre for help during the preparation of semi-thin sections, and Emigdia Alfaro and June Simpson for assistance with AFLP analysis. Mario Luna-Cavazos kindly provided some additional germplasm. This research was supported by grants from CINVESTAV (JIRA-2001) and CONACyT (B-34324 and Z-029). J.-Ph.V.-C. is an International Scholar of the Howard Hughes Medical Institute.
About this article
Cite this article
Estrada-Luna, A.A., García-Aguilar, M. & Vielle-Calzada, JP. Female reproductive development and pollen tube growth in diploid genotypes of Solanum cardiophyllum Lindl.. Sex Plant Reprod 17, 117–124 (2004). https://doi.org/10.1007/s00497-004-0219-7
Received:

Accepted:

Published:

Issue Date:
Keywords
Solanum

Megagametophyte

Pollen tube

Megasporogenesis

Megagametogenesis