Abstract
The style of lily produces a specialized extracellular matrix (ECM) in the transmitting tract epidermis that functions to guide pollen tubes to the ovary. This adhesive ECM contains low esterified pectins and a peptide, SCA (stigma/stylar cysteine-rich adhesin). Together they form a matrix to which pollen tubes adhere as they grow through the style. Pollen tubes also adhere to each other but only when grown in vivo, not in vitro. Pollen does not produce detectable SCA, but when SCA is added to an in vitro growth medium, it binds to pollen tubes that have esterified and low-esterified pectins in their walls. Since adhesion of the pollen tube to the stylar matrix requires tip growth, we hypothesized that the pectin wall at the pollen tube tip interacted with the SCA protein to initiate adhesion with the stylar pectin [Lord (2000) Trends Plant Sci 5:368–373]. Here, we use a pollen protoplast system to examine the effect of SCA on protoplast adhesion when it is added to the growth medium in the absence of the stylar pectin. We found that SCA induces a 2-fold increase in protoplast adhesion when it is added at the start of protoplast culture. This effect is less when SCA is added to the medium after the cell wall on the protoplast has begun to regenerate. We show that among the first components deposited in the new wall are arabinogalactan proteins (AGPs) and highly esterified pectins. We see no labeling for low esterified pectins even after 3 days of culture. In the pollen protoplast culture, adhesion occurs in the absence of the low esterified pectin. The newly formed wall on the protoplast mirrors that of the pollen tube tip in lily, which is rich in AGPs and highly esterified pectins. Thus, the protoplast system may be useful for isolating the pollen partner for SCA in this adhesion event.
Access options
Buy single article
Instant access to the full article PDF.
US$ 39.95
Tax calculation will be finalised during checkout.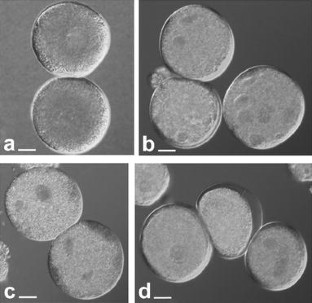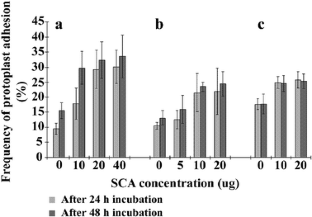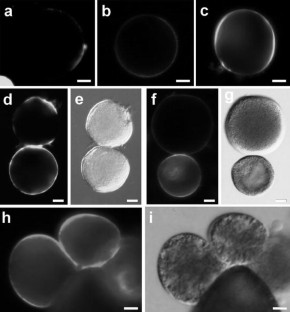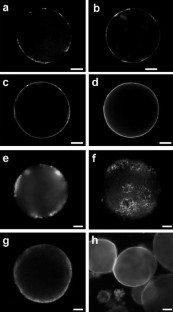 References
Atkinson RG, Schröder R, Hallett IC, Cohen D, MacRae EA (2002) Overexpression of polygalacturonase in transgenic apple trees leads to a range of novel phenotypes involving changes in cell adhesion. Plant Physiol 129:122–133

Blein J-P, Coutos-Thévenot P, Marion D, Ponchet M (2002) From elicitins to lipid-transfer proteins: a new insight in cell signalling involved in plant defence mechanisms. Trends Plant Sci 7:293–296

Buhot N, Douliez J-P, Jacquemard A, Marion D, Tran V, Maume BF, Milat M-L, Ponchet M, Mikès V, Kader J-C, Blein J-P (2001) A lipid transfer protein binds to a receptor involved in the control of plant defence responses. FEBS Lett 509:27–30

David H, Bade P, David A, Savy C, Demazy C, Van Cutsem P (1995) Pectins in walls of protoplast-derived cells imbedded in agarose and alginate beads. Protoplasma 186:122–130

Garcia-Olmeda F, Molina A, Segura A, Moreno M (1995) The defensive role of nonspecific lipid-transfer proteins in plants. Trends Microbiol 3:72–74

Iwai H, Masaoka N, Ishii T, Satoh S (2002) A pectin glucuronyltransferase gene is essential for intercellular attachment in the plant meristem. Proc Natl Acad Sci USA 99:16319–16324

Jauh GY, Lord EM (1996) Localization of pectins and arabinogalactan proteins in lily (Lilium longiflorum L.) pollen tube and style and their possible roles in pollination. Planta 199:251–261

Jauh GY, Eckard KJ, Nothnagel EA, Lord EM (1997) Adhesion of lily pollen tubes on an artificial matrix. Sex Plant Reprod 10:173–180

Kader J-C (1997) Lipid-transfer proteins: a puzzling family of plant proteins. Trends Plant Sci 2:66–70

Knox JP, Linstead PJ, King J, Cooper C, Roberts K (1990) Pectin esterification is spatially regulated both within cells and between developing tissues of root apices. Planta 181:512–521

Lord E (2000) Adhesion and cell movement during pollination: cherchez la femme. Trends Plant Sci 5:368–373

Lord EM, Mollet J-C (2002) Plant cell adhesion: a bioassay facilitates discovery of the first pectin biosynthetic gene. Proc Natl Acad Sci USA 99:15843–15845

Lord EM, Russell SD (2002)The mechanisms of pollination and fertilization in plants. Annu Rev Cell Dev Biol 18:81–105

Majewska-Sawka A, Fernández MC, M'rani-Alaoui M, Münster A, Rodríguez-García MI (2002) Cell wall reformation by pollen tube protoplasts of olive (Olea europaea L.): structural comparison with the pollen tube wall. Sex Plant Reprod 15:21–29

Miki-Hirosige H, Nakamura S, Tanaka I (1988) Ultrastructural research on cell wall regeneration by cultured pollen protoplasts of Lilium longiflorum. Sex Plant Reprod 1:36–45

Mollet J-C, Park S-Y, Nothnagel EA, Lord EM (2000) A lily stylar pectin is necessary for pollen tube adhesion to an in vitro stylar matrix. Plant Cell 12:1737–1749

Osteryoung KW, Toenjes K, Hall B, Winkler V, Bennet AB (1990) Analysis of tomato polygalacturonase expression in transgenic tobacco. Plant Cell 2:1239–1248

Park S-Y, Lord EM (2003) Expression studies of SCA in lily and confirmation of its role in pollen tube adhesion. Plant Mol Biol 51:183–189

Park S-Y, Jauh GY, Mollet J-C, Eckard KJ, Nothnagel EA, Walling LL, Lord EM (2000) A lipid transfer-like protein is necessary for lily pollen tube adhesion to an in vitro stylar matrix. Plant Cell 12:151–163

Pennell RI, Knox JP, Scofield GN, Selvendran RR, Roberts K (1989) A family of abundant plasma membrane-associated glycoproteins related to the arabinogalactan proteins is unique to flowering plants. J Cell Biol 198:1967–1977

Roberts JA, Elliott KA, Gonzalez-Carranza ZH (2002) Abscission, dehiscence, and other cell separation processes. Annu Rev Plant Biol 53:131–158

Roy S, Jauh GY, Hepler PK, Lord EM (1998) Effects of Yariv phenylglycoside on cell wall assembly in the lily pollen tube. Planta 204:450–458

Ryan CA, Pearce G, Scheer J, Moura DS (2002) Polypeptide hormones. Plant Cell 14 [Suppl]:S251-S264

Selitrennikoff CP (2001) Antifungal proteins. Appl Environ Microbiol 67:2883–2894

Shea EM, Gibeaut DM, Carpita NC (1989) Structural analysis of the cell walls regenerated by carrot protoplasts. Planta 179:293–308

Tanaka I, Kitazuma C, Ito M (1987) The isolation and culture of lily pollen protoplasts. Plant Sci 50:205–211

Ueda K, Miyamoto Y, Tanaka I (1990) Fusion studies of pollen protoplasts and generative cell protoplasts in Lilium longiflorum. Plant Sci [Suppl] 72:259–266
Acknowledgements
This research was supported by National Science Foundation grant IBN-0077886 to E.M. Lord and the Major State Basic Research Program of China (2002CCA00100 to J. Zhao. The MAbs were the generous gifts of Dr. J.P. Knox, University of Leeds, UK and Dr. Keith Roberts, John Innes Institute, Norwich, UK.
About this article
Cite this article
Zhao, J., Mollet, JC. & Lord, E.M. Lily (Lilium longiflorum L.) pollen protoplast adhesion is increased in the presence of the peptide SCA. Sex Plant Reprod 16, 227–233 (2004). https://doi.org/10.1007/s00497-003-0198-0
Received:

Accepted:

Published:

Issue Date:
Keywords
Adhesion

LTP

Pectins

Pollen protoplasts

SCA