Abstract
The purpose of this study was to investigate the therapeutic and the chemical effects of balneological treatment (peloidotherapy + hydrotherapy), and its effects on serum levels of interleukin-1beta (IL-1β), tumor necrosis factor-alpha (TNF-α), and insulin-like growth factor–1 (IGF-1) in patients with knee osteoarthritis (OA). Sixty-four (64) knee OA patients were randomly divided into study and control groups. Balneological treatment, consisting of hydrotherapy, and peloidotherapy were given to both groups. Unlike the study group, in the control group, the peloid was applied over a stretch film cover, preventing any contact between the skin and peloid. Clinical outcome measures of the study were pain degree, patient's and investigator's global assessment on visual analog scale (VAS-pain, VAS-PGA, VAS-IGA), and Western Ontario and McMaster Universities Osteoarthritis Index (WOMAC) (pain, stiffness, and physical function). Patients were evaluated at baseline, post-treatment (after 10th session), and 3 and 6 months after treatment. Blood samples were taken at baseline, post- treatment, and 6 months after treatment for analysis of IL-1β, TNF-α, and IGF-1 serum levels. When compared with the baseline, VAS measurements decreased significantly in almost all evaluation periods in both groups, and no difference was observed between the groups. In the study group, WOMAC scores showed significant improvement in all assessments. In the control group, pain and physical function subscores of WOMAC significantly decreased at post-treatment and 3 months after treatment. In group comparison, pain and stiffness subscores showed a significant difference in favor of the study group at 6 months after treatment. No clinically significant improvement was seen in levels of IL-1β and IGF-1 in both groups during the whole assessment period. Because of TNF-α kit failure, we could not evaluate the measurements. In conclusion, balneological treatment is an effective treatment option to improve the pain and functional capacity of patients with knee OA. The application of peloid by contact with the skin is superior in the long-term period, which means that in addition to the thermal effect, the chemical content of peloid can also contribute to the therapeutic effect.
This is a preview of subscription content,
to check access.
Access this article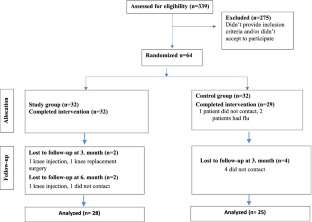 References
Aspden RM (2011) Obesity punches above its weight in osteoarthritis. Nat Rev Rheumatol 7(1):65–68. https://doi.org/10.1038/nrrheum.2010.123

Beer AM, Lukanov J, Sagorchev P (2000) The influence of fulvic and ulmic acids from peat on the spontaneous contractile activity of smooth muscles. Phytomedicine 7:407–415. https://doi.org/10.1016/S0944-7113(00)80062-8

Beer AM, Junginger HE, Lukanov J, Sagorchev P (2003) Evaluation of the permeation of peat substances through human skin in vitro. Int J Pharm 253:169–175. https://doi.org/10.1016/S0378-5173(02)00706-8

Bellamy N, Buchanan WW, Goldsmith CH, Campbell J, Stitt LW (1988) Validation study of WOMAC: a health status instrument for measuring clinically important patient relevant outcomes to antirheumatic drug therapy in patients with osteoarthritis of the hip or knee. J Rheumatol 15(12):1833–1840

Bender T, Karagülle Z, Bálint GP, Chr G, Bálint PV, Sukenik S (2005) Hydrotherapy, balneotherapy, and spa treatment in pain management. Rheumatol Int 25:220–224. https://doi.org/10.1007/s00296-004-0487-4

Centini M, Tredici MR, Biondi N, Buonocore A, Maffei Facino R, Anselmi C (2015) Thermal mud maturation: organic matter and biological activity. Int J Cosmet Sci 37(3):339–347. https://doi.org/10.1111/ics.12204

Cheleschi S, Tenti S, Seccafco I, Gálvez I, Fioravanti A, Ortega E (2021) Balneotherapy year in review 2021: focus on the mechanisms of action of balneotherapy in rheumatic diseases. Environ Sci Pollut Res 29:8054–8073. https://doi.org/10.1007/s11356-021-17780-0

Chow YY, Chin KY (2020) The role of inflammation in the pathogenesis of osteoarthritis. Mediators Inflamm 2020 19 pages. https://doi.org/10.1155/2020/8293921

Cozzi F, Carrara M, Sfriso P, Todesco S, Cima L (2004) Anti-inflammatory effect of mud-bath applications on adjuvant arthritis in rats. Clin Exp Rheumatol 22:763–766

Cui A, Li H, Wang D, Zhong J, Chen Y, Lu H (2020) Global, regional prevalence, incidence and risk factors of knee osteoarthritis in population-based studies. E Clin Med 29:100587. https://doi.org/10.1016/j.eclinm.2020.100587

Fioravanti A, Cantarini L, Guidelli GM, Galeazzi M (2011) Mechanisms of action of spa therapies in rheumatic diseases: what scientific evidence is there? Rheumatol Int 31(1):1–8. https://doi.org/10.1007/s00296-010-1628-6

Fioravanti A, Karagülle M, Bender T, Karagülle MZ (2017) Balneotherapy in osteoarthritis: facts, fiction, and gaps in knowledge. Eur J Integr Med 9:148–150. https://doi.org/10.1016/j.eujim.2017.01.001

Flusser D, Abu-Shakra M, Friger M, Codish S, Sukenik S (2002) Therapy with mud compresses for knee osteoarthritis: comparison of natural mud preparations with mineral-depleted mud. J Clin Rheumatol 8:197–203. https://doi.org/10.1097/01.RHU.0000022542.38402.A9

Gálvez I, Torres-Piles S, Hinchado MD, Álvarez-Barrientos A, Torralbo- Jiménez P, Guerrero J, Martín-Cordero L, Ortega E (2017) Immune-neuroendocrine dysregulation in patients with osteoarthritis: a revision and a pilot study. Endocr Metab Immune Disord Drug Targets 17(1):78–85. https://doi.org/10.2174/1871530317666170320113613

Gomes CSF (2018) Healing and edible clays: a review of basic concepts, benefits and risks. Environ Geochem Health 40(5):1739–1765. https://doi.org/10.1007/s10653-016-9903-4

Griffin TM, Scanzello CR (2019) Innate inflammation and synovial macrophages in osteoarthritis pathophysiology. Clin Exp Rheumatol 37(Suppl 120):57–63

Güngen G, Ardic F, Fındıkoğlu G, Rota S (2012) The effect of mud pack therapy on serum YKL-40 and hsCRP levels in patients with knee osteoarthritis. Rheumatol Int 32:1235–1244. https://doi.org/10.1007/s00296-010-1727-4

Güngen GO, Ardic F, Findikoglu G, Rota S (2016) Effect of mud compress therapy on cartilage destruction detected by CTX-II in patients with knee osteoarthritis. J Back Musculoskelet Rehabil 29(3):429–438. https://doi.org/10.3233/BMR-150629

Gutenbrunner C, Bender T, Cantista P, Karagülle MZ (2010) A proposal for a worldwide definition of health resort medicine, balneology, medical hydrology and climatology. Int J Biometeorol 54(5):495–507. https://doi.org/10.1007/s00484-010-0321-5

Gyarmati N, Kulisch Á, Németh A, Bergmann A, Horváth J, Mándó Z, Matán Á, Szakál E, Sasné Péter T, Szántó D, Bender T (2017) Evaluation of the effect of Hévíz Mud in patients with hand osteoarthritis: a randomized, controlled, single-blind follow-up study. Isr Med Assoc J 19(3):177–182

Karagülle MZ, Karagülle M (2004) Balneotherapy and spa therapy of rheumatic diseases in Turkey: a systematic review. Forschende Komplementarmed Klass Naturheilkund 11(1):33–41. https://doi.org/10.1159/000077194

Karagülle M, Karagülle MZ, Karagülle O, Dönmez A, Turan M (2007) A 10-day course of SPA therapy is beneficial for people with severe knee osteoarthritis. A 24-week randomized, controlled pilot study. Clin Rheumatol 26(12):2063–2071. https://doi.org/10.1007/s10067-007-0618-x

Kim JH, Lee J, Lee HB, Shin JH, Kim EK (2010) Water-retentive and anti-inflammatory properties of organic and inorganic substances from Korean sea mud. Nat Prod Commun 5:395–398. https://doi.org/10.1177/1934578X1000500311

Maccarone MC, Magro G, Solimene U, Scanu A, Masiero S (2021) From in vitro research to real life studies: an extensive narrative review of the effects of balneotherapy on human immune response. Sport Sci Health 17:817–835. https://doi.org/10.1007/s11332-021-00778-z

Malemud CJ (2010) Anticytokine therapy for osteoarthritis. Drugs Aging 27(2):95–115. https://doi.org/10.2165/11319950-000000000-00000

Mueller MB, Tuan RS (2011) Anabolic/catabolic balance in pathogenesis of osteoarthritis: identifying molecular targets. PM&R 3:S3–S11. https://doi.org/10.1016/j.pmrj.2011.05.009

Odabasi E, Turan M, Erdem H, Tekbas F (2008) Does mud pack treatment have any chemical effect? A randomized controlled clinical study. J Altern Complement Med 14:559–565. https://doi.org/10.1089/acm.2008.0003

Ortega E, Gálvez I, Hinchado MD, Guerrero J, Martín-Cordero L, Torres- Piles S (2017) Anti-inflammatory effect as a mechanism of effectiveness underlying the clinical benefits of pelotherapy in osteoarthritis patients: regulation of the altered inflammatory and stress feedback response. Int J Biometeorol 61(10):1–9. https://doi.org/10.1007/s00484-017-1361-x

Özkuk K, Gürdal H, Karagülle M, Barut Y, ErÖksüz R, Karagülle MZ (2017) Balneological outpatient treatment for patients with knee osteoarthritis; an effective non-drug therapy option in daily routine? Int J Biometeorol 61:719–728. https://doi.org/10.1007/s00484-016-1250-8

Pottie P, Presle N, Terlain B, Netter P, Mainard D, Berenbaum F (2006) Obesity and osteoarthritis: more complex than predicted! Ann Rheum Dis 65(11):1403–1405. https://doi.org/10.1136/ard.2006.061994

Price DD, McGrath PA, Rafii A, Buckingham B (1983) The validation of visual analog scales as ratio scale measures for chronic and experimental pain. Pain 17:45–56

Sarsan A, Akkaya N, Ozgen M, Yildiz N, Atalay NS, Ardic F (2012) Comparing the efficacy of mature mud pack and hot pack treatments for knee osteoarthritis. J Back Musculoskelet Rehabil 25:193–199. https://doi.org/10.3233/bmr-2012-0327

Scanzello C, Goldring S (2012) The role of synovitis in osteoarthritis pathogenesis. Bone 51:249–257. https://doi.org/10.1016/j.bone.2012.02.012

Sokolove J, Lepus CM (2013) Role of inflammation in the pathogenesis of osteoarthritis: latest findings and interpretations. Ther Adv Musculoskel Dis 5(2):77–94. https://doi.org/10.1177/1759720X12467868

Tateo F, Ravaglioli A, Andreoli C, Bonina F, Coiro V, Degetto S, Giaretta A, Menconi Orsini A, Puglia C, Summa V (2009) The in-vitro percutaneous migration of chemical elements from a thermal mud for healing use. Appl Clay Sci 44(1-2):83–94. https://doi.org/10.1016/j.clay.2009.02.004

Tenti S, Fioravanti A, Guidelli GM, Pascarelli NA, Cheleschi S (2014) New evidence on mechanisms of action of spa therapy in rheumatic diseases. CELLMED 4(1):31–38

Vina ER, Kwoh CK (2018) Epidemiology of osteoarthritis: literature update. Curr Opin Rheumatol 30(2):160–167. https://doi.org/10.1097/BOR.0000000000000479

Wang T, He C (2018) Pro-inflammatory cytokines: The link between obesity and osteoarthritis. Cytokine Growth Factor Rev 44:38–50. https://doi.org/10.1016/j.cytogfr.2018.10.002

Weimer A, Madry H, Venkatesan JK et al (2012) Benefits of recombinant adeno-associated virus (rAAV)-mediated insulinlike growth factor I (IGF-I) overexpression for the long-term reconstruction of human osteoarthritic cartilage by modulation of the IGF-I axis. Mol Med 18(3):346–358. https://doi.org/10.2119/molmed.2011.00371
Funding
Scientific Research Projects Coordination Unit of Istanbul University (BAP), Project number: TTU-2018-30161
Ethics declarations
Ethical approval
All procedures performed in studies involving human participants were by the ethical standards of the institutional research committee and with the 1964 Helsinki declaration and its later amendments or comparable ethical standards.
Informed consent
Informed consent was obtained from all individual participants included in the study.
Conflict of interest
The authors declare no competing interests.
About this article
Cite this article
Adıgüzel, T., Arslan, B., Gürdal, H. et al. Evaluation of the therapeutic and the chemical effects of balneological treatment on clinical and laboratory parameters in knee osteoarthritis: a randomized, controlled, single-blinded trial. Int J Biometeorol 66, 1257–1265 (2022). https://doi.org/10.1007/s00484-022-02274-6
Received:

Revised:

Accepted:

Published:

Issue Date:

DOI: https://doi.org/10.1007/s00484-022-02274-6
Keywords