Abstract
Marching band (MB) artists frequently spend many hours engaged in outdoor physical activity. Anecdotal evidence and small studies have indicated that MB artists do experience heat-related health problems. Yet, unlike athletes, military personnel, or workers, there is very little research on heat-related hazards among this unique population. Here, we seek to understand the incidence and circumstances under which exertional heat illnesses (EHIs) occur among MB artists over a 31-year period (1990–2020) across the USA. Using an on-line news dataset, we identified 34 separate events and at least 393 total EHIs. Heat syncope (~ 55%) and heat exhaustion (~ 44%) comprised the majority of EHIs, although a small number of exertional heat stroke cases were also reported. EHIs were reported in all types of MB activities with ~ 32% during rehearsal, ~ 29% during parades, ~ 21% during competition, and ~ 15% during a performance. Also, the vast majority of events occurred with high school (~ 88%) marching bands. Finally, EHIs overwhelmingly occurred when the weather was unusually hot by local conditions. In light of these findings, we emphasize the need for MB specific heat polices that incorporate weather-based activity modification, acclimatization, education about EHIs, and access to on-site medical professionals.
Access options
Buy single article
Instant access to the full article PDF.
USD 39.95
Price includes VAT (USA)
Tax calculation will be finalised during checkout.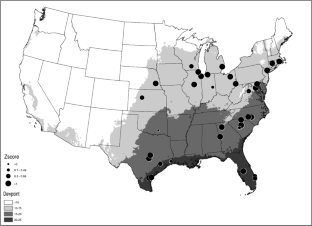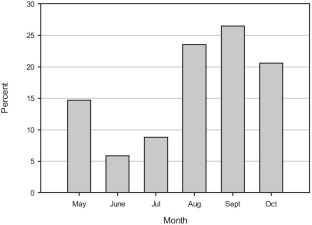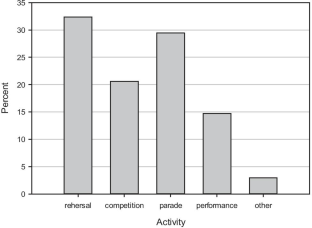 Data availability
Data available upon request.
References
Adams WM, Hosokawa Y, Casa DJ, Périard JD, Racinais S, Wingo JE, Yeargin SW, Scarneo-Miller SE, Kerr ZY, Belval LN, Alosa D, Csillan D, Labella C, Walker L. 2020 Roundtable on heat acclimatization within secondary school athletics: meeting proceedings. J Athlet Train. Accepted December)

Adams WM, Casa DJ, Drezner JA (2016) Sport safety policy changes: saving lives and protecting athletes. J Athl Train 51(4):358–360

Armed FH (2020) Update: Heat illness, active component, US Armed Forces, 2019. MSMR 24(3):9

Armstrong LE, Casa DJ, Millard-Stafford M, Moran DS, Pyne SW, Roberts WO (2007) American College of Sports Medicine position stand: exertional heat illness during training and competition. Med Sci Sports Exerc 39(3):556e557

Armstrong LE et al (2010) The American football uniform: uncompensable heat stress and hyperthermic exhaustion. J Athl Train 45(2):117–127

Booth JN 3rd, Davis GG, Waterbor J, McGwin G Jr (2010) Hyperthermia deaths among children in parked vehicles: an analysis of 231 fatalities in the United States, 1999–2007. Forensic Sci Med Pathol 6(2):99–105

Carter R, Cheuvront SN, Williams JO, Kolka MA, Stephenson IA, Sawka MN, Armoroso PJ (2005) Epidemiology of hospitalizations and deaths from heat illness in soldiers. Med Sci Sports Exerc 37(8):1338–1344

Casa DJ, DeMartini JK, Bergeron MF et al (2015) National Athletic Trainers' association position statement: exertional heat illnesses. J Athl Train 50:986–1000. https://doi.org/10.4085/1062-6050-50.9.07

Crossmen Drum and Bugle Corps (2020) Health & wellness policies & procedures. https://www.crossmen.org/files/2020%20Health%20and%20Wellness%20Guidelines.pdf . Accessed 12 Feb 2021.

Centers for Disease Control (CDC, 2021) OSHA outdoor WBGT calculator. Available at: https://www.osha.gov/heat-exposure/wbgt-calculator. Accessed 15 June 2021.

Cooper E, Grundstein A, Miles JD, Ferrara MS, Curry P, Casa DJ, Hosokawa Y (2020) heat policy revision for Georgia high school football practices based on data-driven research. J Athl Train 55(7):673–681. https://doi.org/10.4085/1062-6050-542-18

Davis RE, McGregor GR, Enfield KB (2016) Humidity: a review and primer on atmospheric moisture and human health. Environ Res 144:106–116

Emerson DM, Torres-McGehee TM, Yeargin SW, Kelly MR, Uriegas N, Smith AB, Weber SR, Hirshhorn RM, Cannon C (2021) Collegiate marching band artists experience high core body temperatures during rehearsals and performances. J Athl Train 56(3):302–310

Erdmann LD, Graham RE, Radlo SJ, Knepler PL (2003) Adolescents' energy cost in marching band. Percept Mot Skills 97:639–646

Elkhart Truth (2017) Heat causes problems at band competition. Published 25 September 2017

Granata G, Benardot D (2009) The physical demands and challenges of participating in marching band. Med Sci Sports Exerc 41(5):Supplement 1-248

Grundstein A, Hosokawa Y, Casa DJ (2018) Fatal exertional heat stroke and American football players: the need for regional heat-safety guidelines. J Athl Train 53(1):43–50. https://doi.org/10.4085/1062-6050-445-16

Grundstein A, Williams C, Phan M, Cooper E (2015) Regional heat safety thresholds for athletics in the contiguous United states. Appl Geogr 56:55–60

Grundstein A, Ramseyer C, Zhao F, Peses J, Akers P, Qureshi A, Becker L, Knox J, Petro M (2012) A retrospective analysis of American football hyperthermia deaths in the United States. Int J Biometeorol 56(1):11–20

Hatheway M, Chesky K (2013) Epidemiology of health concerns among collegiate student musicians participating in marching band. Med Probl Perform Art 28(4):242–251

Hosokawa Y, Casa DJ, Vanos JK et al (2019) Activity modification in heat: critical assessment of guidelines across athletic, occupational, and military settings. Int J Biometeorol 63(3):405–427. https://doi.org/10.1007/s00484-019-01673-6

Kerr ZY, Scarneo SE, Yeargin SW, Grundstein AJ, Casa DJ, Pryor RR, Register-Mihalik JK (2019a) Exertional heat stroke preparedness in high school football is associated with region and state mandates. J Athl Train 54(9):921–928. https://doi.org/10.4085/1062-6050-581-18

Kerr ZY, Yeargin SW, Hosokawa Y, Hirschhorn RM, Pierpoint LA, Casa DJ (2020 Mar 1) The epidemiology and management of exertional heat illnesses in high school sports during the 2012/2013–2016/2017 academic years. J Sport Rehabil 29(3):332–338

Kerr ZY, Register-Mihalik JK, Pryor RR, Piepoint LA, Scarneo SE, Adams WM, Kucera KL, Casa DJ, Marshall SW (2019) The association between mandated preseason heat acclimatization guidelines and exertional heat illness during preseason high school American football practices. Environ Health Perspec 127(4):47003. https://doi.org/10.1289/EHP4163

Kilanowski JF (2008) Marching athletes: injuries and illnesses at band camp. Am J Matern Child Nurs 33(6):338–345

Liljegren JC, Carhart RA, Lawday P, Tschopp S, Sharp R (2008) Modeling the wet bulb globe temperature using standard meteorological measurements. J Occup Environ Hyg 5(10):645e655

Mitani Y, Kitagawa T, Matsugi A, Mukai K (2013) Effect of posture during trumpet and marching euphonium performance on the trunk and lower limb musculoskeletal system. J Phys Ther Sci 25:1114–1117

National Athletic Trainers' Association (NATA, 2017) NATA offers timely recommendations to keep marching band members healthy and well prepared for activity. https://www.nata.org/NR08182017-1. Accessed 12 February 2021.

National Oceanic and Atmospheric Administration (NOAA; 2021) Heat index calculator. Available at: https://www.wpc.ncep.noaa.gov/html/heatindex.shtml. Accessed 15 June 2021.

Sharma SV, Bush JA, Lorina AJ, Knoblauch M, Abaumer D, Blog G, Bertman D (2008) Diet and Cardivascular risk in university marching band, Dane Team and Cheer Dquad Members: a cross-sectional study. J Int Soc Sports Nutr 5(9), doi:https://doi.org/10.1186/1550-2783-5-9

Spector J, Masuda YJ, Wolff NH, Calkins MS, Seixas N (2019) Heat exposure and occupational injuries: review of the literature and implications. Curr Environ Health Rep 64(4):286–296

Stull R (2000) Meteorology for Scientists and Engineers. 2nd ed. Pacific Grove, CA: Brooks/Cole:79.

Tripp BL, Eberman LE, Smith MS (2015) Exertional heat illnesses and environmental conditions during high school football practices. Am J Sports Med 43(10):2490–2495

US Department of the Army. Technical bulletin MED 507: heat stress control and heat casualty management. Uniformed Services University Web site. https://www.hprc-online.org/resources/tb-med-507-heat-stress-control-and-heat-casualty-management-pdf. Published 2013. Accessed April 20, 2018.

Valdosta State University (2021) Blazin' Brigagte guidelines concerning marching band uniforms for outdoor activities. Available at: https://www.valdosta.edu/colleges/arts/music/documents/uniform-guide-marching-band.pdf. Accessed 20 June 2021.

Vepraskas C (2002) Beat the heat: managing heat and hydration in marching band. J School Nurs 18(4):237–242

Watkins ER, Walker A, Mol E, Jahnke S, Richardson AJ (2019) Women firefighters' health and well-being: an international survey. Womens Health Issues 29(5):424–431

Yard EE, Gilchrist J, Haileyesus T et al (2010) Heat illness among high school athletes—U.S., 2005–2009. J Safety Res 41(6):471–474

Yasuda N, Ito S (2018) Effects of playing position on hydration status in collegiate marching band musicians. Med Probl Perform Art 33(3):175–182

Yeargin SW, Dompier TP, Casa DJ, Hirschhorn RM, Kerr ZY (2019) Epidemiology of exertional heat illnesses in National Collegiate Athletic Association athletes during the 2009–2010 through 2014–2015 academic years. J Athl Train 54(1):55–63
Ethics declarations
Conflict of interest
The authors declare no competing interests.
About this article
Cite this article
Merchant, R.K., Grundstein, A., Yeargin, S. et al. Exertional heat illnesses in marching band artists: a case series. Int J Biometeorol 65, 2181–2188 (2021). https://doi.org/10.1007/s00484-021-02183-0
Received:

Revised:

Accepted:

Published:

Issue Date:
Keywords
Marching band

Weather

Heat illness

USA