Abstract
The phenology of vegetation, namely leaf-out and senescence, can influence the Earth's climate over regional spatial scales and long time periods (e.g., over 30 years or more), in addition to microclimates over local spatial scales and shorter time periods (weeks to months). However, the effects of flowers on climate and microclimate are unknown. We investigate whether flowers can influence light reflected by the land surface and soil microclimate in a subalpine meadow. We conducted a flower removal experiment with a common sunflower species, Helianthella quinquenervis, for 3 years (2015, 2017, and 2019). The flower removal treatment simulates the appearance of the meadow when Helianthella flowers earlier under climate change and loses its flowers to frost (other plant structures are not damaged by frost). We test the hypotheses that a reduction in cover of yellow flowers leads to a greener land surface, lower reflectance, warmer and drier soils, and increased plant water stress. Flower removal plots are greener, reflect less light, exhibit up to 1.2 °C warmer soil temperatures during the warmest daylight hours, and contain ca. 1% less soil moisture compared to controls. However, soils were warmer in only 2 of the 3 years, when flower abundance was high. Helianthella water use efficiency did not differ between removal and control plots. Our study provides evidence for a previously undocumented effect of flowers on soil microclimate, an effect that is likely mediated by climate change and flowering phenology. Many anthropogenic environmental changes alter landscape albedo, all of which could be mediated by flowers: climate change, plant invasions, and agriculture. This study highlights how further consideration of the effects of flowers on land surface albedo could improve our understanding of the effects of vegetation on microclimate.
Access options
Buy single article
Instant access to the full article PDF.
US$ 39.95
Tax calculation will be finalised during checkout.
Subscribe to journal
Immediate online access to all issues from 2019. Subscription will auto renew annually.
US$ 79
Tax calculation will be finalised during checkout.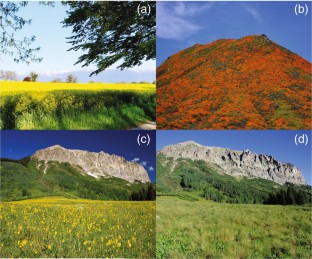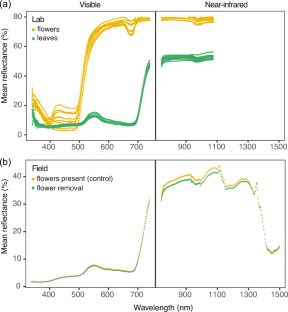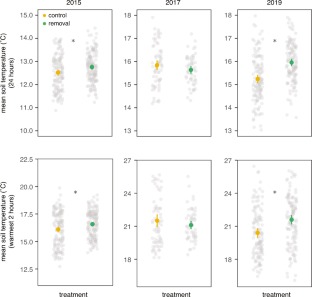 References
Bates D, Mächler M, Bolker B, Walker S (2015) Fitting linear mixed-effects models using lme4. J Stat Softw 67:1–48

Boggs CL, Inouye DW (2012) A single climate driver has direct and indirect effects on insect population dynamics. Ecol Lett 15:502–508. https://doi.org/10.1111/j.1461-0248.2012.01766.x

Bonan GB (1997) Effects of land use on the climate of the United States. Clim Chang 37:449–486. https://doi.org/10.1023/A:1005305708775

Bramer I, Anderson BJ, Bennie J, Bladon AJ, De Frenne P, Hemming D (2018) Advances in monitoring and modelling climate at ecologically relevant scales. Adv Ecol Res 58:101–161. https://doi.org/10.1016/bs.aecr.2017.12.005

CaraDonna PJ, Bain JA (2016) Frost sensitivity of leaves and flowers of subalpine plants is related to tissue type and phenology. J Ecol 104:55–64. https://doi.org/10.1111/1365-2745.12482

CaraDonna PJ, Iler AM, Inouye DW (2014) Shifts in flowering phenology reshape a subalpine plant community. Proc Natl Acad Sci 111:4916–4921. https://doi.org/10.1073/pnas.1323073111

Cleland EE, Chuine I, Menzel A et al (2007) Shifting plant phenology in response to global change. Trends Ecol Evol 22:357–365. https://doi.org/10.1016/j.tree.2007.04.003

ConnorDJ, Hall AJ (1997) Sunflower Physiology. In: Schneiter AA (ed) Sunflower Technology and Production, Volume 35, Academic Press, Inc., New York, pp 113–182

Davis CC, Champ J, Park DS, Plant IB et al (2020) A new method for counting reproductive structures in digitized herbarium specimens using Mask R-CNN. Front Plant Sci 11:1–13. https://doi.org/10.3389/fpls.2020.01129/full

De Frenne P, Zellweger F, Rodríguez-Sánchez F, Scheffers BR, Hylander K, Luoto M et al (2019) Global buffering of temperatures under forest canopies. Nat Ecol Evol 3:744–749. https://doi.org/10.1038/s41559-019-0842-1

Dorman JL, Sellers PJ (1989) A global climatology of albedo, roughness length and stomatal resistance for atmospheric general circulation models as represented by the Simple Biosphere Model. J Appl Meteorol 28:833–855

Edwards MM, Richardson AJA (2004) Impact of climate change on marine pelagic phenology and trophic mismatch. Nature 430:881–884. https://doi.org/10.1038/nature02808

Eviner VT (2004) Plant traits that influence ecosystem processes vary independently among species. Ecology 85:2215–2229. https://doi.org/10.1890/03-0405

Falloon P, Jones CD, Ades M, Paul K (2011) Direct soil moisture controls of future global soil carbon changes: an important source of uncertainty. Glob Biogeochem Cycles 25:GB3010. https://doi.org/10.1029/2010GB003938

Farquhar GD, Ehleringer J, Hubick KT (1989) Carbon isotope discrimination and photosynthesis. Annu Rev Plant Physiol 40:503–537. https://doi.org/10.1146/annurev.pp.40.060189.002443

Field CB, Chapin FS III, Matson PA, Mooney HA (1992) Responses of terrestrial ecosystems to the changing atmosphere: a resource-based approach. Annu Rev Ecol Syst 23:201–236

Franks SJ, Sim S, Weis AE (2007) Rapid evolution of flowering time by an annual plant in response to a climate fluctuation. Proc Natl Acad Sci 104:1278–1282

Galen C, Sherry RA, Carroll AB (1999) Are flowers physiological sinks or faucets? Costs and correlates of water use by flowers of Polemonium viscosum. Oecologia 118:461–470

Gornall JL, Woodin S, Jónsdóttir IS, van der Wal R (2011) Balancing positive and negative plant interactions: how mosses structure vascular plant communities. Oecologia 166:769–782. https://doi.org/10.1007/s00442-011-1911-6

Gueymard CA (2004) The sun's total and spectral irradiance for solar energy applications and solar radiation models. Sol Energy 76:423–453

Harte J, Torn MS, Chang F-R, Feifarek B, Kinzig AP, Shaw R, Shen K (1995) Global warming and soil microclimate: results from a meadow-warming experiment. Ecol Appl 5:132–150. https://doi.org/10.2307/1942058

Hollinger DY, Ollinger SV, Richardson AD et al (2010) Albedo estimates for land surface models and support for a new paradigm based on foliage nitrogen concentration. Glob Chang Biol 16:696–710. https://doi.org/10.1111/j.1365-2486.2009.02028.x

Iler AM, Compagnoni A, Inouye DW, Williams JL, CaraDonna PJ, Anderson A, Miller TEX (2019) Reproductive losses due to climate change-induced earlier flowering are not the primary threat to plant population viability in a perennial herb. J Ecol 279:3843–3813. https://doi.org/10.1111/1365-2745.13146

Iler AM, Inouye DW, Schmidt NM, Høye TT (2017) Detrending phenological time series improves climate-phenology analyses and reveals evidence of plasticity. Ecology 98:647–655. https://doi.org/10.1002/ecy.1690

Inouye DW (2000) The ecological and evolutionary significance of frost in the context of climate change. Ecol Lett 3:457–463

Inouye DW (2008) Effects of climate change on phenology, frost damage, and floral abundance of montane wildflowers. Ecology 89:353–362

IPCC (Intergovernmental Panel on Climate Change] 2014: Climate Change 2014: AR5 Synthesis Report

Kuznetsova A, Brockhoff PB, Christensen RHB (2017) lmerTest Package: tests in linear mixed effects models. J Stat Softw 82:1–26

Labe Z, Ault T, Zurita-Milla R (2017) Identifying anomalously early spring onsets in the CESM large ensemble project. Clim Dyn 48:3949–3966. https://doi.org/10.1007/s00382-016-3313-2

Lambers H, Chapin FS, Pons TL (1998) Plant physiological ecology. Springer-Verlag Inc., New York

Liancourt P, Sharkhuu A, Ariuntsetseg L, Boldgiv B, Helliker BR, Plante AF, Petraitis PS, Casper BB (2012) Temporal and spatial variation in how vegetation alters the soil moisture response to climate manipulation. Plant Soil 351:249–261. https://doi.org/10.1007/s11104-011-0956-y

Linderholm HW (2006) Growing season changes in the last century. Agric For Meteorol 137:1–14. https://doi.org/10.1016/j.agrformet.2006.03.006

Liu W, Zhang Z, Wan S (2009) Predominant role of water in regulating soil and microbial respiration and their responses to climate change in a semiarid grassland. Glob Chang Biol 15:184–195. https://doi.org/10.1111/j.1365-2486.2008.01728.x

Livensperger C, Steltzer H, Darrouzet Nardi A, Sullivan PF, Wallenstein M, Weintraub MN (2019) Experimentally warmer and drier conditions in an Arctic plant community reveal microclimatic controls on senescence. Ecosphere 10:e02677–e02616. https://doi.org/10.1002/ecs2.2677

Menzel A, Sparks TH, Estrella N et al (2006) European phenological response to climate change matches the warming pattern. Glob Chang Biol 12:1969–1976. https://doi.org/10.1111/j.1365-2486.2006.01193.x

Nabity PD, Zavala JA, DeLucia EH (2008) Indirect suppression of photosynthesis on individual leaves by arthropod herbivory. Ann Bot 103:655–663. https://doi.org/10.1093/aob/mcn127

Noh NJ, Kuribayashi M, Saitoh TM, Muraoka H (2017) Different responses of soil, heterotrophic and autotrophic respirations to a 4-year soil warming experiment in a cool-temperate deciduous broadleaved forest in central Japan. Agric For Meteorol 247:560–570. https://doi.org/10.1016/j.agrformet.2017.09.002

Obeso JR (2002) The costs of reproduction in plants. New Phytol 155:321–348. https://doi.org/10.1046/j.1469-8137.2002.00477.x

Parmesan C (2007) Influences of species, latitudes and methodologies on estimates of phenological response to global warming. Glob Chang Biol 13:1860–1872

Peñuelas J, Rutishauser T, Filella I (2009) Phenology feedbacks on climate change. Science 324:887–888. https://doi.org/10.1126/science.1171542

R Core Team (2018) R: a language and environment for statistical computing. In: R Foundation for Statistical Computing. Austria. URL, Vienna https://www.R-project.org/

Richardson AD, Andy Black T, Ciais P, Delbart N, Friedl MA, Gobron N, Hollinger DY, Kutsch WL, Longdoz B, Luyssaert S, Migliavacca M, Montagnani L, William Munger J, Moors E, Piao S, Rebmann C, Reichstein M, Saigusa N, Tomelleri E, Vargas R, Varlagin A (2010) Influence of spring and autumn phenological transitions on forest ecosystem productivity. Philos Trans R Soc Lond B 365:3227–3246. https://doi.org/10.1098/rstb.2010.0102

Richardson AD, Keenan TF, Migliavacca M, Ryu Y, Sonnentag O, Toomey M (2013) Climate change, phenology, and phenological control of vegetation feedbacks to the climate system. Agric For Meteorol 169:156–173. https://doi.org/10.1016/j.agrformet.2012.09.012

Robinson SI, McLaughlin ÓB, Marteinsdóttir B, O'Gorman EJ (2018) Soil temperature effects on the structure and diversity of plant and invertebrate communities in a natural warming experiment. J Anim Ecol 87:634–646. https://doi.org/10.1111/1365-2656.12798

Romero-Olivares AL, Allison SD, Treseder KK (2017) Soil microbes and their response to experimental warming over time: a meta-analysis of field studies. Soil Biol Biochem 107:32–40. https://doi.org/10.1016/j.soilbio.2016.12.026

Rustad L, Campbell J, Marion G et al (2001) A meta-analysis of the response of soil respiration, net nitrogen mineralization, and aboveground plant growth to experimental ecosystem warming. Oecologia 126:543–562. https://doi.org/10.1007/s004420000544

Sellers PJ (1985) Canopy reflectance, photosynthesis and transpiration. Int J Remote Sens 6:1335–1372. https://doi.org/10.1080/01431168508948283

Sparks TH, Menzel A (2002) Observed changes in seasons: an overview. Int J Climatol 22:1715–1725. https://doi.org/10.1002/joc.821

Stenson GB, Hammill MO (2014) Can ice breeding seals adapt to habitat loss in a time of climate change? ICES J Mar Sci 71:1977–1986. https://doi.org/10.1093/icesjms/fsu074

Suseela V, Conant RT, Wallenstein MD, Dukes JS (2011) Effects of soil moisture on the temperature sensitivity of heterotrophic respiration vary seasonally in an old-field climate change experiment. Glob Chang Biol 18:336–348. https://doi.org/10.1111/j.1365-2486.2011.02516.x

Teramoto M, Liang N, Takagi M, Zeng J, Grace J (2016) Sustained acceleration of soil carbon decomposition observed in a 6-year warming experiment in a warm-temperate forest in southern Japan. Sci Rep 6:1–14. https://doi.org/10.1038/srep35563

Theobald EJ, Breckheimer I, HilleRisLambers J (2017) Climate drives phenological reassembly of a mountain wildflower meadow community. Ecology 98:2799–2812. https://doi.org/10.1002/ecy.1996

Vanbrabant Y, Delalieux S, Tits L, Pauly K, Vandermaesen J, Somers B (2020) Pear flower cluster quantification using RGB drone imagery. Agronomy 10:407–426. https://doi.org/10.3390/agronomy10030407

Weber WA (1952) The genus Helianthella (Compositae). Am Midl Nat 48:1–35. https://doi.org/10.2307/2422128

Wickham H, Averick M, Bryan J, Chang W, McGowan LD, François R, Grolemund G, Hayes A, Henry L, Hester J, Kuhn M, Pedersen TL, Miller E, Bache SM, Müller K, Ooms J, Robinson D, Seidel DP, Spinu V, Takahashi K, Vaughan D, Wilke C, Woo K, Yutani H (2019) Welcome to the tidyverse. J Open Source Softw 4:1686. https://doi.org/10.21105/joss.01686

Wilson KB, Hanson PJ, Baldocchi D (2000) Factors controlling evaporation and energy partitioning beneath a deciduous forest over an annual cycle. Agric For Meteorol 102:83–103. https://doi.org/10.1016/S0168-1923(00)00124-6

Zellweger F, Coomes D, Lenoir J, Depauw L, Maes SL, Wulf M, Kirby KJ, Brunet J, Kopecký M, Máliš F, Schmidt W, Heinrichs S, den Ouden J, Jaroszewicz B, Buyse G, Spicher F, Verheyen K, de Frenne P (2019) Seasonal drivers of understorey temperature buffering in temperate deciduous forests across Europe. Glob Ecol Biogeogr 28:1774–1786. https://doi.org/10.1111/geb.12991
Acknowledgements
Thanks to B. Blonder, R. Kapas, and K. Williams for the use of and assistance with their spectroradiometers, to D. Inouye for sharing light data, and to B. Barr for sharing weather data from his weather station in Gothic, CO. Special thanks to A. Henderson for training on use of a field spectroradiometer and assistance with data collection. We are additionally thankful to M. Holmstrup, T. Høye, J. Harte, and the Iler-CaraDonna lab group for helpful discussions.
Funding
This work was supported by the COFUND-Marie Curie Fellowships (AIAS-COFUND program, Grant 609033) awarded to AMI and ABC, and a Rocky Mountain Biological Laboratory Fellowship in memory of Dr. Navjot Sodhi and his contribution to Conservation Biology, awarded to AMI.
Ethics declarations
Conflict of interest
The authors declare no competing interests.
Additional information
Publisher's note
Springer Nature remains neutral with regard to jurisdictional claims in published maps and institutional affiliations.
Supplementary information
About this article
Cite this article
Iler, A.M., Walwema, A.S., Steltzer, H. et al. Can flowers affect land surface albedo and soil microclimates?. Int J Biometeorol (2021). https://doi.org/10.1007/s00484-021-02159-0
Received:

Revised:

Accepted:

Published:
Keywords
Biosphere-atmosphere interactions

Climate change

Frost

Phenology

Reflectance

Soil moisture

Soil temperature