Abstract
The present work analyses the main weather patterns over the period 1981–2010 in the Central Apennines (Italy), drawing upon data from 23 monitoring stations spanning a wide elevation range (260–1750 m asl). Cluster analysis was used to identify homogeneous units and to verify the effectiveness of the bioclimatic classification by crossing the results derived from the application of hierarchical and non-hierarchical classification techniques. The results reveal a diversified picture of five clusters that depends on several factors as elevation, the geographic position within or outside the mountainous range, and the regional morphological traits. Although Mediterranean and Temperate climatic features coexist, the Mediterranean pattern in the southern areas and internal valleys better expresses the overall mixed characteristics of Central Italy. The use of a mixed methodology of hierarchic and partitioning methods of cluster analysis improves the bioclimatic classification, especially to quantify the level of humidity and the mediterraneity degree.
Access options
Buy single article
Instant access to the full article PDF.
US$ 39.95
Tax calculation will be finalised during checkout.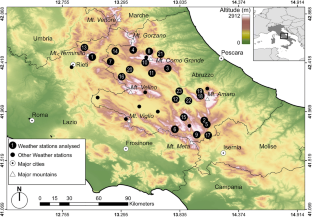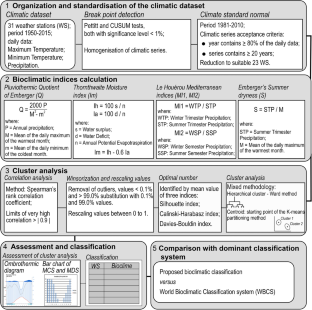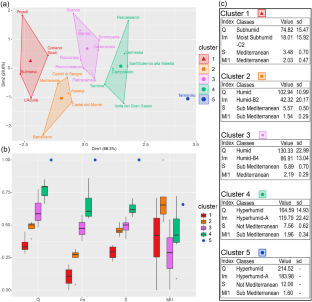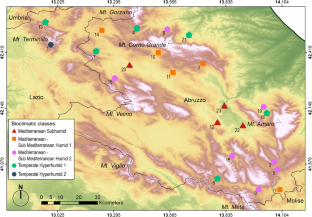 References
Aguilera F, Orlandi F, Oteros J, Bonofiglio T, Fornaciari M (2015) Bioclimatic characterisation of the Mediterranean region: future climate projections for Spain, Italy and Tunisia. It J Agromet 1:45–58

Alessandri A, Borrelli A, Navarra A, Arribas A, Déqué M, Rogel P, Weisheimer A (2011) Evaluation of probabilistic quality and value of the ENSEMBLES multimodel seasonal forecasts: comparison with DEMETER. Mon Weather Rev 139:581–607. https://doi.org/10.1175/2010MWR3417.1

Attorre F, Alfò M, De Sanctis M, Francesconi F, Bruno F (2007) Comparison of interpolation methods for mapping climatic and bioclimatic variables at regional scale. Int J Climatol 27:1825–1843. https://doi.org/10.1002/joc.1495

Bagnouls F, Gaussen H (1957) Les climats biologiques et leur classification. Ann Geogr 66:193–220

Bazan G, Marino P, Guarino R, Domina G, Schicchi R (2015) Bioclimatology and vegetation series in Sicily: a geostatistical approach. Ann Bot Fenn 52:1–18. https://doi.org/10.5735/085.052.0202

Biondi E, Baldoni M (1994) The climate and vegetation of peninsular Italy. Coll Phyt 23:675–721

Blasi C (1994) Il fitoclima del Lazio. Fitosociologia 27:151–195

Blasi C (1996) Il fitoclima d'Italia. G Bot Ital 130:166–176. https://doi.org/10.1080/11263509609439523

Blasi C, Carranza ML, Filesi L, Tilia A, Acosta ATR (1999) Relation between climate and vegetation along a Mediterranean - temperate boundary in central Italy. Gl Ecol Biogeogr 8:17–27. https://doi.org/10.1046/j.1365-2699.1999.00121.x

Blasi C, Di Pietro R, Fortini P, Catonica C (2003) The main plant community types of the alpine belt of the Apennine chain. Pl Biosyst 137:83–110. https://doi.org/10.1080/11263500312331351361

Blasi C, Chirici G, Corona P, Marchetti M, Maselli F, Puletti N (2007) Spazializzazione di dati climatici a livello nazionale tramite modelli regressivi localizzati. Forest@ 4:213–219. https://doi.org/10.3832/efor0453-0040213

Breckle S-W (2002) Walter's vegetation of the Earth. The Ecological Systems of the Geo-Biosphere, 4th edn. Springer, Berlin Heidelberg

Bricca A, Conti L, Tardella FM, Catorci A, Iocchi M, Theurillat JP, Cutini M (2019) Community assembly processes along a sub-Mediterranean elevation gradient: analysing the interdependence of trait community weighted mean and functional diversity. Pl Ecol 220:1139–1151. https://doi.org/10.1007/s11258-019-00985-2

Brunetti MT, Peruccacci S, Rossi M, Luciani S, Valigi D, Guzzetti F (2010) Rainfall thresholds for the possible occurrence of landslides in Italy. Nat Hazards Earth Syst Sc 10:447–458. https://doi.org/10.5194/nhess-10-447-2010

Bucchignani E, Montesarchio M, Zollo AL, Mercogliano P (2015) High-resolution climate simulations with COSMO-CLM over Italy: performance evaluation and climate projections for the 21st century. Int J Climatol 36:735–756. https://doi.org/10.1002/joc.4379

Calinski T, Harabasz J (1974) A dendrite method for cluster analysis. Comm Stat Theory Methods 3(1):1–27

Caloiero T, Callegari G, Cantasano N, Coletta V, Pellicone G (2016) Bioclimatic analysis in a region of southern Italy (Calabria). Pl Biosyst 150:1282–1295. https://doi.org/10.1080/11263504.2015.1037814

Canu S, Rosati L, Fiori M, Motroni A, Filigheddu R, Farris E (2015) Bioclimate map of Sardinia (Italy). J Maps 11:711–718. https://doi.org/10.1080/17445647.2014.988187

Chelli S, Wellstein C, Campetella G, Canullo R, Tonin R, Zerbe S, Gerdol R (2017) Climate change response of vegetation across climatic zones in Italy. Clim Res 71:249–262. https://doi.org/10.3354/cr01443

Chelli S, Marignani M, Barni E, Petraglia A, Puglielli G et al (2019) Plant-environment interactions through functional traits perspective: a review of Italian studies. Pl Biosyst 153(6):853–869. https://doi.org/10.1080/11263504.2018.1559250

Ciaschetti G, Pirone G, Giancola C, Frattaroli AR, Stanisci A (2016) Prodrome of the Italian vegetation: a new alliance for the high-mountain chamaephyte communities of central and southern Apennines. Pl Biosyst 150(4):829–833. https://doi.org/10.1080/11263504.2015.1076084

Cosentino D, Cipollari P, Marsili P, Scrocco D (2010) Geology of the central Apennine: a regional review. In: Beltrando M et al (eds) J Virt Expl, vol 36, paper 11. https://doi.org/10.3809/jvirtex.2009.00223

Costa AC, Soares A (2009) Homogenization of climate data: review and new perspective using geostatistics. Math Geosci 41:291–305. https://doi.org/10.1007/s11004-008-9203-3

Daget P (1977) Le bioclimat méditerranéen: analyse des formes climatiques par le système d'Emberger. Vegetatio 34(2):87–103. https://doi.org/10.1007/BF00054477

Daget P (1980) Un élément actuel de la caractérisation du monde méditerranéen: le climat. Nat Monspel Ser Bot Hors Série:101–126

Davies DL, Bouldin DW (1979) A cluster separation measure. IEEE transactions on pattern analysis and machine intelligence. PAMI 1:224–227

De Martonne E (1926) Une nouvelle fonction climatologique: L'indice d'aridité. La Meteorologie:44–458

Desai AR, Wohlfart G, Zeeman MJ, Katata G, Eugster W, Montagnani L, Gianelle D, Mauder M, Schmid HP (2016) Montane ecosystem productivity responds more to global circulation patterns than climatic trends. Environ Res Lett 11:024013. https://doi.org/10.5445/IR/1000064333

Di Lena B, Antenucci F, Vergni L, Mariani L (2014) Analysis of the climatic aggressiveness of rainfall in the Abruzzo Region. It J Agromet 1:33–44

Emberger L (1933) La végétation de la région méditerranéenne. Essai d'une classification des groupements végétaux. Rev Gén Bot 42(643-662):705–721

Emberger L (1955) Une classification biogéographique des climats. Nat Monspel Série Botan 7:3–43

Emberger L (1971) Considerations complementaires au sujet des recherches bioclimatiques et phytogeographiques-ecologiques. Travaux de Botanique et d'Ecologie, France, pp 291–301

Fick SE, Hijmans RJ (2017) WorldClim 2: new 1-km spatial resolution climate surfaces for global land areas. Int J Climatol 37:4302–4315. https://doi.org/10.1002/joc.5086

Garnier E, Vile D, Roumet C, Lavorel S, Grigulis K, Navas MR, Lloret F (2019) Inter- and intra-specific trait shift among sites differing in drought conditions at the north western edge of the Mediterranea region. Flora 253:147–160. https://doi.org/10.1016/j.flora.2018.07.009

Giacobbe A (1962) I caratteri mediterranei della flora montana appenninica. Italia forestale e montana 17:13–19

Giacobbe A (1964) La mesure du bioclimat méditerranéen. Nat Monspel Série Botan 16:45–69

Giorgi F (2006) Climate change hot-spots. Geophys Res Lett 33:L08707. https://doi.org/10.1029/2006GL025734

Guijarro JA (2017) Homogenization of climatological series with Climatol 3.0. 9th Seminar for homogenization and quality control in climatological databases and 4th conference on spatial interpolation techniques in climatology and meteorology, 3-7 April 2017, Budapest, pp. 3–7.

Haylock MR, Hofstra N, Klein Tank AMG, Klok EJ, Jones PD, New M (2008) A European daily-resolution gridded data set of surface temperature and precipitation for 1950-2006. J Geophys Res 113:1–12. https://doi.org/10.1029/2008JD010201

Hartigan JA, Wong MA (1979) A k-means clustering algorithm. J R Stat Soc Ser C 28(1):100–108. https://doi.org/10.2307/2346830

Hijmans RJ, Cameron SE, Parra JL, Jones PG, Jarvis A (2005) Very high resolution interpolated climate surfaces for global land areas. Int J Climatol 25:1965–1978. https://doi.org/10.1002/joc.1276

Isotta FA, Frei C, Weilguni V, Perčec Tadić M, Lassègues P, Rudolf B, Pavan V, Cacciamani C, Antolini G, Ratto SM, Munari M, Micheletti S, Bonati V, Lussana C, Ronchi C, Panettieri E, Marigo G, Vertačnik G (2014) The climate of daily precipitation in the Alps: development and analysis of a high-resolution grid dataset from pan-Alpine rain-gauge data. Int J Climatol 34:1657–1675. https://doi.org/10.1002/joc.3794

Karger DN, Conrad O, Böhner J, Kawohl T, Kreft H, Soria-Auza RW, Zimmermann NE, Linder HP, Kessler M (2017) Climatologies at high resolution for the earth's land surface areas. Nature Scientific Data 4:1–20. https://doi.org/10.1038/sdata.2017.122

Kaufman L, Rousseeuw PJ (1990) Finding Groups in Data. John Wiley & Sons, New York

Klein Tank AMG, Wijngaard JB, Können GP, Böhm R, Demarée G, Gocheva A, Mileta M, Pashiardis S, Hejkrlik L, Kern-Hansen C, Heino R, Bessemoulin P, Müller-Westermeier G, Tzanakou M, Szalai S, Pálsdóttir T, Fitzgerald D, Rubin S, Capaldo M, Maugeri M, Leitass A, Bukantis A, Aberfeld R, van Engelen AFV, Forland E, Mietus M, Coelho F, Mares C, Razuvaev V, Nieplova E, Cegnar T, Antonio López J, Dahlström B, Moberg A, Kirchhofer W, Ceylan A, Pachaliuk O, Alexander LV, Petrovic P (2002) Daily dataset of 20th-century surface air temperature and precipitation series for the European climate assessment. Int J Climatol 22:1441–1453. https://doi.org/10.10002/joc.773

Köppen W (1900) Versuch einer Klassifikation der Klimate, vorzugsweise nach ihren Beziehungen zur Pflanzenwelt. Geogr Z 6:593–679

Kottek M, Grieser J, Beck C, Rudolf B, Rubel F (2006) World map of the Köppen-Geiger climate classification updated. Meteorol Z 15:259–263. https://doi.org/10.1127/0941-2948/2006/0130

Legendre P, Legendre L (2012) Numerical Ecology. Elsevier Netherlands, Amsterdam, pp 383–402

Le Houérou HN (2004) An agro-bioclimatic classification of arid and semiarid lands in the isoclimatic Mediterranean zones. Arid Land Res Manag 18:301–346. https://doi.org/10.1080/15324980490497302

Le Houérou HN (2009) Bioclimatic Classification. In: Bioclimatology and biogeography of Africa. Springer-Verlag, Berlin Heidelber, pp 79–124

Lionello P, Malanotte-Rizzoli P, Boscolo R, Alpert P, Artale V, Li L, Luterbacher J, May W, Trigo R, Tsimplis M, Ulbrich U, Xoplaki E (2006) The Mediterranean climate: an overview of the main characteristics and issues. Dev Earth Env Sc 4:1–26. https://doi.org/10.1016/S1571-9197(06)80003-0

Lüdi W (1935) Beitrag zur regionalen Vegetationsgliederung der Appenninenhalbinsel. Veröffentlichungen Geobotanischen Inst Rübel Zürich 12:212–239

MacQueen J (1967) Some methods of classification and analysis of multivariate observation. In: Proceedings of the Fifth Berkeley Symposium on Mathematical Statistics and Probability, pp 281–297

Metzger MJ, Bunce RGH, Jongman RHG, Sayre R, Trabucco A, Zomer R (2013) A high-resolution bioclimate map of the world: a unifying framework for global biodiversity research and monitoring. Gl Ecol Biog 22:630–638. https://doi.org/10.1111/geb.12022

Milligan GW, Cooper MC (1988) A study of standardization of variables in cluster analysis. J Classif 5:181–204

Mitrakos K (1980) A theory for Mediterranean plant life. Acta Oecol 1:245–252

Mitrakos K (1982) Winter low temperature in Mediterranean type ecosystems. Ecol Medit 8:95–102

Mooi E, Sarstedt M (2011) Cluster Analysis. In: Sarstedt M, Mooi E (eds) A concise guide to market research, 1rd edn. Springer Nature, Germany, pp 237–284. https://doi.org/10.1007/978-3-662-56707-4

Nunes A, Kobel M, Pinho P, Matos P, de Bello F, Correia D, Branquinho C (2017) Which plant traits respond to aridity ? A critical step to assess functional diversity in Mediteranean dryland. Agr For Met 239:176–184. https://doi.org/10.1016/j.agrformet.2017.03.007

Oliver JE (2005) Encyclopedia of World Climatology. Springer Netherlands, Dordrecht, pp 85–94

Peel MC, Finlayson BL, McMahon TA (2007) Updated world map of the Köppen-Geiger climate classification. Hydr Earth Syst Sc 11:1633–1644. https://doi.org/10.5194/hess-11-1633-2007

Pesaresi S, Biondi E, Casavecchia S (2017) Bioclimates of Italy. J Maps 13:955–960. https://doi.org/10.1080/17445647.2017.1413017

Pesaresi S, Galdenzi D, Biondi E, Casavecchia S (2014) Bioclimate of Italy: application of the worldwide bioclimatic classification system. J Maps 10:538–553. https://doi.org/10.1080/17445647.2014.891472

Peterson T (2011) Ecological niche conservatism: a time-structured review of evidence. J Biogeogr 38:817–827. https://doi.org/10.1111/j.1365-2699.2010.02456.x

Pettitt AN (1979) A non-parametric approach to the change-point problem. Appl Stat 28:126–135

Piovesan G, Biondi F, Bernabei M, Di Filippo A, Schirone B (2005) Spatial and altitudinal bioclimatic zones of the Italian peninsula identified from a beech (Fagus sylvatica L.) tree-ring network. Acta Oecol 27:197–210. https://doi.org/10.1016/j.actao.2005.01.001

Pogliani M and De Gregorio F (1979) Notizie ed osservazioni sui fenomeni climatici dell'Abruzzo. Quad. Museo di Speleologia "V.Rivera" 1 : 3-42.

Rivas-Martínez S (1996) Geobotanica y climatologia. In: Rivas-Martínez S (ed) Discursos pronunciados en el Acto de Investidura de Doctor "Honoris Causa" del Excelentísimo Señor D. Universidad de Granada, Granada, pp 23–98

Rivas-Martínez S (2008) Global bioclimatics (Clasificación Bioclimática de la Tierra). Phytosociological Research Centere. http://www.globalbioclimatics.org/book/bioc/global_bioclimatics-2008_00.htm. .

Rivas-Martínez S, Loidi J (1999) Bioclimatology of the Iberian peninsula. Itinera Geobotanica 13:41-47

Rivas-Martínez S, Coautores (2007) Mapa de series, geoseries y geopermaseries de vegetación de España [Memoria del mapa de vegetación potencial de España. Parte 1]. Itinera Geobotanic 17:5–436

Rivas-Martínez S, Penas A, Diaz TE (2004a)a Bioclimatic map of Europe – bioclimates. Cartographic Service, University of Leon. http://www.globalbioclimatics.org/form/bi_med.htm. .

Rivas-Martínez S, Penas A, Diaz TE (2004b)b Bioclimatic map of Europe – thermotypes. Cartographic Service, University of Leon. http://www.globalbioclimatics.org/form/tb_med.htm.

Rivas-Martínez S, Saenz SR, Penas A (2011) Worldwide bioclimatic classification system. Global Geobot 1:1–634. https://doi.org/10.5616/gg110001

Rivas-Martínez S, Pensas Á, del Río S, Díaz González T E, Rivas-Sáenz S (2017) In: Loidi J (ed) The vegetation of the Iberian peninsula, Vol1, 1 edn. Springer, Utrech, The Netherlands, pp 29-80

Rogora M, Frate L, Carranza ML, Freppaz M, Stanisci A, Bertani I, Bottarin R, Brambilla A, Canullo R, Carbognani M, Cerrato C, Chelli S, Cremonese E, Cutini M, Di Musciano M, Erschbamer B, Godone D, Iocchi M, Isabellon M, Magnani A, Mazzola L, Morra di Cella U, Pauli H, Petey M, Petriccione B, Porro F, Psenner R, Rossetti G, Scotti A, Sommaruga R, Tappeiner U, Theurillat JP, Tomaselli M, Viglietti D, Viterbi R, Vittoz P, Winkler M, Matteucci G (2018) Assessment of climate change effects on mountain ecosystems through a cross-site analysis in the Alps and Apennines. Sc Total Env 624:1429–1442. https://doi.org/10.1016/j.scitotenv.2017.12.155

Sander J, Wardell-Johnson G (2012) Defining and characterizing high-rainfall Mediterranean climates. Plant Biosyst 146(2):451–460. https://doi.org/10.1080/11263504.2012.656726

Schmidt-Thomé P, Greiving S (2013) European Climate Vulnerabilities and Adaptation: A spatial Planning Perspective. John Wiley & Sons, Chichester. https://doi.org/10.1002/9781118474822

Smadi MM, Zghoul A (2006) A sudden change in rainfall characteristics in Amman, Jordan during The mid 1950s. Am J Env Sc 2:84–91. https://doi.org/10.3844/ajessp.2006.84.91

Stanisci A, Bricca A, Calabrese V, Cutini M, Pauli H, Steinbauer K, Carranza ML (2020) Functional composition and diversity of leaf traits in subalpine versus alpine vegetation of the Apennine. AOB Plants 12. https://doi.org/10.1093/aobpla/plaa004

Thornthwaite CW (1948) An approach toward a rational classification of climate. Geogr Rev 38:55–94

Torregrosa A, Taylor MD, Flint LE, Flint AL (2013) Present, future, and novel bioclimates of the San Francisco, California Region. PLoS One 8:1–14. https://doi.org/10.1371/journal.pone.0058450

Walter H, Box E (1976) Global classification of natural terrestrial ecosystems. Vegetatio 32:75–81

Walter H, Lieth H (1960) Klimadiagramm-Weltatlas. G. Fischer Verlag, Jena

Ward JH (1963) Hierachical grouping to optimize an objective function. J Am Stat Assoc 58:236–244

World Meteorological Organization (2017) Technical regulations basic documents No. 2 Vol. 1 - general meteorological standards and recommended practices, Chairperson, Genève.
Acknowledgements
We would like to express our special thanks to Dr. Marco Campilii (Servizio Idrografico e Mareografico della Regione Abruzzo) and Dr. Cristina Pompi (Ufficio Idrografico e Mareografico della Regione Lazio) for providing the weather data. The authors also wish to thank Sheila Beatty for improving the English usage in the manuscript. Finally, the Grant to the Department of Science, Roma Tre University (MIUR-Italy Dipartimenti di Eccellenza, Articolo 1, Commi 314-337 Legge 232/2016) is gratefully acknowledged.
Supplementary Information
About this article
Cite this article
Cutini, M., Flavio, M., Giuliana, B. et al. Bioclimatic pattern in a Mediterranean mountain area: assessment from a classification approach on a regional scale. Int J Biometeorol 65, 1085–1097 (2021). https://doi.org/10.1007/s00484-021-02089-x
Received:

Revised:

Accepted:

Published:

Issue Date:
Keywords
Bioclimatology

Bioclimatic classification

Bioclimatic indices

Central Apennine

Climate change

Summer drought and sub-drought