Abstract
Many high school associations in recent years are developing policies to improve player safety regarding exertional heat illnesses (EHIs). A question is whether states with diverse climates need multiple sets of guidelines with different activity modification thresholds. We examine this question in the state of Georgia, which has a diverse climate. Our study leverages a multi-year dataset of exertional heat illnesses (EHIs) among high school football players to test the hypothesis that EHI rates under similar wet bulb globe temperatures (WBGTs) will be greater among athletes in the cooler, northern region versus warmer, southern region of the state. The focus of this study is on a 3-year period (2012–2014) when uniform heat safety polices, including acclimatization and activity modification guidelines, were implemented across the state. Results show that athletes in the northern region acclimatize to cooler conditions. Almost 68% of practices have WBGTs < 27.8 °C (82 °F) compared to the southern region where athletes receive many times the exposures to hotter WBGTs in the 27.8–30.5 °C and 30.6–32.2 °C categories. In the post-acclimatization period, we observed statistically significantly (p < .05) greater EHI rates among athletes in the northern region of the state, even when controlling for meteorological conditions. Our findings suggest that differential acclimatization between football players in the northern and southern regions of the state is impacting EHI rates and that regional heat safety guidelines may be needed in Georgia and other states with similarly diverse climates.
Access options
Buy single article
Instant access to the full article PDF.
US$ 39.95
Tax calculation will be finalised during checkout.
Subscribe to journal
Immediate online access to all issues from 2019. Subscription will auto renew annually.
US$ 79
Tax calculation will be finalised during checkout.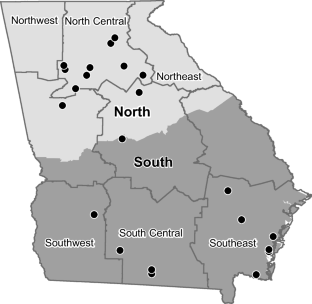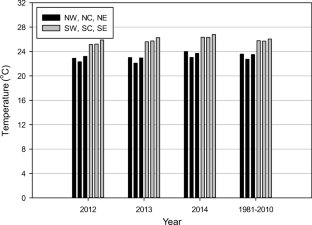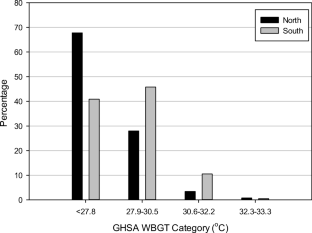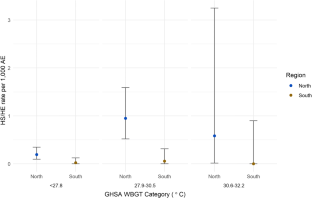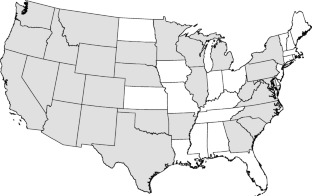 References
Adams WM, Scarneo SE, Casa DJ (2017) State level implementation of health and safety policies pertaining to preventing sudden death and catastrophic injury in secondary school athletics. Orthop J Sports Med 5(9):2325967117727262

Adams WM, Scarneo SE, Casa DJ (2018) Assessment of evidence-based health and safety policies on sudden death and concussion Management in Secondary School Athletics; a benchmark study. J Athl Train 53(8):756–767

Armstrong LE, Casa DJ, Millard-Stafford M, Moran DS, Pyne SW, Roberts WO (2007) American College of Sports Medicine position stand: exertional heat illness during training and competition. Med Sci Sports Exerc 39(3):556e557

Armstrong LE, Johnson EC, Casa DJ, Ganio MS, McDermott BP, Yamamoto LM et al (2010) The American football uniform: uncompensable heat stress and hyperthermic exhaustion. J Athl Train 45:117e127

Bergeron MF, McKeag DB, Casa DJ et al (2005) Youth football: heat stress and injury risk. Med Sci Sports Exerc. 37(8):1421–1430

Binkley HM, Beckett J, Casa DJ, Kleiner DM, Plummer PE (2002) National Athletic Trainers' association position statement: Exertional heat illnesses. J Athl Train 3:329–343

Boden BP, Breit I, Beachler JA, Williams A, Mueller FO (2013) Fatalities in high school and college football players. Am J Sports Med 41(5):1108e1116

Carter R, Cheuvront SN, Williams JO, Kolka MA, Stephenson IA, Sawka MN, Armoroso PJ (2005) Epidemiology of hospitalizations and deaths from heat illness in soldiers. Med Sci Sports Exerc 37(8):1338–1344

Carvell M (2011) Dad says son who died in practice 'pushed himself too hard. Atlanta J-Constit. http://www.ajc.com/sports/high-school/dad-says-son-who-died-practice-pushed-himself-too-hard/odqyJmxc8oU390CqDj8WMP/

Casa DJ, Csillan D, Armstrong LE, Baker LB, Bergeron MF, Buchanan VM et al (2009) Preseason heat-acclimatization guidelines for secondary school ateletics. J Athl Train 44(3):332–333

Casa DJ, DeMartini JK, Bergeron MF, Csillan D, Eichner ER, Lopez RM, Ferrara MS, Miller KC, Connor FO, Sawka MN, Yeargin SW (2015) National Athletic Trainers' association position statement: Exertional heat illnesses. J Athl Train 50(9):986–100

Cooper ER, Ferrara MS, Casa DJ, Powell JW, Broglio SP, Resch JE, Courson RW (2016) Exertional Heat Illness in American Football Players: When Is the Risk Greatest? J Athletic Train 51(8):593–600

Cooper E, Grundstein A, Miles J, Curry P, Casa D, Ferrara M, Hosokawa Y (In Press) The Georgia Study: The Risk of Exertional Heat Illness in High School Football Players. J Athletic Train

Curriero FC, Heiner KS, Samet JM, Zeger SL, Strug L, Patz JA (2002) Temperature and mortality in 11 cities of the eastern United States. Am J Epidemiol 155:80–87

Georgia High School Association (GHSA, 2018). Practice policy for heat and humidity. https://www.ghsa.net/sites/default/files/documents/sports medicine/Risk_Management_Policies.pdf. Accessed 23 February 2018

Georgia High School Association Constitution and By-Laws, 2010–2011 Web Site. https://www.ghsa.net/sites/default/files/documents/Constitution/GHSA_CBL_2010-2011.pdf. Accessed 8 April, 2016

Georgia High School Association Constitution and By-Laws, 2012–2013 Web Site. https://www.ghsa.net/sites/default/files/documents/Constitution/GHSA_CBL_2012-2013.pdf. Accessed 4 October, 2019

Godek SF, Godek JJ, Bartolozzi AR (2004) Thermal responses in football and cross- country athletes during their respective practices in a hot environment. J Athl Train 39:235–240

Grimmer K, King E, Larsen T, Farquharson T, Potter A, Sharpe P, de Wit H (2006) Prevalence of hot weather conditions related to sports participation guidelines: a South Australian investigation. J Sci Med Sport 9(1–2):72–78

Grundstein A, Ramseyer C, Zhao F, Peses J, Akers P, Qureshi A et al (2012) A retrospective analysis of American football hyperthermia deaths in the United States. Int J Biometeorol 56(1):11e20

Grundstein A, Williams C, Phan M, Cooper E (2015) Regional heat safety thresholds for athletics in the contiguous United States. Appl Geogr 56:55–60

Grundstein A, Hosokawa Y, Casa D (2018) Fatal exertional heat stroke and American football players: the need for regional heat safety guidelines. J Athl Train 53(1):43–50

Guttman NB, Quayle RG (1996) A historical perspective of U.S. climate divisions. Bull Am Meteorol Soc 77(2):293–303

Kalkstein LS, Davis RE (1989) Weather and human mortality: an evaluation of demographic and interregional responses in the United States. Ann Assoc Am Geogr 79:44–64

Keatinge WR, Donaldson GC, Cordioli E, Martinelli M, Kunst AE, Mackenbach JP, Nayha S, Vuori I (2000) Heat related mortality in warm and cold regions of Europe: observational study. Br Med J 321:670–673

Kerr ZY, Casa DJ, Marshall SW, Comstock RD (2013) Epidemiology of exertional heat illnesses among U.S. high school athletes. Am J Prev Med 44(1):8e14

Kerr ZY, Rgister-Mihalik JK, Pryor RR, Pierpoint LA, Scarneo SE, Adams WM, Kucera KL, Casa DL, Marshall SW (2019) The association between mandated preseason heat acclimatization guidelines and exertional heat illness during preseason high school American football practices. Environ Health Perspect 127(4):47003

Kucera KL, Klossner D, Colgate B, Cantu RC (2018) Annual survey of football Injury Research, 1931–2018. National Center for Catastrophic Injury Researchhttps://nccsir.unc.edu/files/2019/02/Annual-Football-2018-Fatalities-FINAL.pdf

Kulka TJ, Kenney WL (2002) Heat balance limits in football uniforms. Physician and Sports Medicine 30:29e39

Kuras ER, Richardson MB, Calkins MM, Ebi KL, Hess JJ, Kintziger KW, Jagger MA, Middel A, Scott AA, Spector JT, Uejio CK, Vanos JK, Zaitchik BF, Gohlke JM, Hondula DM (2017) Opportunities and challenges for personal heat exposure research. Environ Health Perspect 125(8):085001

Periard JD, Racinais S, Sawka MN (2015) Adaptations and mechanisms of human heat acclimation: applications for competitive athletes and sports. Scan J Med Sci Sports 25:20–38

Rosner B (1995) Fundamental of biostatistics, 4th edn. Duxbury, Belmont

Sahai H, Khurshid A (1996) Statistics in epidemiology: methods, techniques, and applications. CRC Press, Inc., Boca Raton

Vose RS, Applequist S, Squires M, Durre I, Menne MJ, Williams CN Jr, Fenimore C, Gleason K, Arndt D (2014) Improved historical temperature and precipitation time series for U.S. climate divisions. J Appl Meteorol Climatol 53:1232–1251
Acknowledgments
The authors would like to thank the National Athletic Trainers' Association Research and Education Foundation, Georgia High School Association, National Federation of High Schools, and Georgia Athletic Trainers Association for their support of the data collection in this study.
About this article
Cite this article
Poore, S., Grundstein, A., Cooper, E. et al. Regional differences in exertional heat illness rates among Georgia USA high school football players. Int J Biometeorol 64, 643–650 (2020). https://doi.org/10.1007/s00484-019-01853-4
Received:

Revised:

Accepted:

Published:

Issue Date:
Keywords
Exertional heat illness

American football

Interscholastic athletics

Wet bulb globe temperature

Acclimatization

Georgia

USA