Abstract
Recent findings from our laboratory highlight the role of the modulation of the innate immune function and systemic inflammatory response in the effectiveness of balneotherapy in rheumatic diseases, specifically in elderly patients with osteoarthritis. Immune-neuroendocrine and stress mediators are involved in these effects. The 'bioregulatory effect of balneotherapy' has also been recently proposed as a mechanism of effectiveness that consists of a reduction in systemic pro-inflammatory mediators together with the achievement of an optimal innate response through stimulation (or at least lack of impairment) of the innate defences against pathogens (i.e. phagocytosis, microbicide activity) mediated by neutrophils, also generating immunophysiological adaptations through an optimal balance between the pro- and the anti-inflammatory responses in which regulatory T cells seem to have a crucial role. In the present paper, we aim to analyse the main conclusions related to how balneotherapy with the use of peloids (pelotherapy) affects the innate and inflammatory responses, constituting an immunophysiological mechanism underlying the proven clinical benefits of this intervention. We also introduce novel results regarding the innate response (phagocytic process) of monocytes in this therapy, an inflammatory cell that has not yet been studied in this context. Increased chemotaxis together with a decline in oxidative burst, without changes in phagocytosis, could be the main response induced by this modality of balneological intervention.
Access options
Buy single article
Instant access to the full article PDF.
USD 39.95
Price excludes VAT (USA)
Tax calculation will be finalised during checkout.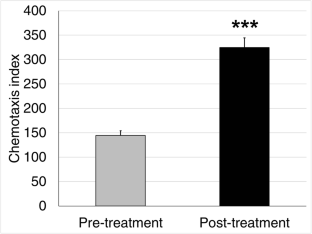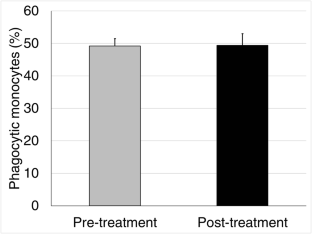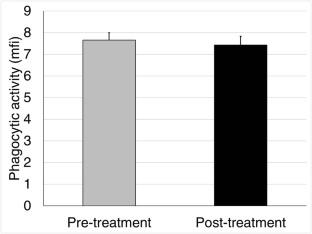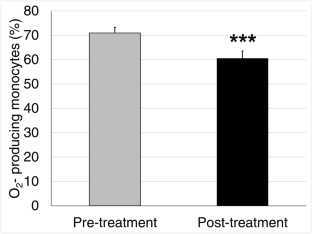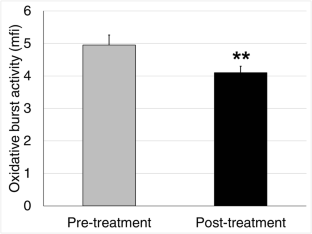 References
Altman R, Asch E, Bloch D, Bole G, Borenstein D, Brandt K, Christy W, Cooke TD, Greenwald R, Hochberg M, Howell D, Kaplan D, Koopman W, Longley S, Mankin H, McShane DJ, Medsger T, Meenan R, Mikkelsen W, Moskowitz R, Murphy W, Rothschild B, Segal M, Sokoloff L, Wolfe F (1986) Development of criteria for the classification and reporting of osteoarthritis. Classification of osteoarthritis of the knee. Diagnostic and Therapeutic Criteria Committee of the American Rheumatism Association. Arthritis Rheum 29(8):1039–1049

Antonelli M, Donelli D, Fioravanti A (2018) Effects of balneotherapy and spa therapy on quality of life of patients with knee osteoarthritis: a systematic review and meta-analysis. Rheumatol Int 38(10):1807–1824

Beer AM, Junginger HE, Lukanov J, Sagorchev P (2003) Evaluation of the permeation of peat substances through human skin in vitro. Int J Pharm 253(1–2):169–175

Bellometti S, Galzigna L (1998) Serum levels of a prostaglandin and a leukotriene after thermal mud pack therapy. J Investig Med 46(4):140–145

Bellometti S, Richelmi P, Tassoni T, Bertè F (2005) Production of matrix metalloproteinases and their inhibitors in osteoarthritic patients undergoing mud bath therapy. Int J Clin Pharmacol Res 25:77–94

Berenbaum F (2013) Osteoarthritis as an inflammatory disease (osteoarthritis is not osteoarthrosis!). Osteoarthr Cartil 21(1):16–21

Boyden S (1962) The chemotactic effect of mixtures of antibody and antigen on polymorphonuclear leucocytes. J Exp Med 115:453–466

Braga PC, Sambataro G, Dal Sasso M, Culici M, Alfieri M, Nappi G (2008) Antioxidant effect of sulphurous thermal water on human neutrophil bursts: chemiluminescence evaluation. Respiration 75(2):193–201

Carretero MI, Pozo M, Martín-Rubí JA, Pozo E, Maraver F (2010) Mobility of elements in interaction between artificial sweat and peloids used in Spanish spas. Appl Clay Sci 48(3):506–515

Doherty DE, Haslett C, Tonnesen MG, Henson PM (1987) Human monocyte adherence: a primary effect of chemotactic factors on the monocyte to stimulate adherence to human endothelium. J Immunol 138(6):1762–1771

Espejo-Antúnez L, Cardero-Durán MA, Garrido-Ardila EM, Torres-Piles S, Caro-Puértolas B (2013a) Clinical effectiveness of mud pack therapy in knee osteoarthritis. Rheumatology (Oxford) 52(4):659–668

Espejo-Antúnez L, Caro-Puértolas B, Ibáñez-Burgos B, Porto-Payán JM, Torres-Piles ST (2013b) Effects of mud therapy on perceived pain and quality of life related to health in patients with knee osteoarthritis. Reumatol Clin 9(3):156–160

Fioravanti A, Cantarini L, Bacarelli MR, de Lalla A, Ceccatelli L, Blardi P (2011a) Effects of spa therapy on serum leptin and adiponectin levels in patients with knee osteoarthritis. Rheumatol Int 31(7):879–882

Fioravanti A, Cantarini L, Guidelli GM, Galeazzi M (2011b) Mechanisms of action of spa therapies in rheumatic diseases: what scientific evidence is there? Rheumatol Int 31(1):1–8

Fioravanti A, Giannitti C, Bellisai B, Iacoponi F, Galeazzi M (2012) Efficacy of balneotherapy on pain, function and quality of life in patients with osteoarthritis of the knee. Int J Biometeorol 56(4):583–590

Fioravanti A, Bacaro G, Giannitti C, Tenti S, Cheleschi S, Gui Delli GM, Pascarelli NA, Galeazzi M (2015a) One-year follow-up of mud-bath therapy in patients with bilateral knee osteoarthritis: a randomized, single-blind controlled trial. Int J Biometeorol 59(9):1333–1343

Fioravanti A, Giannitti C, Cheleschi S, Simpatico A, Pascarelli NA, Galeazzi M (2015b) Circulating levels of adiponectin, resistin, and visfatin after mud-bath therapy in patients with bilateral knee osteoarthritis. Int J Biometeorol 59(11):1691–1700

Flusser D, Abu-Shakra M, Friger M, Codish S, Sukenik S (2002) Therapy with mud compresses for knee osteoarthritis: comparison of natural mud preparations with mineral-depleted mud. J Clin Rheumatol 8(4):197–203

Forestier R, Erol Forestier FB, Francon A (2016) Spa therapy and knee osteoarthritis: a systematic review. Ann Phys Rehabil Med 59(3):216–226

Forner MA, Collazos ME, Barriga C, De la Fuente M, Rodriguez AB, Ortega E (1994) Effect of age on adherence and chemotaxis capacities of peritoneal macrophages. Influence of physical activity stress. Mech Ageing Dev 75(3):179–189

Forner MA, Barriga C, Rodriguez AB, Ortega E (1995) A study of the role of corticosterone as a mediator in exercise-induced stimulation of murine macrophage phagocytosis. J Physiol 488(3):789–794

Fraioli A, Mennuni G, Fontana M, Nocchi S, Ceccarelli F, Perricone C, Serio A (2018) Efficacy of spa therapy, mud-pack therapy, balneotherapy, and mud-bath therapy in the management of knee osteoarthritis. A systematic review. Biomed Res Int 2018:1042576

Gálvez I, Torres-Piles S, Hinchado MD, Alvarez-Barrientos A, Torralbo-Jimenez P, Guerrero J, Martín-Cordero L, Ortega E (2017) Immune-neuroendocrine dysregulation in patients with osteoarthritis: a revision and a pilot study. Endocr Metab Immune Disord Drug Targets 17(1):78–85

Gálvez I, Torres-Piles S, Ortega E (2018a) Innate/inflammatory bioregulation and clinical effectiveness of whole-body hyperthermia (balneotherapy) in elderly patients with osteoarthritis. Int J Hyperth 35(1):340–347

Gálvez I, Torres-Piles S, Ortega-Rincón E (2018b) Balneotherapy, immune system, and stress response: a hormetic strategy? Int J Mol Sci 19(6):1687

Giannitti C, De Palma A, Pascarelli NA, Cheleschi S, Giordano N, Galeazzi M, Fioravanti A (2017) Can balneotherapy modify microRNA expression levels in osteoarthritis? A comparative study in patients with knee osteoarthritis. Int J Biometeorol 61(12):2153–2158

Glyn-Jones S, Palmer AJR, Agricola R, Price AJ, Vincent TL, Weinans H, Carr AJ (2015) Osteoarthritis. Lancet 386(9991):376–387

Gomes C, Carretero MI, Pozo M, Maraver F, Cantista P, Armijo F, Legido JL, Teixeira F, Rautureau M, Delgado R (2013) Peloids and pelotherapy: historical evolution, classification and glossary. Appl Clay Sci 75-76:28–38

Harzy T, Ghani N, Akasbi N, Bono W, Nejjari C (2009) Short- and long-term therapeutic effects of thermal mineral waters in knee osteoarthritis: a systematic review of randomized controlled trials. Clin Rheumatol 28(5):501–507

Kapoor M (2015) Pathogenesis of osteoarthritis. In: Kapoor M, Mahomed NN (eds) Osteoarthritis: pathogenesis, diagnosis, available treatments, drug safety, regenerative and precision medicine. Springer, Cham, pp 1–28

Liu H, Zeng C, Gao SG, Yang T, Luo W, Li YS, Xiong YL, Sun JP, Lei GH (2013) The effect of mud therapy on pain relief in patients with knee osteoarthritis: a meta-analysis of randomized controlled trials. J Int Med Res 41(5):1418–1425

Loukov D, Karampatos S, Maly MR, Bowdish DME (2018) Monocyte activation is elevated in women with knee-osteoarthritis and associated with inflammation, BMI and pain. Osteoarthr Cartil 26(2):255–263

Mathiessen A, Conaghan PG (2017) Synovitis in osteoarthritis: current understanding with therapeutic implications. Arthritis Res Ther 19(1):18

McAlindon TE, Bannuru RR, Sullivan MC, Arden NK, Berenbaum F, Bierma-Zeinstra SM, Hawker GA, Henrotin Y, Hunter DJ, Kawaguchi H, Kwoh K, Lohmander S, Rannou F, Roos EM, Underwood M (2014) OARSI guidelines for the non-surgical management of knee osteoarthritis. Osteoarthr Cartil 22(3):363–388

Morer C, Roques CF, Françon A, Forestier R, Maraver F (2017) The role of mineral elements and other chemical compounds used in balneology: data from double-blind randomized clinical trials. Int J Biometeorol 61:2159–2173

Musumeci G, Aiello FC, Szychlinska MA, Di Rosa M, Castrogiovanni P, Mobasheri A (2015) Osteoarthritis in the XXIst century: risk factors and behaviours that influence disease onset and progression. Int J Mol Sci 16(3):6093–6112

Odabasi E, Turan M, Erdem H, Tekbas F (2008) Does mud pack treatment have any chemical effect? A randomized controlled clinical study. J Altern Complement Med 14(5):559–565

Ortega E (2003) Neuroendocrine mediators in the modulation of phagocytosis by exercise: physiological implications. Exerc Immunol Rev 9:70–93

Ortega E (2016) The "bioregulatory effect of exercise" on the innate/inflammatory responses. J Physiol Biochem 72:361–369

Ortega E, Collazos ME, Barriga C, de la Fuente M (1992) Stimulation of the phagocytic function in guinea pig peritoneal macrophages by physical activity stress. Eur J Appl Physiol 64:323–327

Ortega E, Forner MA, Barriga C (1996) Effect of β-endorphin on adherence, chemotaxis and phagocytosis of Candida albicans by peritoneal macrophages. Comp Immunol Microbiol Infect Dis 19:267–274

Ortega E, Forner MA, Barriga C (1997) Exercise-induced stimulation of murine macrophage chemotaxis: role of corticosterone and prolactin as mediators. J Physiol 498(3):729–734

Ortega E, Giraldo E, Hinchado MD, Martínez M, Ibáñez S, Cidoncha A, Collazos ME, García JJ (2006) Role of Hsp72 and norepinephrine in the moderate exercise-induced stimulation of neutrophils' microbicide capacity. Eur J Appl Physiol 98(3):250–255

Ortega E, Bote ME, Besedovsky HO, del Rey A (2012) Hsp72, inflammation, and aging: causes, consequences, and perspectives. Ann N Y Acad Sci 1261:64–71

Ortega E, Gálvez I, Hinchado MD, Guerrero J, Martín-Cordero L, Torres-Piles S (2017) Anti-inflammatory effect as a mechanism of effectiveness underlying the clinical benefits of pelotherapy in osteoarthritis patients: regulation of the altered inflammatory and stress feedback response. Int J Biometeorol 61(10):1777–1785

Ortega E, Gálvez I, Martín-Cordero L (2018) Extracellular Hsp70 and low-grade inflammation- and stress-related pathologies. In: Asea A, Kaur P (eds) Heat shock proteins and stress. Heat Shock Proteins, vol 15. Springer, Cham, pp 13–38

Ortega-Rincón E (1994) Physiology and biochemistry: influence of exercise on phagocytosis. Int J Sports Med 15(3):S172–S178

Pozo M, Carretero MI, Maraver F, Pozo E, Gómez I, Armijo F, Martín-Rubí JA (2013) Composition and physico-chemical properties of peloids used in Spanish spas: a comparative study. Appl Clay Sci 83(84):270–279

Rahmati M, Mobasheri A, Mozafari M (2016) Inflammatory mediators in osteoarthritis: a critical review of the state-of-the-art, current prospects, and future challenges. Bone 8:81–90

Rinehart JJ, Balcerzak SP, Sagone AL, LoBuglio AF (1974) Effects of corticosteroids on human monocyte function. J Clin Invest 54(6):1337–1343

Robinson JP, Carter WO (1993) Flow cytometric analysis of granulocytes. In: Bauer KD et al (eds) Clinical flow cytometry, principles and applications. Williams and Wilkins, Baltimore, pp 405–433

Robinson WH, Lepus CM, Wang Q, Raghu H, Mao R, Lindstrom TM, Sokolove J (2016) Low-grade inflammation as a key mediator of the pathogenesis of osteoarthritis. Nat Rev Rheumatol 12(10):580–592

Saberi Hosnijeh F, Bierma-Zeinstra SM, Bay-Jensen AC (2019) Osteoarthritis year in review 2018: biomarkers (biochemical markers). Osteoarthr Cartil 27(3):412–423

Sarsan A, Akkaya N, Ozgen M, Yildiz N, Atalay NS, Ardic F (2012) Comparing the efficacy of mature mud pack and hot pack treatments for knee osteoarthritis. J Back Musculoskelet Rehabil 25:193–199

Scanzello CR (2017) Role of low-grade inflammation in osteoarthritis. Curr Opin Rheumatol 29(1):79–85

Scanzello C, Goldring S (2012) The role of synovitis in osteoarthritis pathogenesis. Bone 51:249–257

Sohn D, Sokolove J, Sharpe O, Erhart J, Chandra P, Lahey L, Lindstrom TM, Hwang I, Boyer KA, Andriacchi TP, Robinson WH (2012) Plasma proteins present in osteoarthritic synovial fluid can stimulate cytokine production via toll-like receptor 4. Arthritis Res Ther 14(1):R7

Yang J, Zhang L, Yu C, Yang XF, Wang H (2014) Monocyte and macrophage differentiation: circulation inflammatory monocyte as biomarker for inflammatory diseases. Biomark Res 2(1):1

Ziegler-Heitbrock L (2015) Blood monocytes and their subsets: established features and open questions. Front Immunol 6:423
Acknowledgements
We are grateful to the Facility of Bioscience Applied Techniques (STAB, University of Extremadura, Spain) and the spa centre 'El Raposo' for technical and human support.
Funding
This work was partially supported by the Gobierno de Extremadura-Fondo Europeo de Desarrollo Regional (EE-14-0082-4, GR15041, GR18009, IB18011). Isabel Gálvez is recipient of a 'Formación del Profesorado Universitario (FPU)' pre-doctoral contract (FPU15/02395) from the Ministerio de Ciencia, Innovación y Universidades, Spain.
Ethics declarations
Conflict of interest
The authors declare that they have no conflict of interest.
Ethical approval
All procedures performed in studies involving human participants were in accordance with the ethical standards of the institutional and/or national research committee and with the 1964 Helsinki declaration and its later amendments or comparable ethical standards.
Disclaimer
Funding sources had no role in the study design, collection, analysis, and interpretation of the data or the decision to submit the manuscript for publication.
About this article
Cite this article
Gálvez, I., Torres-Piles, S. & Ortega, E. Effect of mud-bath therapy on the innate/inflammatory responses in elderly patients with osteoarthritis: a discussion of recent results and a pilot study on the role of the innate function of monocytes. Int J Biometeorol 64, 927–935 (2020). https://doi.org/10.1007/s00484-019-01748-4
Received:

Revised:

Accepted:

Published:

Issue Date:

DOI: https://doi.org/10.1007/s00484-019-01748-4
Keywords
Balneotherapy

Pelotherapy

Chemotaxis

Phagocytosis

Oxidative burst

Inflammation