Abstract
Forest bathing is a traditional practice characterized by visiting a forest and breathing its air. This review aims to investigate the effects of forest bathing on levels of salivary or serum cortisol as a stress biomarker in order to understand whether forest bathing can reduce stress. Medline/PubMed, Embase, Scopus, Web of Science, Cochrane Library, and Google Scholar were systematically searched for relevant articles. The quality of included trials was assessed following the criteria of the NIH dedicated tools. Afterwards, a qualitative and quantitative synthesis of retrieved evidence was performed. A total of 971 articles were screened; 22 of them were included in the systematic review and 8 in the meta-analysis. In all but two included studies, cortisol levels were significantly lower after intervention in forest groups if compared with control/comparison groups, or a significant pre-post reduction of cortisol levels was reported in the forest groups. The main results of the meta-analysis showed that salivary cortisol levels were significantly lower in the forest groups compared with the urban groups both before (MD = − 0.08 μg/dl [95% CI − 0.11 to − 0.05 μg/dl]; p < 0.01; I2 = 46%) and after intervention (MD = − 0.05 μg/dl [95% CI − 0.06 to − 0.04 μg/dl]; p < 0.01; I2 = 88%). Overall, forest bathing can significantly influence cortisol levels on a short term in such a way as to reduce stress, and anticipated placebo effects can play an important role in it. Further research is advised because of the limited available data.
Access options
Buy single article
Instant access to the full article PDF.
US$ 39.95
Tax calculation will be finalised during checkout.
Subscribe to journal
Immediate online access to all issues from 2019. Subscription will auto renew annually.
US$ 79
Tax calculation will be finalised during checkout.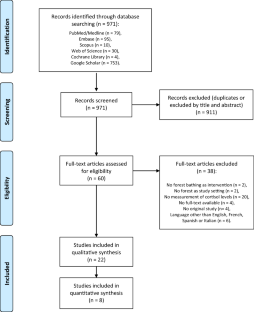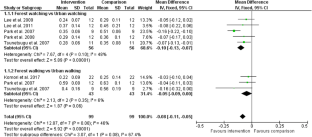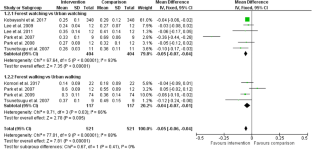 References
Annerstedt M, Jönsson P, Wallergård M, Johansson G, Karlson B, Grahn P, Hansen ÅM, Währborg P (2013) Inducing physiological stress recovery with sounds of nature in a virtual reality forest—results from a pilot study. Physiol Behav 118:240–250. https://doi.org/10.1016/j.physbeh.2013.05.023

Antonelli M, Donelli D (2018) Effects of balneotherapy and spa therapy on levels of cortisol as a stress biomarker: a systematic review. Int J Biometeorol 62:1–12. https://doi.org/10.1007/s00484-018-1504-8

Berk LS, Tan SA, Berk D (2008) Cortisol and catecholamine stress hormone decrease is associated with the behavior of perceptual anticipation of mirthful laughter. FASEB J 22

Burke HM, Davis MC, Otte C, Mohr DC (2005) Depression and cortisol responses to psychological stress: a meta-analysis. Psychoneuroendocrinology 30(9):846–856. https://doi.org/10.1016/j.psyneuen.2005.02.010

Chrousos GP (2009) Stress and disorders of the stress system. Nat Rev Endocrinol 5(7):374–381. https://doi.org/10.1038/nrendo.2009.106

Cuijpers P, Weitz E, Cristea IA, Twisk J (2017) Pre-post effect sizes should be avoided in meta-analyses. Epidemiol Psychiatr Sci 26(4):364–368. https://doi.org/10.1017/S2045796016000809

Depledge MH, Stone RJ, Bird WJ (2011) Can natural and virtual environments be used to promote improved human health and wellbeing? Environ Sci Technol 45(11):4660–4665

Dettweiler U, Becker C, Auestad BH, Simon P, Kirsch P (2017) Stress in school. Some empirical hints on the circadian cortisol rhythm of children in outdoor and indoor classes. Int J Environ Res Public Health 14(5):475. https://doi.org/10.3390/ijerph14050475

Di Dio C, Ardizzi M, Massaro D, Di Cesare G, Gilli G, Marchetti A, Gallese V (2016) Human, nature, dynamism: the effects of content and movement perception on brain activations during the aesthetic judgment of representational paintings. Front Hum Neurosci 9(705). https://doi.org/10.3389/fnhum.2015.00705

Folkman S (2013) Stress: appraisal and coping. In: In encyclopedia of behavioral medicine. Springer, New York, pp 1913–1915. https://doi.org/10.1007/978-1-4419-1005-9_215

Freeman PR (1989) The performance of the two-stage analysis of two-treatment, two-period crossover trials. Stat Med 8(12):1421–1432. https://doi.org/10.1002/sim.4780081202

Guan H, Wei H, He X, Ren Z, An B (2017) The tree-species-specific effect of forest bathing on perceived anxiety alleviation of young-adults in urban forests. Ann For Res, 60(2), 327-341. https://doi.org/10.15287/afr.2017.897

Hansen MM, Jones R, Tocchini K (2017) Shinrin-yoku (forest bathing) and nature therapy: a state-of-the-art review. Int J Environ Res Public Health 14(8):851. https://doi.org/10.3390/ijerph14080851

Higgins JP, Altman DG, Gøtzsche PC, Jüni P, Moher D, Oxman AD, Savović J, Schulz KF, Weeks L, Sterne JA (2011) The Cochrane Collaboration's tool for assessing risk of bias in randomised trials. Bmj 343:d5928. https://doi.org/10.1136/bmj.d5928

Higgins JP, Thompson SG, Deeks JJ, Altman DG (2003) Measuring inconsistency in meta-analyses. Br Med J 327(7414):557–560. https://doi.org/10.1136/bmj.327.7414.557

Higgins JPT (2015) Green S. Cochrane handbook for systematic reviews of interventions version 5.1. 0. The Cochrane Collaboration. http://handbook-5-1.cochrane.org. Accessed 4 Jan 2019

Horiuchi M, Endo J, Akatsuka S, Uno T, Hasegawa T, Seko Y (2013) Influence of forest walking on blood pressure, profile of mood states, and stress markers from the viewpoint of aging. J Aging Gerontol 1:9–17. https://doi.org/10.12974/2309-6128.2013.01.01.2

Horiuchi M, Endo J, Takayama N, Murase K, Nishiyama N, Saito H, Fujiwara A (2014) Impact of viewing vs. not viewing a real forest on physiological and psychological responses in the same setting. Int J Environ Res Public Health 11(10):10883–10901. https://doi.org/10.3390/ijerph111010883

Ikei H, Song C, Miyazaki Y (2016) Effects of olfactory stimulation by α-pinene on autonomic nervous activity. J Wood Sci 62(6):568–572. https://doi.org/10.1007/s10086-016-1576-1

Jia BB, Yang ZX, Mao GX, Lyu YD, Wen XL, Xu WH, Lyu XL, Cao YB, Wang GF (2016) Health effect of forest bathing trip on elderly patients with chronic obstructive pulmonary disease. Biomed Environ Sci 29(3):212–218. https://doi.org/10.3967/bes2016.026

Joung D, Kim G, Choi Y, Lim H, Park S, Woo JM, Park BJ (2015) The prefrontal cortex activity and psychological effects of viewing forest landscapes in autumn season. Int J Environ Res Public Health 12(7):7235–7243. https://doi.org/10.3390/ijerph120707235

Jung WH, Woo JM, Ryu JS (2015) Effect of a forest therapy program and the forest environment on female workers' stress. Urban For Urban Green 14(2):274–281. https://doi.org/10.1016/j.ufug.2015.02.004

Kaptchuk TJ, Kelley JM, Conboy LA, Davis RB, Kerr CE, Jacobson EE, Kirsch I, Schyner RN, Nam BH, Nguyen LT, Park M, Rivers AL, McManus C, Kokkotou E, Drossman DA, Goldman P, Lembo AJ (2008) Components of placebo effect: randomised controlled trial in patients with irritable bowel syndrome. Br Med J 336(7651):999–1003. https://doi.org/10.1136/bmj.39524.439618.25

Kim W, Lim SK, Chung EJ, Woo JM (2009) The effect of cognitive behavior therapy-based psychotherapy applied in a forest environment on physiological changes and remission of major depressive disorder. Psychiatry Investig 6(4):245–254. https://doi.org/10.4306/pi.2009.6.4.245

Kirschbaum C, Hellhammer DH (1994) Salivary cortisol in psychoneuroendocrine research: recent developments and applications. Psychoneuroendocrinology 19(4):313–333. https://doi.org/10.1016/0306-4530(94)90013-2

Kobayashi H, Song C, Ikei H, Park BJ, Lee J, Kagawa T, Miyazaki Y (2017) Population-based study on the effect of a forest environment on salivary cortisol concentration. Int J Environ Res Public Health 14(8):931. https://doi.org/10.3390/ijerph14080931

Komori T, Mitsui M, Togashi K, Matsui J, Kato T, Uei D, Shibayama A, Yamato K, Okumura H, Kinoshita F (2017) Relaxation effect of a 2-hour walk in Kumano-Kodo Forest. J Neurol Neurosci 8(1). https://doi.org/10.21767/2171-6625.1000174

Kondo MC, Jacoby SF, South EC (2018) Does spending time outdoors reduce stress? A review of real-time stress response to outdoor environments. Health & place 51:136–150. https://doi.org/10.1016/j.healthplace.2018.03.001

Kondo T, Takeda A (2017) Effects of forest bathing (Shinrin-yoku) in Tama new town on conditioning in athletes (proceedings of the 81st annual meeting of the Japanese society balneology, climatology and physical medicine). The Journal of the Japanese Society of Balneology, Climatology and Physical Medicine 80(1):15–34

Kondo T, Takeda A, Kobayashi I, Yatagai M (2011) Positive healthy physiological effects of Shinrin-yoku in human. J Med Assoc Thai 74(3):169–177. https://doi.org/10.11390/onki.74.169

Lee I, Choi H, Bang KS, Kim S, Song M, Lee B (2017) Effects of forest therapy on depressive symptoms among adults: a systematic review. Int J Environ Res Public Health 14(3):321. https://doi.org/10.3390/ijerph14030321

Lee J, Park BJ, Tsunetsugu Y, Kagawa T, Miyazaki Y (2009) Restorative effects of viewing real forest landscapes, based on a comparison with urban landscapes. Scand J For Res 24(3):227–234. https://doi.org/10.1080/02827580902903341

Lee J, Park BJ, Tsunetsugu Y, Ohira T, Kagawa T, Miyazaki Y (2011) Effect of forest bathing on physiological and psychological responses in young Japanese male subjects. Public Health 125(2):93–100. https://doi.org/10.1016/j.puhe.2010.09.005

Liberati A, Altman DG, Tetzlaff J, Mulrow C, Gøtzsche PC, Ioannidis JP, Clarke M, Devereaux PJ, Kleijnen J, Moher D (2009) The PRISMA statement for reporting systematic reviews and meta-analyses of studies that evaluate health care interventions: explanation and elaboration. PLoS Med 6(7):e1000100. https://doi.org/10.1371/journal.pmed.1000100

Li Q (2010) Effect of forest bathing trips on human immune function. Environ Health Prev Med 15(1):9. https://doi.org/10.1007/s12199-008-0068-3

Li Q, Kobayashi M, Inagaki H, Hirata Y, Li YJ, Hirata K, Shimizu T, Suzuki H, Katsumata M, Wakayama Y, Kawada T, Ohira T, Matsui N, Kagawa T (2010) A day trip to a forest park increases human natural killer activity and the expression of anti-cancer proteins in male subjects. J Biol Regul Homeost Agents 24(2):157–165

Li Q, Morimoto K, Kobayashi M, Inagaki H, Katsumata M, Hirata Y, Hirata K, Shimizu T, Li YJ, Wakayama Y, Kawada T, Ohira T, Takayama N, Kagawa T, Miyazaki Y (2008a) A forest bathing trip increases human natural killer activity and expression of anti-cancer proteins in female subjects. J Biol Regul Homeost Agents 22(1):45–55

Li Q, Morimoto K, Kobayashi M, Inagaki H, Katsumata M, Hirata Y, Hirata K, Suzuki H, Li YJ, Wakayama Y, Kawada T, Park BJ, Ohira T, Matsui N, Kagawa T, Miyazaki Y, Krensky AM (2008b) Visiting a forest, but not a city, increases human natural killer activity and expression of anti-cancer proteins. Int J Immunopathol Pharmacol 21(1):117–127. https://doi.org/10.1177/039463200802100113

Li Q, Morimoto K, Nakadai A, Inagaki H, Katsumata M, Shimizu T, Hirata Y, Hirata K, Suzuki H, Miyazaki Y, Kagawa T, Koyama Y, Ohira T, Takayama N, Krensky AM, Kawada T (2007) Forest bathing enhances human natural killer activity and expression of anti-cancer proteins. Int J Immunopathol Pharmacol 20(2_suppl):3–8. https://doi.org/10.1177/03946320070200S202

Li Q, Nakadai A, Matsushima H, Miyazaki Y, Krensky AM, Kawada T, Morimoto K (2006) Phytoncides (wood essential oils) induce human natural killer cell activity. Immunopharmacol Immunotoxicol 28(2):319–333. https://doi.org/10.1080/08923970600809439

Mao GX, Cao YB, Lan XG, He ZH, Chen ZM, Wang YZ, Hu XL, Lv YD, Wang GF, Yan J (2012a) Therapeutic effect of forest bathing on human hypertension in the elderly. J Cardiol 60(6):495–502. https://doi.org/10.1016/j.jjcc.2012.08.003

Mao GX, Lan XG, Cao YB, Chen ZM, He ZH, Lv YD, Wang YZ, Hu XL, Wang GF, Yan J (2012b) Effects of short-term forest bathing on human health in a broad-leaved evergreen forest in Zhejiang Province. China Biomed Environ Sci 25(3):317–324. https://doi.org/10.3967/0895-3988.2012.03.010

Matousek RH, Dobkin PL, Pruessner J (2010) Cortisol as a marker for improvement in mindfulness-based stress reduction. Complement Ther Clin Pract 16(1):13–19. https://doi.org/10.1016/j.ctcp.2009.06.004

Marselle M, Irvine K, Warber S (2013) Walking for well-being: are group walks in certain types of natural environments better for well-being than group walks in urban environments? Int J Environ Res Public Health 10(11):5603–5628. https://doi.org/10.3390/ijerph10115603

Miyazaki Y (2018) Shinrin Yoku: the Japanese art of forest bathing. Timber Press (OR)

Moher D, Liberati A, Tetzlaff J, Altman DG, The PRISMA Group (2009) Preferred reporting items for systematic reviews and meta-analyses: the PRISMA statement. PLoS Med 6(7):e1000097. https://doi.org/10.1371/journal.pmed.1000097

Morita E, Fukuda S, Nagano J, Hamajima N, Yamamoto H, Iwai Y, Nakashimaf T, Ohirag H, Shirakawa T (2007) Psychological effects of forest environments on healthy adults: Shinrin-yoku (forest-air bathing, walking) as a possible method of stress reduction. Public Health 121(1):54–63. https://doi.org/10.1016/j.puhe.2006.05.024

Muramatsu K, Furumi S, Fujiwara N, Hayashi A, Daigo M, Ochiai F (2000) Pattern decomposition method in the albedo space for Landsat TM and MSS data analysis. Int J Remote Sens 21(1):99–119. https://doi.org/10.1080/014311600211019

Nam ES, Uhm DC (2008) Effects of phytoncides inhalation on serum cortisol level and life stress of college students. Korean J Adult Nurs 20(5):697–706

National Institutes of Health (2014a) Quality assessment of controlled intervention studies. Systematic evidence reviews & clinical practice guidelines. https://www.nhlbi.nih.gov/health-topics/study-quality-assessment-tools. Accessed 4 January 2019

National Institutes of Health (2014b) Quality assessment tool for before-after (pre-post) studies with no control group. Systematic evidence reviews & clinical practice guidelines. https://www.nhlbi.nih.gov/health-topics/study-quality-assessment-tools. Accessed 4 January 2019

Ochiai H, Ikei H, Song C, Kobayashi M, Miura T, Kagawa T, Li Q, Kumeda S, Imai M, Miyazaki Y (2015a) Physiological and psychological effects of a forest therapy program on middle-aged females. Int J Environ Res Public Health 12(12):15222–15232. https://doi.org/10.3390/ijerph121214984

Ochiai H, Ikei H, Song C, Kobayashi M, Takamatsu A, Miura T, Kagawa T, Li Q, Kumeda S, Imai M, Miyazaki Y (2015b) Physiological and psychological effects of forest therapy on middle-aged males with high-normal blood pressure. Int J Environ Res Public Health 12(3):2532–2542. https://doi.org/10.3390/ijerph120302532

Oh B, Lee KJ, Zaslawski C, Yeung A, Rosenthal D, Larkey L, Back M (2017) Health and well-being benefits of spending time in forests: systematic review. Environ Health Prev Med 22(1):71. https://doi.org/10.1186/s12199-017-0677-9

Ojala A, Korpela K, Tyrväinen L, Tiittanen P, Lanki T (2018) Restorative effects of urban green environments and the role of urban-nature orientedness and noise sensitivity: a field experiment. Health & Place 55:59–70. https://doi.org/10.1016/j.healthplace.2018.11.004

Olafsdottir G, Cloke P, Schulz A, Van Dyck Z, Eysteinsson T, Thorleifsdottir B, Vögele C (2018) Health benefits of walking in nature: a randomized controlled study under conditions of real-life stress. Environ Behav:0013916518800798. https://doi.org/10.1177/0013916518800798

Park BJ, Tsunetsugu Y, Ishii H, Furuhashi S, Hirano H, Kagawa T, Miyazaki Y (2008) Physiological effects of Shinrin-yoku (taking in the atmosphere of the forest) in a mixed forest in Shinano Town, Japan. Scand J For Res 23(3):278–283. https://doi.org/10.1080/02827580802055978

Park BJ, Tsunetsugu Y, Kasetani T, Hirano H, Kagawa T, Sato M, Miyazaki Y (2007) Physiological effects of shinrin-yoku (taking in the atmosphere of the forest)—using salivary cortisol and cerebral activity as indicators—. J Physiol Anthropol 26(2):123–128. https://doi.org/10.2114/jpa2.26.123

Park BJ, Tsunetsugu Y, Kasetani T, Kagawa T, Miyazaki Y (2010) The physiological effects of Shinrin-yoku (taking in the forest atmosphere or forest bathing): evidence from field experiments in 24 forests across Japan. Environ Health Prev Med 15(1):18–26. https://doi.org/10.1007/s12199-009-0086-9

Ranabir S, Reetu K (2011) Stress and hormones. Indian J Endocr Metab 15(1):18–22. https://doi.org/10.4103/2230-8210.77573

Roe JJ, Thompson CW, Aspinall PA, Brewer MJ, Duff EI, Miller D, Mitchell R, Clow A (2013) Green space and stress: evidence from cortisol measures in deprived urban communities. Int J Environ Res Public Health 10(9):4086–4103. https://doi.org/10.3390/ijerph10094086

Rohatgi A (2014) Web Plot Digitizer. https://automeris.io/WebPlotDigitizer/. Accessed 4 January 2019

Seo SC, Park SJ, Park CW, Yoon WS, Choung JT, Yoo Y (2015) Clinical and immunological effects of a forest trip in children with asthma and atopic dermatitis. Iran J Allergy, Asthm Immunol 14(1):28–36

Smyth JM, Ockenfels MC, Gorin AA, Catley D, Porter LS, Kirschbaum C, Hellhammer DH, Stone AA (1997) Individual differences in the diurnal cycle of cortisol. Psychoneuroendocrinology 22(2):89–105. https://doi.org/10.1016/S0306-4530(96)00039-X

Song C, Lee J, Ikei H, Kagawa T, Miyazaki Y, Park BJ (2015) Physiological and psychological effects of walking around and viewing a lake in a forest environment. J Korean Soc Forest Sci 104(1):140–149. https://doi.org/10.5322/JES.2012.21.5.605

Sung J, Woo JM, Kim W, Lim SK, Chung EJ (2012) The effect of cognitive behavior therapy-based "forest therapy" program on blood pressure, salivary cortisol level, and quality of life in elderly hypertensive patients. Clin Exp Hypertens 34(1):1–7. https://doi.org/10.3109/10641963.2011.618195

Thirthalli J, Naveen GH, Rao MG, Varambally S, Christopher R, Gangadhar BN (2013) Cortisol and antidepressant effects of yoga. Indian J Psychiatry 55(Suppl 3):S405. https://doi.org/10.4103/0019-5545.116315

Thompson CW, Roe J, Aspinall P, Mitchell R, Clow A, Miller D (2012) More green space is linked to less stress in deprived communities: evidence from salivary cortisol patterns. Landsc Urban Plan 105(3):221–229. https://doi.org/10.1016/j.landurbplan.2011.12.015

Toda M, Den R, Hasegawa-Ohira M, Morimoto K (2013) Effects of woodland walking on salivary stress markers cortisol and chromogranin A. Complementary therapies in medicine 21(1):29–34. https://doi.org/10.1016/j.ctim.2012.11.004

Triguero-Mas M, Gidlow CJ, Martínez D, de Bont J, Carrasco-Turigas G, Martínez-Íñiguez T, Hurst G, Masterson D, Donaire-Gonzalez D, Seto E, Jones MV, Nieuwenhuijsen MJ (2017) The effect of randomised exposure to different types of natural outdoor environments compared to exposure to an urban environment on people with indications of psychological distress in Catalonia. PLoS One 12(3):e0172200. https://doi.org/10.1371/journal.pone.0172200

Tsigos C, Kyrou I, Kassi E, Chrousos G (2016) Stress, endocrine physiology and pathophysiology

Tsunetsugu Y, Miyazaki Y (2007) 2-8 correlation between baseline value and amount of change in salivary cortisol concentration and salivary immunoglobulin a concentration (proceedings of the 56th meeting of Japan Society of Physiological Anthropology). J Physiol Anthropol 26(6):612

Tsunetsugu Y, Park BJ, Ishii H, Hirano H, Kagawa T, Miyazaki Y (2007) Physiological effects of Shinrin-yoku (taking in the atmosphere of the forest) in an old-growth broadleaf forest in Yamagata Prefecture, Japan. J Physiol Anthropol 26(2):135–142. https://doi.org/10.2114/jpa2.26.135

Turakitwanakan W, Mekseepralard C, Busarakumtragul P (2013) Effects of mindfulness meditation on serum cortisol of medical students. Journal of the Medical Association of Thailand = Chotmaihet thangphaet 96:S90–S95

Tyrväinen L, Ojala A, Korpela K, Lanki T, Tsunetsugu Y, Kagawa T (2014) The influence of urban green environments on stress relief measures: a field experiment. J Environ Psychol 38:1–9. https://doi.org/10.1016/j.jenvp.2013.12.005

Van Cauter E, Leproult R, Kupfer DJ (1996) Effects of gender and age on the levels and circadian rhythmicity of plasma cortisol. J Clin Endocrinol Metab 81(22):2468–2473. https://doi.org/10.1210/jcem.81.7.8675562

Yu YM, Lee YJ, Kim JY, Yoon SB, Shin CS (2016) Effects of forest therapy camp on quality of life and stress in postmenopausal women. For Sci Technol 12(3):125–129. https://doi.org/10.1080/21580103.2015.1108248

Zhang T, Deng S, Ma Q, Sasaki K (2015) Evaluations of landscape locations along trails based on walking experiences and distances traveled in the Akasawa Forest Therapy Base, Central Japan. Forests 6(8):2853–2878. https://doi.org/10.3390/f6082853
Electronic supplementary material
About this article
Cite this article
Antonelli, M., Barbieri, G. & Donelli, D. Effects of forest bathing (shinrin-yoku) on levels of cortisol as a stress biomarker: a systematic review and meta-analysis. Int J Biometeorol 63, 1117–1134 (2019). https://doi.org/10.1007/s00484-019-01717-x
Received:

Revised:

Accepted:

Published:

Issue Date:
Keywords
Forest bathing

Cortisol

Stress

Placebo effects

Review

Meta-analysis