Abstract
With the ever-progressing urbanization of human society comes lingering public issues, primarily those related to human health and the need to provide environments where the population can be routinely frequent. Also, the effects of climatic changes tend to aggravate such public health issues, mainly respiratory and cardiac symptoms. As such, analyzing and studying those environments can be crucial for public administrations in the decision-making processes. One such method of analysis involves using an air enthalpy index to profile and provide a picture of stress situations, helping expedite preventive measures and hospital logistics. With that, this study used the enthalpy index as a tool to create a picture of the effect of seasonality on chronic health issues, such as respiratory and cardiac symptoms, for the city of Botucatu, a city with a characteristic tropical altitude climate. It was possible to determine that the air enthalpy profile is consistent throughout the year near the estimated thermal comfort boundaries, with peaks outside in hotter months. The hospitalizations tend to be more numerous during the transition from hot to cold seasons. Simple correlation analysis, along with a t test, provided further insight into the issue, showing strong correlation for pneumonia with the maximum enthalpy variation, which can relate to the heat amount variation in a given location. Also, an agreement was observed between enthalpy and an established thermal sensation index, the heat index, meaning that air enthalpy can be a reliable and simple index for environmental thermal comfort analysis. That being said, further studies are necessary to confirm these findings, considering a longer time frame, more diverse hospitalization data, and other meteorological parameters, like wind speed and precipitation.
This is a preview of subscription content, log in to check access.
Access options
Buy single article
Instant access to the full article PDF.
US$ 39.95
Price includes VAT for USA
Subscribe to journal
Immediate online access to all issues from 2019. Subscription will auto renew annually.
US$ 99
This is the net price. Taxes to be calculated in checkout.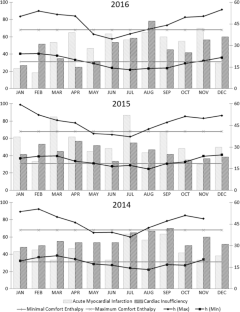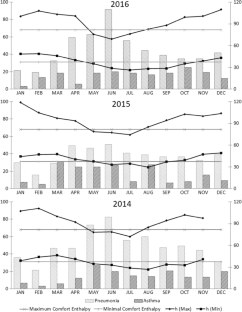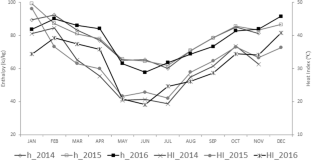 References
Albright LD (1990) Environment control for animals and plants. ASAE Textbook, vol 4. American Society of Agricultural Engineers Michigan, St. Joseph

Almeida EKA, Steinke ET (2016) Casos de internação hospitalar por doenças do aparelho respiratório e sua relação com variáveis meteorológicas no Distrito Federal, entre 2003 e 2012. Geografia 41:147–166

Almeida GLP, Pandorfi H, Guiselini C, Henrique HM, Almeida GAP (2011) Uso do sistema de resfriamento adiabático evaporativo no conforto térmico de vacas da raça girolando. Rev Bras Eng Agric Amb 15:754–760

Altman NS, Krzywinski M (2015) Points of significance: association, correlation and causation. Nat Methods 12:899–900

Azevedo PV, Bezerra PTC, Leitão MMVBR, Santos CAC (2015) Characterization of human thermal comfort in urban areas of Brazilian semiarid. Rev Bras Meteorol 30:371–380

Barnett AG, Sans S, Salomaa V (2007) The effect of temperature on systolic blood pressure. Blood Press Monit 12:195–203

Bunker A, Wildenhain J, Vandenbergh A, Henschke N, Rocklov J, Hajat S, Sauerborn R (2016) Effects of air temperature on climate-sensitive mortality and morbidity outcomes in the elderly: a systematic review and meta-analysis of epidemiological evidence. EBioMedicine 6:258–268

Centro de Pesquisas Meteorológicas e Climáticas Aplicadas à Agricultura (CEPAGRI). Clima dos municípios paulistas. http://www.cepagri.unicamp.br/outras-informacoes/clima-dos-municipios-paulistas.html. Accessed 04 April 2017

Chu CM, Jong TL (2008) Enthalpy estimation for thermal comfort and energy saving in air conditioning system. Energy Convers Manag 49:1620–1628

Cohen P, Cohen P, West S, Aiken L (1983) Applied multiple regression/correlation analysis for the behavorial sciences. Psychology Press, New York

Fanger PO (1970) Thermal comfort: analysis and applications in environmental engineering. Copenhagen - Danish Technical Press.

Gerber Y, Jacobsen SJ, Killian JM, Weston SA, Roger VL (2006) Seasonality and daily weather conditions in relation to myocardial infarction and sudden cardiac death in Olmsted County, Minnesota, 1979 to 2002. J Am Coll Cardiol 48:287–292

Gomes LCF (2016) Comportamento espaço-temporal da pneumonia e suas relações com os elementos climáticos e socioeconômicos em Campina Grande-PB. Thesis, Universidade Federal do Ceará

Gregorczuk M (1968) Bioclimates of the world related to air enthalpy. Int J Biometeorol 12:35–39

Heidari H, Golbabaei F, Shamsipour A, Forushani AR, Gaeni A (2016) Determination of air enthalpy based on meteorological data as an indicator for heat stress assessment in occupational outdoor environments, a field study in Iran. J Res Health Sci 16(3):133-140

Holmes DR Jr, Aguirre FV, Aplin R (2010) Circadian rhythms in patients with ST-elevation myocardial infarction. Circ Cardiovasc Qual Outcomes 3:382–389

Instituto Nacional de Meteorologia (INMET). Conforto Térmico Humano. http://www.inmet.gov.br/portal/index.php?r=clima/confortoTermicoHumano. Accessed 20 March 2017

Jehn M, Donaldson G, Kiran B, Liebers U, Mueller K, Scherer D, Endlicher W, Witt C (2013) Tele-monitoring reduces exacerbation of COPD in the context of climate change-a randomized controlled trial. Environ Health 12:99

Jehn M, Gebhardt A, Liebers U, Kiran B, Scherer D, Endlicher W, Witt C (2014) Heat stress is associated with reduced health status in pulmonary arterial hypertension: a prospective study cohort. Lung 192:619–624

Landsberg HE (1972). The assessment of human bioclimate. World Meteorological Organization

DATASUS - TABNET. Ministério da Saúde. Portal da Saúde. http://www2.datasus.gov.br/DATASUS/index.php?area=02. Accessed 23 March 2017

Moran DS, Pandolf KB, Shapiro Y, Heled Y, Shani Y, Mathew WT, Gonzalez RR (2001) An environmental stress index (ESI) as a substitute for the wet bulb globe temperature (WBGT). J Therm Biol 26:427–431

Nagarajan V, Fonarow GC, Ju C, Pencina M, Laskey WK, Maddox TM, Hernandez A, Bhatt DL (2017) Seasonal and circadian variations of acute myocardial infarction: findings from the Get with The Guidelines-Coronary Artery Disease (GWTG-CAD) program. Am Heart J 189:85–93

Rodrigues VC, Silva IJO, Vieira FMC, Nascimento ST (2011) A correct relationship as thermal comfort index for livestock. Int J Biometeorol (Print) 55:455–459

Rothfusz LP (1990) The heat index equation (or, more than you ever wanted to know about heat index). National Oceanic and Atmospheric Administration, Office of Meteorology Headquarters, Fort Worth

Santos VM, Dallago BSL, Racanicci AMC, Santana AP, Bernal FEM (2017) Effects of season and distance during transport on broiler chicken meat. Poult Sci 96:4270–4279

Sevegnani KB, Fernandes DPB, Silva SHM (2016) Evaluation of thermorregulatory capacity of dairy buffaloes using infrared thermography. Eng Agric 36(1):1–12

Shaposhnikov D, Revich B (2008) Excess mortality during heat waves and cold spells in Moscow, Russia. Occup Environ Med http://10.1136/oem.2007.033944 65(10):691-696

Silva IJO, Barbosa Filho JAD, Silva MAN, Piedade SMS (2006) Influence of breeding systems on behavior of two lineages of laying hens exposed to two environmental conditions. Rev Bras Zootec 35(4):1439-1446

Stafoggia M, Schwartz J, Forastiere F, Perucci CA (2008) Does temperature modify the association between air pollution and mortality? A multicity case-crossover analysis in Italy. Am J Epidemiol http://10.1093/aje/kwn074 167(12):1476-1485

Stewart S, McIntyre K, Capewell S, McMurray JJ (2002) Heart failure in a cold climate: seasonal variation in heart failure-related morbidity and mortality. J Am Coll Cardiol 39:760–766

Sun S, Laden F, Hart JE, Qiu H, Wang Y, Wong CM, Lee RS, Tian L (2018) Seasonal temperature variability and emergency hospital admissions for respiratory diseases: a population-based cohort study. Thorax http://10.1136/thoraxjnl-2017-211333 73:951–958

Vanasse A, Talbot D, Chebana F, Bélanger D, Blais C, Gamache P, Giroux JX, Dault R, Gosselin P (2017) Effects of climate and fine particulate matter on hospitalizations and deaths for heart failure in elderly: a population-based cohort study. Environ Int 106:257–266
Acknowledgements
Partial data of this present work were previously published in the VII Brazilian Congress of Biometeorology, Ambience, Behavior and Animal Welfare (VII CBBiomet).
About this article
Cite this article
Campos, F.S., Sarnighausen, V.C.R. & dos Santos Riccardi, C. Outdoor environment management through air enthalpy analysis. Int J Biometeorol 63, 1525–1532 (2019). https://doi.org/10.1007/s00484-019-01675-4
Received:

Revised:

Accepted:

Published:

Issue Date:
Keywords
Human biometeorology

Diseases

Preventive measurements

Thermal comfort

Air enthalpy