Abstract
Quantifying shifts in plant phenology in response to climate change represents an ongoing challenge, particularly in mountain ecosystems. Because climate change and phenological responses vary in space and time, we need long-term observations collected at a broad spatial scale. While data collection by volunteers is a promising approach to achieve this goal, one major concern with citizen science programs is the quality and reliability of data. Using a citizen science program (Phenoclim) carried out in the western European Alps, the goals of this study were to analyze (1) factors influencing participant retention rates, (2) the efficacy of a citizen science program for detecting temporal changes in the phenology of mountain trees, (3) differences in budburst date trends among different observer categories, and (4) the precision of trends quantified by different categories of participants. We used 12 years of annual tree phenology measurements recorded by volunteers (schools and private individuals) and professionals within the Phenoclim program. We found decadal-scale shifts in budburst date consistent with the results from other studies, including significant advances in budburst date for the common birch and European ash (− 4.0 and − 6.5 days per decade respectively). In addition, for three of six species, volunteers and professionals detected consistent directional trends. Finally, we show how differences in precision among the categories of participants are determined by the number of years of participation in the program, the number of sites surveyed, and the variability in trends among sites. Overall, our results suggest that participants with a wide range of backgrounds are capable of collecting data that can significantly contribute to the study of the impacts of climate change on mountain plant phenology.
This is a preview of subscription content, log in to check access.
Access options
Buy single article
Instant access to the full article PDF.
US$ 39.95
Price includes VAT for USA
Subscribe to journal
Immediate online access to all issues from 2019. Subscription will auto renew annually.
US$ 99
This is the net price. Taxes to be calculated in checkout.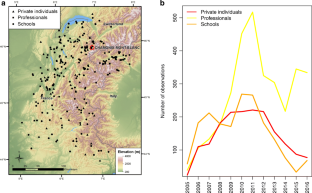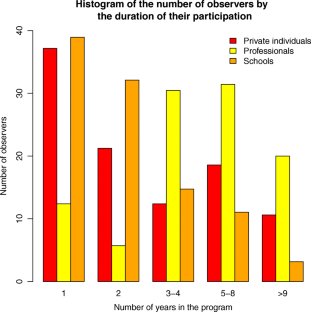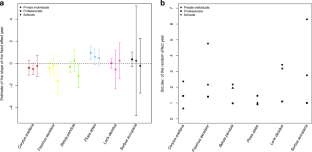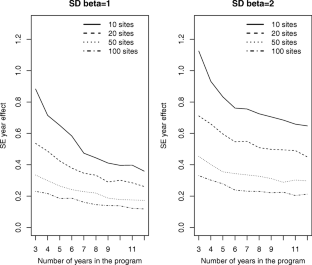 References
Aceves-Bueno E, Adeleye AS, Feraud M, Huang Y, Tao M, Yang Y, Anderson SE (2017) The accuracy of citizen science data: a quantitative review. Bull Ecol Soc Am 98:278–290

Andow DA, Borgida E, Hurley TM, Williams AL (2016) Recruitment and retention of volunteers in a citizen science network to detect invasive species on private lands. Environ Manag 58:606–618

Asse D, Chuine I, Vitasse Y, Yoccoz NG, Delpierre N, Badeau V, Delestrade A, Randin CF (2018) Warmer winters reduce the advance of tree spring phenology induced by warmer springs in the Alps. Agric For Meteorol 252:220–230

Bates D, Maechler M, Dai B (2011) Lme4: linear mixed-effects models using S4 classes. Version 0.999375–28

Beaubien E, Hamann A (2011) Plant phenology networks of citizen scientists: recommendations from two decades of experience in Canada. Int J Biometeorol 55:833–841

Beirne C, Lambin X (2013) Understanding the determinants of volunteer retention through capture-recapture analysis: answering social science questions using a wildlife ecology toolkit. Conserv Lett 6:391–401

Billings WD, Bliss LC (1959) An alpine snowbank environment and its effects on vegetation, plant development, and productivity. Ecology 40:388–397

Bird TJ, Bates AE, Lefcheck JS, Hill NA, Thomson RJ, Edgar GJ, Stuart-Smith RD, Wotherspoon S, Krkosek M, Stuart-Smith JF, Pecl GT, Barrett N, Frusher S (2014) Statistical solutions for error and bias in global citizen science datasets. Biol Conserv 173:144–154

Bonney R, Shirk JL, Phillips TB, Wiggins A, Ballard HL, Miller-Rushing AJ, Parrish JK (2014) Next steps for citizen science. Science 343:1436–1437

Both C, Van Asch M, Bijlsma RG, Van Den Burg AB, Visser ME (2009) Climate change and unequal phenological changes across four trophic levels: constraints or adaptations? J Anim Ecol 78:73–83

Brandon A, Spyreas G, Molano-Flores B, Carroll C, Ellis J (2003) Can volunteers provide reliable data for forest vegetation surveys? Nat Area J 23:254–262

Burnham K, Anderson DR (2003) Model selection and multimodel inference: a practical information-theoretic approach. Springer, New York

CaraDonna PJ, Iler AM, Inouye DW (2014) Shifts in flowering phenology reshape a subalpine plant community. Proc Natl Acad Sci 111:4916–4921

Chmielewski FM, Rötzer T (2001) Response of tree phenology to climate change across Europe. Agric For Meteorol 108:101–112

Choler P (2015) Growth response of temperature mountain grasslands to inter-annual variations in snow cover duration. Biogeosciences 12:3885–3897

Cleland EE, Chuine I, Menzel A, Moonez HA, Schwartz MD (2007) Shifting plant phenology in response to global change. Trends Ecol Evol 22:357–365

Cooper CB, Hochachka WM, Dhondt AA (2012) The opportunities and challenges of citizen science as a tool for ecological research. In: Citizen science: public participation in environmental research. Cornell University Press, New York, pp 98–113

Cox T, Philippoff J, Baumgartner E, Smith C (2012) Expert variability provides perspective on the strengths and weaknesses of citizen-driven intertidal monitoring program. Ecol Appl 22:1201–1212

Danielsen F, Jensen PM, Burgess ND, Altamirano R, Alviola PA, Andrianandrasana H, Brashares JS, Burton AC, Coronado I, Corpuz N, Enghoff M, Fjeldså J, Funder M, Holt S, Hübertz H, Jensen AE, Lewis R, Massao J, Mendoza MM, Ngaga Y, Pipper CB, Poulsen MK, Rueda RM, Sam MK, Skielboe T, Sørensen M, Young R (2014) A multicountry assessment of tropical resource monitoring by local communities. BioSci 64:236–251

Delaney DG, Sperling CD, Adams CS, Leung B (2008) Marine invasive species: validation of citizen science and implications for national monitoring networks. Biol Invasions 10:117–128

Dennis EB, Morgan BJT, Brereton TM, Roy DB, Fox R (2017) Using citizen science butterfly counts to predict species population trends. Conserv Biol 31:1350–1361

Devictor V, Mouillot D, Meynard C, Jiguet F, Thuiller W, Mouquet N (2010) Spatial mismatch and congruence between taxonomic phylogenetic and functional diversity: the need for integrative conservation strategies in a changing world. Ecol Lett 13:1030–1040

Dickinson JL, Zuckerberg B, Bonter DN (2010) Citizen science as an ecological research tool: challenges and benefits. Annu Rev Ecol Evol Syst 41:149–172

Domroese MC, Johnson EA (2017) Why watch bees? Motivations of citizen science volunteers in the Great Pollinator Project. Biol Conserv 208:40–47

Dunn P (2004) Breeding dates and reproductive performance. Adv Ecol Res 35:69–87

Feldman RE, Zemaite I, Miller-Rushing AJ (2018) How training citizen scientists affect the accuracy and precision of phenological data. Int J Biometeorol 1:15

Fitter AH, Fitter RSR (2002) Rapid changes in flowering time in British plants. Science 296:1689–1691

Fitzpatrick MC, Preisser EL, Ellison AM, Elkinton JS (2009) Observer bias and the detection of low-density populations. Ecol Appl 19:1673–1679

Forrest J, Miller-Rushing AJ (2010) Toward a synthetic understanding of the role of phenology in ecology and evolution. Philos Trans R Soc Lond B 365:3101–3112

Forrester G, Baily P, Conetta D, Forrester L, Kintzing E, Jarecki L (2015) Comparing monitoring data collected by volunteers and professionals shows that citizen scientists can detect long-term change on coral reefs. J Nat Conserv 24:1–9

Fu YH, Piao S, Op de Beeck M, Cong N, Zhao H, Zhang Y, Menzel A, Janssens IA (2014) Recent spring phenology shifts in western Central Europe based on multiscale observations. Glob Ecol Biogeogr 23:1255–1263

Fuccillo KK, Crimmins TM, de Rivera CE, Elder TS (2015) Assessing accuracy in citizen science-based plant phenology monitoring. Int J Biometeorol 59:917–926

Gardiner MM, Allee LL, Brown PMJ, Losey JE, Roy HE, Smyth RR (2012) Lessons from lady beetles: accuracy of monitoring data from US and UK citizen-science programs. Front Ecol Environ 10:471–476

Gobiet A, Kotlarski S, Beniston M, Heinrich G, Rajczak J, Stoffel M (2014) 21st century climate change in the European Alps – a review. Sci Total Environ 493:1138–1151

Gonsamo A, D'Odorico P (2014) Citizen science: best practices to remove observer bias in trend analysis. Int J Biometeorol 58:2159–2163

Gonsamo A, Chen JM, Wu C (2013) Citizen science: linking the recent rapid advances of plant flowering in Canada with climate variability. Sci Rep 3:2239

Hof AR, Bright PW (2016) Quantifying the long-term decline of the West European hedgehog in England by subsampling citizen-science datasets. Eur J Wildlife Res 62:407–413

Hurlbert AH, Liang Z (2012) Spatiotemporal variation in avian migration phenology: citizen science reveals effects of climate change. PLoS One 7:e31662

Iler AM, Inouye DW, Schmidt NM, Høye TT (2017) Detrending phenological time series improves climate-phenology analyses and reveals evidence of plasticity. Ecology 98:647–655

Inouye DW (2008) Effects of climate change on phenology, frost damage, and floral abundance of montane wildflowers. Ecology 89:353–362

Jiguet F (2009) Method learning caused a first-time observer effect in a newly started breeding bird survey. Bird Study 56:253–258

Johnson MF, Hannah C, Acton L, Popovici R, Karanth KK, Weinthal E (2014) Network environmentalism: citizen scientists as agents for environmental advocacy. Glob Environ Chang 29:235–245

Karlsen SR, Solheim I, Beck PSA, Høgda KA, Wielgolaski FE, Tømmervik H (2007) Variability of the start of the growing season in Fennoscandia, 1982-2002. Int J Biometeorol 51:513–524

Kendall WL, Peterjohn BG, Sauer JR (1996) First-time observer effects in the North American breeding bird survey. Auk 113:823–829

Klein G, Vitasse Y, Rixen C, Marty C, Rebetez M (2016) Shorter snow cover duration since 1970 in the swiss alps due to earlier snowmelt more than to later snow onset. Clim Chang 139:637–649

Körner C, Paulsen J, Spehn EM (2011) A definition of mountains and their bioclimatic belts for global comparisons of biodiversity data. Alp Botany 121:73–78

Kosmala M, Wiggins A, Swanson A, Simmons B (2016) Assessing data quality in citizen science. Front Ecol Environ 14:551–560

Kremen C, Ullman K, Thorp R (2011) Evaluating the quality of citizen-scientist data on pollinator communities. Conserv Biol 25:607–617

Lancashire PD, Bleiholder H, Boom TVD, Langeluddeke P, Stauss R, Weber E, Witzenberger A (1991) A uniform decimal code for growth stages of crops and weeds. Ann Appl Biol 119:561–601

Lewandowki EJ, Oberhauser KS (2017) Contributions of citizen scientists and habitat volunteers to monarch butterfly conservation. Hum Dimens Wildl 22:55–70

Lewandowski EJ, Specht H (2015) Influence of volunteer and project characteristics on data quality of biological surveys. Conserv Biol 29:713–723

Lottig NR, Wagner T, Henry EN, Cheruvelil KS, Webster KE, Downing JA, Stow CA (2014) Long-term citizen-collected data reveal geographical patterns and temporal trends in lake water clarity. PLoS One 9:e95769

Lotz A, Allen CR (2007) Observer bias in anuran call surveys. J Wildl Manag 71:675–679

Lovell S, Hamer M, Slotow R, Herbert D (2009) An assessment of the use of volunteers for terrestrial invertebrate biodiversity surveys. Biodivers Conserv 18:3295–3307

Menzel A, Sparks TH, Estrella N, Koch E, Aasa A, Ahas R, Alm-Kübler K, Bissolli P, Braslavská O, Briede A et al (2006) European phenological response to climate change matches the warming pattern. Glob Chang Biol 12:1969–1976

Milberg P, Bergstedt J, Fridman J, Odell G, Westerberg L (2008) Observer bias and random variation in vegetation monitoring data. J Veg Sci 19:633–644

Miller-Rushing AJ, Primack R, Bonney R (2012) The history of public participation in ecological research. Front Ecol Environ 10:285–290

Morisette JT, Richardson AD, Knapp AK, Fisher JI, Graham EA, Abatzoglou J, Wilson BE, Breshears DD, Henebry GM, Hanes JM, Liang L (2009) Tracking the rhythm of the seasons in the face of global change: phenological research in the 21st century. Front Ecol Environ 7:253–260

Osborn DA, Pearse JS, Roe CA (2005) Monitoring rocky intertidal shorelines: a role for the public in resource management. Calif Worl Ocean 624–636

Parmesan C (2006) Ecological and evolutionary responses to recent climate change. Annu Rev Ecol Evol Syst 37:637–669

Parmesan C, Yohe G (2003) A globally coherent fingerprint of climate change impacts across natural systems. Nature 421:37–42

Pellerin M, Delestrade A, Mathieu G, Rigault O, Yoccoz NG (2012) Spring tree phenology in the Alps: effects of air temperature, altitude and local topography. Eur J For Res 131:1957–1965

Peñuelas J, Filella I (2001) Responses to a warming world. Science 294:793–795

Pope KS, Dose V, Da Silva D, Brown PH, Leslie CA, Dejong TM (2013) Detecting nonlinear response of spring phenology to climate change by Bayesian analysis. Glob Chang Biol 19:1518–1525

Primack R, Gallinat A (2016) Spring budburst in a changing climate. Am Sci 104:102–109

R Core Team (2017) R: a language and environment for statistical computing. R Foundation for Statistical Computing, Vienna URL https://www.R-project.org/

Rebetez M, Reinhard M (2008) Monthly air temperature trends in Switzerland 1901–2000 and 1975–2004. Theor Appl Climatol 91:27–34

Ryan RL, Kaplan R, Grese RE (2001) Predicting volunteer commitment in environmental stewardship programmes. J Environ Plann Man 44:629–648

Sherry RA, Zhou C, Gu S, Arnone JA, Schimel DS, Verburg PS, Wallace LL, Luo Y (2007) Divergence of reproductive phenology under climate warming. Proc Natl Acad Sci 104:198–202

Sparks TH, Menzel A (2002) Observed changes in seasons: an overview. Int J Climatol 22:1715–1725

Stan Development Team (2017) Stan modeling language users guide and reference manual. http://mc-stan.org/documentation/

Tredick CA, Lewison RL, Deutschman DH, Hunt TA, Gordon KL, Von Hendy P (2017) A rubric to evaluate citizen-science programs for long-term ecological monitoring. BioScience 67:834–844

Visser ME, Holleman LJM, Gienapp P (2006) Shifts in caterpillar biomass phenology due to climate change and its impact on the breeding phenology of an insectivorous bird. Oecologia 147:164–172

Vitasse Y, Delzon S, Dufrêne E, Pontailler JY, Louvet JM, Kremer A, Michalet R (2009) Leaf phenology sensitivity to temperature in European trees: do within-species populations exhibit similar responses? Agric For Meteorol 149:735–744

Vitasse Y, Schneider L, Rixen C, Christen D, Rebetez M (2018a) Increase in the risk of exposure of forest and fruit trees to spring frosts at higher elevations in Switzerland over the last four decades. Agric For Meteorol 248:60–69

Vitasse Y, Signarbieux C, Fu YH (2018b) Global warming leads to more uniform spring phenology across elevations. Proc Natl Acad Sci 115:1004–1008

Walther GR, Post E, Convey P, Menzel A, Parmesan C, Beebee TJ, Fromentin JM, Hoegh-Guldberg O, Bairlein F (2002) Ecological responses to recent climate change. Nature 416:389–395

West S, Pateman R (2016) Recruiting and retaining participants in citizen science: what can be learned from the volunteering literature? Cit Sci: Theo Prac 1:1–10

Williams BK, Nichols JD, Conroy MJ (2002) Analysis and management of animal populations. Academic Press, San Diego

Wipf S, Stoeckli V, Bebi P (2009) Winter climate change in alpine tundra : plant responses to changes in snow depth and snowmelt timing. Clim Chang 94:105–121

Yoccoz NG, Delestrade A, Loison A (2010) Impact des changements climatiques sur les écosystèmes alpins: comment les mettre en évidence et les prévoir? J Alp Res :98–94. https://doi.org/10.4000/rga.1279
Acknowledgments
We warmly thank the Phenoclim observers' network managers Gwladys Mathieu, Olivier Rigault, Floriane Macian, Mélanie Saulnier, Christophe Amblard, Marie Pachoud, Daphne Asse, Anne Brasselet, and all the observers that provided the data used in this study. We also thank two anonymous reviewers for their useful comments. The Phenoclim program was supported by the Rhône-Alpes and Provence-Alpes-Cote d'Azur Regions and French Ministry of Environment.
Electronic supplementary material
About this article
Cite this article
Bison, M., Yoccoz, N.G., Carlson, B.Z. et al. Comparison of budburst phenology trends and precision among participants in a citizen science program. Int J Biometeorol 63, 61–72 (2019). https://doi.org/10.1007/s00484-018-1636-x
Received:

Revised:

Accepted:

Published:

Issue Date:
Keywords
Citizen science

Volunteer retention

Climate change

Mountain

European Alps

Accuracy