Abstract
There is consensus within tourism research that tourists are sensitive to weather. The climate of a destination is believed to influence the selection of a destination, the timing of the visit and the enjoyment of the destination. The climatic suitability of locations for tourism is often evaluated using indices of climatic data, including the Tourism Climatic Index and the Climate Index for Tourism. The output of these indices is a measure of suitability based on the climatic conditions of the destination alone. This is valuable in facilitating baseline comparisons between destinations, but ignores the role of the country of origin of tourists, the anticipated climatic conditions and the infrastructure in tourist accommodation establishments and attractions. We explore the influence of these factors on the sensitivity of tourists to the climate of a destination, using commentary on climatic factors in TripAdvisor reviews for a selection of 19 locations in South Africa. An improved understanding of the climatic sensitivity of specific tourist groups and climatic challenges in tourist accommodation establishments, facilitates improved adaptation to climate change threats to the tourist sector.
Access options
Buy single article
Instant access to the full article PDF.
US$ 39.95
Tax calculation will be finalised during checkout.
Subscribe to journal
Immediate online access to all issues from 2019. Subscription will auto renew annually.
US$ 79
Tax calculation will be finalised during checkout.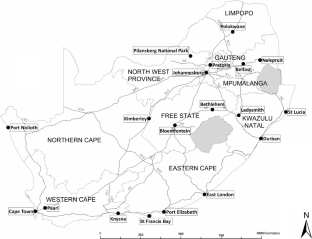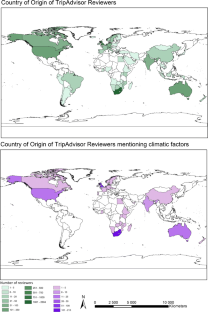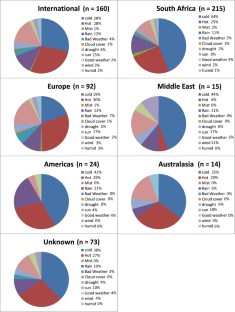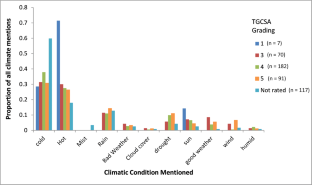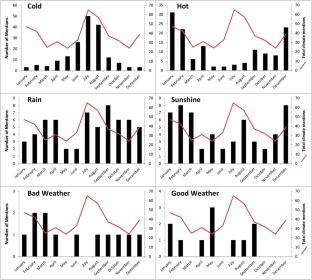 References
Agnew MD, Viner D (2001) Potential impacts of climate change on international tourism. JHTR 3(1):37–60

Ayeh JK, Au N, Law R (2013) "Do we believe in TripAdvisor?" Examining credibility perceptions and online travelers' attitude toward using user-generated content. J Travel Res, 52(4):437–452

Banerjee S, Chua AYK (2016) In search of patterns among travellers' hotel ratings in TripAdvisor. Tour Manag 53:125–131

Becker S (1998) Beach comfort index—a new approach to evaluate the thermal conditions of beach holiday resorts using a south African example. GeoJ 44(4):297–307

Burns P, Bibbings L (2009) The end of tourism? Climate change and societal challenges. 21st Cent Soc 4(1):31–51

Cox C, Burgess S, Sellitto C, Buultjens J (2009) The role of user-generated content in tourists' travel planning behavior. J Hosp Mark Manag 18(8):743–764

de Freitas CR, Scott D, McBoyle G (2008) A second generation climate index for tourism (CIT): specification and verification. Int J Biometeorol 52(5):399–407

Denstadli JM, Jacobsen JKS, Lohmann M (2011) Tourist perceptions of summer weather in Scandinavia. Ann Tour Res 38(3):920–940

Du Plessis E, Saayman M (2011a) Factors influencing pricing in the accommodation sector in South Africa. S Afr J Entrep Small Business Man 4(1):24–47

Du Plessis E, Saayman M (2011b) Grading and price in the accommodation sector of South Africa. Acta Acad 43(1):130–145

Fitchett JM, Grant B, Hoogendoorn G (2016a) Climate change threats to two low-lying south African coastal towns: risks versus perceptions. S Afr J Sci 112(5–6). https://doi.org/10.2478/bog-2016-0005

Fitchett JM Hoogendoorn G (under review). Assessing the climate sensitivity of tourists to South Africa through TripAdvisor reviews. Submitted to S Afr Geogr J

Fitchett JM, Hoogendoorn G, Swemmer AW (2016b) Economic costs of the 2012 floods on tourism in the Mopani district municipality, South Africa. Trans R Soc S Afr 71(2):187–194

Fitchett JM, Robinson D, Hoogendoorn G (2017) Climatic suitability for tourism in South Africa. J Sustain Tour 25(6):851–867

Fouillet A, Rey G, Wagner V, Laaidi K, Empereur-Bissonnet P, Le Tertre A et al (2008) Has the impact of heat waves on mortality changed in France since the European heat wave of summer 2003? A study of the 2006 heat wave. Int J Epidemiol 37(2):309–317

Giddy JK, Fitchett JM, Hoogendoorn G (2017) Insight into American tourists' experiences with weather in South Africa. Bull Geogr 38:57–71

Gössling S, Hall CM (2006) Uncertainties in predicting tourist flows under scenarios of climate change. Clim Chang 79(3–4):163–173

Gössling S, Scott D, Hall CM, Ceron JP, Dubois G (2012) Consumer behaviour and demand response of tourists to climate change. Ann Tour Res 39(1):36–58

Hasan MK, Ismail AR, Islam MF (2017) Tourist risk perceptions and revisit intention: a critical review of the literature. Cog Bus Man 4. https://doi.org/10.1080/23311975.2017.1412874

Hoogendoorn G, Grant B, Fitchett J (2015) Towards green guest houses in South Africa: the case of Gauteng and KwaZulu-Natal. S Afr Geogr J 97(2):123–138

Hoogendoorn G, Grant B, Fitchett J (2016) Disjunct perceptions? Climate change threats in two low-lying south African coastal towns. Bull Geogr 31:59–71

Hyde KF, Olesen K (2011) Packing for touristic performances. Ann Tour Res 38(3):900–919

Kasim A, Gursoy D, Okumus F, Wong A (2014) The importance of water management in hotels: a framework for sustainability through innovation. J Sustain Tour 22(7):1090–1107

Litvin SW, Dowling KM (2018) TripAdvisor and hotel consumer brand loyalty. Curr Issues Tour 21(8):842–846

Lorde T, Jackman M (2013) Evaluating the impact of crime on tourism in Barbados: a transfer function approach. Tour Anal 18(2):183–191

Ma Belén Gómez M (2005) Weather, climate and tourism a geographical perspective. Ann Tour Res 32(3):571–591

Maddison D (2001) In search of warmer climates? The impact of climate change on flows of British tourists. Clim Chang 49(1–2):193–208

Mieczkowski Z (1985) The tourism climatic index: a method of evaluating world climates for tourism. Géogr Can 29(3):220–233

Mirza MMQ (2003) Climate change and extreme weather events: can developing countries adapt? Clim Pol 3(3):233–248

Moreno A (2010) Mediterranean tourism and climate (change): a survey-based study. Tour Plan Dev 7(3):253–265

Moreno A (2017) Climate change impacts: the vulnerability of tourism in coastal Europe. In: Martens P, Chang CT (eds) The social and behavioural aspects of climate change: linking vulnerability and mitigation. Greanleaf Publishing, New York

Morgan R, Gatell E, Junyent R, Micallef A, Özhan E, Williams AT (2000) An improved user-based beach climate index. J Coast Conserv 6(1):41–50

O'Connor P (2008) User-generated content and travel: a case study on Tripadvisor.com. Information and Communication Technologies in Tourism, 47–58

O'Connor P (2010) Managing a hotel's image on TripAdvisor. J Hosp Mark Manag 19(7):754–772

Perch-Nielsen SL, Amelung B, Knutti R (2010) Future climate resources for tourism in Europe based on the daily tourism climate index. Climate Change 103:363–381

Perry A (2006) Will predicted climate change compromise the sustainability of Mediterranean tourism? J Sustain Tour 14(4):367–375

Reiter, C (2007) Travel Web sites clamp down on bogus reviews. Int Herald Tribune, p 12

Rutty M, Scott D (2015) Bioclimatic comfort and the thermal perceptions and preferences of beach tourists. Int J Biometeorol 59(1):37–45

Saayman A, Saayman M (2008) Determinants of inbound tourism to South Africa. Tour Econ 14(1):81–96

Scott D, Gössling S, de Freitas CR (2008) Preferred climates for tourism: case studies from Canada, New Zealand and Sweden. Clim Res 38(1):61–73

Scott D, McBoyle G (2001) Using a modified "tourism climate index" to examine the implications of climate change for climate as a natural resource for tourism. In: Matzarakis A, de Freitas CR (eds) Proceedings of the first international workshop on climate, tourism and recreation. Neos Marmaras, Halkidiki, pp 69–88

Sievänen T, Tervo K, Neuvonen M, Pouta E, Saarinen J, Peltonen A (2005) Nature-based tourism, outdoor recreation and adaptation to climate change (working paper 11). Helsinki, FINADAPT

Sönmez SF (1998) Tourism, terrorism, and political instability. Ann Tour Res 25(2):416–456

South African Weather Service (SAWS) (2017) A climate change reference atlas. Water Research Commission, Pretoria

Tervo-Kankare K, Hall CM, Saarinen J (2013) Christmas tourists' perceptions to climate change in Rovaniemi, Finland. Tour Geogr 15(2):292–317

Thompson K, Schofield P (2007) An investigation of the relationship between public transport performance and destination satisfaction. J Transp Geogr 15(2):136–144

Verbos RI, Brownlee MT (2017) The weather dependency framework (WDF): a tool for assessing the weather dependency of outdoor recreation activities. JORT 18:88–99

Wessels W, Du Plessis E, Slabbert E (2017) Key competencies and characteristics of accommodation managers. S Afr J Hum Res Man 15:1–11

Živković R, Gajić J, Brdar I (2014) The impact of social media on tourism. Sinteza. https://doi.org/10.15308/SInteZa-2014-758-761
About this article
Cite this article
Fitchett, J., Hoogendoorn, G. An analysis of factors affecting tourists' accounts of weather in South Africa. Int J Biometeorol 62, 2161–2172 (2018). https://doi.org/10.1007/s00484-018-1617-0
Received:

Revised:

Accepted:

Published:

Issue Date:
Keywords
Climate sensitivity

Climatic suitability

Accommodation

Tourism

TripAdvisor