Abstract
Recent findings highlight the role of skin microbiome in modulating immune function and inflammatory response. This systematic review aims to investigate the effects of muds, already used for the treatment of several rheumatic and dermatologic conditions, on skin microbiome. Medline via PubMed, Embase, Cochrane Library, and Google Scholar were searched for articles about the effects of therapeutic muds on microorganisms of skin microbiome. Five studies were included in the review and critically appraised. Limited data suggest that muds have various properties that may explain their action on skin microbiome, with different effects on commensal and pathogenic microorganisms. Further investigation on this topic is needed to better characterize the effects of different muds on skin microbiome, thus possibly extending their indications.
Access options
Buy single article
Instant access to the full article PDF.
USD 39.95
Price excludes VAT (USA)
Tax calculation will be finalised during checkout.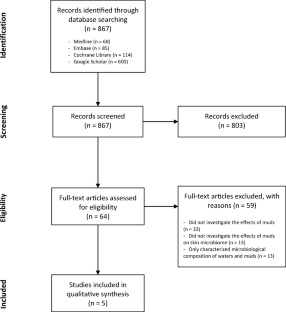 References
Abazari M, Zarrini G, Rasooli I (2013) Antimicrobial potentials of Leptolyngbya sp and its synergistic effects with antibiotics. Jundishapur J Microbiol 6(5). https://doi.org/10.5812/jjm.6536

Amin SA, Parker MS, Armbrust EV (2012) Interactions between diatoms and bacteria. Microbiol Mol Biol Rev 76(3):667–684. https://doi.org/10.1128/MMBR.00007-12

Andreoli C, Rascio N (1975) The algal flora in the thermal baths of Montegrotto Terme (Padua). Its distribution over one-year period. Int Rev Gesamten Hydrobiol 60:857–871. https://doi.org/10.1002/iroh.19750600606

Antonelli M, Donelli D (2018) Effects of balneotherapy and spa therapy on levels of cortisol as a stress biomarker: a systematic review. Int J Biometeorol:1–12. https://doi.org/10.1007/s00484-018-1504-8

Antonelli M, Donelli D, Fioravanti A (2018) Effects of balneotherapy and spa therapy on quality of life of patients with knee osteoarthritis: a systematic review and meta-analysis. Rheumatol Int:1–18. https://doi.org/10.1007/s00296-018-4081-6

Aries MF, Hernandez-Pigeon H, Vaissière C, Delga H, Caruana A, Lévêque M, Bourrain M, Ravard Helffer K, Chol B, Nguyen T, Bessou-Touya S, Castex-Rizzi N (2016) Anti-inflammatory and immunomodulatory effects of Aquaphilus dolomiae extract on in vitro models. Clin Cosmet Investig Dermatol 9:421. https://doi.org/10.2147/CCID.S113180

Basualdo JA, Schell CM, Sparo MD, Grenóvero MS, Giacomino MI, Belderrain AR, Monasterio A, De Michele D, De Luca MM (2011) Estudio de la actividad antimicrobiana del fango termal de Copahue (Neuquén, Argentina). Cienc Docencia Tecnol 43:217–235

Bazzichi L, Da Valle Y, Rossi A, Giacomelli C, Sernissi F, Giannaccini G, Betti L, Ciregia F, Giusti L, Scarpellini P, Dell'Osso L, Marazziti D, Bombardieri S, Lucacchini A (2013) A multidisciplinary approach to study the effects of balneotherapy and mud-bath therapy treatments on fibromyalgia. Clin Exp Rheumatol 31(6 Suppl 79):111–120

Behroozian S, Svensson SL, Davies J (2016) Kisameet clay exhibits potent antibacterial activity against the ESKAPE pathogens. MBio 7(1):e01842–e01815 http://mbio.asm.org/content/7/1/e01842-15

Berrini CC, De Appolonia F, Valle LD, Komárek J, Andreoli C (2004) Morphological and molecular characterization of a thermophilic cyanobacterium (Oscillatoriales) from the Euganean Thermal Springs (Padua, Italy). Algol Stud 113(1):73–85. https://doi.org/10.1127/1864-1318/2004/0113-0073

Boldyreva OA (2015) The influence of balneo-and peloid therapy on the characteristics of the hormonal regulation in the women presenting with bacterial vaginosis. Vopr Kurortol Fizioter Lech Fiz Kult 92(3):22–26

Burns EM, Yusuf N (2014) Toll-like receptors and skin cancer. Front Immunol 5:135. https://doi.org/10.3389/fimmu.2014.00135

Carretero MI (2002) Clay minerals and their beneficial effects upon human health. A review. Appl Clay Sci 21(3–4):155–163. https://doi.org/10.1016/S0169-1317(01)00085-0

Carretero MI, Lagaly G (2007) Clays and health: an introduction. Appl Clay Sci 36(1–3):1–3. https://doi.org/10.1016/j.clay.2006.09.001

Centini M, Tredici MR, Biondi N, Buonocore A, Maffei Facino R, Anselmi C (2015) Thermal mud maturation: organic matter and biological activity. Int J Cosmet Sci 37(3):339–347. https://doi.org/10.1111/ics.12204

Chiller K, Selkin BA, Murakawa GJ (2001) Skin microflora and bacterial infections of the skin. J Investig Dermatol Symp Proc 6(3):170–174). Elsevier. https://doi.org/10.1046/j.0022-202x.2001.00043.x

Contreras S, Sagory-Zalkind P, Blanquart H, Iltis A, Morand S (2017) Complete genome sequence of Vitreoscilla filiformis (ATCC 15551), used as a cosmetic ingredient. Genome Announc 5(34):e00913–e00917. https://doi.org/10.1128/genomeA.00913-17

De Michele D, Sparo MD, Giacomino M, Schell CM, De Luca MM, Grenóvero S, Belderrain A, Basualdo JÁ (2007) Acción inhibitoria de la fase líquida del fango del volcan Copahue, Neuquen, Argentina sobre la microbiota de piel, fosas nasales, intestinales y vaginal/Inhibitory effect of the liquid phase of Copahue Volcano mud (Neuquen, Argentina) on skin, nostrils, intestinal and vaginal microbiota. An Hidrol Méd 2:85

Espejo-Antúnez L, Cardero-Durán MA, Garrido-Ardila EM, Torres-Piles S, Caro-Puértolas B (2012) Clinical effectiveness of mud pack therapy in knee osteoarthritis. Rheumatology 52(4):659–668. https://doi.org/10.1093/rheumatology/kes322

Falkinham JO, Wall TE, Tanner JR, Tawaha K, Alali FQ, Li C, Oberlies NH (2009) Proliferation of antibiotic-producing bacteria and concomitant antibiotic production as the basis for the antibiotic activity of Jordan's red soils. Appl Environ Microbiol 75(9):2735–2741. https://doi.org/10.1128/AEM.00104-09

Fioravanti A, Karagülle M, Bender T, Karagülle MZ (2017) Balneotherapy in osteoarthritis: facts, fiction and gaps in knowledge. Eur J Integr Medi 9:148–150. https://doi.org/10.1016/j.eujim.2017.01.001

Fish SA, Codd GA (1994) Bioactive compound production by thermophilic and thermotolerant cyanobacteria (blue-green algae). World J Microbiol Biotechnol 10(3):338–341. https://doi.org/10.1007/BF00414875

Ghadiri M, Chrzanowski W, Rohanizadeh R (2015) Biomedical applications of cationic clay minerals. RSC Adv 5(37):29467–29481. https://doi.org/10.1039/C4RA16945J

Gomes C, Carretero MI, Pozo M, Maraver F, Cantista P, Armijo F, Legido JL, Teixeira F, Rautureau M, Delgado R (2013) Peloids and pelotherapy: historical evolution, classification and glossary. Appl Clay Sci 75:28–38. https://doi.org/10.1016/j.clay.2013.02.008

Grice EA, Segre JA (2011) The skin microbiome. Nat Rev Microbiol 9(4):244–253. https://doi.org/10.1038/nrmicro2537

Guéniche A, Cathelineau AC, Bastien P, Esdaile J, Martin R, Queille Roussel C, Breton L (2008a) Vitreoscilla filiformis biomass improves seborrheic dermatitis. J Eur Acad Dermatol Venereol 22(8):1014–1015. https://doi.org/10.1111/j.1468-3083.2007.02508.x

Guéniche A, Knaudt B, Schuck E, Volz T, Bastien P, Martin R, Röcken M, Breton L, Biedermann T (2008b) Effects of nonpathogenic gram-negative bacterium Vitreoscilla filiformis lysate on atopic dermatitis: a prospective, randomized, double-blind, placebo-controlled clinical study. Br J Dermatol 159(6):1357–1363. https://doi.org/10.1111/j.1365-2133.2008.08836.x

Halevy S, Sukenik S (1998) Different modalities of spa therapy for skin diseases at the Dead Sea area. Arch Dermatol 134(11):1416–1420. https://doi.org/10.1001/archderm.134.11.1416

Haydel SE, Remenih CM, Williams LB (2007) Broad-spectrum in vitro antibacterial activities of clay minerals against antibiotic-susceptible and antibiotic-resistant bacterial pathogens. J Antimicrob Chemother 61(2):353–361. https://doi.org/10.1093/jac/dkm468

Ishizuka I (1997) Chemistry and functional distribution of sulfoglycolipids. Prog Lipid Res 36(4):245–319. https://doi.org/10.1016/S0163-7827(97)00011-8

Kong HH, Segre JA (2012) Skin microbiome: looking back to move forward. J Investig Dermatol 132(3):933–939. https://doi.org/10.1038/jid.2011.417

Lai Y, Di Nardo A, Nakatsuji T, Leichtle A, Yang Y, Cogen AL, Wu ZR, Hooper LV, von Aulock S, Radek KA, Huang CM, Ryan AF, Gallo RL (2009) Commensal bacteria regulate TLR3-dependent inflammation following skin injury. Nat Med 15(12):1377–1382. https://doi.org/10.1038/nm.2062

Langan E, Griffiths C, Solbach W, Knobloch J, Zillikens D, Thaçi D (2018) The role of the microbiome in psoriasis: moving from disease description to treatment selection? Br J Dermatol 178:1020–1027. https://doi.org/10.1111/bjd.16081

Lee JH, Kim YG, Lee K, Kim CJ, Park DJ, Ju Y, Lee JC, Wood TK, Lee J (2016) Streptomyces-derived actinomycin D inhibits biofilm formation by Staphylococcus aureus and its hemolytic activity. Biofouling 32(1):45–56. https://doi.org/10.1080/08927014.2015.1125888

Ma'or Z, Henis Y, Alon Y, Orlov E, Sørensen KB, Oren A (2006) Antimicrobial properties of Dead Sea black mineral mud. Int J Dermatol 45(5):504–511. https://doi.org/10.1111/j.1365-4632.2005.02621.x

Mahe YF, Perez MJ, Tacheau C, Fanchon C, Martin R, Rousset F, Seite S (2013) A new Vitreoscilla filiformis extract grown on spa water-enriched medium activates endogenous cutaneous antioxidant and antimicrobial defenses through a potential toll-like receptor 2/protein kinase C, zeta transduction pathway. Clin Cosmet Investig Dermatol 6:191. https://doi.org/10.2147/CCID.S47324

Marcolongo G, De Appolonia F, Venzo A, Berrie CP, Carofiglio T, Ceschi Berrini C (2006) Diacylglycerolipids isolated from a thermophile cyanobacterium from the Euganean hot springs. Nat Prod Res 20(8):766–774. https://doi.org/10.1080/14786410500176393

Martin H, Laborel-Préneron E, Fraysse F, Nguyen T, Schmitt AM, Redoulès D, Davrinche C (2016) Aquaphilus dolomiae extract counteracts the effects of cutaneous S. aureus secretome isolated from atopic children on CD4+ T cell activation. Pharm Biol 54(11):2782–2785. https://doi.org/10.3109/13880209.2016.1173069

Miller SR, Castenholz RW (2000) The evolution of thermotolerance in hot spring cyanobacteria of the genus Synechococcus. J Phycol 36(s3):48–48. https://doi.org/10.1128/AEM.66.10.4222-4229.2000

Moro I, Rascio N, La Rocca N, Di Bella M, Andreoli C (2007) Cyanobacterium aponinum, a new cyanoprokaryote from the microbial mat of Euganean Thermal Springs (Padua, Italy). Arch Hydrobiol / Suppl Algol Stud 123:1–15. https://doi.org/10.1127/1864-1318/2007/0123-0001

Moro I, Rascio N, La Rocca N, Sciuto K, Albertano P, Bruno L, Andreoli C (2010) Polyphasic characterization of a thermo-tolerant filamentous cyanobacterium isolated from the Euganean thermal muds (Padova, Italy). Eur J Phycol 45(2):143–154. https://doi.org/10.1080/09670260903564391

Muñoz MS, Rodríguez CM, Rudnikas AG, Rizo OD, Martínez-Santos M, Ruiz-Romera E, Fagundo Castillo JR, Pérez-Gramatges A, Martínez-Villegas NV, Padilla DB, Díaz RH, González-Hernández P (2015) Physicochemical characterization, elemental speciation and hydrogeochemical modeling of river and peloid sediments used for therapeutic uses. Appl Clay Sci 104:36–47. https://doi.org/10.1016/j.clay.2014.11.029

Naik S, Bouladoux N, Wilhelm C, Molloy MJ, Salcedo R, Kastenmuller W, Deming C, Quinones M, Koo L, Conlan S, Spencer S, Hall JA, Dzutsev A, Kong H, Campbell DJ, Trinchieri G, Segre JA, Belkaid Y (2012) Compartmentalized control of skin immunity by resident commensals. Science (New York, N.Y.) 337(6098):1115–1119. https://doi.org/10.1126/science.1225152

Nakatsuji T, Chen TH, Butcher AM, Trzoss LL, Nam SJ, Shirakawa KT, Zhou W, Oh J, Otto M, Fenical W, Gallo RL (2018) A commensal strain of Staphylococcus epidermidis protects against skin neoplasia. Science Advances 4(2):eaao4502. https://doi.org/10.1126/sciadv.aao4502

Obeidat M (2017) Isolation and characterization of extremely halotolerant Bacillus species from Dead Sea black mud and determination of their antimicrobial and hydrolytic activities. Afr J Microbiol Res 11(32):1303–1314. https://doi.org/10.5897/AJMR2017.8608

Oufdou K, Mezrioui N, Oudra B, Loudiki M, Barakate M, Sbiyyaa B (2001) Bioactive compounds from Pseudanabaena species (cyanobacteria). Microbios 106:21–29

Ozdemir G, Ulku Karabay N, Dalay MC, Pazarbasi B (2004) Antibacterial activity of volatile component and various extracts of Spirulina platensis. Phytother Res 18(9):754–757. https://doi.org/10.1002/ptr.1541

Paduano S, Valeriani F, Romano-Spica V, Bargellini A, Borella P, Marchesi I (2017) Microbial biodiversity of thermal water and mud in an Italian spa by metagenomics: a pilot study. Water Sci Technol Water Supply:ws2017209. https://doi.org/10.2166/ws.2017.209

Pellegatta T, Saler M, Bonfanti V, Nicoletti G, Faga A (2016) Novel perspectives on the role of the human microbiota in regenerative medicine and surgery. Biomed Rep 5(5):519–524. https://doi.org/10.3892/br.2016.778

Pesciaroli C, Viseras C, Aguzzi C, Rodelas B, González-López J (2016) Study of bacterial community structure and diversity during the maturation process of a therapeutic peloid. Appl Clay Sci 132:59–67. https://doi.org/10.1016/j.clay.2016.05.015

Poensin D, Carpentier PH, Féchoz C, Gasparini S (2003) Effects of mud pack treatment on skin microcirculation. Joint Bone Spine 70(5):367–370. https://doi.org/10.1016/S1297-319X(03)00064-2

Quintela A, Terroso D, Da Silva EF, Rocha F (2012) Certification and quality criteria of peloids used for therapeutic purposes. Clay Miner 47(4):441–451. https://doi.org/10.1180/claymin.2012.047.4.04

Roth RR, James WD (1988) Microbial ecology of the skin. Annu Rev Microbiol 42(1):441–464. https://doi.org/10.1146/annurev.mi.42.100188.002301

Sabaté Brescó M, Harris LG, Thompson K, Stanic B, Morgenstern M, O'Mahony L, Richards RG, Moriarty TF (2017) Pathogenic mechanisms and host interactions in Staphylococcus epidermidis device-related infection. Front Microbiol 8:1401. https://doi.org/10.3389/fmicb.2017.01401

Salava A, Lauerma A (2014) Role of the skin microbiome in atopic dermatitis. Clin Transl Allergy 4(1):33. https://doi.org/10.1186/2045-7022-4-33

Sarada DV, Kumar CS, Rengasamy R (2011) Purified C-phycocyanin from Spirulina platensis (Nordstedt) Geitler: a novel and potent agent against drug resistant bacteria. World J Microbiol Biotechnol 27(4):779–783. https://doi.org/10.1007/s11274-010-0516-2

Schell CM, Sparo MD, De Luca MM, Grenóvero S, De Michele D, Giacomino M, Monasterio A, Belderrain A, Basualdo JA (2010) Actividad inhibitoria de la fase líquida del fango termal de Copahue (Neuquén, Argentina) sobre cepas de Staphylococcus aureus. An Hidrol Méd 3:21–33

Sedláček I, Kwon SW, Švec P, Mašlanˇová I, Kýrová K, Holochová P, Černohlávková J, Busse HJ (2016) Aquitalea pelogenes sp. nov., isolated from mineral peloid. Int J Syst Evol Microbiol 66(2):962–967. https://doi.org/10.1099/ijsem.0.000819

Sharma S, Grewal S, Vakhlu J (2018) Phylogenetic diversity and metabolic potential of microbiome of natural healing clay from Chamliyal (J&K). Arch Microbiol:1–11. https://doi.org/10.1007/s00203-018-1549-4

Sherwani MA, Tufail S, Muzaffar AF, Yusuf N (2018) The skin microbiome and immune system: potential target for chemoprevention? Photodermatol Photoimmunol Photomedi 34:25–34. https://doi.org/10.1111/phpp.12334

Singh S, Kate BN, Banerjee UC (2005) Bioactive compounds from cyanobacteria and microalgae: an overview. Crit Rev Biotechnol 25(3):73–95. https://doi.org/10.1080/07388550500248498

Svensson SL, Behroozian S, Xu W, Surette MG, Li L, Davies J (2017) Kisameet glacial clay: an unexpected source of bacterial diversity. mBio 8(3):e00590-17. https://doi.org/10.1128/mBio.00590-17

Tateo F, Ravaglioli A, Andreoli C, Bonina F, Coiro V, Degetto S, Giaretta A, Menconi Orsini A, Puglia V, Summa V (2009) The in-vitro percutaneous migration of chemical elements from a thermal mud for healing use. Appl Clay Sci 44(1–2):83–94. https://doi.org/10.1016/j.clay.2009.02.004

Thomas CL, Fernández-Peñas P (2017) The microbiome and atopic eczema: more than skin deep. Australas J Dermatol 58:18–24. https://doi.org/10.1111/ajd.12435

Tolomio C, Ceschi Berrini C, De Appolonia F, Galzigna L, Masiero L, Moro I, Moschin E (2002) Diatoms in the termal mud of Abano Terme, Italy (Maturation period). Arch Hydrobiol Algol Stud, Supplement Volumes 105:11–27

Tolomio C, Ceschi-Berrini C, Moschin E, Galzigna L (1999) Colonization by diatoms and antirheumatic activity of thermal mud. Cell Biochem Funct 17(1):29–33

Tolomio C, De Appolonia F, Moro I, Berrini CC (2004) Thermophilic microalgae growth on different substrates and at different temperatures in experimental tanks in Abano Terme (Italy). Arch Hydrobiol Algol Stud, Supplement Volumes 111:145–157. https://doi.org/10.1127/1864-1318/2004/0111-0145

Veniale F, Bettero A, Jobstraibizer PG, Setti M (2007) Thermal muds: perspectives of innovations. Appl Clay Sci 36(1–3):141–147. https://doi.org/10.1016/j.clay.2006.04.013

Wertz PW, van den Bergh B (1998) The physical, chemical and functional properties of lipids in the skin and other biological barriers. Chem Phys Lipids 91(2):85–96. https://doi.org/10.1016/S0009-3084(97)00108-4

Williams AC, Barry BW (2004) Penetration enhancers. Adv Drug Deliv Rev 56(5):603–618. https://doi.org/10.1016/j.addr.2003.10.025

Williams LB, Haydel SE, Giese RF Jr, Eberl DD (2008) Chemical and mineralogical characteristics of French green clays used for healing. Clay Clay Miner 56(4):437. https://doi.org/10.1346/CCMN.2008.0560405

Williams LB, Holland M, Eberl DD, Brunet T, Brunet de Courrsou L (2004) Killer clays. Natural antibacterial clay minerals. Mineral Soc Bull 139:3–8

Yu Y, Champer J, Beynet D, Kim J, Friedman AJ (2015) The role of the cutaneous microbiome in skin cancer: lessons learned from the gut. J Drugs Dermatol 14(5):461–465. https://doi.org/10.1016/j.jaad.2015.02.628

Zhang CL, Ye Q, Huang Z, Li W, Chen J, Song Z, Zhao W, Bagwell C, Inskeep WP, Ross C, Gao L, Wiegel J, Romanek CS, Shock EL, Hedlund BP (2008) Global occurrence of archaeal amoA genes in terrestrial hot springs. Appl Environ Microbiol 74(20):6417–6426. https://doi.org/10.1128/AEM.00843-08
About this article
Cite this article
Antonelli, M., Donelli, D. Mud therapy and skin microbiome: a review. Int J Biometeorol 62, 2037–2044 (2018). https://doi.org/10.1007/s00484-018-1599-y
Received:

Revised:

Accepted:

Published:

Issue Date:

DOI: https://doi.org/10.1007/s00484-018-1599-y
Keywords
Mud

Peloid

Balneotherapy

Skin microbiome

Immune system

Inflammation