Abstract
We aimed to test the anti-inflammatory and angiogenic properties of two different thermal waters at the cellular level in human keratinocyte cells in the present study. Two different thermal waters, thermo-mineral BJ1 (Bursa, Turkey) and oligomineral BG (Bolu, Turkey), were tested in human keratinocyte (HaCaT) cell line. HaCaT cells were incubated for 3 days with thermal waters; RNA isolation was carried out in the treated and untreated cells. The gene expressions of TNFα, IL-1α, and VEGF were measured using the RT-qPCR. The tested thermal waters significantly decreased the expression of IL-1α (BJ1 93% p = 0.0024 and BG 38% p = 0.0303). BJ1 and BG thermal waters downregulated the expression of TNFα (59% p = 0.0001 and 23% p = 0.0238 respectively). Furthermore, BJ1 and BG significantly downregulated the gene expression of VEGF (98% p = 0.0430 and 15% p = 0.0120). The observed decrease in the gene expression of TNFα and IL1α could be interpreted as an anti-inflammatory effect of mineral waters on HaCaT cells. Moreover, the suppressed VEGF expression might be an indicator of the antiangiogenic effect on human keratinocytes. Therefore, we hypothesized that depending on their specific chemical composition such as silica (128 mg/L) in BJ1 and hydrogen sulfide (1.2 mg/L) in BG, thermal waters suppress pro-inflammatory cytokines and angiogenic growth factor. These preliminary findings might give insight on the underlying mechanisms of the therapeutic benefits observed in some skin diseases such as rosacea and psoriasis.
Access options
Buy single article
Instant access to the full article PDF.
US$ 39.95
Tax calculation will be finalised during checkout.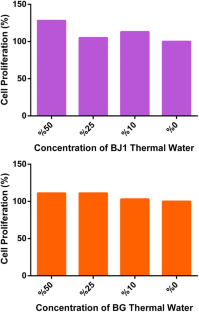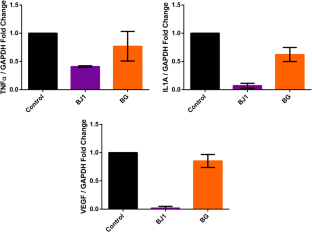 References
Beauvais F, Garcia-Mace JL, Joly F (1998) In vitro effects of Uriage spring water on the apoptosis of human eosinophils. Fundam Clin Pharmacol 12(4):446–450

Carbajo JM, Maraver F (2017) Sulphurous mineral waters: new applications for health. Evid Based Complement Alternat Med 2017:8034084

Celerier P, Litoux P, Dreno B, Richard A (1995) Modulatory effects of selenium and strontium salts on keratinocyte-derived inflammatory cytokines. Arch Dermatol Res 287(7):680–682

Chebassier N, Ouijja el H, Viegas I, Dreno B (2004) Stimulatory effect of boron and manganese salts on keratinocyte migration. Acta Derm Venereol 84:191–194

Chiarini A, Dal Pra I, Pacchiana R, Menapace L, Zumiani G, Zanoni M, Armato U (2006) Comano's (Trentino) thermal water interferes with the expression and secretion of vascular endothelial growth factor-A protein isoforms by cultured human psoriatic keratinocytes: a potential mechanism of its anti-psoriatic action. Int J Mol Med 18(1):17–25

E.W. Rice Federation, WE and American Public Health Association (2012) Standard methods for the examination of water and wastewater. American Public Health Association (APHA), Washington, DC

Elsholz F, Harteneck C, Muller W, Friedland K (2014) Calcium-a central regulator of keratinocyte differentiation in health and disease. Eur J Dermatol 24(6):650–661

Federation WE, American Public Health Association (2005) Standard methods for the examination of water and wastewater. American Public Health Association (APHA), Washington, DC

Ferreira MO, Costa PC, Bahia MF (2010) Effect of São Pedro do Sul thermal water on skin irritation. Int J Cosmet Sci 32(3):205–210

Ghersetich I, Brazzini B, Hercogova J, Lotti TM (2001) Mineral waters: instead of cosmetics or better than cosmetics? Clin Dermatol 194:478–482

Joly F, Charveron M, Aries MF, Bidault J, Kahhak L, Beauvais F, Gall Y (1998) Effect of Avène spring water on the activation of rat mast cell by substance P or antigen. Skin Pharmacol Physiol 11(2):111–116

Joly F, Branka JE, Lefeuvre L (2014) Thermal water from Uriage-les-Bains exerts DNA protection, induction of catalase activity and Claudin-6 expression on UV irradiated human skin in addition to its own antioxidant properties. J Cosmet Dermatol Sci Appl 4:99–106

Jung SH, Seo YK, Youn MY, Park CS, Song KY, Park JK (2009) Anti-aging and anti-inflammation effects of natural mineral extract on skin keratinocytes. Biotechnol Bioprocess Eng 14(6):861–868

Lansdown AB (2002) Calcium: a potential central regulator in wound healing in the skin. Wound Repair Regen 10(5):271–285

Lee HP, Choi YJ, Cho KA, Woo SY, Yun ST, Lee JT, Kim HJ, Lee KH, Kim JW (2012) Effect of spa spring water on cytokine expression in human keratinocyte HaCaT cells and on differentiation of CD4+ T cells. Ann Dermatol 24.3:324–336

Prasad AS (2014) Zinc: an antioxidant and anti-inflammatory agent: role of zinc in degenerative disorders of aging. J Trace Elem Med Biol 28:364–371

Seite S (2013) Thermal waters as cosmeceuticals: La Roche-Posay thermal spring water example. Clin Cosmet Investig Dermatol 6:23

Staquet MJ, Peguet-Navarro J, Richard A, Schmitt D, Rougier A (2002) In vitro effect of a spa water on the migratory and stimulatory capacities of human Langerhans calls. Eur J Dermatol 12.4:LIX–LXI

Varga C, László M, Gerencsér G, Gyöngyi Z, Szendi K (2015) Natural UV-protective organic matter in thermal water. J Photochem Photobiol B Biol 144:8–10

Verdy C, Branka JE, Lefeuvre L (2012) Modulation of sodium-dependent transporters expression in normal human keratinocytes by a sodium rich isotonic thermal water. J Cosmet Dermatol Sci Appl 2:254–262

Yang C, Yang Z, Zhang M, Dong Q, Wang X, Lan A, Zeng F, Chen P, Wang C, Feng J (2011) Hydrogen sulfide protects against chemical hypoxia-induced cytotoxicity and inflammation in HaCaT cells through inhibition of ROS/NF-κB/COX-2 pathway. PLoS One 6(7):e21971
Acknowledgments
We would like to thank the provider of the samples of thermal waters: Bursa Jeotermal A.Ş., Bursa, Turkey, and Erpilic A.Ş., Bolu, Turkey.
About this article
Cite this article
Karagülle, M.Z., Karagülle, M., Kılıç, S. et al. In vitro evaluation of natural thermal mineral waters in human keratinocyte cells: a preliminary study. Int J Biometeorol 62, 1657–1661 (2018). https://doi.org/10.1007/s00484-018-1565-8
Received:

Revised:

Accepted:

Published:

Issue Date:
Keywords
Natural thermal waters

HaCaT

TNFα

IL-1α

VEGF