Abstract
The aim of this study was to evaluate the efficacy of balneological outpatient treatment including hydrotherapy and peloidotherapy on patients with chronic low back pain. In this retrospective observational study, the records (between 2008 and 2016) of patients who have undergone balneological outpatient treatment at the Department of Medical Ecology and Hydroclimatology were analyzed. The patients were examined and assessed by an experienced physician before and after the treatment. Outcome measures were the Pain Visual Analog Scale (VAS), patient's and physician's global assessment (VAS), Health Assessment Questionnaire (HAQ), and the Waddell Disability Index. A total of 139 patients were included in the study. After the treatment, statistically significant improvement in all evaluated outcome measures was found. The detailed analysis showed age, the duration of treatment, and sex did not affect the effectiveness of the treatment. Balneological outpatient treatment may be an effective option for treatment of chronic low back pain patients with the advantages of being integrated into daily routine and not causing any days off by improving pain and increasing the quality of life. Randomized controlled trials are needed to confirm these preliminary results.
Access options
Buy single article
Instant access to the full article PDF.
USD 39.95
Price excludes VAT (USA)
Tax calculation will be finalised during checkout.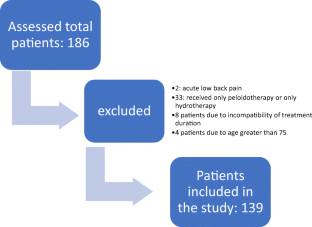 References
Abu-Shakra M, Mayer A, Friger M, Harari M (2014) Dead Sea mud packs for chronic low back pain. Isr Med Assoc J 16:574–577

Bruce B, Fries JF (2005) The Health Assessment Questionnaire (HAQ). Clin Exp Rheumatol 23:14–18

Ciani O, Pascarelli NA, Giannitti C, Galeazzi M, Meregaglia M, Fattore G, Fioravanti A (2017) Mud-bath therapy in addition to usual care in bilateral knee osteoarthritis: economic evaluation alongside a randomized controlled trial. Arthritis Care Res (Hoboken) 69(7):966–972

Constant F, Collin JF, Guillemin F, Boulangé M (1995) Effectiveness of spa therapy in chronic low back pain: a randomized clinical trial. J Rheumatol 22:1315–1320

Constant F, Guillemin F, Collin JF, Boulangé M (1998) Use of spa therapy to improve the quality of life of chronic low back pain patients. Med Care 36:1309–1314

Deyo RA, Rainville J, Kent DL (1991) What can the history and physical examination tell us about low back pain. Jama 268(6):760–765

Dogan M, Sahin O, Elden H, Hayta E, Kaptanoglu E (2011) Additional therapeutic effect of balneotherapy in low back pain. South Med J 104:574–578

Fioravanti A, Cantarini L, Guidelli GM, Galeazzi M (2011) Mechanisms of action of spa therapies in rheumatic diseases: what scientific evidence is there? Rheumatol Int 31(1):1–8. https://doi.org/10.1007/s00296-010-1628-6

Fioravanti A, Bacaro G, Giannitti C, Tenti S, Cheleschi S, Guidelli GM, Pascarelli NA, Galeazzi M (2015) One-year follow-up of mud-bath therapy in patients with bilateral knee osteoarthritis: a randomized, single-blind controlled trial. Int J Biometeorol 59:1333–1343

Fioravanti A, Karagülle M, Bender T, Karagülle MZ (2017) Balneotherapy in osteoarthritis: facts, fiction and gaps in knowledge. Eur J Integr Med 9:148–150. https://doi.org/10.1016/j.eujim.2017.01.001

Gáti T, Tefner IK, Kovács L, Hodosi K, Bender T (2018) The effects of the calcium-magnesium-bicarbonate content in thermal mineral water on chronic low back pain: a randomized, controlled follow-up study. Int J Biometeorol 62:897–905

Giannitti C, De Palma A, Pascarelli NA, Cheleschi S, Giordano N, Galeazzi M, Fioravanti A (2017) Can balneotherapy modify microRNA expression levels in osteoarthritis? A comparative study in patients with knee osteoarthritis. Int J Biometeorol 61(12):2153–2158

Gutenbrunner C, Bender T, Cantista P, Karagulle Z (2010) A proposal for a worldwide definition of health resort medicine, balneology, medical hydrology and climatology. Int J Biometeorol 54:495–507

Huskisson EC (1982) Measurement of pain. J Rheumatol 9(5):768–769

Karagulle MZ (2002) Kaplıca Tıbbı ve Kaplıca Tedavisi. In: Karagulle MZ (ed) Balneoloji ve Kaplıca Tıbbı. Nobel Kitapevi, Istanbul, pp 15–36

Karagülle M, Karagülle Z (2015) Effectiveness of balneotherapy and spa therapy for the treatment of chronic low back pain: a review on latest evidence. Clin Rheumatol 34:207–214

Kardeş S, Karagülle M, Geçmen İ, Adıgüzel T, Yücesoy H, Karagülle MZ (2018) Outpatient balneological treatment of osteoarthritis in older persons: a retrospective study. Z Gerontol Geriatr. https://doi.org/10.1007/s00391-018-1370-3

Kesiktas N, Karakas S, Gun K, Gun N (2012) Balneotherapy for chronic low back pain: a randomized, controlled study. Rheumatol Int 32:3193–3199

Koes B, Van Tulder MW, Thomas S (2006) Diagnosis and treatment of low back pain. BMJ 332:1430–1434

Konrad K, Tatrai T, Hunka A, Vereckei E, Korondi I (1992) Controlled trial of balneotherapy in treatment of low back pain. Ann Rheum Dis 51:820–822

Küçükdeveci A, Şahin H, Ataman Ş, Griffiths B, Tennant A (2004) Issue in cross-cultural validity: example from the adaptation, reliability, and validity testing of a Turkish version of the Stanford Health Assessment Questionnaire. Arthritis Rheum 51:14–19

Onat ŞŞ, Taşoğlu Ö, Güneri FD, Özişler Z, Safer VB, Özgirgin N (2014) The effectiveness of balneotherapy in chronic low back pain. Clin Rheumatol 33:1509–1513

Özkuk K, Gürdal H, Karagulle M (2017) Balneological outpatient treatment for patients with knee osteoartritis; an effective non drug therapy option in daily routine? Int J Biometeorol 61:719–728

Pittler M, Karagulle Z, Karagulle M, Ernst E (2006) Spa therapy and balneotherapy for treating low back pain: meta-analysis of randomized trials. Rheumatology 45:880–884

Şen U, Karagülle MZ, Karagülle M, Erkorkmaz Ü (2008) The efficacy of peloidotherapy on the patients with chronic low back pain. Turkiye Klinikleri J Med Sci 28:5–11

Van Middelkoop M, Rubinstein SM, Verhagen AP et al (2010) Exercise therapy for chronic nonspecific low-back pain. Best Pract Res Clin Rheumatol 24:193–204

Waddell G, Main CJ (1984) Assessment of severity in low-back disorders. Spine 9:204–208
Ethics declarations
Ethical approval
All procedures performed in studies involving human participants were in accordance with the ethical standards of the institutional and/or national research committee and with the 1964 Helsinki declaration and its later amendments or comparable ethical standards. For this type of study, formal consent is not required.
Conflict of interest
The authors declare that they have no conflict of interest.
Informed consent
Informed consent was obtained from all individual participants included in the study.
About this article
Cite this article
Yücesoy, H., Geçmen, İ., Adıgüzel, T. et al. Efficacy of balneological outpatient treatment (hydrotherapy and peloidotherapy) for the management of chronic low back pain: a retrospective study. Int J Biometeorol 63, 351–357 (2019). https://doi.org/10.1007/s00484-018-01668-9
Received:

Revised:

Accepted:

Published:

Issue Date:

DOI: https://doi.org/10.1007/s00484-018-01668-9
Keywords