Abstract
"Walkability" or walking-friendliness is generally considered a favourable attribute of a neighbourhood that supports physical activity and improves health outcomes. Walkable neighbourhoods tend to have high-density infrastructure and relatively high amounts of concrete and pavement for sidewalks and streets, all of which can elevate local urban temperatures. The objective of this study was to assess whether there is a "heat penalty" associated with more walkable neighbourhoods in Montréal, Québec, Canada, using air temperature measurements taken in real time at street level during a heat event. The mean temperature of "Car-Dependent" neighbourhoods was 26.2 °C (95% CI 25.8, 26.6) whereas the mean temperature of "Walker's Paradise" neighbourhoods was 27.9 °C (95% CI 27.8, 28.1)—a difference of 1.7 °C (95% CI 1.3, 2.0). There was a strong association between higher walkability of Montréal neighbourhoods and elevated temperature (r = 0.61, p < 0.01); suggestive of a heat penalty for walkable neighbourhoods. Planning solutions that support increased walking-friendliness of neighbourhoods should consider simultaneous strategies to mitigate heat to reduce potential health consequences of the heat penalty.
Access options
Buy single article
Instant access to the full article PDF.
US$ 39.95
Tax calculation will be finalised during checkout.
Subscribe to journal
Immediate online access to all issues from 2019. Subscription will auto renew annually.
US$ 79
Tax calculation will be finalised during checkout.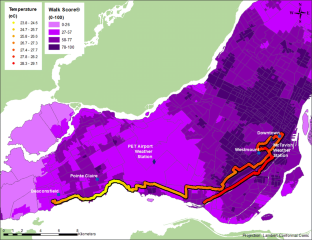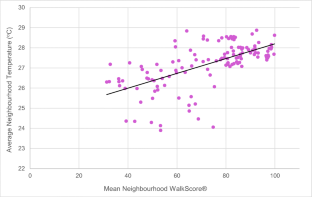 References
Boer R, Zheng Y, Overton A, Ridgeway GK, Cohen DA (2007) Neighborhood design and walking trips in ten U.S. metropolitan areas. Am J Prev Med 32(4):298–304. https://doi.org/10.1016/j.amepre.2006.12.012

Creatore MI, Glazier RH, Moinedin R et al (2016) Association of neighborhood walkability with change in overweight, obesity, and diabetes. JAMA 315(20):2211–2220. https://doi.org/10.1001/jama.2016.5898

Duncan D, Aldstat J, Whalen J, Melly S, Gortmaker S (2011) Validation of walk score® for estimating neighborhood walkability: an analysis of four US metropolitan areas. Int J Environ Res Public Health 8(11):4160–4179. https://doi.org/10.3390/ijerph8114160

Environment Canada, 2018. Historical climate data archive. http://climate.weather.gc.ca/historical_data/search_historic_data_e.html

Graham DA, Vanos JK, Kenny NA, Brown RD (2016) The relationship between neighbourhood tree canopy cover and heat-related ambulance calls during extreme heat events in Toronto. Urban Forestry and Urban Greening 20:180–186. https://doi.org/10.1016/j.ufug.2016.08.005

Hajna S, Ross NA, Brazeau AS, Belisle P, Joseph L, Dasgupta K (2015) Associations between neighbourhood walkability and daily steps in adults: a systemic review and meta-analysis. BMC Public Health 15:768. https://doi.org/10.1186/s12889-015-2082-x

Harlan SL, Brazel AJ, Prashad L, Stefanov WL, Larsen L (2006) Neighborhood microclimates and vulnerability to heat stress. Soc Sci Med 63(11):2847–2863. https://doi.org/10.1016/j.socscimed.2006.07.030

Herrmann T, Boisjoly G, Ross NA, El-Geneidy A (2017) The missing middle: filling the gap between walkability and observed walking behavior. Transp Res Rec: Journal of the Transportation Research Board 2661:103–110. https://doi.org/10.3141/2661-12

Hirsch JA, Moore KA, Evenson KR, Rodriquez DA, Diez Roux AV (2013) Walk Score® and Transit Score® and walking in the multi-ethnic study of atherosclerosis. Am J Prev Med 45(2):158–166. https://doi.org/10.1016/j.amepre.2013.03.018

Hwang R-L, Lin T-P, Matzarakis A (2011) Seasonal effects of urban street shading on long-term outdoor thermal comfort. Build Environ 46(4):863–870. https://doi.org/10.1016/j.buildenv.2010.10.017

Kärmeniemi M, Lankila T, Ikäheimo T, Korpelainen R (2018) The built environment as a determinant of physical activity: a systematic review of longitudinal studies and natural experiments. Ann Behav Med 52(3):239–251. https://doi.org/10.1093/abm/kax043

McCormack GR, Blackstaffe A, Nettel-Aguirre A, Csizmadi I, Sandalack B, Alaniz Uribe F, Rayes A, Friedenreich C, Potestio ML (2018) The independent associations between Walk Score® and neighborhood socioeconomic status, waist circumference, waist-to-hip ratio and body mass index among urban adults. Int J Environ Res Public Health 15(6):1226. https://doi.org/10.3390/ijerph15061226

Méline J, Chaix B, Pannier B, Ogedegbe G, Trasande L, Athens J, Duncan DT (2017) Neighborhood walk score and selected Cardiometabolic factors in the French RECORD cohort study. BMC Public Health 17(1):960. https://doi.org/10.1186/s12889-017-4962-8

Noro M, Lazzarin R (2015) Urban heat island in Padua, Italy: simulation analysis and mitigation strategies. Urban Clim 14(2):187–196. https://doi.org/10.1016/j.uclim.2015.01.004

Paravantis J, Santamouris M, Cartalis C, Efthymiou C, Kontoulis N (2017) Mortality associated with high ambient temperatures, heatwaves, and the urban heat island in Athens, Greece. Sustainability 9:606. https://doi.org/10.3390/su9040606

Rodriguez-Algeciras J, Tablada A, Matzarakis A (2017) Effect of asymmetrical street canyons on pedestrian thermal comfort in warm-humid climate of Cuba. Theor Appl Climatol 133:663–679. https://doi.org/10.1007/s00704-017-2204-8

Sallis JF, Cerin EC, Conway TL, Adams MA, Frank LD, Pratt M, Salvo D, Schipperijn J, Smith G, Cain KL, Davey R, Kerr J, Lai PC, Mitáš J, Reis R, Sarmiento OL, Schofield G, Troelsen J, van Dyck D, de Bourdeaudhuij I, Owen N (2016) Physical activity in relation to urban environments in 14 cities worldwide: a cross-sectional study. Lancet 387(10034):2207–2217. https://doi.org/10.1016/S0140-6736(15)01284-2

Santamouris M, Synnefa A, Karlessi T (2011) Using advanced cool materials in the urban built environment to mitigate heat islands and improve thermal comfort conditions. Sol Energy 85(12):3085–3102

Smargiassi A, Goldberg MS, Plante C, Fournier M, Baudouin Y, Kosatsky T (2009) Variation of daily warm season mortality as a function of micro-urban heat islands. Epidemiol Commun Health 63(8):659–664. https://doi.org/10.1136/jech.2008.078147

Smoyer KE, Rainham DG, Hewko JN (2000) Heat-stress-related mortality in five cities in Southern Ontario: 1998-1996. Int J Biometeorol 44(4):190–197

Taleai M, Yameqani AS (2018) Integration of GIS, remote sensing and multi-criteria evaluation tools in the search for healthy walking paths. KSCE J Civ Eng 22(1):279–291. https://doi.org/10.1007/s12205-017-2538-x

Wasfi R, Dasgupta K, Eluru N, Ross NA (2016a) Exposure to walkable neighbourhoods in urban areas increases utilitarian walking: longitudinal study of Canadians. J Transport Health 106(5):934–940

Wasfi R, Dasgupta K, Orpana H, Ross NA (2016b) Neighborhood walkability and body mass index trajectories: longitudinal study of Canadians. Am J Public Health 106(5):934–940. https://doi.org/10.2105/AJPH.2016.303096

Yahia MW, Johansson E (2014) Landscape interventions in improving thermal comfort in the hot dry city of Damascus, Syria—the example of residential spaces with detached buildings. Landsc Urban Plan 125:1–16. https://doi.org/10.1016/j.landurbplan.2014.01.014
Acknowledgements
The authors wish to thank Thomas Herrmann for assistance in the Walk Score® data processing and preparation of Fig. 1. NAR is supported by the Canada Research Chairs programme.
Funding
Funding to support this research was provided by the Trottier Chair in Science and Public Policy.
About this article
Cite this article
O'Brien, G.A., Ross, N.A. & Strachan, I.B. The heat penalty of walkable neighbourhoods. Int J Biometeorol 63, 429–433 (2019). https://doi.org/10.1007/s00484-018-01663-0
Received:

Revised:

Accepted:

Published:

Issue Date:
Keywords