Abstract
Shifts in the timing of phenological events in plants and animals are cited as one of the most robust bioindicators of climate change. Much effort has thus been placed on the collection of phenological datasets, the quantification of the rates of phenological shifts and the association of these shifts with recorded meteorological data. These outputs are of value both in tracking the severity of climate change and in facilitating more robust management approaches in forestry and agriculture to changing climatic conditions. However, such an approach requires meteorological and phenological records spanning multiple decades. For communities in the Delta State of Nigeria, small-scale farming communities do not have access to meteorological records, and the dissemination of government issued daily to seasonal forecasts has only taken place in recent years. Their ability to survive inter-annual to inter-decadal climatic variability and longer-term climatic change has thus relied on well-entrenched indigenous knowledge systems (IKS). An analysis of the environmental cues that are used to infer the timing and amount of rainfall by farmers from three communities in the Delta State reveals a reliance on phenological events, including the croaking of frogs, the appearance of red millipedes and the emergence of fresh rubber tree and cassava leaves. These represent the first recorded awareness of phenology within the Delta State of Nigeria, and a potentially valuable source of phenological data. However, the reliance of these indicators is of concern given the rapid phenological shifts occurring in response to climate change.
Access options
Buy single article
Instant access to the full article PDF.
US$ 39.95
Tax calculation will be finalised during checkout.
Subscribe to journal
Immediate online access to all issues from 2019. Subscription will auto renew annually.
US$ 79
Tax calculation will be finalised during checkout.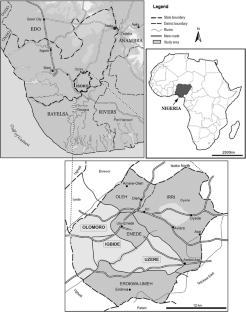 References
Adejuwon J (2012) Rainfall seasonality in the Niger Delta Belt, Nigeria. J Geogr Reg Plann 5(2):51–60

Adomi EE, Ogbomo MO, Inoni OE (2003) Gender factor in crop farmers' access to agricultural information in rural areas of Delta State, Nigeria. Libr Rev 52(8):388–393. https://doi.org/10.1108/00242530310493798

Armatas CA, Venn TJ, McBride BB, Watson AE, Carver SJ (2016) Opportunities to utilize traditional phenological knowledge to support adaptive management of social-ecological systems vulnerable to changes in climate and fire regimes. Ecol Soc 21(1):16

Briggs J, Moyo B (2012) The resilience of indigenous knowledge in small-scale African agriculture: key drivers. Scott Geogr J 128(1):64–80. https://doi.org/10.1080/14702541.2012.694703

Chambers LE, Plotz RD, Dossis T, Hiriasia DH, Malsale P, Martin DJ, Mitiepo R, Tahera K, Tofaeono TI (2017) A database for traditional knowledge of weather and climate in the Pacific. Meteorol Appl 24(3):491–502. https://doi.org/10.1002/met.1648

Doi H, Gordo O, Mori T, Kubo MT (2017) A macroecological perspective for phenological research under climate change. Ecol Res 32(5):633–641. https://doi.org/10.1007/s11284-017-1480-1

Ebhuoma EE, Simatele DM (2017) 'We know our terrain': indigenous knowledge preferred to scientific systems of weather forecasting in the Delta state of Nigeria. Clim Dev DOI: https://doi.org/10.1080/17565529.2017.1374239

Fereday J, Muir-Cochrane E (2006) Demonstrating rigor using thematic analysis: a hybrid approach of inductive and deductive coding and theme development. IJQRE 5(1):80–92

Fitchett JM, Grab SW, Thompson DI (2015) Plant phenology and climate change: progress in methodological approaches and application. Prog Phys Geogr 39(4):460–482. https://doi.org/10.1177/0309133315578940

Inoni OE, Omotor DG, Adun FN (2006) The effect of oil spillage on crop yield and farm income in Delta state, Nigeria. JCEA 7(1):41–48

Miller-Rushing AJ, Primack RB (2008) Global warming and flowering times in Thoreau's Concord: a community perspective. Ecology 89(2):332–341. https://doi.org/10.1890/07-0068.1

Parmesan C (2007) Influences of species, latitudes and methodologies on estimates of phenological response to global warming. Glob Chang Biol 13(9):1860–1872. https://doi.org/10.1111/j.1365-2486.2007.01404.x

Plotz RD, Chambers LE, Finn CK (2017) The best of both worlds: a decision-making framework for combining traditional and contemporary forecast systems. J Appl Meteorol Clim 56(8):2377–2392. https://doi.org/10.1175/JAMC-D-17-0012.1

Primack R, Higuchi H (2007) Climate change and cherry tree blossom festivals in Japan. Arnoldia 65(2):14–22

Soropa G, Gwatibaya S, Musiyiwa K, Rusere F, Mavima GA, Kasasa P (2015) Indigenous knowledge system weather forecasts as a climate change adaptation strategy in smallholder farming systems of Zimbabwe: case study of Murehwa, Tsholotsho and Chiredzi districts. Afr J Agric Res 10(10):1067–1075. https://doi.org/10.5897/AJAR2013.7205

Sparks TH, Carey PD (1995) The responses of species to climate over two centuries: an analysis of the Marsham phenological record, 1736-1947. J Ecol 83(2):321–329. https://doi.org/10.2307/2261570

Tongco MDC (2007) Purposive sampling as a tool for informant selection. Ethnobot Res Appl 5:147–158. https://doi.org/10.17348/era.5.0.147-158
Acknowledgements
The authors wish to acknowledge Prof D Simatele for his contribution in supervising EE during his PhD project from which these data were collected. EE was funded by the National Institute for the Humanities and Social Sciences-Council for the Development of Economic and Social Research in Africa (NIHSS-CODESRIA).
About this article
Cite this article
Fitchett, J.M., Ebhuoma, E. Phenological cues intrinsic in indigenous knowledge systems for forecasting seasonal climate in the Delta State of Nigeria. Int J Biometeorol 62, 1115–1119 (2018). https://doi.org/10.1007/s00484-017-1495-x
Received:

Revised:

Accepted:

Published:

Issue Date:
Keywords
Phenology

Climate change

Indigenous knowledge systems

West Africa