Abstract
The use of plastic cover in vineyards minimizes effects of adverse weather conditions. The northwest of São Paulo State is one of the largest grape producing regions in Brazil; however, few studies investigate the effects of different plastic covers on vineyards in this region. This study compared the effect of black shading screen (BSS) and braided polypropylene film (BPF) on BRS Morena vineyard microclimate, grown on an overhead trellis system in the northwestern São Paulo. The experiments were carried out during three growing seasons (2012–2014). BSS allowed superior incoming solar radiation (SR) transmissivity, resulting in higher net radiation (Rn), and higher ratio between photosynthetically active (PAR) and SR. No differences were observed between the average air temperatures (T) and relative humidity (RH) of covered environments (BPF and BSS) and outside condition (automatic weather station–AWS), due to high air circulation, despite wind speed (WS) reduction caused by plastic covers. BPF provided better conditions for vineyard growth with higher fruit yield than vineyard under BSS regarding the number of shoots with bunches per plant, bunch and stem weights, longitudinal diameter of berries, quantity of fertile buds per shoot, and yield per shoot and per plant. BPF covers also influenced leaf size and growth speed of plants in vineyards.
This is a preview of subscription content,
to check access.
Access this article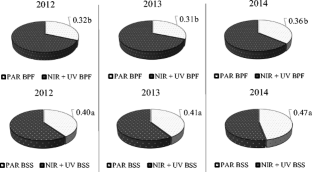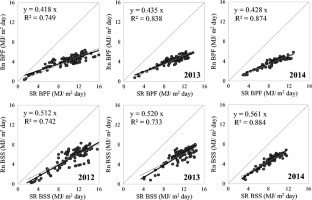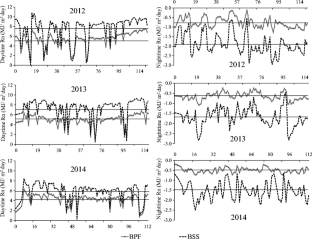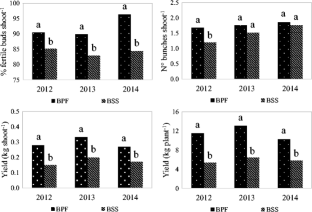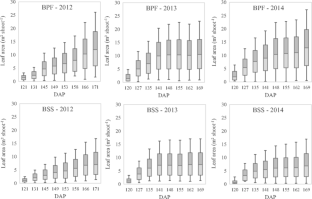 References
Aljibury FK, Brewer R, Christensen P, Kasimatis AN (1975) Grape response to cooling with sprinklers. Am J Enol Vitic 26:214–217

Alvares CA, Stape JL, Sentelhas PC, Gonçalves JLM, Sparovek G (2013) Köppen's climate classification map for Brazil. Meteorol Z 22(6):711–728. https://doi.org/10.1127/0941-2948/2013/0507

Andrade Júnior AS, Damasceno LMO, Dias NS, Ghey HR, Guiselini C (2011) Climate variations in greenhouse cultivated with gerbera and relationship with external conditions. Eng Agríc 31(5):857–867. https://doi.org/10.1590/S0100-69162011000500003

Assis FN, Mendez MEG (1989) Relationship between photosynthetically active radiation and global radiation. Pesq Agropec Bras 24(7):797–800

Beslic Z, Todic S, Tesic D (2010) Validation of non-destructive methodology of grapevine leaf area estimation on cv. Blaufränkisch (Vitis vinifera L.) S Afr J Enol Vitic 31(1):22–25

Camargo UA, Maia JDG, Ritschel OS (2010) Novas cultivares brasileiras de uva. Embrapa Uva e Vinho, Bento Gonçalves

Cardoso LS, Bergamaschi H, Comiran F, Chavarria G, Marodin GAB, Dalmago GA, Santos HP, Mandelli F (2008) Alterações micrometeorológicas em vinhedos pelo uso de coberturas de plástico. Pesqui Agropecu Bras 43(4):441–447. https://doi.org/10.1590/S0100-204X2008000400001

Castellano S, Candura A, Scarascia Mugnozza G (2008) Relationship between solidity ratio, colour and shading effects of agricultural nets. Acta Hort 801(1):253–258

Chavarria G, Cardoso LS, Bergamaschi H, Santos HP, Mandelli F, Marodin GAB (2009) Microclimas de vinhedos sob cobertura plástica. Ciênc Rural 39(7):2029–2034. https://doi.org/10.1590/S0103-84782009005000147

Colombo LA, Assis AM, Sato AJ, Tessmann DJ, Genta W, Roberto SR (2011) Out of season production of 'BRS Clara' seedless grape under protected cultivation. Ciênc Rural 41(2):212–218. https://doi.org/10.1590/S0103-84782011005000014

Comiran F, Bergamaschi H, Heckler BMM, Santos HP, Alba D, Saretta E (2012) Microclima e produção de videiras Niágara rosada em cultivo orgânico sob cobertura plástica. Rev Bras Frutic 34(1):152–159. https://doi.org/10.1590/S0100-29452012000100021

Conceição MAF (2009) Microclima em vinhedo coberto com tela plástica. Embrapa Uva e Vinho, Bento Gonçalves

Costa SMAL, Gomes MRL, Tarsitano MAA (2008) Comercialização de uvas finas na região de Jales–SP. Rev Bras Frutic 30(1):127–132. https://doi.org/10.1590/S0100-29452008000100024

Greer DH, Weston C, Weedon M (2010) Shoot architecture, growth and development dynamics of Vitis vinifera cv. Semillon vines grown in an irrigated vineyard with and without shade covering. Funct Plant Biol 37:1061–1070

Dilara PA, Briassoulis D (2000) Degradation and stabilization of low density polyethylene films used as greenhouse covering materials. J Agric Eng Res 76(4):309–321. https://doi.org/10.1006/jaer.1999.0513

El-Saeed HM, Elwahed MA, Abouziena HF, El-Desoki ER (2015) Changes the microclimate using some protection treatments for early grape production in south of Egypt. Changes 8(9):27–36

Falleri F, Magnani G (1991) Film termici di copertura: valutazione delle caratteristiche principali. Colt Prot 20(11):85–93

FAO - IUSS Working Group (2014) World reference base for soil resources 2014 international soil classification system for naming soils and creating legends for soil maps. FAO, Rome

Galande SG, Agrawal GH, Dighe SB (2015) Greenhouse microclimatic real-time monitoring embedded wireless sensor network (WSN) used in agriculture. Int J Eng Res and Gen Sci 3(3):1328–1333

Grant OM, Ochagavía H, Baluja J, Diago MP, Tardáguila J (2016) Thermal imaging to detect spatial and temporal variation in the water status of grapevine (Vitis vinifera L.) J Hortic Sci Biotechnol 91(1):43–54. https://doi.org/10.1080/14620316.2015.1110991

Healey KD, Rickert KG, Hammer GL, Bange MP (1998) Radiation use efficiency increases when the diffuse component of incident radiation is enhanced under shade. Aust J Agric Res 49(4):665–672. https://doi.org/10.1071/A97100

Henry HAL, Aarssen LW (1997) On the relationship between shade tolerance and shade avoidance strategies in woodland. plants 80:575–582

Ilić Z, Milenković L, Đurovka M, Kapoulas N (2011) The effect of color shade nets on the greenhouse climate and pepper yield. In: Proceedings. 46th Croatian and 6th International Symposium on Agriculture, Opatija Croatia, pp 529–532

Kishino AY, Caramori PH (2007) Fatores climáticos e o desenvolvimento da videira: elementos climáticos mais importantes para a viticultura. In: Viticultura tropical: o sistema de produção do Paraná. Iapar, Londrina, pp 59–76

Kittas C, Rigakis N, Katsoulas N, Bartzanas T (2009) Influence of shading screens on microclimate, growth and productivity of tomato. Acta Hort 807:97–102

Lima Filho JMP, Soares JM, Nascimento T, Moura MSB (2005) Comportamento ecofisiológico da videira Superior Seedless em cultivo protegido, sob condições semi-áridas. In: Congresso Brasileiro de Fisiologia Vegetal, 10; Congresso Latino Americano de Fisiologia Vegetal, 12. Recife, Brazil. Proceedings: Sociedade Brasileira de Fisiologia Vegetal, Recife

Lorenz DH, Eichorn KW, Bleholder H, Klose R, Meier U, Weber E (1995) Phenological growth stages of grapevine (Vitis vinifera L.)—codes and descriptions according to the extended BBCH scale. Aust J Grape Wine Res 1(2):100–103. https://doi.org/10.1111/j.1755-0238.1995.tb00085.x

Lulu J, Pedro Júnior MJ (2006) Microclima de vinhedos cultivados sob cobertura plástica e a céu aberto. Rev Bras Agromet 14:106–115

Martins SR, Fernandes HS, Assis FN, Mendez MEG (1999) Caracterização climática e manejo de ambientes protegidos: a experiência brasileira. Informe Agropecuário 20(200–201):15–23

Novello V, de Palma L (2008) Growing grapes under cover. Acta Hort 785:353–362

Novello V, de Palma L, Tarricone L, Vox G (2000) Effects of different plastic sheet coverings on microclimate and berry ripening of table grape cv 'Matilde'. J Int Sci Vigne Vin 34(2):49–55

Pedro Júnior MJ, Hernandes JL, Rolim GS (2011) Sistema de condução em Y com e sem cobertura plástica: efeitos no microclima, produção, qualidade do cacho e ocorrência de doenças fúngicas na videira Niagara Rosada. Bragantia 70(1):228–233. https://doi.org/10.1590/S0006-87052011000100030

Pezzopane JRM, Pedro Junior MJ (2003) Energy balance on 'Niagara Rosada' vineyard. Bragantia 62(1):155–161. https://doi.org/10.1590/S0006-87052003000100019

Rana G, Katerji N, Introna M, Hammami A (2004) Microclimate and plant water relationship of the "overhead" table grape vineyard managed with three different covering techniques. Sci Hortic 102(1):105–120. https://doi.org/10.1016/j.scienta.2003.12.008

Roberto SR, Colombo LA, Assis AM (2011) Review: protect cultivation in viticulture. Ciência Téc Vitiv 26(1):11–16

Sanchez-Lopez S, Prado HL, Ramirez E, Mendoza N (1991) Recycling of waste agricultural polyethylene film. Plasticulture 92:49–53

Scarascia-Mugnozza G, Sica C, Russo G (2011) Plastic materials in European agriculture: actual use and perspectives. J Agric Eng 3:15–28

Sentelhas PC, Nascimento ALC (2003) Variação sazonal da relação entre o saldo de radiação e a irradiância solar global. Rev Bras Met 18(1):71–77

Sentelhas PC, Angelocci LR, Villa Nova NA (1997) Efeitos de diferentes tipos de cobertura, mine estufas na atenuação da radiação solar e da luminosidade. In: Sociedade Brasileira de Agrometeorologia (ed) Congresso Brasileiro de Agrometeorologia, vol 10. Sociedade Brasileira de Agrometeorologia, Piracicaba, pp 480–484

Serrano TD, Guzmán EE, Recio AF, García JCJ, Gálvez JL, Cano AS (2001) Los filmes plásticos en la producción agrícola. Mundi-Prensa, Madrid

Steidle Neto AJ, Zolnier S, Marouelli WA, Carrijo AO (2008) Razão entre radiação fotossinteticamente ativa e radiação global no cultivo do tomateiro em casa-de-vegetação. Rev Bras Eng Agríc Ambient 12(6):626–631. https://doi.org/10.1590/S1415-43662008000600009

Taiz L, Zeiger E (2004) Fisiologia Vegetal. Artmed, Porto Alegre

Vanden Heuvel JE, Fisher KH, Proctor JTA, Sullivan JA (2004) Shading affects morphology, dry-matter partitioning, and photosynthetic response of greenhouse-grown Chardonnay grapevines (Vitis vinifera L.) Hortscience 39:65–70

Vox G, Schettini E (2013) Effects of agrochemicals, ultra violet stabilisers and solar radiation on the radiometric properties of greenhouse films. J Agric Eng 44(2):11

Vox G, Teitel M, Pardossi A, Minuto A, Tinivella F, Schettini E (2010) Sustainable agriculture: technology, planning and management. In: Salazar A, Rios I (eds) Sustainable greenhouse systems. Nova Science Publishers, New York, pp 1–79

Yamamoto LY, Assis AM, Morais H, Souza FS, Scapin CR, Tessmann DJ, Souza RT, Roberto RS (2012) Production and physic-chemical characteristics of bunches of 'BRS Clara' grapevine under plastic cover and plastic screen grown out of season. Rev Bras Frutic 34(1):160–166. https://doi.org/10.1590/S0100-29452012000100022
Acknowledgments
The authors are grateful to EMBRAPA–Tropical Viticulture Experimental Station (EVT) for providing the vineyards area and part of the infrastructure, equipment and staff required for the project execution; to São Paulo Research Foundation–FAPESP (Process No. 2012/04615-7); and the National Council for Scientific and Technological Development–CNPq (Process No. 478200/2012-9) for supporting this project. The first author is grateful to Coordination for the Improvement of Higher Education Personnel–CAPES for granting the PhD scholarship.
Ethics declarations
The authors of the manuscript entitled "Vineyard Microclimate and Yield under Different Plastic Covers" declare that the experiments comply with the current laws of the country in which they were performed.
About this article
Cite this article
Holcman, E., Sentelhas, P.C., Conceição, M.A.F. et al. Vineyard microclimate and yield under different plastic covers. Int J Biometeorol 62, 925–937 (2018). https://doi.org/10.1007/s00484-017-1494-y
Received:

Revised:

Accepted:

Published:

Issue Date:

DOI: https://doi.org/10.1007/s00484-017-1494-y
Keywords