Abstract
Here, we produce Ambrosia pollen source inventories for Italy that focuses on the periods before and after the accidental introduction of the Ophraella communa beetle. The inventory uses the top–down approach that combines the annual Ambrosia pollen index from a number of monitoring stations in the source region as well as Ambrosia ecology, local knowledge of Ambrosia infestation and detailed land cover information. The final inventory is gridded to a 5 × 5-km resolution using a stereographic projection. The sites with the highest European Infection levels were recorded in the north of Italy at Busto Arsizio (VA3) (European Infection level 2003–2014 = 52.1) and Magenta (MI7) (European Infection level 2003–2014 = 51.3), whereas the sites with the lowest (i.e. around 0.0) were generally located to the south of the country. Analysis showed that the European Infection level in all of Italy was significantly lower in 2013–2014 compared to 2003–2012, and this decrease was even more pronounced at the sites in the area where Ophraella communa was distributed. Cross-validations show that the sensitivity to the inclusion of stations is typically below 1% (for two thirds of the stations) and that the station Magenta (MI7) had the largest impact compared to all other stations. This is the first time that pollen source inventories from different temporal periods have been compared in this way and has implications for simulating interannual variations in pollen emission as well as evaluating the management of anemophilous plants like Ambrosia artemisiifolia.
Access options
Buy single article
Instant access to the full article PDF.
US$ 39.95
Tax calculation will be finalised during checkout.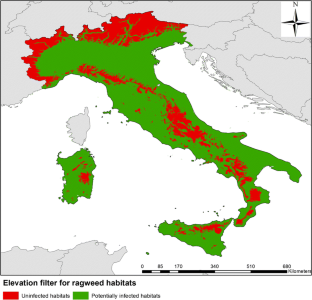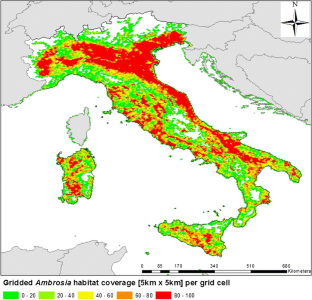 References
A.I.A.-R.I.M.A.® (2009) Manuale di gestione e qualità della rete italiana di monitoraggio in Aerobiologia. Bologna, R.I.M.A.®. ISBN: 978–88–900277-1-0: 1–148

Albertini R, Ugolotti M, Peveri S, Valenti M, Usberti I, Ridolo E, Dall'Aglio P (2012) Evolution of ragweed pollen concentrations, sensitization and related allergic clinical symptoms in Parma (northern Italy). Aerobiologia 28(3):347–354. https://doi.org/10.1007/s10453-011-9239-6

Allioni C (1773) Auctarium ad synopsim methodicam stirpium horti regii taurinensis. Melanges de Philosophie et de Mathematique de la Societé Royale de Turin pour les années 1770-1773(5):53–96

Bessagnet B, Menut L, Curd G, Hodzic A, Guillaume B, Liousse C, Moukhtar S, Pun B, Seigneur C, Schulz M (2008) Regional modeling of carbonaceous aerosols over Europe-focus on secondary organic aerosols. J Atmos Chem 61(3):175–202. https://doi.org/10.1007/s10874-009-9129-2

Bonini M (2014) Ambrosia—Attività di Prevenzione anno 2014 (Ambrosia - prevention activities 2014). LHA Milan 1

Bonini M, Bottero P, Milani M (2009) Prevalence and clinical severity of ragweed allergy in a health care population in magenta town: an epidemiological study on 1373 subjects. Allergy 64(Suppl 90):S429

Bonini M, Šikoparija B, Prentović M, Cislaghi G, Colombo P, Testoni C, Grewling L, Lommen STE, Müller-Schärer H, Smith M (2015) Is the recent decrease in airborne ambrosia pollen in the Milan area due to the accidental introduction of the ragweed leaf beetle Ophraella communa? Aerobiologia 31(4):499–513. https://doi.org/10.1007/s10453-015-9380-8

Bonini M, Šikoparija B, Prentović M, Cislaghi G, Colombo P, Testoni C, Grewling Ł, Lommen STE, Müller-Schärer H, Smith M (2016) A follow-up study examining airborne ambrosia pollen in the Milan area in 2014 in relation to the accidental introduction of the ragweed leaf beetle Ophraella communa. Aerobiologia 32(2):371–374. https://doi.org/10.1007/s10453-015-9406-2

Carna P, Ivaldi C (2014) The effects of ragweed on the public health: analysis of the entrances to the emergency room in the city of Turin (Italy). Eur J Aerobiol Environ Med 2(/2014):84

Chauvel B, Dessaint F, Cardinal-Legrand C, Bretagnolle F (2006) The historical spread of Ambrosia artemisiifolia L. Fr Herb Rec J Biogeogr 33:665–673

Comtois P (1998) Statistical analysis of aerobiological data. In: Mandrioli P, Comtois P, Levizzani V (eds) Methods in aerobiology Bologna Pitagora Editrice

EC (2005) European Commission. Image2000 and CLC2000 products and methods. Maria Vanda Nunes de Lima, European Commision, Joint Research Centre (DG JRC), Institute for Environment and Sustainability, land management unit, I-21020 Ispra. VA, Italy, pp 1–152

Efstathiou C, Isukapalli S, Georgopoulos P (2011) A mechanistic modeling system for estimating large-scale emissions and transport of pollen and co-allergens. Atmos Environ 45(13):2260–2276. https://doi.org/10.1016/j.atmosenv.2010.12.008

Essl F, Dullinger S, Kleinbauer I (2009) Changes in the spatio-temporal patterns and habitat preferences of Ambrosia artemisiifolia during its invasion of Austria. Preslia 81(2):119–133

Essl F, Biró K, Brandes D, Broennimann O, Bullock JM, Chapman DS, Chauvel B, Dullinger S, Fumanal B, Guisan A, Karrer G, Kazinczi G, Kueffer C, Laitung B, Lavoie C, Leitner M, Mang T, Moser D, Müller-Schärer H, Petitpierre B, Richter R, Schaffner U, Smith M, Starfinger U, Vautard R, Vogl G, von der Lippe M, Follak S (2015) Biological flora of the British Isles: Ambrosia artemisiifolia. J Ecol 104(4):1069–1098

Ferrero A, and Nguyen NV, (2004) The sustainable de velopment of rice-based production systems in Europe, Proceedings of the FAO rice conference, Rome, Agriculture and Consumer Protection

Gentili R, Gilardelli F, Bona E, Prosser F, Selvaggi A, Alessandrini A, Martini F, Nimis PL, Wilhalm T, Adorni M, Ardenghi NMG, Barni E, Bonafede F, Bonini M, Bouvet D, Buffa G, Ciappetta S, Giordana F, Faggi G, Ghiani A, Ghillani L, Marcucci R, Masin R, Morelli V, Montagnani C, Montanari S, Peccenini S, Pellizzari M, Romani E, Saiani D, Scortegagna S, Sirotti M, Truzzi A, Vignodelli M, Bagli L, Fiandri F, Siniscalco C and Citterio S (2016) Distribution map of Ambrosia artemisiifolia L. (Asteraceae) in Italy. Plant Biosystems In Press: https://doi.org/10.1080/11263504.2016.1176966

Greuter W (2006) Compositae (pro parte majore). In: W Greuter and E von Raab-Straube (eds.) Compositae. Euro+Med Plantbase—the information resource for Euro-Mediterranean plant diversity, Published on the Internet http://ww2.bgbm.org/EuroPlusMed/ [accessed 03–11-2016]

Guo J-Y, Zhou Z-S, Zheng X-W, Chen H-S, Wan F-H, Luo Y-H (2011) Control efficiency of leaf beetle, Ophraella communa, on the invasive common ragweed, Ambrosia artemisiifolia, at different growing stages. Biocontrol Sci Tech 21(9):1049–1063. https://doi.org/10.1080/09583157.2011.603823

Hirst JM (1952) An automatic volumetric spore trap. Ann Appl Biol 39(2):257–265. https://doi.org/10.1111/j.1744-7348.1952.tb00904.x

Karrer G, Skjøth CA, Šikoparija B, Smith M, Berger U, Essl F (2015) Ragweed (Ambrosia) pollen source inventory for Austria. Sci Total Environ 523(0):120–128. https://doi.org/10.1016/j.scitotenv.2015.03.108

Müller-Schärer H, Lommen STE, Rossinelli M, Bonini M, Boriani M, Bosio G, Schaffner U (2014) Ophraella communa, the ragweed leaf beetle, has successfully landed in Europe: fortunate coincidence or threat? Weed Res 54(2):109–119. https://doi.org/10.1111/wre.12072

Ortmans W, Mahy G, Monty A (2016) Effects of seed traits variation on seedling performance of the invasive weed, Ambrosia artemisiifolia L. Acta Oecol 71:39–46. https://doi.org/10.1016/j.actao.2016.01.008

Sikoparija B, Smith M, Skjoth CA, Radisic P, Milkovska S, Simic S, Brandt J (2009) The Pannonian plain as a source of Ambrosia pollen in the Balkans. Int J Biometeorol 53(3):263–272. https://doi.org/10.1007/s00484-009-0212-9

Sikoparija B, Skjøth CA, Celenk S, Testoni C, Abramidze T, Alm Kübler K, Belmonte J, Berger U, Bonini M, Charalampopoulos A, Damialis A, Clot B, Dahl Å, de Weger LA, Gehrig R, Hendrickx M, Hoebeke L, Ianovici N, Kofol Seliger A, Magyar D, Mányoki G, Milkovska S, Myszkowska D, Páldy A, Pashley CH, Rasmussen K, Ritenberga O, Rodinkova V, Rybníček O, Shalaboda V, Šaulienė I, Ščevková J, Stjepanović B, Thibaudon M, Verstraeten C, Vokou D, Yankova R, Smith M (2016) Spatial and temporal variations in airborne ambrosia pollen in Europe. Aerobiologia 33(2):181–189. https://doi.org/10.1007/s10453-016-9463-1

Skjøth CA, Smith M, Sikoparija B, Stach A, Myszkowska D, Kasprzyk I, Radisic P, Stjepanovic B, Hrga I, Apatini D, Magyar D, Páldy A, Ianovici N (2010) A method for producing airborne pollen source inventories: an example of Ambrosia (ragweed) on the Pannonian plain. Agric For Meteorol 150(9):1203–1210. https://doi.org/10.1016/j.agrformet.2010.05.002

Smith M, Cecchi L, Skjoth CA, Karrer G, Sikoparija B (2013) Common ragweed: a threat to environmental health in Europe. Environ Int 61:115–126. https://doi.org/10.1016/j.envint.2013.08.005

Sofiev M, Siljamo P, Ranta H, Rantio-Lehtimäki A (2006) Towards numerical forecasting of long-range air transport of birch pollen: theoretical considerations and a feasibility study. Int J Biometeorol 50(6):392–402. https://doi.org/10.1007/s00484-006-0027-x

Sofiev M, Berger U, Prank M, Vira J, Arteta J, Belmonte J, Bergmann KC, Chéroux F, Elbern H, Friese E, Galan C, Gehrig R, Khvorostyanov D, Kranenburg R, Kumar U, Marécal V, Meleux F, Menut L, Pessi AM, Robertson L, Ritenberga O, Rodinkova V, Saarto A, Segers A, Severova E, Sauliene I, Siljamo P, Steensen BM, Teinemaa E, Thibaudon M, Peuch VH (2015) MACC regional multi-model ensemble simulations of birch pollen dispersion in Europe. Atmos Chem Phys 15(14):8115–8130. https://doi.org/10.5194/acp-15-8115-2015

Stucchi C (1942) L'ambrosia elatior. Nuovo Giorn Bot Ital 112

Thibaudon M, Šikoparija B, Oliver G, Smith M, Skjøth CA (2014) Ragweed pollen source inventory for France—the second largest centre of ambrosia in Europe. Atmos Environ 83(0):62–71. https://doi.org/10.1016/j.atmosenv.2013.10.057

Tosi A, Wüthrich B, Bonini M, Pietragalla-Köhler B (2011) Time lag between ambrosia sensitisation and ambrosia allergy: a 20-year study (1989-2008) in Legnano, northern Italy. Swiss Med Wkly 141:w13253. https://doi.org/10.4414/smw.2011.13253

US-EPA (2004) Developing Spatially Interpolated Surfaces and Estimating Uncertainty 1e169

Vogel H, Pauling A, Vogel B (2008) Numerical simulation of birch pollen dispersion with an operational weather forecast system. Int J Biometeorol 52(8):805–814. https://doi.org/10.1007/s00484-008-0174-3

Zhou Z-S, Chen H-S, Zheng X-W, Guo J-Y, Guo W, Li M, Luo M, Wan F-H (2014) Control of the invasive weed Ambrosia artemisiifolia with Ophraella communa and Epiblema strenuana. Biocontrol Sci Tech 24(8):950–964. https://doi.org/10.1080/09583157.2014.897305

Zink, K, Kaufmann, P, Petitpierre, B, Broennimann, O, Guisan, A, Gentilini, E and Rotach, MW (2016) Numerical ragweed pollen forecasts using different source maps: a comparison for France. Int J BiometeorolAvailable online https://doi.org/10.1007/s00484-016-1188-x, 61, 1, 23, 33
Funding
We acknowledge support from EU COST Action FA1203 'Sustainable management of Ambrosia artemisiifolia in Europe (SMARTER)' (http://Ambrosia.eu). This work was partly financed by the following COST Short-Term Scientific Missions: COST-STSM-FA1203-020215-053027 to CT, COST-STSM-FA1203-20573 to BS, COST-STSM-FA1203-250415-058150 to MS. BS was financed by the Ministry of Science Republic of Serbia (project no. OI173002 and III43006) and Swiss National Science Foundation (project no. IZ73Z0_152348). CAS was supported by the European Commission through a Marie Curie Career Integration Grant (Project ID CIG631745).
Electronic supplementary material
About this article
Cite this article
Bonini, M., Šikoparija, B., Skjøth, C.A. et al. Ambrosia pollen source inventory for Italy: a multi-purpose tool to assess the impact of the ragweed leaf beetle (Ophraella communa LeSage) on populations of its host plant. Int J Biometeorol 62, 597–608 (2018). https://doi.org/10.1007/s00484-017-1469-z
Received:

Revised:

Accepted:

Published:

Issue Date:
Keywords
Aerobiology

Atmosphere-biosphere analysis

Digital elevation model

Ecosystem analysis

Invasive weed

Species distribution maps