Abstract
Climate change and health was established as a formal field of endeavor in the early 1990s, with the number of publications increasing since the mid-2000s. The key findings in assessment reports from the Intergovernmental Panel on Climate Change in 1995, 2001, 2007, and 2014 indicate the progress in understanding the magnitude and pattern of the health risks of a changing climate. The assessments maintained a similar structure, focusing on assessing the state of knowledge of individual climate-sensitive health outcomes, with confidence in the key findings tending to increase over time with greater understanding. The knowledge base is smaller than for other key sectors (e.g., agriculture) because of limited research investment in climate change and health. Vulnerability, adaptation, and capacity assessments can inform prioritization of the significant research gaps in understanding and managing the health risks of a changing climate; filling these research gaps would provide policy- and decision-makers with insights to increase short- and longer-term resilience in health and other sectors. Research needs include to understand how climate and development pathways could interact to alter health risks over time, better understand upstream drivers of climate-sensitive health outcomes, project aggregate health impacts to understand the breadth and depth of challenges that may need to be managed at geographic scales of interest, and project the time of emergence of changes in the geographic range and intensity of transmission of infectious diseases and other climate conditions. Engagement with other sectors is needed to ensure that their mitigation and adaptation activities also promote and protect health and take the health sector's needs into account. Making progress in these areas is critical for protecting the health of future populations.
Access options
Buy single article
Instant access to the full article PDF.
US$ 39.95
Tax calculation will be finalised during checkout.
Subscribe to journal
Immediate online access to all issues from 2019. Subscription will auto renew annually.
US$ 79
Tax calculation will be finalised during checkout.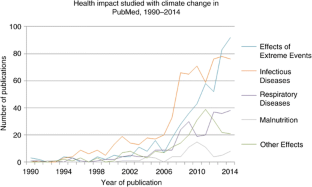 References
Araos M, Austin SE, Berrang-Ford L, Ford JD (2016) Public health adaptation to climate change in large cities: a global baseline. Int J Health Serv 46:53–78

Baker-Austin C, Trinanes JA, Taylor NG, Hartnell R, Siitonen A, Martinez-Urtaza J (2013) Emerging Vibrio risk at high latitudes in response to ocean warming. Nat Clim Chang 3:73–77

Confalonieri U, Menne B, Akhtar R, Ebi KL, Hauengue M, Kovats RS, Revich B, Woodward A (2007) Human health. Climate change 2007: impacts, adaptation and vulnerability. In: Parry ML, Canziani OF, Palutikof JP, van der Linden PJ, Hanson CE (eds) Contribution of Working Group II to the Fourth Assessment Report of the Intergovernmental Panel on Climate Change. Cambridge University Press, Cambridge, pp 391–431

Ebi K (2011) Climate change and health risks: assessing and responding to them through 'adaptive management'. Health Aff (Millwood) 30(5):924–930

Ebi KL (2014) Health in the new scenarios for climate change research. Int J Environ Res Public Health 11:30–46. doi:10.3390/ijerph100x000x

Ebi KL, Mills D (2013) Winter mortality in a warming climate: a re-assessment. WIRES Clim Change 2013. doi:10.1002/wcc.211

Ebi KL, Otmani del Barrio M. (2017) Lessons learned on health adaptation to climate variability and change: experiences across low- and middle-income countries. Environ Health Perspect in press

Ebi KL, Semenza JC, Rocklov J (2016a) Current medical research frameworks are insufficient to address the health risks of global environmental change. Environ Health. doi:10.1186/s12940-016-0183-3

Ebi KL, Ziska LH, Yohe GW (2016b) The shape of impacts to come: lessons and opportunities for adaptation from uneven increases in global and regional temperatures. Clim Chang. doi:10.1007/s10584-016-1816-9

Frumkin H, Hess J, Luber G, Malilay J, McGeehin M (2008) The public health response to climate change. Am J Pub Health 98:435–445

Green D, Pitman A, Barnett A, Kaldor J, Doherty P, Stanley F (2017) Advancing Australia's role in climate change and health research. Nat Clim Chang. 7:103–106

Hess JJ, Ebi KL (2016) Iterative management of heat early warning systems in a changing climate. Ann N Y Acad Sci 1382(1):21–30

Hess JJ, McDowell JZ, Luber G (2012) Integrating climate change adaptation into public health practice: using adaptive management to increase adaptive capacity and build resilience. Environ Health Perspect 120:171–179

Hosking J, Campbell-Lendrum D (2012) How well does climate change and health research meet the demands of policymakers? A scoping review. Environ Health Perspect 120:1076–1082

Jones RN, Ricketts JH (2016) Reconciling the signal and noise of atmospheric warming on decadal timescales. Earth Syst Dyn Discuss. doi:10.5194/esd-2016035,2016

Kunh, T. (1962) The structure of scientific revolutions. University of Chicago Press

Marinucci GD, Luber G, Uejio CK, Saha S, Hess JJ (2014) Building resilience against climate effects—a novel framework to facilitate climate readiness in public health agencies. Int J Environ Res Public Health 11:6433–6458

McLaughlin JB, DePaola A, Bopp CA, Martinek KA, Napolilli NP, Allision CG, Murray SL, Thompson EC, Bird MM, Middaugh JP (2005) Outbreak of Vibrio parahaemolyticus gastroenteritis associated with Alaskan oysters. New Engl J Med 353:1463–1470

McMichael, A J. (1993) Planetary overload: global environmental change and the health of the human species. Cambridge University Press

McMichael AJ, Ando M, Carcavallo R, Epstein P, Haines A, Jendritzky G, Kalkstein L, Odongo R, Patz J, Piver W (1995) Human population health. In: Watson RT, Zinyowera MC, Moss RH (eds) Climate change 1995: the IPCC Second Assessment Report. Cambridge University Press, Cambridge, pp 562–584

McMichael A, Githeko A, Akhtar R, Carcavallo R, Gubler D, Haines A, Kovats RS, Martens P, Patz J, Sasaki A (2001) Human health. In: McCarthy JJ, Canziani OF, Leary NA, Dokken DJ, White KS (eds) Climate change 2001: impacts, adaptation, and vulnerability. Contribution of working group II to the fourth assessment report of the intergovernmental panel on climate change. Cambridge University press, Cambridge, pp 453–485

Oppenheimer, M., M. Campos, R. Warren, J. Birkmann, G. Luber, B. O'Neill, and K. Takahashi (2014) Emergent risks and key vulnerabilities. In: Field, C.B., V.R. Barros, D.J. Dokken, K.J. Mach, M.D. Mastrandrea, T.E. Bilir, M. Chatterjee, K.L. Ebi, Y.O. Estrada, R.C. Genova, B. Girma, E.S. Kissel, A.N. Levy, S. MacCracken, P.R. Mastrandrea, and L.L. White (eds.) Climate Change 2014: Impacts, Adaptation, and Vulnerability. Part A: Global and Sectoral Aspects. Contribution of Working Group II to the Fifth Assessment Report of the Intergovernmental Panel on Climate Change. Cambridge University Press, Cambridge, pp. 1039–1099

Paterson J, Berry P, Ebi KL, Varangu L (2014) Health care facilities resilient to climate change impacts. Int J Environ Res Public Health 11:13097–13116

SCEP/Study of Critical Environmental Problems (1970) Man's impact on the global environment: assessment and recommendations for action. MIT Press, Cambridge available at http://mitpress.mit.edu/books/mans-impact-global-environment

Semenza JC, Lindgren E, Balkanyi L, Espinosa L, Almqvist MS, Penttinen P et al (2016) Determinants and drivers of infectious disease threat events in Europe. Emerg Infect Dis 22:581–589

Smith KR, Woodward A, Campbell-Lendrum C, Chadee DD, Honda Y, Liu Q, et al. (2014) Human health: impacts, adaptation, and co-benefits. In: Field CB, Barros VR, Dokken DJ, Mach KJ, Mastrandrea MD, Bilir TE (eds) Climate change 2014: Impacts, adaptation, and vulnerability. Part a: Global and sectoral aspects. Contribution of working group ii to the fifth assessment report of the intergovernmental panel on climate change. In: Fifth assessment report of the intergovernmental panel on climate change. Cambridge University Press, United Kingdom

United Nations Framework Convention on Climate Change, Document FCCC/INFORMAL/84, GE.05–62220 (E) 200705 (1992), available at http://unfccc.int/essential_background/convention/items/2627.php, last accessed 10 April 2017

van der Linden S, Maibach E, Leiserowitz A (2015) Improving public engagement with climate change: five "best practice" insights from psychological science. Perspect Psychol Sci 10(6):758–763

Verner G, Shutte S, Knop J, Sankoh O, Sauerborn R (2016) Health in climate change research from 1990 to 2014: positive trend, but still underperforming. Glob Health Action 9:30723. doi:10.3402/gha.v9.30723

WHO (World Health Organization (2012) Protecting health from climate change: vulnerability and adaptation assessment. Geneva, 72 pp.

WHO (World Health Organization) (2015) Operational framework for building climate resilient health systems. Geneva, 56 pp
About this article
Cite this article
Ebi, K.L., Hess, J.J. The past and future in understanding the health risks of and responses to climate variability and change. Int J Biometeorol 61, 71–80 (2017). https://doi.org/10.1007/s00484-017-1406-1
Received:

Revised:

Accepted:

Published:

Issue Date:
Keywords
Health

Climate variability

Climate change

Adaptation

Research needs