Abstract
Little monitoring has been conducted of temperature and humidity inside homes despite the fact that these conditions may be relevant to health outcomes. Previous studies have observed associations between self-reported perceptions of the indoor environment and health. Here, we investigate associations between measured temperature and humidity, perceptions of indoor environmental conditions, and health symptoms in a sample of New York City apartments. We measured temperature and humidity in 40 New York City apartments during summer and winter seasons and collected survey data from the households' residents. Health outcomes of interest were (1) sleep quality, (2) symptoms of heat illness (summer season), and (3) symptoms of respiratory viral infection (winter season). Using mixed-effects logistic regression models, we investigated associations between the perceptions, symptoms, and measured conditions in each season. Perceptions of indoor temperature were significantly associated with measured temperature in both the summer and the winter, with a stronger association in the summer season. Sleep quality was inversely related to measured and perceived indoor temperature in the summer season only. Heat illness symptoms were associated with perceived, but not measured, temperature in the summer season. We did not find an association between any measured or perceived condition and cases of respiratory infection in the winter season. Although limited in size, the results of this study reveal that indoor temperature may impact sleep quality, and that thermal perceptions of the indoor environment may indicate vulnerability to heat illness. These are both important avenues for further investigation.
Access options
Buy single article
Instant access to the full article PDF.
US$ 39.95
Tax calculation will be finalised during checkout.
Subscribe to journal
Immediate online access to all issues from 2019. Subscription will auto renew annually.
US$ 79
Tax calculation will be finalised during checkout.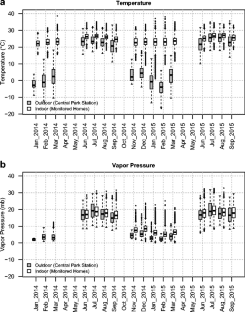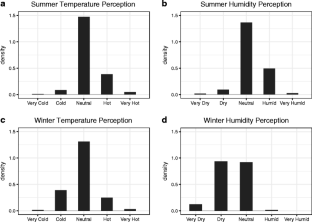 References
Anderson M, Carmichael C, Murray V, Dengel A, Swainson M (2013) Defining indoor heat thresholds for health in the UK. Perspect Public Health 133:158–164

Arena L, Mantha P, Steven Winter Associates, Inc., Karagiozis AN, Oak Ridge National Laboratory. (2010). Monitoring of internal moisture loads in residential buildings

Bonnefoy X, Braubach M, Krapavickaite D, Ormand D, Zurlyte I (2003) Housing conditions and self-reported health status: a study in panel block buildings in three cities of Eastern Europe. J Housing Built Environ 18:329–352. doi:10.1023/B:JOHO.0000005757.37088.a9

Bouchama A, Knochel JP (2002) Heat stroke. N Engl J Med 346:1978–1988. doi:10.1056/NEJMra011089

Brauer C, Budtz-Jørgensen E, Mikkelsen S (2008) Structural equation analysis of the causal relationship between health and perceived indoor environment. Int Arch Occup Environ Health 81:769–776. doi:10.1007/s00420-007-0244-6

Christensen RHB (2015) A tutorial on fitting cumulative link mixed models with clmm2 from the ordinal package. http://cran.r-project.org/web/packages/ordinal/vignettes/clmm2_tutorial.pdf

Davis RE, McGregor GR, Enfield KB (2016) Humidity: a review and primer on atmospheric moisture and human health. Environ Res 144:106–116. doi:10.1016/j.envres.2015.10.014

Fouillet A, Rey G, Laurent F, Pavillon G, Bellec S, Guihenneuc-Jouyaux C et al (2006) Excess mortality related to the August 2003 heat wave in France. Int Arch Occup Environ Health 80:16–24. doi:10.1007/s00420-006-0089-4

Franck U, Krueger M, Schwarz N, Grossmann K, Roeder S, Schlink U (2013) Heat stress in urban areas: indoor and outdoor temperatures in different urban structure types and subjectively reported well-being during a heat wave in the city of Leipzig. Meteorol Z 22:167–177. doi:10.1127/0941-2948/2013/0384

Gronlund CJ (2014) Racial and socioeconomic disparities in heat-related health effects and their mechanisms: a review. Curr Epidemiol Rep 1:165–173. doi:10.1007/s40471-014-0014-4

Grün G, Trimmel M, Holm A (2012) Low humidity in the aircraft cabin environment and its impact on well-being—results from a laboratory study. Build Environ 47:23–31. doi:10.1016/j.buildenv.2011.05.004

Heffernan R, Mostashari F, Das D, Karpati A, Kulldorff M, Weiss D (2004) Syndromic surveillance in public health practice, New York City. Emerg Infect Dis 10. doi:10.3201/eid1005.030646

Hess JJ, Saha S, Luber G (2014) Summertime acute heat illness in U.S. emergency departments from 2006 through 2010: analysis of a nationally representative sample. Environ Health Perspect 122:1209–1215. doi:10.1289/ehp.1306796

Jing S, Li B, Tan M, Liu H (2013) Impact of relative humidity on thermal comfort in a warm environment. Indoor Built Environ 22:598–607. doi:10.1177/1420326X12447614

Klinenberg E (2002) Heat wave: a social autopsy of disaster in Chicago. University of Chicago Press, Chicago

Koep TH, Enders FT, Pierret C, Ekker SC, Krageschmidt D, Neff KL et al (2013) Predictors of indoor absolute humidity and estimated effects on influenza virus survival in grade schools. BMC Infect Dis 13:1–8. doi:10.1186/1471-2334-13-71

Levy JW, Suntarattiwong P, Simmerman JM, Jarman RG, Johnson K, Olsen SJ et al (2014) Increased hand washing reduces influenza virus surface contamination in Bangkok households, 2009-2010. Influenza Other Respir Viruses 8:13–16. doi:10.1111/irv.12204

Madrigano J, Ito K, Johnson S, Kinney PL, Matte T (2015) A case-only study of vulnerability to heat wave-related mortality in New York City (2000-2011). Environ Health Perspect 123:672–678. doi:10.1289/ehp.1408178

Murphy VE, Powell H, Wark PAB, Gibson PG (2013) A prospective study of respiratory viral infection in pregnant women with and without asthma. CHEST J 144:420–427. doi:10.1378/chest.12-1956

Nagda NL, Hodgson M (2001) Low relative humidity and aircraft cabin air quality. Indoor Air 11:200–214. doi:10.1034/j.1600-0668.2001.011003200.x

Nguyen JL, Schwartz J, Dockery DW (2013) The relationship between indoor and outdoor temperature, apparent temperature, relative humidity, and absolute humidity. Indoor Air n/a–n/a. doi:10.1111/ina.12052

NWS Office of Climate, Water, and Weather Services. Weather Fatalities, (2012). Available: http://www.nws.noaa.gov/om/hazstats.shtml [accessed 31 Dec. 2013]

NYCEM. (2016). NYCEM - Plan for hazards - Extreme Heat. Available: http://www1.nyc.gov/site/em/ready/extreme-heat.page [accessed 20 March 2016]

Okamoto-Mizuno K, Tsuzuki K (2010) Effects of season on sleep and skin temperature in the elderly. Int J Biometeorol 54:401–409. doi:10.1007/s00484-009-0291-7

Ormandy D, Ezratty V (2012) Health and thermal comfort: from WHO guidance to housing strategies. Energy Policy 49:116–121. doi:10.1016/j.enpol.2011.09.003

Orosa JA, Oliveira AC (2012) An indoor air perception method to detect fungi growth in flats. Expert Syst Appl 39:3740–3746. doi:10.1016/j.eswa.2011.09.072

Osman LM, Ayres JG, Garden C, Reglitz K, Lyon J, Douglas JG (2008) Home warmth and health status of COPD patients. Eur J Pub Health 18:399–405. doi:10.1093/eurpub/ckn015

Powell H, Smart J, Wood LG, Grissell T, Shafren DR, Hensley MJ et al (2008) Validity of the common cold questionnaire (CCQ) in asthma exacerbations. PLoS One 3:e1802. doi:10.1371/journal.pone.0001802

Quinn A, Tamerius JD, Perzanowski M, Jacobson JS, Goldstein I, Acosta L et al (2014) Predicting indoor heat exposure risk during extreme heat events. Sci Total Environ 490C:686–693. doi:10.1016/j.scitotenv.2014.05.039

Reinikainen LM, Jaakkola JJK (2003) Significance of humidity and temperature on skin and upper airway symptoms. Indoor Air 13:344–352

Shaman J, Kohn M (2009) Absolute humidity modulates influenza survival, transmission, and seasonality. Proc Natl Acad Sci U S A 106:3243–3248. doi:10.1073/pnas.0806852106

Shaman J, Pitzer VE, Viboud C, Grenfell BT, Lipsitch M (2010) Absolute humidity and the seasonal onset of influenza in the continental United States. PLoS Biol 8:e1000316. doi:10.1371/journal.pbio.1000316

Siriwardena AN (2012) Increasing evidence that influenza is a trigger for cardiovascular disease. J Infect Dis jis598. doi:10.1093/infdis/jis598

te Beest DE, van Boven M, Hooiveld M, van den Dool C, Wallinga J (2013) Driving factors of influenza transmission in the Netherlands. Am J Epidemiol 178:1469–1477. doi:10.1093/aje/kwt132

Tamerius JD, Perzanowski MS, Acosta LM, Jacobson JS, Goldstein IF, Quinn JW et al (2013) Socioeconomic and outdoor meteorological determinants of indoor temperature and humidity in New York City dwellings. Weather Clim Soc 5:168–179. doi:10.1175/WCAS-D-12-00030.1

Thompson WW, Shay DK, Weintraub E, Brammer L, Cox N, Anderson LJ et al (2003) Mortality associated with influenza and respiratory syncytial virus in the United States. JAMA. J Am Med Assoc 289:179–186

Toftum J, Fanger PO (1999) Air humidity requirements for human comfort. ASHRAE Trans 105:641

Uejio CK, Tamerius JD, Vredenburg J, Asaeda G, Isaacs DA, Braun J et al (2015) Summer indoor heat exposure and respiratory and cardiovascular distress calls in New York City, NY, U.S. Indoor Air. doi:10.1111/ina.12227

van Loenhout JAF, le Grand A, Duijm F, Greven F, Vink NM, Hoek G et al (2016) The effect of high indoor temperatures on self-perceived health of elderly persons. Environ Res 146:27–34. doi:10.1016/j.envres.2015.12.012

Wallace JM, Hobbs PV (2006) Atmospheric science, second edition: an introductory survey. 2 edition. Academic Press, Amsterdam

Wheeler K, Lane K, Walters S, Matte T (2013) Heat illness and deaths—New York City, 2000-2011. (Cover story). MMWR Morb Mortal Wkly Rep 62:617–621

White-Newsome JL, Sánchez BN, Jolliet O, Zhang Z, Parker EA, Dvonch JT et al (2012) Climate change and health: indoor heat exposure in vulnerable populations. Environ Res 112:20–27. doi:10.1016/j.envres.2011.10.008
Acknowledgements
AQ's contributions to this work were supported by the US National Institute of Environmental Health Sciences, via the Interdisciplinary Training Grant in Climate And Health (Grant No. T32 ES023770) and the Center for Environmental Health in Northern Manhattan (Grant No. P30 ES009089). JS's work was funded by the National Institute of General Medical Sciences (Grant No. GM100467).
Electronic supplementary material
About this article
Cite this article
Quinn, A., Shaman, J. Health symptoms in relation to temperature, humidity, and self-reported perceptions of climate in New York City residential environments. Int J Biometeorol 61, 1209–1220 (2017). https://doi.org/10.1007/s00484-016-1299-4
Received:

Revised:

Accepted:

Published:

Issue Date:
Keywords
Sleep Quality

Winter Season

Summer Season

Indoor Environment

Outdoor Temperature