Abstract
Šiauliai University Botanical Garden is a member of the International Phenological Garden network since 2005. It is the only one botanical garden in the East Europe that participated in the programme. In 2015, 18 species were observed. For research, data of 14 plants was used. The aim of this study is to estimate the responsiveness of the species of plants of the phenological garden to annual and monthly precipitation and temperature of the air. The main variables in this investigation were growing season length and the beginning of the growing season. In the period 2006–2015, the lowest annual air temperature was in 2010 (6.0 °C), and the highest was in 2015 (8.9 °C). The lowest precipitation was in 2015 (37.3 mm), and the highest was in 2012 (63.5 mm). The leanest regression among growing length, average annual precipitation, and air temperature showed that statistically significant correlation between growing length and average annual air temperature was found for nine plants, between growing length and precipitation was found for three plants, and between growing length and both factors was found for one plant, Salix smithiana, only. Due to the short evaluating period (2007–2015), consistent regression of the length of the growing season could not be found. The growing length of Betula pubescens sequentially increased. The average growing season of 14 plants starts on April 27 (±3), but for Corylus avellana, it is on April 26 (±3). Longevity of the growing season was the most related with precipitation for C. avellana in summer, autumn, and winter and with air temperature, Ribes alpinum and Salix acutifolia in summer and in autumn.
Access options
Buy single article
Instant access to the full article PDF.
USD 39.95
Price includes VAT (USA)
Tax calculation will be finalised during checkout.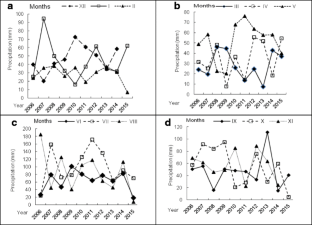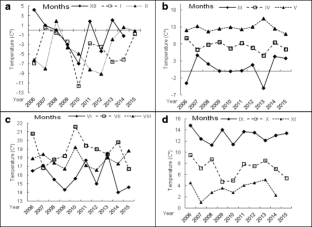 References
Chmielewski FM (2002) Climate variability and trends in plant phenology in Europe and in Germany. In: 15th Conference on Biometeorology and Aerobiology Joint with the 16th International Congress on Biometeorology, Kansas City, Missouri 373–374

Chmielewski FM, Heider S, Moryson S, Bruns E (2013) International Phenological Observation Networks: concept of IPG and GPM. In: Schwartz MD (ed) Phenology: an integrative environmental science. Springer, Dordrecht Heidelberg, New York, 137–153

Chmielewski FM, Rötzer T (2001) Response of tree phenology to climate change across Europe. Agr Forest Meteorol 108:101–112

Cleland EE, Chuine I, Menzel A, Mooney HA, Schwartz MD (2007) Shifting plant phenology in response to global change. Trends in Ecol Evol 22:357–365

Donaldson JS (2009) Botanic gardens science for conservation and global change. Trends Plant Sci 14:608–613

Fitter AH, Fitter RSR (2002) Rapid changes in flowering time in British plants. Science 296:1689–1691

IPCC (2014) Summary for policymakers. In: Climate change 2014: impacts, adaptation, and vulnerability. Part A: global and sectoral aspects. Contribution of Working Group II to the Fifth Assessment Report of the Intergovernmental Panel on Climate Change [Field, C.B., V.R. Barros, D.J. Dokken, K.J. Mach, M.D. Mastrandrea, T.E. Bilir, M. Chatterjee, K.L. Ebi, Y.O. Estrada, R.C. Genova, B. Girma, E.S. Kissel, A.Nz. Levy, S. MacCracken, P.R. Mastrandrea, and L.L. White (eds.)]. Cambridge University Press, Cambridge, United Kingdom and New York, NY, USA, 1-32

Kalvane G, Romanovskaja D, Briede A, Bakšienė E (2009) Influence of climate change on phenological phases in Latvia and Lithuania. Clim Research 39:209–219

Menzel A (2003) Plant phenological anomalies in Germany and their relation to air temperature and NAO. Clim Change 57:243–263

Menzel A, Sparks T, Estrella N, et al. (2006) European phenological response to climate change matches the warming pattern. Glob Chang Biol 12(10):1969–1976

Miller-Rushing AJ, Primack RB (2008) Global warming and flowering times in Thoreau's Concord: a community perspective. Ecology 89:332–341

Navasaitis M (2008) Dendrology (Dendrologija) Vilnius. In: Lithuanian), pp. 63–64

Noormets A, Gavazzi MJ, Mcnulty SG, Domec JC, Sun G, King J, Chen J (2010) Response of carbon fluxes to drought in a coastal plain loblolly pine forest. Glob Chang Biol 16:272–287. doi:10.1111/j.1365-2486.2009.01928.x

Primack RB, Miller-Rushing AJ (2009) The role of botanical gardens in climate change research. New Phytol 182:303–313

Romanovskaja D, Baksiene E (2007) Influence of a thermal mode on the seasonal phenological phenomena in Lithuania. Ekologija 1:15–20

Romanovskaja D, Baksiene E (2009) Influence of climatic warming on beginning of flowering of apple tree (Malus domestica Barkh.) in Lithuania. Agronomy Research 7(1):87–96

Rötzer T, Chmielewski F-M (2001) Phenological maps of Europe. Clim Res 18(3):249–257

Sobrino JA, Julien Y, Morales L (2011) Changes in vegetation spring dates in the second half of the twentieth century. Int J Remote Sens 32:5247–5265

Sparks TH, Górska-Zajączkowska M, Wójtowicz W, Tryjanowski P (2011) Phenological changes and reduced seasonal synchrony in western Poland. Int J Biometeorol 55(3):447–453

Tucker LA (2003) Simplistic statistics. A basic guide to the statistical analysis of biological data. Chalcomble Publications, Welton Lincoln, UK, 1-65.
About this article
Cite this article
Klimienė, A., Vainorienė, R. & Klimas, R. Phenological research of climate changes in the north part of Lithuania by the phenological garden of Šiauliai University. Int J Biometeorol 61, 293–301 (2017). https://doi.org/10.1007/s00484-016-1211-2
Received:

Revised:

Accepted:

Published:

Issue Date:
Keywords
Phenological stage

International Phenological Gardens of Europe

Botanical garden

Growing season