Abstract
Rheumatoid arthritis (RA) is a chronic systemic autoimmune disease characterized by persistent inflammation of synovial joints with pain, often leading to joint destruction and disability, and despite intensive research, the cause of RA remains unknown. Balneotherapy—also called mineral baths or spa therapy—uses different types of mineral water compositions like sulphur, radon, carbon dioxin, etc. The role of balneotherapy is on debate; Sukenik wrote that the sulphur mineral water has special proprieties to rheumatologic diseases, including in the course of active inflammatory phases in RA. The aim of this review is to summarize the available evidence on the effects of balneotherapy on patients with rheumatoid arthritis. We have made a systematic search of the articles published from 1980 to 2014 on this topic in PubMed, Scopus, CRD, PEDro, Web of Science and Embase databases. We have followed the method set by the Preferred Reporting Items for Systematic reviews and Meta-Analysis (PRISMA). These that have compared balneotherapy with other therapeutic modalities or with no intervention were considered. The inclusion criteria of these papers were randomized control trial (RCT); languages: English, French, Spanish, Italian and Portuguese; evaluation of efficacy (analysis of outcomes); use of natural mineral water baths; and participants with RA. A total of eight articles documenting RCTs were found and included for full review and critical appraisal involving a total of 496 patients. The studies selected highlighted an important improvement and statistically significant in several clinical parameters, in spite of their heterogeneity between the various studies. One study emphasized an important improvement on functional capacity up to 6 months of follow-up (FU). Some of the studies (std.) reveal an improvement on morning stiffness (5 std.), number of active joints (3 std.), Ritchie index (2 std.) and activities of daily living (2 std.) up to 3 months of FU. Three studies reveal the improvement on handgrip strength up to 1 month of FU. About pain (VAS), the three studies which evaluated this parameter were inconclusive about real significant improvement. Our tables summarize the published papers about this topic. Different authors emphasize the same problems: methodologies differing from study to study, treatment modalities, outcomes and their analysis. On the one hand, it is particularly difficult to have homogeneity on this population in all the parameters (patient's clinical heterogeneity, diverse clinical course of the disease, variety of the drugs), and on the other hand, natural mineral water composition is always unique with potential specific biological effects. This comprehensive review has revealed that there are very few published studies about the use of natural mineral water in RA. International multicentre studies, using the same methodologies, could be achieved by carrying the scientific arguments to support our clinical practice.
Access options
Buy single article
Instant access to the full article PDF.
USD 39.95
Price excludes VAT (USA)
Tax calculation will be finalised during checkout.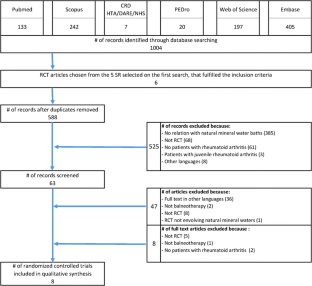 References
Agency for Healthcare Research and Quality Publication (2013) Methods guide for effectiveness and comparative effectiveness reviews. AHRQ

Bender, T., Balint, P. V, & Balint, G.P. 2002. A brief history of spa therapy. Ann Rheum Dis 61(10):949; author reply 949–50.

Boutron I, Dutton S, Ravaud P, Altman DG (2010) Reporting and interpretation of randomized controlled trials with statistically nonsignificant results for primary outcomes. Jama 303(20):2058–2064

Boutron I, Moher D, Altman DG, Schulz KF, Ravaud P (2008a) Methods and processes of the CONSORT Group: example of an extension for trials assessing nonpharmacologic treatments. Ann Intern Med 148(4):W60–W66

Boutron I, Moher D, Altman DG, Schulz KF, Ravaud P (2008b) Extending the CONSORT statement to randomized trials of nonpharmacologic treatment: explanation and elaboration. Ann Intern Med 148(4):295–309

Boutron I, Tubach F, Giraudeau B, Ravaud P (2003) Methodological differences in clinical trials evaluating nonpharmacological and pharmacological treatments of hip and knee osteoarthritis. Jama 290(8):1062–1070

Boutron I et al. (2005) A checklist to evaluate a report of a nonpharmacological trial (CLEAR NPT) was developed using consensus. J Clin Epidemiol 58(12):1233–1240

Brosseau L et al. (2002) Efficacy of balneotherapy for rheumatoid arthritis: a meta-analysis. Phys. Ther. Rev. 7(2):67–87

Chalmers I (1993) The Cochrane Collaboration: preparing, maintaining, and disseminating systematic reviews of the effects of health care. Ann N Y Acad Sci 703:156–163 discussion 163–5

Chen H, Shoumura S, Emura S, Isono H (2009) Tibetan medicated-bath therapy may improve adjuvant arthritis in rat. Evid Based Complement Alternat Med 6(2):211–217

Combe B et al. (2007) EULAR recommendations for the management of early arthritis: report of a task force of the European Standing Committee for International Clinical Studies Including Therapeutics (ESCISIT). Ann Rheum Dis 66(1):34–45

Elkayam O et al. (1991) Effect of spa therapy in Tiberias on patients with rheumatoid arthritis and osteoarthritis. J. Rheumatol. 18(12):1799–1803

Falagas ME, Zarkadoulia E, Rafailidis PI (2009) The therapeutic effect of balneotherapy: evaluation of the evidence from randomised controlled trials. Int J Clin Pract 63(7):1068–1084

Fioravanti A, Cantarini L, Guidelli GM, Galeazzi M (2011) Mechanisms of action of spa therapies in rheumatic diseases: what scientific evidence is there? Rheumatol. Int. 31(1):1–8

Firestein GS et al. (2008) Kelley's textbook of rheumatology 8th ed. Elsevier Science Health Science Division 2008

Forestier R, Françon A, Graber-Duvernay B (2005) Comment peut-on juger de la validité d'un essai thérapeutique ? Press therm Clim 142:75–99

Forestier R et al. (2009) Non-drug treatment (excluding surgery) in rheumatoid arthritis: clinical practice guidelines. Jt Bone spine 76(6):691–698

Franke A, Franke T (2013) Long-term benefits of radon spa therapy in rheumatic diseases: results of the randomised, multi-centre IMuRa trial. Rheumatol Int 33(11):2839–2850

Franke A, Reiner L, Pratzel HG, Franke T, Resch K-L (2000) Long-term efficacy of radon spa therapy in rheumatoid arthritis–a randomized, sham-controlled study and follow-up. Rheumatology 39(8):894–902

Franke A, Reiner L, Resch K-L (2007) Long-term benefit of radon spa therapy in the rehabilitation of rheumatoid arthritis: a randomised, double-blinded trial. Rheumatol Int 27(8):703–713

Frontera WR (2010) DeLisa's physical medicine and rehabilitation: principles and practice, 5th edn. Lippincott Williams & Wilkins

Gutenbrunner C, Bender T, Cantista P, Karagülle Z (2010) A proposal for a worldwide definition of health resort medicine, balneology, medical hydrology and climatology. Int J Biometeorol 54(5):495–507

Hall J, Skevington SM, Maddison PJ, Chapman K (1996) A randomized and controlled trial of hydrotherapy in rheumatoid arthritis. Arthritis Care Res 9(3):206–215

Ioannidis JPA et al. (2004) Better reporting of harms in randomized trials: an extension of the CONSORT statement. Ann Intern Med 141(10):781–788

Karagülle Z, Karagülle M (2004) Balneotherapy and spa therapy of rheumatic diseases in Turkey: a systematic review. Forsch Komplementarmed Klass Naturheilkd 11(1):33–41

Katz U, Shoenfeld Y, Zakin V, Sherer Y, Sukenik S (2012) Scientific evidence of the therapeutic effects of Dead Sea treatments: a systematic review. Semin Arthritis Rheum 42(2):186–200

Kwoh CK et al. (2002) Guidelines for the management of rheumatoid arthritis: 2002 update—American College of Rheumatology Subcommittee on Rheumatoid Arthritis Guidelines. Arthritis Rheum 46(2):328–346

Marković M, Majkić-Singh N, Ignjatović S (2009) Beneficial effects of cellular stress response in traditional spa treatment of rheumatoid arthritis. Clin Lab 55(5–6):235–241

Nasermoaddeli A, Kagamimori S (2005) Balneotherapy in medicine: a review. Environ Health Prev Med 10(4):171–179

Nguyen M, Revel M, Dougados M (1997) Prolonged effects of 3 week therapy in a spa resort on lumbar spine, knee and hip osteoarthritis: follow-up after 6 months. A randomized controlled trial. Br J Rheumatol 36(1):77–81

Santé HAD (2007) Polyarthrite rhumatoïde : aspects thérapeutiques hors médicaments et chirurgie - aspects médico-sociaux et organisationnels. Haute Autorité de Santé

Sukenik S, Abu-Shakra M, Flusser D (1997) Balneotherapy in autoimmune disease. Isr J Med Sci 33(4):258–261

Sukenik S, Buskila D, Neumann L, Kleiner-Baumgarten A, Zimlichman S, Horowitz J (1990a) Sulphur bath and mud pack treatment for rheumatoid arthritis at the Dead Sea area. Ann Rheum Dis 49(2):99–102

Sukenik S, Neumann L, Buskila D, Kleiner-Baumgarten A, Zimlichman S, Horowitz J (1990b) Dead Sea bath salts for the treatment of rheumatoid arthritis. Clin Exp Rheumatol 8(4):353–357

Sukenik S, Neumann L, Flusser D, Kleiner-Baumgarten A, Buskila D (1995) Balneotherapy for rheumatoid arthritis at the Dead Sea. Isr J Med Sci 31(4):210–214

Van Tubergen A (2002) A brief history of spa therapy. Ann Rheum Dis 61(3):273–275

Verhagen, A.P. et al. 2004. Balneotherapy for rheumatoid arthritis. Cochrane database Syst. Rev. (4):Assessed as up.to.date in 2007.

Vliet Vlieland TPM, Li LC (2009) Rehabilitation in rheumatoid arthritis and ankylosing spondylitis: differences and similarities. Clin Exp Rheumatol 27(4 Suppl 55):S171–S178

Yurtkuran M et al. (1999) A randomized, controlled study of balneotherapy in patients with rheumatoid arthritis. Phys. Medizin, Rehabil. Kurortmedizin 09(03):92–96

Zdrojewicz Z, Strzelczyk JJ (2006) Radon treatment controversy. Dose. Response. 4(2):106–118
Ethics declarations
Conflict of interest
The authors declare that they have no competing interests.
About this article
Cite this article
Santos, I., Cantista, P. & Vasconcelos, C. Balneotherapy in rheumatoid arthritis—a systematic review. Int J Biometeorol 60, 1287–1301 (2016). https://doi.org/10.1007/s00484-015-1108-5
Received:

Revised:

Accepted:

Published:

Issue Date:

DOI: https://doi.org/10.1007/s00484-015-1108-5
Keywords
Balneotherapy

Rheumatoid arthritis

Spa therapy

Crenotherapy

Medical hydrology