Abstract
This study is an attempt to find out the factors responsible for sudden dengue outbreak in different cities of Pakistan during 2011. For this purpose, spatio-temporal distribution of dengue in Islamabad, Rawalpindi, Lahore, and Karachi has been taken into account. According to the available data, the factors responsible for this spread includes climate covariates like rainfall, temperature, and wind speed; social covariates like population, and area of locality, and environmental risk factors like drainage pattern and geo-hydrological conditions. Reported dengue cases from localities and Shuttle Radar Topography Mission (SRTM) 90 m digital elevation model (DEM) of study areas have been processed for hotspots, regression model and stream density in the localities of high dengue incidence. The relationship of daily dengue incidence with climate covariates during the months of July–October of the study year is analyzed. Results show that each dry spell of 2–4 days provides suitable conditions for the development and survival of dengue vectors during the wet months of July and August in the areas of high stream density and population. Very few cases have been reported in July while higher number of cases reported in the months of August, September, until late October. Hotspot analysis highlights the areas of high dengue incidence while regression analysis shows the relationship between the population and the areas of localities with the dengue incidence.
This is a preview of subscription content,
to check access.
Access this article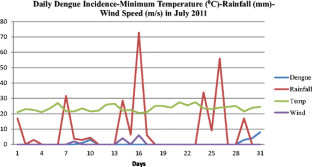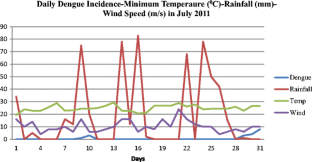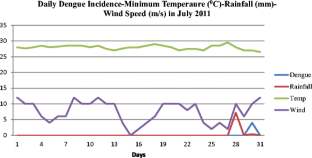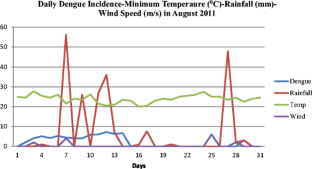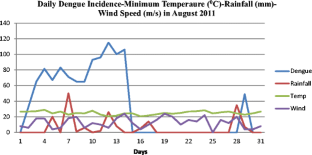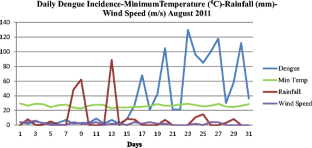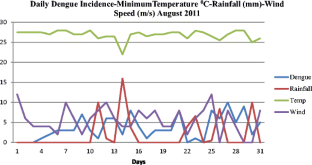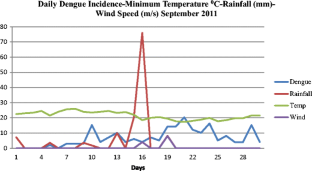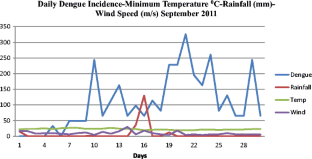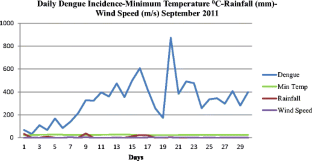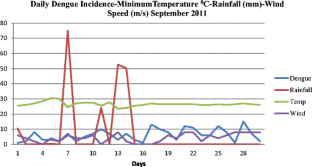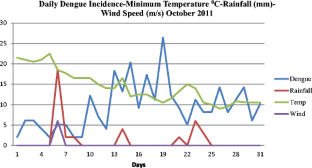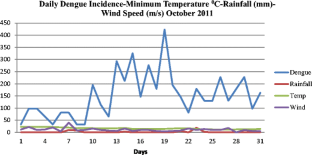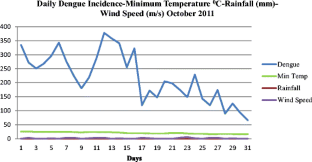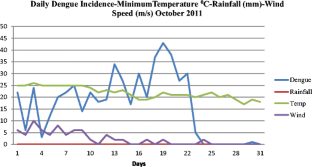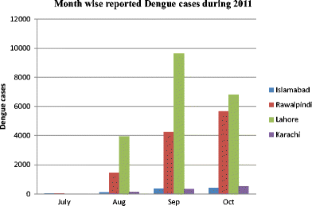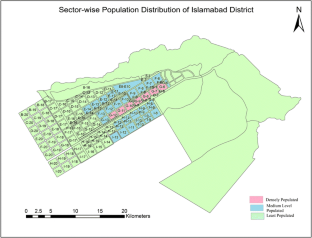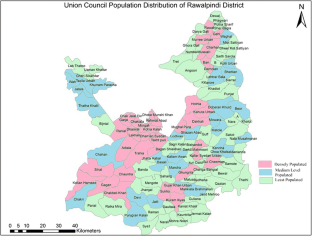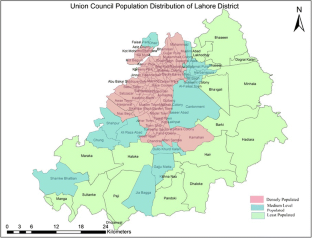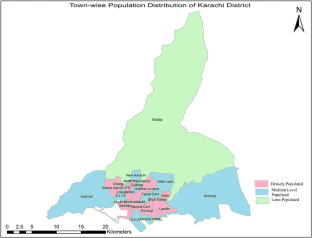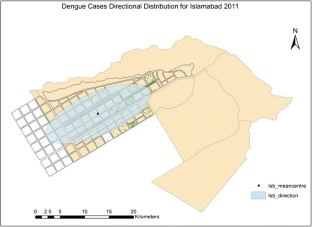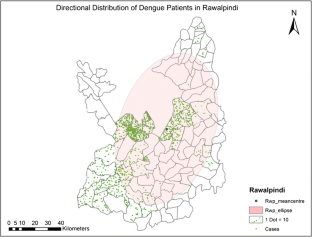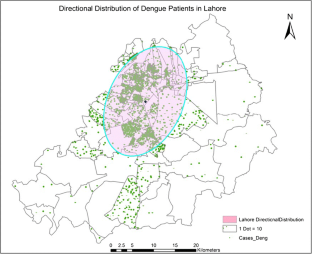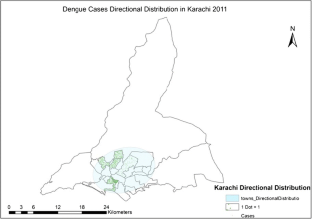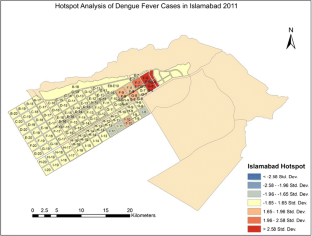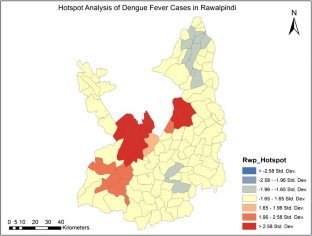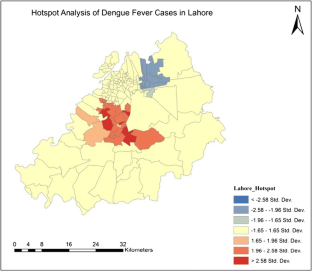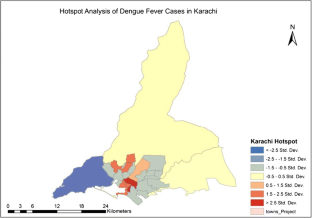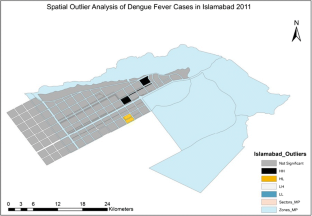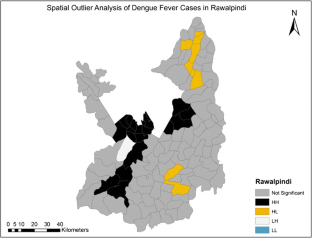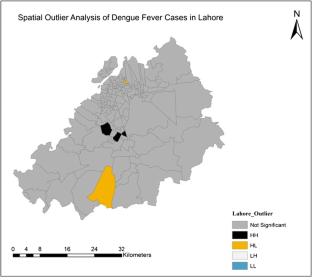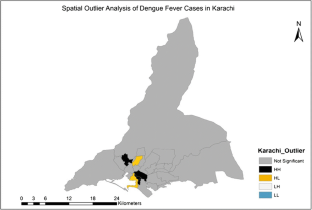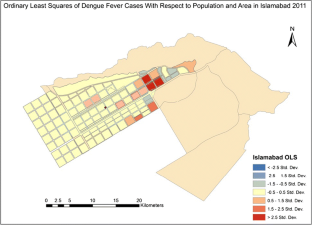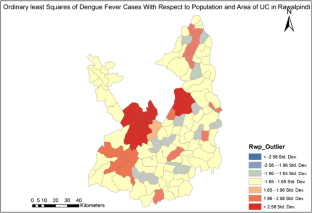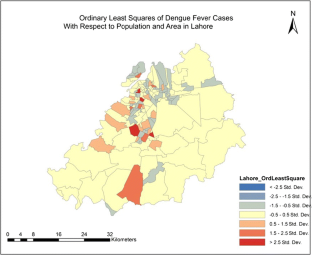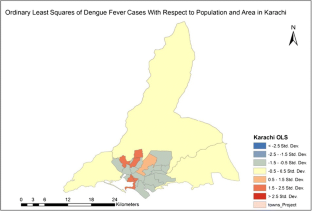 Similar content being viewed by others
References
Climate of Pakistan (2011) Report by National Drought Monitoring Center. Pakistan Meteorological Department

Cox J, Grillet ME, Ramos OM, Amador M, Barrera R (2007) Habitat segregation of dengue vectors along an urban environmental gradient. Am J Trop Med Hyg 76:820–826

Chowell G, Sanchez F (2006) Climate-based descriptive models of dengue fever. J Environ Health 68:60–63

Chan YC, Salahuddin NI, Khan J, Tan HC, Seah CL, Li J (1994) Dengue hemorrhagic fever outbreak in Karachi, Pakistan. Trans R Soc Trop Med Hyg 89:619–620

Edillo FE, Touré YT, Lanzaro GC, Dolo G, Taylor CE (2004) Survivorship and distribution of immature Anopheles gambiae. (Diptera: Culicidae) in Banambani Village, Mali. J Med Entomol 41:333–339

Fatima Z, Idrees M, Bajwa MA, Tahir Z, Ullah O, Zia MQ, Hussain A, Akram M, Khubaib B, Afzal S, Munir S, Saleem S, Rauff B, Badar S, Naudhani M, Butt S, Aftab M, Ali L, Ali M (2011) Serotype and genotype analysis of dengue virus by sequencing followed by phylogenetic analysis using samples from three mini outbreaks-2007–2009 in Pakistan. BMC Microbiol 10:200–203

Favier C, Degallier N, Dubois MA (2005) Dengue epidemic modelling: stakes and pitfalls. Asia Pac Biotechnol News 9:1191–1194

Gemperli A, Sogoba N, Fondjo E, Mabaso M, Bagayoko M, Briët OJT, Anderegg D, Liebe J, Smith T, Vounatsou P (2006) Mapping malaria transmission in West and Central Africa. Trop Med Int Health 11:1032–1046

Guerra CA, Snow RW, Hay SI (2006) Mapping the global extent of malaria in 2005. Trends Parasitol 22:353–358

Gubler DJ (2002) Epidemic dengue/dengue hemorrhagic fever as a public health, social and economic problem in the 21st century. Trends Microbiol 10(2):100–103

Guthmann JP, Hall AJ, Jaffar S, Palacios A, Lines J, Llanos- Cuentas A (2001) Environmental risk factors for clinical malaria: a case–control study in the Grau Region of Peru. Trans R Soc Trop Med Hyg 95:1–7

Githeko AK, Lindsay SW, Confalonieri UE, Patz JA (2000) Climate change and vector-borne diseases: a regional analysis. Bull World Health Organ 78:1136–1147

Humayoun MA, Waseem T, Jawa AA, Hashmi MS, Akram J (2010) Multiple dengue serotypes and high frequency of dengue hemorrhagic fever at two tertiary care hospitals in Lahore during the 2008 dengue virus outbreak in Punjab, Pakistan. Int J Infect Dis 14:54–59

Halstead SB (2008) Dengue virus-mosquito interactions. Rev Entomol 53:273–291

Hakre S, Masuoka P, Vanzie E, Roberts RD (2004) Spatial correlations of mapped malaria rates with environmental factors in Belize, Central America. Int J Health Geogr 3:6–17

Jetten TH, Focks DA (1997) Potential changes in the distribution of dengue transmission under climate warming. Am J Trop Med Hyg 57:285–297

Khalid B, Ghaffar A (2015) Dengue transmission based on urban environmental gradients in different cities of Pakistan. Int J Biometeorol 59:267–283

Keiser J, Singer BH, Utzinger J (2005) Reducing the burden of malaria in different eco-epidemiological settings with environmental management: a systematic review. Lancet Infect Dis 5:695–708

Knap A, Dewailly E, Furgal C, Galvin J, Baden D, Bowen RE, Depledge M, Duguay L, Fleming LE, Ford T, Moser F, Owen R, Suk WA, Unluata U (2002) Indicators of ocean health and human health: developing a research and monitoring framework. Environ Health Perspect 110:839–845

Liu-Helmersson J, Stenlund H, Wilder-Smith A, Rocklov J (2014) Vectorial capacity of Aedes aegypti: effects of temperature and implications for global dengue epidemic potential. PLoS ONE 9(3):e89783. doi:10.1371/journal.pone.0089783

Olson SH, Gangnon R, Elguero E, Durieux L, Guégan JF, Foley JA, Patz JA (2009) Links between climate, malaria and wetlands in the Amazon Basin. Emerg Infect Dis 15:659–662

Oesterholt MJAM, Bousema JT, Mwerinde OK, Harris C, Lushino P, Masokoto A, Mwerinde H, Mosha FW, Drakeley CJ (2006) Spatial and temporal variation in malaria transmission in a low endemicity area in northern Tanzania. Malar J 5:98

Smith MW, Macklin MG, Thomas CJ (2013) Hydrological and geomorphological controls of malaria transmission. Earth Sci Rev 116:109–127

Utzinger J, Tozan Y, Singer BH (2001) Efficacy and cost effectiveness of environmental management for malaria control. Trop Med Int Health 6:677–687

Van der Hoek W, Konradsen F, Amerasinghe PH, Perera D, Piyaratne MK, Amerasinghe FP (2003) Towards a risk map of malaria for Sri Lanka: the importance of house location relative to vector breeding sites. Int J Epidemiol 32:280–285

World Health Organization (2012) International travel and health: situation as on 1 January 2012. World Health Organization

World Health Organization (2009) Epidemiology, burden of disease and transmission. In Dengue: Guidelines for diagnosis, treatment, prevention and control. World Health Organization, Geneva, 1–21

Wu P, Guo H, Lung S, Lin C, Su H (2007) Weather as an effective predictor for occurrence of dengue fever in Taiwan. Acta Trop 103:50–57

Wolff M (2002) Concepts and approaches for marine ecosystem research with reference to the tropics. Rev Biol Trop 50:395–414

Yang HM, Macoris ML, Galvani KC, Andrighetti MT, Wanderley DM (2009) Assessing the effects of temperature on the population of Aedes aegypti, the vector of dengue. Epidemiol Infect 137:1188–1202
Acknowledgements
The authors wish to thank the National Institute of Health (NIH) Islamabad, Government of the Punjab (GoP), National Institute of Populational Studies (NIPS), and Pakistan Meteorological Department (PMD) for providing the important data necessary for this manuscript.
About this article
Cite this article
Khalid, B., Ghaffar, A. Environmental risk factors and hotspot analysis of dengue distribution in Pakistan. Int J Biometeorol 59, 1721–1746 (2015). https://doi.org/10.1007/s00484-015-0982-1
Received:

Revised:

Accepted:

Published:

Issue Date:

DOI: https://doi.org/10.1007/s00484-015-0982-1
Keywords