Abstract
Urban environmental health hazards, including exposure to extreme heat, have become increasingly important to understand in light of ongoing climate change and urbanization. In cities, neighborhoods are often considered a homogenous and appropriate unit with which to assess heat risk. This manuscript presents results from a pilot study examining the variability of individually experienced temperatures (IETs) within a single urban neighborhood. In July 2013, 23 research participants were recruited from the South End neighborhood of Boston and equipped with Thermochron iButtons that measured the air temperatures surrounding individuals as they went about their daily lives. IETs were measured during a heat wave period (July 17–20), which included 2 days with excessive heat warnings and 1 day with a heat advisory, as well as a reference period (July 20–23) in which temperatures were below seasonal averages. IETs were not homogeneous during the heat wave period; mean IETs were significantly different between participants (p < 0.001). The majority of participants recorded IETs significantly lower than outdoor ambient temperatures (OATs), and on average, the mean IET was 3.7 °C below the mean OAT. Compared with IETs during the reference period, IETs during the heat wave period were 1.0 °C higher. More than half of participants did not experience statistically different temperatures between the two test periods, despite the fact that the mean OAT was 6.5 °C higher during the heat wave period. The IET data collected for this sample and study period suggest that (1) heterogeneity in individual heat exposure exists within this neighborhood and that (2) outdoor temperatures misrepresent the mean experienced temperatures during a heat wave period. Individual differences in attributes (gender, race, socioeconomic status, etc.), behaviors (schedules, preferences, lifestyle, etc.), and access to resources are overlooked determinants of heat exposure and should be better integrated with group- and neighborhood-level characteristics. Understanding IETs for the population at large may lead to innovative advances in heat-health intervention and mitigation strategies.
Access options
Buy single article
Instant access to the full article PDF.
US$ 39.95
Tax calculation will be finalised during checkout.
Subscribe to journal
Immediate online access to all issues from 2019. Subscription will auto renew annually.
US$ 79
Tax calculation will be finalised during checkout.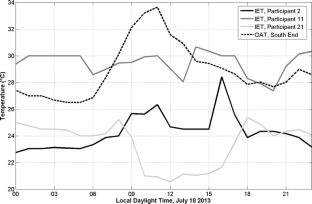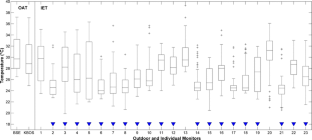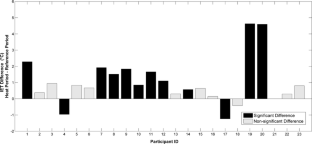 References
[ACS] American Community Survey (2013) 2007-2011 estimate: South End Neighborhood. Boston Redevelopment Authority Research Division Analysis

Anderson BG, Bell ML (2009) Weather-related mortality. Epidemiology 20(2):205–213

[BHA] Boston Housing Authority (n.d.) Development information. http://www.bostonhousing.org/housing_dev.html. Accessed 17 Apr 2014

Basu R, Samet J (2002) An exposure assessment study of ambient heat exposure in an elderly population in Baltimore, Maryland. Environ Health Perspect 110:1219

Bell ML, O'Neill MS, Ranjit N, Borja-Aburto VH, Cifuentes LA, Gouveia NC (2008) Vulnerability to heat-related mortality in Latin America: a case-crossover study in Sao Paulo, Brazil, Santiago, Chile and Mexico City, Mexico. Int J Epidemiol 37(4):796–804

Brasche S, Bischof E (2005) Daily time spent indoors in German homes—baseline data for the assessment of indoor exposure of German occupants. Int J Hyg Environ Health 208:247–253

Brown-Saracino J (2010) The gentrification debates: a reader. Routledge, London

Cadenasso ML, Pickett STA, Schwarz K (2007) Spatial heterogeneity in urban ecosystems: reconceptualizing land cover and a framework for classification. Front Ecol Environ 5(2):80–88

Chow WT, Chuang WC, Gober P (2012) Vulnerability to extreme heat in metropolitan Phoenix: spatial, temporal, and demographic dimensions. Prof Geogr 64(2):286–302

Davis RE, Knappenberger PC, Michaels PJ, Novicoff WM (2003) Changing heat-related mortality in the United States. Environ Health Perspect 111(14):1712–1718

Dousset B, Gourmelon F, Laaidi K, Zeghnoun A, Giraudet E, Bretin P, Mauri E, Vandentorren S (2011) Satellite monitoring of summer heat waves in the Paris metropolitan area. Int J Climatol 31:313–323

[EDS] Embedded Data Systems (2012) iButton. www.embeddeddatasystems.com/iButton_c_27.html. Accessed 29 Nov 2012

Franck U, Kruger M, Schwarz N, Grossmann K, Roder S, Schlink U (2013) Heat stress in urban areas: indoor and outdoor temperatures in different urban structure types and subjectively reported well-being during a heat wave in the city of Leipzig. Meteorol Z 22(2):167–177

Freeman L (2011) There goes the hood: views of gentrification from the ground up. Temple University Press, Philadelphia

Georgescu M, Moustaoui M, Mahalov A, Dudhia J (2013) Summer-time climate impacts of projected megapolitan expansion in Arizona. Nat Clim Chang 3(1):37–41

Gubernot DM, Anderson GB, Hunting KL (2013) The epidemiology of occupational heat exposure in the United States: a review of the literature and assessment of research needs in a changing climate. Int J Biometeorol. doi:10.1007/s00484-013-0752-x

Hajat S, Sheridan SC, Allen MJ, Pascal M, Laaidi K, Yagoui A et al (2010) Heat-health warning systems: a comparison of the predictive capacity of different approaches to identifying dangerously hot days. Am J Public Health 100(6):1137–1144

Harlan SL, Brazel AJ, Prashad L, Stefanov WL, Larsen L (2006) Neighborhood microclimates and vulnerability to heat stress. Soc Sci Med 63:2847–2863

Harlan SL, Declet-Barreto JH, Stefanov WL, Petitti DB (2013) Neighborhood effects on heat deaths: social and environmental predictors of vulnerability in Maricopa County, Arizona. Environ Health Perspect 121(2):197

Hondula DM, Davis RE, Leisten MJ, Saha MV, Veazey LM, Wegner CR (2012) Fine-scale spatial variability of heat-related mortality in Philadelphia County, USA, from 1983-2008: a case-series analysis. Environ Health 11(16):1–11

Hondula DM, Davis RE, Rocklöv J, Saha MV (2013a) A time series approach for evaluating intra-city heat-related mortality. J Epidemiol Community Health 67(8):707–712

Hondula DM, Vanos JK, Gosling SN (2013b) The SSC: a decade of climate–health research and future directions. Int J Biometeorol 1–12

Huang G, Zhou W, Cadenasso ML (2011) Is everyone hot in the city? Spatial pattern of land surface temperatures, land cover and neighborhood socioeconomic characteristics in Baltimore, MD. J Environ Manage 92:1753–1759

Jacobs J (1961) The death and life of great American cities. Vintage Books, New York

Klinenberg E (2002) Heat wave: a social autopsy of disaster in Chicago. University of Chicago Press, Chicago

Laaidi K, Zeghnoun A, Dousset B, Bretin P, Vandentorren S, Giraudet E, Beaudeau P (2012) The impact of heat islands on mortality in Paris during the August 2003 heat wave. Environ Health Perspect 120(2):254–259

Lam CKC, Loughnan M, Tapper N (2013) An exploration of temperature metrics for further developing the heat-health weather warning system in Hong Kong. ISRN Atmos Sci. doi:10.1155/2013/930238

Levy PR, Cybriwsky RA (1980) The hidden dimensions of culture and class: Philadelphia. In: Brown-Saracino J (ed) The gentrification debates: a reader. Routledge, London, pp 285–294

Malchaire J, Kampmann B, Havenith G, Mehnert P, Gebhardt HJ (2000) Criteria for estimating acceptable exposure times in hot working environments: a review. Int Arch Occup Environ Health 73(4):215–220

Maly MT (2005) Beyond segregation: multiracial and multiethnic neighborhoods in the United States. Temple University Press, Philadelphia

Medina-Ramón M, Zanobetti A, Cavanagh DP, Schwartz J (2006) Extreme temperatures and mortality: assessing effect modification by personal characteristics and specific cause of death in a multi-city case-only analysis. Environ Health Perspect 114(9):1331

Middel A, Häb K, Brazel AJ, Martin C, Guhathakurta S (2014) Impact of urban form and design on mid-afternoon microclimate in Phoenix local climate zones. Landsc Urban Plan 122:16–28

Nguyen JL, Schwartz J, Dockery DW (2014) The relationship between indoor and outdoor temperature, apparent temperature, relative humidity, and absolute humidity. Indoor Air 24(1):103–112

O'Neill MS, Ebi KL (2009) Temperature extremes and health: impacts of climate variability and change in the United States. J Occup Environ Med 51:13–25

O'Neill MS, Zanobetti A, Schwartz J (2005) Disparities by race in heat-related mortality in four US cities: the role of air conditioning prevalence. J Urban Health 82(2):191–197

Oikonomou E, Davies M, Mavrogianni A, Biddulph P, Wilkinson P, Kolokotroni M (2012) Modelling the relative importance of the urban heat island and the thermal quality of dwellings for overheating in London. Build Environ 57:223–238

Oke TR (1982) The energetic basis of the urban heat island. Q J Roy Meteorol Soc 108(455):1–24

Pascal M, Wagner V, Le Tertre A, Laaidi K, Beaudeau P (2011) Choice of temperature thresholds for the French heat warning system. Epidemiology 22(1):S14

Reid CE, Mann JK, Alfasso R, English PB, King GC, Lincoln RA (2012) Evaluation of a heat vulnerability index on abnormally hot days: an environmental public health tracking study. Environ Health Perspect 120(5):715

Seto KC, Güneralp B, Hutyra LR (2012) Global forecasts of urban expansion to 2030 and direct impacts on biodiversity and carbon pools. Proc Natl Acad Sci U S A 109(40):16083–16088

Small ML (2004) Villa Victoria: the transformation of social capital in a Boston Barrio. University of Chicago Press, Chicago

Smargiassi A, Fournier M, Griot C, Baudouin Y, Kosatsky T (2008) Prediction of the indoor temperatures of an urban area with an in-time regression mapping approach. J Expo Sci Environ Epidemiol 18(3):282–288

Stafoggia M, Forastiere F, Agostini D, Caranci N, De'Donato F, Demaria M et al (2008) Factors affecting in-hospital heat-related mortality: a multi-city case-crossover analysis. J Epidemiol Community Health 62(3):209–215

Sullivan J, Collins JM (2009) The use of low-cost data logging temperature sensors in the evaluation of an urban heat island in Tampa, Florida. Pap Appl Geogr Conf 32:252–261

Tamerius JD, Perzanowsky MS, Acosta LM, Jacobson JS, Goldstein IF, Quinn J (2013) Socioeconomic and outdoor meteorological determinants of indoor temperature and humidity in New York City dwellings. Weather Clim Soc 5(2):168–179

Tan J, Zheng Y, Tang X, Guo C, Li L, Song G et al (2010) The urban heat island and its impact on heat waves and human health in Shanghai. Int J Biometeorol 54:75–84

Uejio CK, Wilhelmi OV, Golden JS, Mills DM, Gulino SP, Samenow JP (2011) Intra-urban societal vulnerability to extreme heat: the role of heat exposure and the built environment, socioeconomics, and neighborhood stability. Health Place 17:498–507

U.S. Census Bureau, 2008-2012 American Community Survey

Vanos JK, Warland JS, Gillespie TJ, Kenny NA (2012) Thermal comfort modelling of body temperature and psychological variations of a human exercising in an outdoor environment. Int J Biometeorol 56(1):21–32

White-Newsome JL, McCormick S, Sampson N, Buxton MA, O'Neill MS, Gronlund CJ et al (2014) Strategies to reduce the harmful effects of extreme heat events: a four-city study. Int J Environ Res Public Health 11:1960–1988

Wilhelmi OV, Hayden MH (2010) Connecting people and place: a new framework for reducing urban vulnerability to extreme heat. Environ Res Lett 5(1):014021

Zhang K, Rood RB, Michailidis G, Oswald EM, Schwartz JD, Zanobetti A et al (2012) Comparing exposure metrics for classifying 'dangerous heat' in heat wave and health warning systems. Environ Int 46:23–29
Acknowledgments
We thank the participants for their time and willingness to contribute to this study. Evan Kuras, who developed the project for his senior thesis, was supported by Boston University's Kilachand Honors College and the Undergraduate Research Opportunities Program. David Hondula was supported by the Virginia G. Piper Charitable Trust Health Policy Informatics Initiative at Arizona State University. The authors thank Nathan Phillips (Boston University) for helping design the study, Sharon Harlan (Arizona State University) for helping connect members of the research team, and Lucy Hutyra (Boston University) and Jennifer Vanos (Texas Tech University) and Sharon Harlan for their valuable guidance and suggestions that improved the analysis and manuscript. The authors extend a special thanks to Janneke Hille Ris Lambers (University of Washington) for her donation of iButtons early in the planning process.
Electronic supplementary material
Below is the link to the electronic supplementary material.
About this article
Cite this article
Kuras, E.R., Hondula, D.M. & Brown-Saracino, J. Heterogeneity in individually experienced temperatures (IETs) within an urban neighborhood: insights from a new approach to measuring heat exposure. Int J Biometeorol 59, 1363–1372 (2015). https://doi.org/10.1007/s00484-014-0946-x
Received:

Revised:

Accepted:

Published:

Issue Date:
Keywords
Urban heat island

Boston

Heat

Individually experienced temperatures

Neighborhood

Heterogeneity