Abstract
This study looks at the interrelation of human-biometeorological conditions, physiological thermal stress and subjective thermal perception in the design and use of a new waterfront park in Tel-Aviv, Israel. Our initial assumption was that the park's design would embody a comprehensive response to the area's ever-increasing heat stress and water shortage. However, almost half of it is covered by grass lawns, irrigated with fresh water, while the remaining area is mainly covered with concrete paving, with minimal shading and sparse trees. We hypothesized that stressful thermal conditions would prevail in the park in the summer season and would be expressed in a high discomfort perception of its users. Thermo-physiological stress conditions in a typical summer month were compared with the subjective comfort perceptions of pedestrians surveyed in the park. It was found that even during mid-day hours, the level of thermal stress tends to be relatively mild, owing largely to the strong sea breeze and despite the high intensity of solar radiation. Moreover, it appears that the largely favorable perception of comfort among individuals may also result from socio-cultural aspects related to their satisfaction with the park's aesthetic attractiveness and in fact its very existence. Adaptive planning is proposed for such vulnerable regions, which are expected to experience further aggravation in thermal comfort due to global as well as localized warming trends.
This is a preview of subscription content, log in to check access.
Access options
Buy single article
Instant access to the full article PDF.
US$ 39.95
Price includes VAT for USA
Subscribe to journal
Immediate online access to all issues from 2019. Subscription will auto renew annually.
US$ 99
This is the net price. Taxes to be calculated in checkout.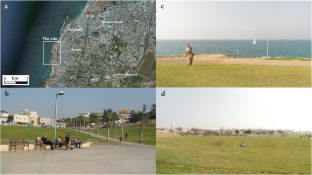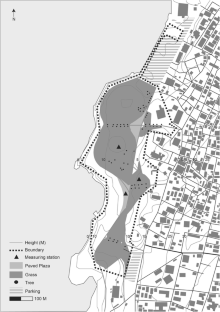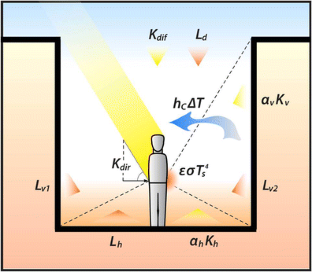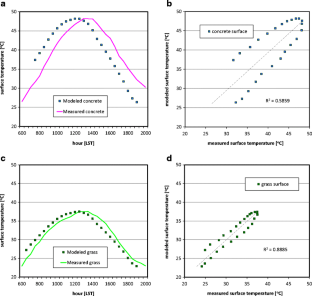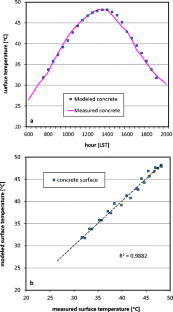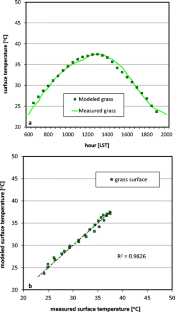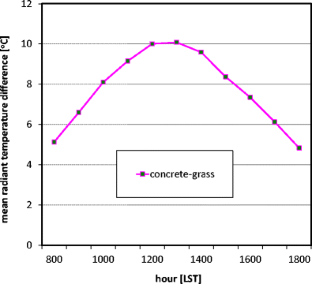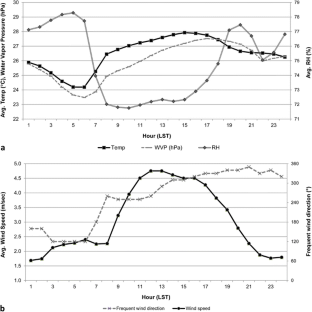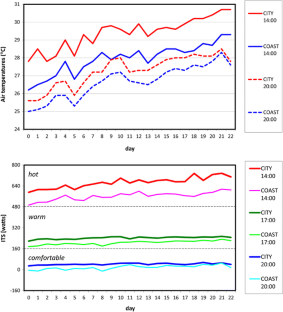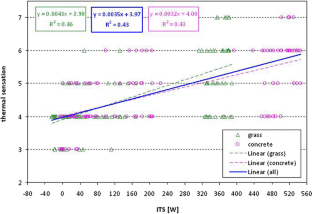 References
Andrade H, Alcoforado MJ, Oliveira S (2011) Perception of temperature and wind by users of public outdoor spaces: relationships with weather parameters and personal characteristics. Int J Biometeor 55(5):665–680

ASHRAE Standard 55. (2004) Thermal environmental conditions for human occupancy. Atlanta, GA: American Society of Heating, Refrigerating and Air-Conditioning Engineers (ANSI/ASHRAE) Standard

Ben-Dor E, Saaroni H (1997) Airborne video thermal radiometry as a tool for monitoring microscale structures of the urban heat island. Int J Remot Sens 18(14):3039–3053

Bowler DE, Buyung-Ali L, Knight TM, Pullin AS (2010) Urban greening to cool towns and cities: a systematic review of the empirical evidence. Lands Urban Plann 97:147–155

Camuffo D, Bernardi A (1982) An observational study of heat fluxes and their relationship with net radiation. Bound Layer Meteor 23:359–368

Chang C, Li M, Chang S (2007) A preliminary study on the local cool island intensity of Taipei city parks. Landsc Urb Plann 80(4):386–395

Cheng V, Ng E, Chan C, Givoni B (2012) Outdoor thermal comfort study in a subtropical climate: a longitudinal study based in Hong Kong. Int J Biometeorol 56:43–56

Chiesura A (2004) The role of urban parks for the sustainable city. Lands Urban Plan 68:129–138

Cohen P, Potchter O, Matzarakis A (2012) Daily and seasonal climatic behavior of green urban open spaces in the Mediterranean climate and its impact on human comfort. Build Environ 51:285–295

Cohen P, Potchter O, Matzarakis A (2013) Human thermal perception of coastal Mediterranean outdoor urban environments. Appl Geog 37:1–10

Epstein Y, Moran DS (2006) Thermal comfort and the heat stress indices. Ind Health 44(3):388–398

Giorgi F (2006) Climate change hot-spots. Geophys Res Let 33:L08707

Grimmond CSB, Cleugh HA, Oke TR (1991) An objective urban heat storage model and its comparison with other schemes. Atmos Environ 25B:311–326

Harpaz T, Ziv B, Saaroni H, Beja E (2014) Extreme summer temperatures in the east Mediterranean—dynamical analysis. Int J Climatol 34:849–862. doi:10.1002/joc.3727

Höppe PR (1993) Heat balance modelling. Experientia 49:741–745

Intergovernmental Panel on Climate Change (IPCC (2013) The physical science basis, Contribution of Working Group I to the Fifth Assessment Report of the Intergovernmental Panel on Climate Change. Cambridge University Press, Cambridge

Israel Meteorological Service, IMS (2013) Climatological database. http://www.ims.gov.il/IMSEng/CLIMATE

Jendritzky G, de Dear R, Havenith G (2012) UTCI—why another thermal index? Int J Biometeor 56:421–428

Johansson E, Emmanuel R (2006) The influence of urban design on outdoor thermal comfort in the hot, humid city of Colombo, Sri Lanka. Int J Biometeorol 51:119–133

Knez I, Thorsson S (2006) Influences of culture and environmental attitude on thermal, emotional and perceptual evaluations of a public square. Int J Biometeor 50:258–268

Knez I, Thorsson S (2008) Thermal, emotional and perceptual evaluations of a park: cross-cultural and environmental attitude comparisons. Build Environ 43(9):1483–1490

Knez I, Thorsson S, Eliasson I, Lindberg F (2009) Psychological mechanisms in outdoor place and weather assessment: towards a conceptual model. Int J Biometeor 53:101–111

Krichak SO, Breitgand JS, Samuels R, Alpert P (2011) A double-resolution transient RCM climate change simulation experiment for near-coastal eastern zone of the eastern Mediterranean region. Theor Appl Climatol 103:167–195

Krüger EL, Rossi FA (2011) Effect of personal and microclimatic variables on observed thermal sensation from a field study in southern Brazil. Build Environ 46:690–697

Lee H, Holst J, Mayer H (2013) Modification of human-biometeorologically significant radiant flux densities by shading as local method to mitigate heat stress in summer within urban street canyons. Adv Meteor. doi:10.1155/2013/312572

Lin TP (2009) Thermal perception, adaptation and attendance in a public square in hot and humid regions. Build Environ 44(10):2017–2026

Lin P, de Dear R, Hwang RL (2011) Effect of thermal adaptation on seasonal outdoor thermal comfort. Int J Climatol 31(2):302–312

Lindberg F, Holmer B, Thorsson S, Rayner D (2014) Characteristics of the mean radiant temperature in high latitude cities—implications for sensitive climate planning applications. Int J Biometeorol 58:613–627

Lopes A, Lopes S, Matzarakis A, Alcoforado MJ (2011) The influence of the summer sea breeze on thermal comfort in Funchal (Madeira). A contribution to tourism and urban planning. Meteor Zeits 20(5):553–564

Mayer H, Höppe PR (1987) Thermal comfort of man in different urban environments. Theor Appl Climatol 38:43–49

Mayer H, Holst J, Dostal P, Imbery F, Schindler D (2008) Human thermal comfort in summer within an urban street canyon in Central Europe. Meteor Zeitschrift 17:241–250

McCarthy MP, Best MJ, Betts RA (2010) Climate change in cities due to global warming and urban effects. Geophys Res Let 37:L09705. doi:10.1029/2010GL042845

Meehl G, Tebaldi C (2004) More intense, more frequent, and longer lasting heat waves in the 21st century. Science 305:994–997

Nikolopoulou M, Baker N, Steemers K (2001) Thermal comfort in outdoor urban spaces: understanding the human parameter. Sol Energy 3:227–235

Pantavou K, Theoharatos G, Santamouris M, Asimakopoulos D (2013) Outdoor thermal sensation of pedestrians in a Mediterranean climate and a comparison with UTCI. Build Environ 66:82–95

Papanastasiou DK, Melas D, Bartzanas T, Kittas C (2010) Temperature, comfort and pollution levels during heat waves and the role of sea breeze. Int J Biometeorol 54:307–317

Pearlmutter D, Bitan A, Berliner P (1999) Microclimatic analysis of 'compact' urban canyons in an arid zone. Atmos Environ 33(24–25):4143–4150

Pearlmutter D, Berliner P, Shaviv E (2005) Evaluation of urban surface energy fluxes using an open-air scale model. J Appl Meteor Climatol 44:532–545

Pearlmutter D, Berliner P, Shaviv E (2006) Physical modeling of pedestrian energy exchange within the urban canopy. Buil Environ 41(6):783–795

Pearlmutter D, Berliner P, Shaviv E (2007) Integrated modeling of pedestrian energy exchange and thermal comfort in urban street canyons. Build Environ 42(6):2396–2409

Pearlmutter D, Jiao D, Garb Y (2014) The relationship between bioclimatic thermal stress and subjective thermal sensation in pedestrian spaces. Int J Biometeor.

Potchter O, Cohen P, Bitan A (2006) Climatic behavior of various urban parks during hot and humid summer in the Mediterranean city of Tel Aviv, Israel. Int J Climatol 26:1695–1711

Saaroni H, Ziv B (2010) Estimating the urban heat island contribution to urban and rural air temperature differences over complex terrain: application to an arid city. J Appl Meteor Climatol 49:2159–2166

Saaroni H, Ben-Dor E, Bitan A, Potchter O (2000) Spatial distribution and microscale characteristics of the urban heat island in Tel-Aviv, Israel. Lands Urban Plan 48:1–18

Saaroni H, Ziv B, Edelson J, Alpert P (2003) Long-term variations in summer temperatures over the eastern Mediterranean. Geophys Res Let 30(18):1946

Saaroni H, Ziv B, Lempert J, Gazit Y, Morin E (2014) Prolonged dry spells in the Levant region: climatological-synoptic analysis, Int J Climatol. doi:10.1002/joc.4143

Saaroni H, Maza E, Ziv B (2004) Summer sea breeze, under suppressive synoptic forcing, in a hyper-arid city: Eilat, Israel. Clim Res 26:213–220

Saaroni H, Ziv B, Osetinsky I, Alpert P (2010) Factors governing the inter-annual variation and the long-term trend of the 850-hPa temperature over Israel. QJRMS 136:305-318

Shohami D, Dayan U, Morin E (2011) Warming and drying of the eastern Mediterranean: additional evidence from trend analysis. J Geophys Res (Atmosphere) 116:D22101

Thom EC (1959) The discomfort index. Weather Wise 12(2):57–60

Thorsson S, Honjo T, Linberg F, Eliasson I, Lim EM (2007) Thermal comfort and outdoor activity in Japanese urban public places. Environ Behav 395:660–684

Ulgen K (2002) Experimental and theoretical investigation of effects of wall's thermophysical properties on time lag and decrement factor. Energy Build 34(3):273–278

Yahia MW, Johansson E (2013) Evaluating the behaviour of different thermal indices by investigating various outdoor urban environments in the hot dry city of Damascus, Syria. Int J Biometeorol 57(4):615–630

Yin JF, Zheng YF, Wu RJ, Tan JG, Ye DX, Wang W (2012) An analysis of influential factors on outdoor thermal comfort in summer. Int J Biometeor 56:941–948

Ziv B, Saaroni H (2011) The contribution of moisture to heat stress in a period of global warming: the case of the Mediterranean. Clim Chan 104(2):305–315

Ziv B, Saaroni H, Alpert P (2004) The factors governing the summer regime of the eastern Mediterranean. Int J Climatol 24:1859–1871

Ziv B, Saaroni H, Baharad A, Yekutieli D, Alpert P (2005) Indications for aggravation in summer heat conditions over the Mediterranean Basin. Geophys Res Let 32(12), L12706

Ziv B, Saaroni H, Pargament R, Harpaz T, Alpert P (2014) Trends in rainfall regime over Israel, 1975–2010, and their relationship to large-scale variability. Reg Environ Chan 14(5):1751–1764

Zoulia I, Santamouris M, Dimoudi A (2009) Monitoring the effect of urban green areas on the heat island in Athens. Environ Monitor Assess 156:275–292
Acknowledgments
The authors acknowledge the Tel Aviv Municipality park authorities and park planner Architect Aliza Braude, for their generous assistance. The research was supported by funds provided by the Department of Geography and the Human Environment, Tel Aviv University and the Israel Science Foundation (ISF, grant no. 597/13). We thank our research assistant Assaf Frances for distributing the questionnaires and assisting with the empirical study of the park and the technicians, Mr. Yaron Yaacov and Mr. Wolfgang Motzafi-Haller, for carrying out the field measurements and Miss Carmel Hanany for her help with the drawings and images. We thank the two anonymous reviewers whose suggestions helped to improve the manuscript
About this article
Cite this article
Saaroni, H., Pearlmutter, D. & Hatuka, T. Human-biometeorological conditions and thermal perception in a Mediterranean coastal park. Int J Biometeorol 59, 1347–1362 (2015). https://doi.org/10.1007/s00484-014-0944-z
Received:

Revised:

Accepted:

Published:

Issue Date:
Keywords
Thermal comfort

Comfort perception

Heat stress

Index of Thermal Stress (ITS)

Sea breeze

Coastal park

Tel Aviv-Jaffa